Adult content
This content is marked as Adult/NSFW content. You can toggle your preferences regarding this content type in your account settings.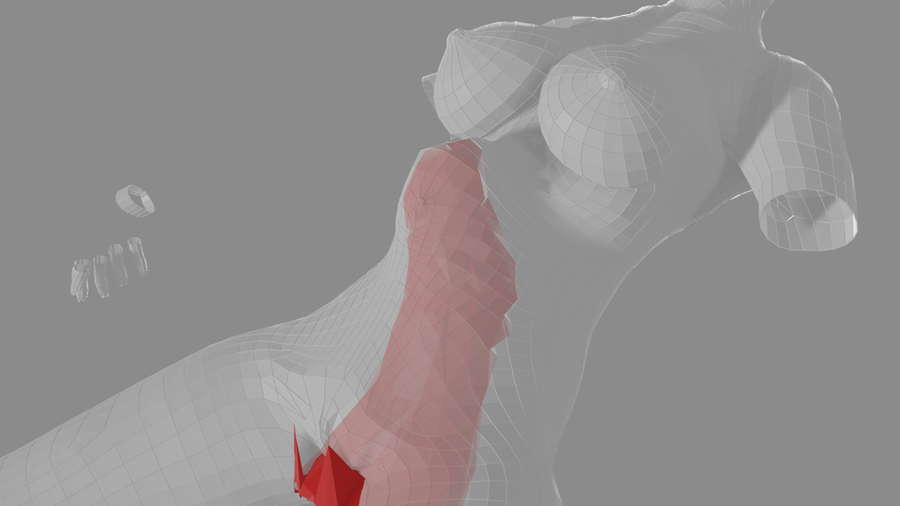 Show more
Description
#Cardboy0's SACS script - Shapekey- and animation-compliant softbodies
IMPORTANT: I have ended development on this project.
I might create better scripts in the future
There are several unresolved bugs
You can still ask me for support on my twitter
Script that helps you use the softbody physics, instead of shapekeys or manual modeling to create your stomach bulges for animated models. The default softbody modifier starts doing weird things once you try to use it on animated bodies, and this script prevents most of those. A nice feature of softbodies is that they deform in response to collision objects, meaning if you use a belly as a SB and a dick as a CO, the belly will deform however the dick is animated. If the dick points to the right, so will the bulge.
There is an indepth guide you can read at: https://docs.google.com/document/d/1rpJIQqvXcGL9UN-JYzqRKVHk8xaMxgCKM0UYLyqDW_A/edit OR FIND AS A PDF IN THE DOWNLOAD FILES OF THIS POST (the pdf can't show the gifs though, and is outdated)
The most up-to-date version of the script can be found here: https://github.com/Cardboy0/Cardboy0s-SACS/tree/master - the guide helps with how to download that too.
A prominent downside / bug is that often faces/vertices will seem to vibrate/jitter, you can see it here: https://www.deviantart.com/cardboy0/art/Vibrating-Example-830066357 or in the example animations.
I included 3 example animations in the download section. The models used in the example animations here, as well as in the thumbnails, are:
"Female Teen Basemesh" by contmike https://www.turbosquid.com/FullPreview/Index.cfm/ID/731779
"Tifa - Dissidia NT" by zixaphir https://smutba.se/project/423/
"Trent", one from the "Good Dragon Dongers" pack by dopy - https://twitter.com/Sashacakies and https://twitter.com/LewyNSFW https://smutba.se/project/509/ The low poly version you see in the animations was made by me using the original one as the base.)
Feel free to also ask for help on twitter: https://twitter.com/cardboy0
Please mention this script if you use it for your animations. But also feel free to edit it or make your own version, after all my primary intention is to give artists another, and maybe better way of creating stomach bulges, because most of the ones I'm seeing lack individuality, movement, or they aren't even there to begin with, even though the dick is like 20 inches long. So if you can improve it even more, go nuts.
SmutBase is a free service. However, it costs about $0.03 to deliver you a 1GB file. With over 20TB of traffic every month and growing, SmutBase needs your help. If only 1% of our users each gave us $5 for a single month, we could keep the site running for several years.
Filename
Downloads
Created
Filesize
Files
SACS_V_01_20.py
5160
2020-02-22 16:49:29
44.19 KB
SACS_V_01_13.py
3561
2020-02-16 12:20:28
36.26 KB
3_example_animations.zip
4032
2020-02-16 12:22:17
36.95 MB
HOW_TO_CREATE_lewd_BELLYBULGES_IN_BLENDER.pdf
3524
2020-05-03 10:06:14
508.22 KB