Adult content
This content is marked as Adult/NSFW content. You can toggle your preferences regarding this content type in your account settings.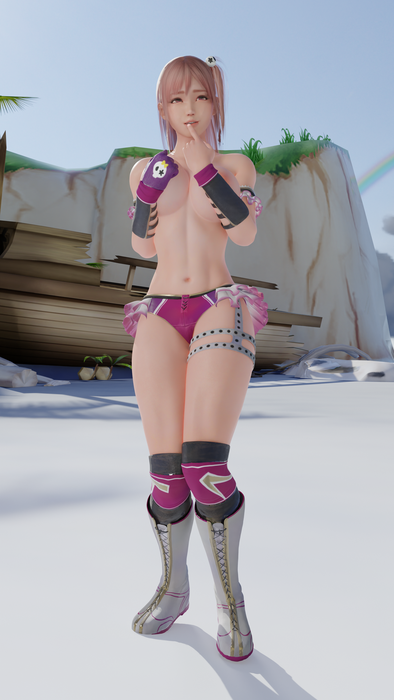 Show more
Description
This model is a collaboration with HentaiBorg and MaidenMasher!
# Content of this release
school outfit from Dead or Alive 6 (thanks to HentaiBorg)
bikini outfit
rigged hair
# Instructions
It'smandatory to install the Blender addon rig_tools.zip provided in this release (remember to restart Blender before using the model), which enables the IK rig, etc.. If you are not sure how to install the addon, google it! Note that the UI will raise a warning in the information tab if you didn't install/enabled the addon.

All the custom properties are in the Properties object (the giant wheel). Select the Property mesh, press N inside the 3D viewport to show the Sidebar, and you should find the Properties in the Item tab of the Sidebar.

There is a Canon property which can be enabled to make Honoka body proportions more "canononical". If you don't like them, and you want to create your custom body proportions, you can simply scale the bones. This procedure might break some of the clothes: if it happens, you can add some new shape keys to fix these error. Note also that some scaling options might be blocked by the presence of some drivers (purple or violet color in the scale options): if you want to modify them, remove the driver by right clicking the purple/violet blocked part, and selecting Delete Driver. Obviously, doing this the Canon custom property might not work as intended anymore!

Shape keys are available for the genitals.

The model use Corrective Smooth modifiers. If you find some odd clipping while posing the model, try to disable them in the Properties.

I decided not to implement the physics myself because there are tools which are way better than any attempt I could make. :)
Some examples: https://github.com/dskjal/Rigidbody-Bone https://blenderartists.org/t/wiggle-bones-a-jiggle-bone-implementation-for-2-8/1154726 While I do not provide technical support for these tools, I'm happy to help setting up basic physics if you need help.
If you have any problem, try to check the next section. If that doesn't help, you can contact me (contacts at the end).
# Troubleshooting
There are some black shadow artifacts near the hair and the eyelids.
This is not a problem of the model. When two mesh with alpha channel intersect, there might be these artifacts. To solve it, increase the number of transparent max bounces in the rendering settings up to 50.
The textures are all blocky/there are some strange shadows.
This is not necessarily a problem. When you render, subdivider modifiers are activated and the shadows should be smooth. You can preview this enabling the Subdivision modifier in the mesh you want to test. Note that this modifier can impact the performance of your viewport rendering. Thus, after you test its behaviour, remember to disable it (only in the viewport)!
I cannot find the shape key I need.
You can search for a specific shape key. If you don't find it, please report to me on Discord or Twitter, and I'll add it as soon as possible.
# Final Notes
# Credits
for the bikini and the tie, thanks to the original creator Shuubaru: deviantart.com/shuubaru
# Changelog
Version 5 (26/04/2020)
added several new outfits
completely new body texture
improved facial rig
now the top of the tie in the school outfit can be hidden, for a better hiding of the whole tie
updated UI to 0.5.3
fixed eyelashes color behaviour with SSS enabled
fixed finger and toe nails
fixed eyelids not following eyelids bones
fixed hair Eevee material
fixed eyes not following eye controller bone
fixed tons of other small bugs
fixed hair position (see troubleshooting if you encounter weird black zones near the hair and the eyelids)
cleaned up the file
Version 3 (09/02/2020)
new UI version 0.1.3
fixed skirt mesh (thanks to Shallot)
fixed an hair problem
Version 2 (09/02/2020)
new tanned/tan lines effects
new Deluxe outfit
fixed weights near the knee
Version 1 (initial release, 21/01/2020)
SmutBase is a free service. However, it costs about $0.03 to deliver you a 1GB file. With over 20TB of traffic every month and growing, SmutBase needs your help. If only 1% of our users each gave us $5 for a single month, we could keep the site running for several years.
Filename
Downloads
Created
Filesize
Files
rig_tools_dCqmArx.zip
3985
2020-04-26 20:45:52
17.65 KB
File contents:

rig_tools/auto_rig_datas.py
rig_tools/reset_all_controllers.py
rig_tools/rig_functions.py
rig_tools/__init__.py




honoka2_v5_CUhYY9d.blend
7631
2020-04-26 20:45:10
231.08 MB
honoka2_public_v3.blend
3294
2020-02-09 16:08:51
236.53 MB
honoka2_public_v1.blend
3064
2020-01-21 18:25:31
118.59 MB