Adult content
This content is marked as Adult/NSFW content. You can toggle your preferences regarding this content type in your account settings.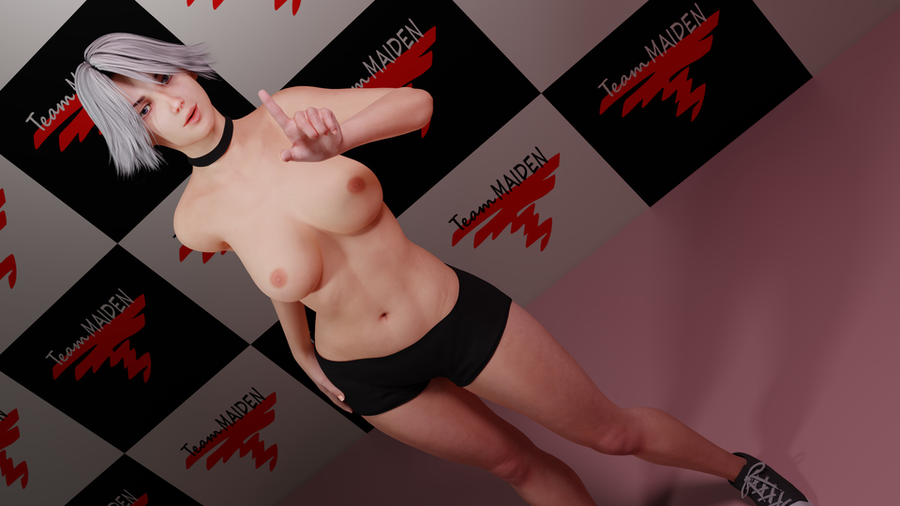 Show more
Description
Content of this release
standard, tanned (also with an additional tanline version) body textures
makeup and runny makeup face textures
several outfits with some texture options
2 pairs of glasses
rigged hair (two versions)
breasts (butt physics will be implemented in a future version)
Cycles compatibility. Eevee needs a small adjustement to make the eyes compatible, but otherwise the model should be totally compatible
Instructions
The model is huge (almost 1 Gb) due to the huge amount of outfits available in this release. I highly advise you to append on a new .blend file only the outfits you require. Otherwise, the full model might require up to 4 Gb of RAM to run (in Viewport with Physics enabled).
There are several Mask modifiers available, for some outfits. Enable them to avoid clipping.
The textures mentioned in the content release (tanned skin, makeup, etc..) can be enabled in the Properties tab of the body mesh. Select the Christie mesh (clicking in the body or selecting the Christie mesh inside the Christie Armature), press N inside the 3D viewport to show the Sidebar, and you should find the Properties in the Item tab of the Sidebar.
The physics is available for the breasts (does not work with the clothes). This version uses a Soft Body simulation. You can control the jiggling settings modifying the Stiffness and Damping options in properties of the body (see previous instruction).
There are two versions of the eyes. The default one is a modified version of the huhnill eyes model, while the Original one is the Alan13 version. If you want to use the model with Eevee (and you are appending the model), enable the Screen Space Reflections, and the sub-option Refraction, in the Render Properties.
The model use Corrective Smooth and Shrinkwrap modifiers. If you find some odd clipping while posing the model, try to disable them.
Rescale the mode in Object Mode (and not in Pose mode). Note that if you rescale the model you might need to adjust the physics settings and/or the SS settings.
Final Notes
Credits
Alan13 for the SFM model
huhnill for the eyes model
<a href="https://twitter.com/IMaidenMasherI">MaidenMasher</a> for the wonderful poster (and for the "beta" test)
Changelog
Version 1 (public release, 28/12/2019)
SmutBase is a free service. However, it costs about $0.03 to deliver you a 1GB file. With over 20TB of traffic every month and growing, SmutBase needs your help. If only 1% of our users each gave us $5 for a single month, we could keep the site running for several years.
Filename
Downloads
Created
Filesize
Files
christie_v1.zip
5367
2019-12-28 21:58:54
437.78 MB