Adult content
This content is marked as Adult/NSFW content. You can toggle your preferences regarding this content type in your account settings.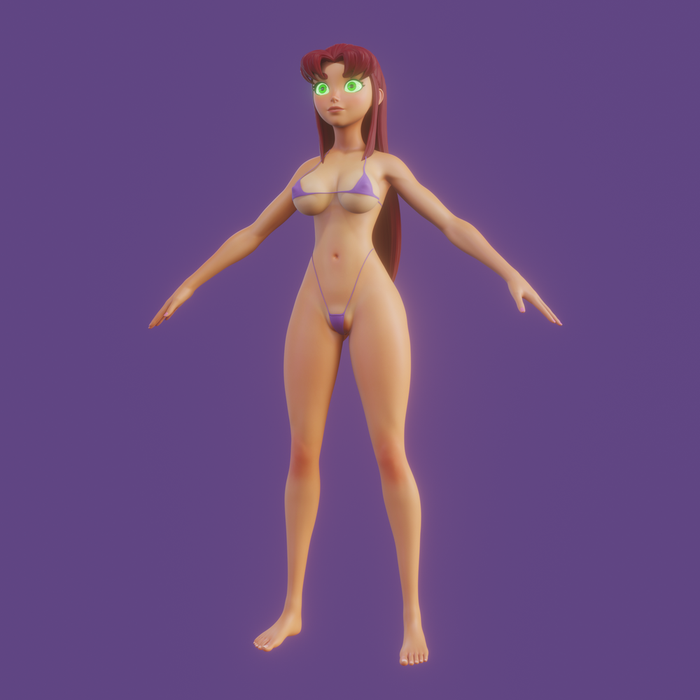 Show more
Description
Hello everyone!! As always it's a pleasure to share another character for everyone!! C: this time my take on Starfire from Teen Titans, I tried to play with the canon and a more stylized approach, I hope it is to everyone's liking C:
*please let me know if you have crashes with this model, I made it with Blender 3.5.1 and MHX 1.7!
Here is my pages if you found something weird in the model or you wanna tag me in your works. I will happily see you works C: Im loving all of them so far
It would be amazing if you can support me on Patreon plus Im making more characters from Teen Titans like Terra, jinx and Raven!! :D, Im going to be uploading more previews of them on my Twitter during the coming weeks so stay tuned ;D
*Please do not reupload in other places or port in other places and dont take part of the character, I really appreciate it(Seriously respect this, just because its free doesn't mean you can do whatever you want with it, thanks for understand! C:)
SmutBase is a free service. However, it costs about $0.03 to deliver you a 1GB file. With over 20TB of traffic every month and growing, SmutBase needs your help. If only 1% of our users each gave us $5 for a single month, we could keep the site running for several years.
Filename
Downloads
Created
Filesize
Files
textures_19t7VjV.rar
580
2023-09-19 20:57:09
429.52 MB
File contents:

textures/XF_Heart TopA_B.jpg
textures/Laces Bump.jpg
textures/Act_Ive_P_Glossy.jpg
textures/MTT_IO LD D0104b.jpg
textures/XF_Mia_Lingerie_Skirt_B.jpg
textures/Act_Ive_P_BaseColor_M2.jpg
textures/MTT_IO LD N00.png
textures/MTT_IO LD N01.png
textures/MetallicBlack.jpg
textures/Act_Ive_T_Glossy.jpg
textures/Sneakers Bump.jpg
textures/XF_Mia_Lingerie_Skirt_O.jpg
textures/T-bra_B.jpg
textures/Act_Ive_P_Opacity.jpg
textures/XF_Mia_Lingerie_Bra_B.jpg
textures/XF_Heart BottomA_N.jpg
textures/Sneaker_Shade__Boot.jpg
textures/shanghai_bund_8k.hdr
textures/Jacqueline8_1_EyelashesNM2.jpg
textures/Sneaker_Shade__Sole.001.jpg
textures/Act_Ive_P_Height.jpg
textures/Act_Ive_T_BaseColor_M2.jpg
textures/XF_Mia_Lingerie_Bra_N.jpg
textures/XF-BellaStockings_N.jpg
textures/Logo.jpg
textures/BKBottomStitching2.jpg
textures/XF-BellaBottom_N.jpg
textures/sSQGloves01N.jpg
textures/Head_SSS.png
textures/XF-BellaStockings_Opacity.jpg
textures/Spandex Glossiness.jpg
textures/Act_Ive_T_Roughness.jpg
textures/Act_Ive_P_Normal.jpg
textures/Sneaker_Shade__Laces.jpg
textures/XF_O_Rings_Bikini_N.jpg
textures/XF_Floral_Touch_Lingerie_Bottom_N.jpg
textures/Nipple Cover Normal.png
textures/XF_Floral_Touch_Lingerie_Bottom_B.jpg
textures/BackupBikini_BraNormal.jpg
textures/XF_Floral_Touch_Lingerie_Bra_N.jpg
textures/MTT_IO EXJ  SK N_00.png
textures/Normal.png
textures/XF-BellaBottom_OpacityB.jpg
textures/02 Base Color.png
textures/Roughness.png
textures/Jacqueline8_1_EyelashesO02.jpg
textures/XF_O_Rings_Bikini_O.jpg
textures/XF_Mia_Lingerie_Bra_O.jpg
textures/BackupBikini_BottomB1.jpg
textures/Sneaker_Shade__Insole.jpg
textures/A BodySuit Roughness.png
textures/Opacity.png
textures/XF-BellaWaistGarter_OpacityB.jpg
textures/01 Base color.png
textures/XF-BellaWaistGarter_N.jpg
textures/Dolores_Legs.jpg
textures/XF_Mia_Lingerie_Skirt_N.jpg
textures/Act_Ive_T_Height.jpg
textures/XF_Floral_Touch_Lingerie_Bra_B.jpg
textures/Starfire_Legs_D.png
textures/XF_Mia_Lingerie_Panties_B.jpg
textures/p3dBusinessWomanShoesTX.jpg
textures/Raven_Face_D3.png
textures/sSQGloves01B.jpg
textures/Starfire_Head_D.png
textures/p3dBusinessWomanShoesB.jpg
textures/Hair_N.png
textures/Dolores_Arms.jpg
textures/XF-BellaTop_OpacityB.jpg
textures/Dolores_Eyes.jpg
textures/p3dBusinessWomanShoesN.jpg
textures/Eyes_D.png
textures/sSQGloves02.jpg
textures/XF_Heart BottomA_B.jpg
textures/A BodySuit Normal.png
textures/Starfire_Torso_D.png
textures/Act_Ive_T_Normal.jpg
textures/XF_Floral_Touch_Top_D07.jpg
textures/Act_Ive_P_Roughness.jpg
textures/Dolores_Torso.jpg
textures/Sneakers_Tape.jpg
textures/Starfire_Clothes_Texture.png
textures/XF_Heart TopA_N.jpg
textures/Act_Ive_T_Opacity.jpg
textures/BKBraStitching2.jpg
textures/XF_Floral_Touch_Lingerie_Bra_R.jpg
textures/MTT_IO LD D003.jpg
textures/Bump.jpg
textures/XF_Floral_Touch_Lingerie_Bottom_O.jpg
textures/XF_Floral_Touch_Lingerie_Bra_O.jpg
textures/Sneaker_Sole Bump.jpg
textures/BackupBikini_BottomNormal.jpg
textures/XF-BellaTop_N.jpg
textures/Hair_T.png
textures/Starfire_Arms_D.png
textures/BackupBikini_BraB1.jpg
textures/HSN TopRibB.jpg
textures/XF_Mia_Lingerie_Panties_N.jpg
textures/Dolores_Mouth.jpg
textures/Panties Normal.png
textures/XF_Mia_Lingerie_Panties_O.jpg
textures/MTT_IO LD D0104.jpg




TT_Starfire.blend
678
2023-09-19 20:57:17
130.07 MB