Adult content
This content is marked as Adult/NSFW content. You can toggle your preferences regarding this content type in your account settings.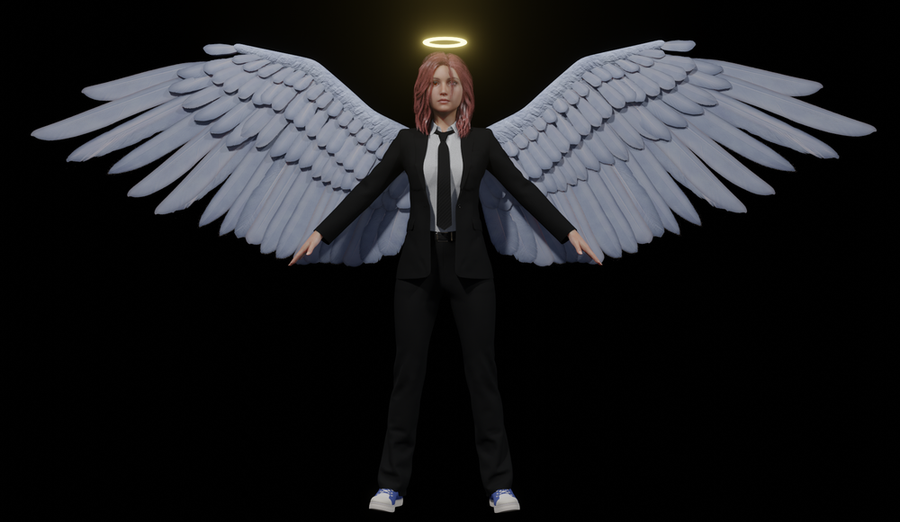 Show more
Description
PLEASE READ!!!🙏🙏
📜PRESENTATION:
Hi !
I consider myself a beginner, so if there are any mistakes, please forgive me 😅
WHAT IS THIS ?
Angel from the anime Chainsaw Man
FOR WHAT ?
I think this character has a lot of potential
WHAT IT CONTAINS:
the Angel model with her default clothes
THE RIGGING:
a quality rig from MHX (normally) and which I appreciate.
SOME TIPS TO KNOW:
First of all I created the textures in EEVEE, on cycle the textures will not have a problem but they will not have been created for.
you will probably need the Diffeomorphic addon to be able to use shape keys (the most recent version).
🔄UPDATE: V1_09/19/2023: model posted online
✏️ CREDITS: why credits?
I would like to see what you have done with this model so don't hesitate to send me your photos/videos or the link to your renderings on the blueboy_80588_78005 discord. (I don't have Twitter)
  MY DISCORD SERVER : https://discord.gg/rFB8NNwv


If you have any questions, comments, or anything, message me on Discord "sioul14" or directly a comment for bugs or other at the bottom of this page. (I would probably respond quicker on DISCORD!)
I accept Commissions
SmutBase is a free service. However, it costs about $0.03 to deliver you a 1GB file. With over 20TB of traffic every month and growing, SmutBase needs your help. If only 1% of our users each gave us $5 for a single month, we could keep the site running for several years.
Filename
Downloads
Created
Filesize
Files
UPLOAD_Angel.zip
186
2023-09-19 19:09:44
218.01 MB
File contents:

UPLOAD_Angel/angel.blend
UPLOAD_Angel/textures/0206-Top-Shirt-01-Bump.jpg
UPLOAD_Angel/textures/G8FBaseFaceMapB_1001.jpg
UPLOAD_Angel/textures/Clarabelle_Eyes_T5.jpg
UPLOAD_Angel/textures/G8F_Suit2_Tie_redST.jpg
UPLOAD_Angel/textures/0206-belt-Pants-01-opacity.jpg
UPLOAD_Angel/textures/SeraG8FPrimary_B.jpg
UPLOAD_Angel/textures/Harley_Skin_Micro.png
UPLOAD_Angel/textures/Shoes_Shoes_BaseColor.jpg
UPLOAD_Angel/textures/Hair Normal.jpg
UPLOAD_Angel/textures/SeraG8FPrimary_S.jpg
UPLOAD_Angel/textures/SeraG8FCovert-Tip_T.jpg
UPLOAD_Angel/textures/torso light.jpg
UPLOAD_Angel/textures/SkinMicro_01.png
UPLOAD_Angel/textures/Shoes_Shoes_Metallic.jpg
UPLOAD_Angel/textures/Hair T.jpg
UPLOAD_Angel/textures/G8F_Suit2_Tie_dsp.jpg
UPLOAD_Angel/textures/ArmsS_1004.jpg
UPLOAD_Angel/textures/SeraG8FCovert-Tip_S.jpg
UPLOAD_Angel/textures/Fiber_Strand_Spec_00.jpg
UPLOAD_Angel/textures/G8FBaseEyelashes_1006.jpg
UPLOAD_Angel/textures/G8FBaseFaceMapS_1001.jpg
UPLOAD_Angel/textures/FaceS_1001.jpg
UPLOAD_Angel/textures/SeraG8FCovert-Tip_Tran.jpg
UPLOAD_Angel/textures/SeraG8FWings_T.jpg
UPLOAD_Angel/textures/0206-belt-Pants-01.jpg
UPLOAD_Angel/textures/SeraG8FSecondary_Tran.jpg
UPLOAD_Angel/textures/Shoes_Shoes_Normal.jpg
UPLOAD_Angel/textures/DTHDR-RuinsB-500.hdr
UPLOAD_Angel/textures/LegsS_1003.jpg
UPLOAD_Angel/textures/SeraG8FWings_B.jpg
UPLOAD_Angel/textures/Hair Cap.jpg
UPLOAD_Angel/textures/SeraG8FPrimary_Tran.jpg
UPLOAD_Angel/textures/Hair 1004.jpg
UPLOAD_Angel/textures/G8FBaseMouthMapB_1005.jpg
UPLOAD_Angel/textures/SeraG8FSecondary_B.jpg
UPLOAD_Angel/textures/0206-Jacket-01-bump.jpg
UPLOAD_Angel/textures/Clarabelle_Eyes_N.jpg
UPLOAD_Angel/textures/0206-Top-Shirt-01-Opacity.jpg
UPLOAD_Angel/textures/Shoes_Shoes_Roughness.jpg
UPLOAD_Angel/textures/SeraG8FWings_S.jpg
UPLOAD_Angel/textures/SeraG8FSecondary_T.jpg
UPLOAD_Angel/textures/face light.jpg
UPLOAD_Angel/textures/SeraG8FPrimary_T.jpg
UPLOAD_Angel/textures/G8F_Suit2_Tie_ST_nmap.png
UPLOAD_Angel/textures/0206-belt-Pants-01-bump.jpg
UPLOAD_Angel/textures/0206-Jacket-01.jpg
UPLOAD_Angel/textures/SeraG8FSecondary_S.jpg
UPLOAD_Angel/textures/LY_Ombra_Eyes08_1007.jpg
UPLOAD_Angel/textures/Fiber_Strand_Dif_00.jpg
UPLOAD_Angel/textures/TorsoS_1002.jpg
UPLOAD_Angel/textures/0206-Top-Shirt-01.jpg
UPLOAD_Angel/textures/Hair 1001.jpg
UPLOAD_Angel/textures/SkinMicro_02.png
UPLOAD_Angel/textures/Shoes_Shoes_Height.jpg
UPLOAD_Angel/textures/G8FBaseFaceMapD_1001.jpg
UPLOAD_Angel/textures/limbs legs light.jpg
UPLOAD_Angel/textures/SeraG8FCovert-Tip_B.jpg
UPLOAD_Angel/textures/limbs arms light.jpg
UPLOAD_Angel/textures/Shoes_Shoes_Glossiness.jpg
UPLOAD_Angel/textures/G8FBaseFaceMapSSS_1001.jpg
UPLOAD_Angel/textures/G8FBaseMouthMapD_1005.jpg