Adult content
This content is marked as Adult/NSFW content. You can toggle your preferences regarding this content type in your account settings.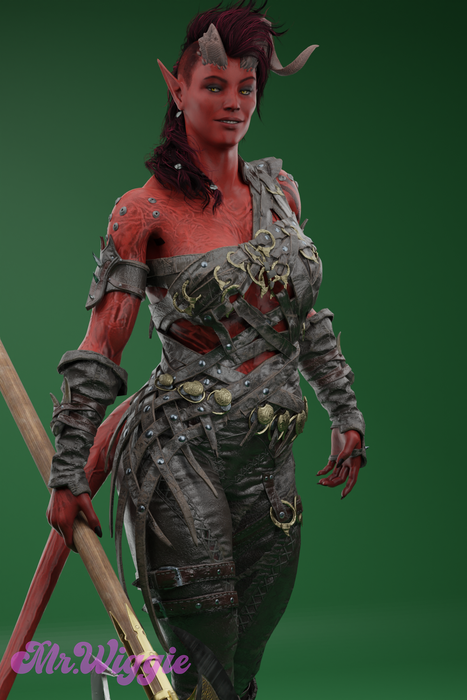 Show more
Description
follow me on Twitter https://twitter.com/mr_wiggle3D
If Smutbase not letting you download here the mega link: https://mega.nz/folder/eYJ1SZwK#4hGPC2Msu7---te1-XIYww
vagina and butthole are not rigged you can control them under custom morphs or you can rig the yourself
included
included body morphs (under Daz importer -> morphs -> custom morphs)
Warning Some Drivers will lock the bone so if that happens just the delete the driver don't worry it doesn't break anything
*Requirement
Rigfy
daz importer 1.6.2+
blender 3.5+
the link to the require file http://diffeomorphic.blogspot.com/p/daz-importer-version-16.html
ver 1.2
model rig move from mhx to rigfy
texture fixes
emission fixes
fix some crashes
very big thank you to @AhoyDoinks for fixing my the texture and a thank you to @Nsfwseeker77 telling me how to switch from mhx to rigfy
SmutBase is a free service. However, it costs about $0.03 to deliver you a 1GB file. With over 20TB of traffic every month and growing, SmutBase needs your help. If only 1% of our users each gave us $5 for a single month, we could keep the site running for several years.
Filename
Downloads
Created
Filesize
Files
Karlach_bg3_ver_1.2.blend.7z
702
2023-09-21 16:39:59
69.08 MB
File contents:

Karlach bg3 ver 1.2.blend




textures_t48Rx4x.7z
630
2023-09-21 16:50:55
333.25 MB
File contents:

textures/Karlach_Hair_O.png
textures/Karlach_Torso_D.png
textures/Karlach_Legs_B.jpg
textures/Karlach_Torso_B.jpg
textures/CampTop_B.png
textures/Karlach_Horn_D.png
textures/BarbarianGloves_N.png
textures/GensMapD_Default_P_1009 k.jpg
textures/Karlach_Tail_T.png
textures/KarlachAcc_N.png
textures/BarbarianBoots_M.png
textures/Karlach_Arms_N.png
textures/Karlach_Arms_T.png
textures/CampTop_M.png
textures/BarbarianBoots_D.png
textures/Underwear_N.png
textures/Karlach_Scalp_O.png
textures/KarlachHair_D.jpg
textures/Greataxe_D.png
textures/Karlach_Hair_E.png
textures/GensMapNM_Default_1009.png
textures/Exhaust_C.png
textures/BarbarianTop_M.png
textures/KarlachHair_T.jpg
textures/Karlach_Face_B.png
textures/Karlach_Eyes_B.png
textures/Karlach_Chest_D.png
textures/CampPants_N.png
textures/Karlach_Legs_T.png
textures/Alternative Mouth_Normal.tif
textures/Underwear_B.png
textures/CampPants_M.png
textures/G8FBaseEyelashes_1006.jpg
textures/GensMapSSS_Default_P_1009.jpg
textures/BarbarianGloves_M.png
textures/BarbarianPants_M.png
textures/GensMapS_Default_Dry_1009.jpg
textures/Alternative Mouth_Displ.tif
textures/Karlach_Legs_S.jpg
textures/Metal.png
textures/Karlach_Face_S.png
textures/Karlach_Legs_N.png
textures/GensMapB_Default_1009.jpg
textures/Greataxe_B.png
textures/BarbarianTop_G.png
textures/Karlach_Horn_M.png
textures/Karlach_Horn_E.DDS
textures/KarlachAcc_D.png
textures/Karlach_Arms_D.png
textures/Karlach_Torso_N.png
textures/BarbarianGloves_G.png
textures/DTHDR-RuinsB-500.hdr
textures/Greataxe_N.png
textures/Underwear_D.png
textures/Exhaust.png
textures/GensMapDisp_Default_1009.tif
textures/Alternative Mouth_Spec 1.jpg
textures/Karlach_Horn_N.png
textures/CampPants_O.png
textures/Karlach_Horn_E blue.png
textures/G8FBaseMouthMapB_1005.jpg
textures/CampTop_N.png
textures/Karlach_Eyes_D.jpg
textures/Karlach_Hair_D.png
textures/CampTop_D.png
textures/Karlach_Arms_S.jpg
textures/KarlachMU02_T.jpg
textures/Karlach_Face_N.png
textures/Karlach_Eyes_O.jpg
textures/Karlach_Tail_B.png
textures/Karlach_Armfire_D.png
textures/CampSandals_N.png
textures/BarbarianTop_N.png
textures/Karlach_Arms_B.jpg
textures/Alternative Mouth_Bump.jpg
textures/Karlach_Torso_T.png
textures/Karlach_EyesBlue_D.jpg
textures/BarbarianTop_D.png
textures/BarbarianBoots_N.png
textures/Karlach_ArmfireBlue_D.png
textures/Karlach_Torso_S.jpg
textures/GensMapT_Default_1009.jpg
textures/Karlach_Tail_S.png
textures/CampPants_B.png
textures/Alternative Mouth_TX.jpg
textures/Exhaust_C blue.png
textures/Karlach_Eyes_N.png
textures/KarlachHair_S.jpg
textures/CampSandals_B.png
textures/BarbarianPants_D.png
textures/BarbarianBoots_G.png
textures/Barbarian_Gloves_D.png
textures/Karlach_ChestBlue_D.png
textures/Karlach_Legs_D.png
textures/KarlachMU02_D.jpg
textures/CampPants_D.png
textures/BarbarianPants_O.png
textures/CampSandals_M.png
textures/Karlach_Horn_G.png
textures/Greataxe_M.png
textures/CampSandals_D.png
textures/Karlach_Tail_N.png
textures/Karlach_Tail_D.png
textures/G8FBaseMouthMapD_1005.jpg
textures/Karlach_Scalp_N.png
textures/Alternative Mouth_Spec 2.tif