Adult content
This content is marked as Adult/NSFW content. You can toggle your preferences regarding this content type in your account settings.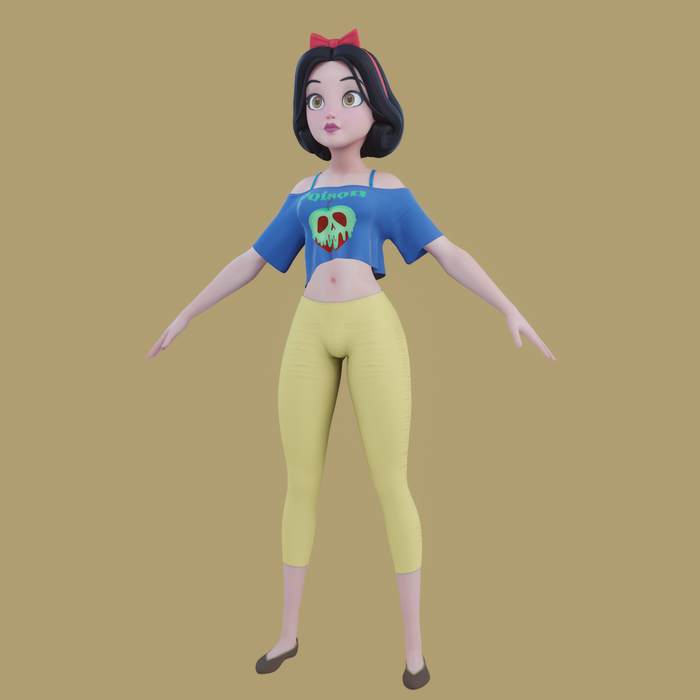 Show more
Description
Hello everyone!!! Im here with another princcesses ;D again in the style of Wreck It Ralph! I really like that style as it modernizes the look of some classic princesses like Snow White! I really hope everyone enjoy can enjoy it and ofc have fun C:
*please let me know if you have crashes with this model, I made it with Blender 3.5.1 and MHX 1.7!
Here is my pages if you found something weird in the model or you wanna tag me in your works. I will happily see you works C:
It would be amazing if you can support me on Patreon plus Im making more princesses like Belle, Esmeralda and Megara, Im going to be uploading more previews of them on my Twitter during the coming weeks so stay tuned ;D
*Please do not reupload in other places or port in other places and dont take part of the character, I really appreciate it(Seriously respect this, just because its free doesn't mean you can do whatever you want with it, thanks for understand! C:)
SmutBase is a free service. However, it costs about $0.03 to deliver you a 1GB file. With over 20TB of traffic every month and growing, SmutBase needs your help. If only 1% of our users each gave us $5 for a single month, we could keep the site running for several years.
Filename
Downloads
Created
Filesize
Files
Disney_Snow_White.blend
1464
2023-08-16 23:19:12
101.97 MB
textures_Qn6tXoS.rar
1285
2023-08-16 23:19:26
304.89 MB
File contents:

textures/Dolores_Mouth.jpg
textures/p3dBusinessWomanShoesTX.jpg
textures/Comfy_Lace_Lingerie_Bottom_O.jpg
textures/XF_Underwire_lingerie_G9_Bra_O.jpg
textures/Strip Sweater N.jpg
textures/Comfy_Lace_Lingerie_Bra_R02.jpg
textures/XF-SheerLace Babydoll_O.jpg
textures/Comfy_Lace_Lingerie_Bottom_M.jpg
textures/XF_Mini_Bikini_Bottom_B.jpg
textures/MTT_IO FPA TOP 01-8.jpg
textures/TreadN.jpg
textures/Dolores_Face01.jpg
textures/Strip Sweater Albedo.jpg
textures/T_F_MED_Valentine_Fashion_Dark_FaceAcc_FX.tga
textures/Comfy_Lace_Lingerie_Bra_N.jpg
textures/XF_Adore_Me_Panties_M.jpg
textures/Strip Bikini Top Stitches_B.jpg
textures/Strip_Swimsuit_N.jpg
textures/XF_Underwire_lingerie_G9_Bottom_O.jpg
textures/Comfy_Lace_Lingerie_Bra_O.jpg
textures/XF_Adore_Me_Corset_O.jpg
textures/XF_Mini_Bikini_Bottom_N.jpg
textures/Eyes_D.png
textures/T_F_MED_Valentine_Fashion_FaceAcc_S.tga
textures/Strip Sweater R.jpg
textures/Thread_N.jpg
textures/Snowhite_Shirt.png
textures/T_F_MED_Valentine_Fashion_FaceAcc_N.tga
textures/XF_Adore_Me_Corset_N.jpg
textures/XF_Adore_Me_Corset_M.jpg
textures/Hair_N.png
textures/Bodysuit Sweater R.jpg
textures/Bump.jpg
textures/Salt_Bra_Normal01.jpg
textures/Bodysuit Sweater N.jpg
textures/XF_Adore_Me_Socks_B.jpg
textures/XF_Mini_Bikini_Top_B.jpg
textures/XF_Underwire_lingerie_G9_Bra_N.jpg
textures/Strip Bikini Panty_N.jpg
textures/snow_white_diff.jpg
textures/T-bra_B.jpg
textures/XF_Adore_Me_Socks_O.jpg
textures/Comfy_Lace_Lingerie_Bottom_B.jpg
textures/XF_Adore_Me_Panties_N.jpg
textures/Dolores_Eyes.jpg
textures/dForce_CapriLeggings_07B.jpg
textures/XF_SexyRevealing_Bra_N.jpg
textures/Victoria8_1_EyelashesO.jpg
textures/T_Fuzz_MASK.tga
textures/T_F_MED_Valentine_Fashion_FaceAcc_M.tga
textures/XF_SeeThrough_Lingerie_Panties_O.jpg
textures/Salt_Bottom_Normal01.jpg
textures/XF-SheerLace Babydoll_M.jpg
textures/Salt_Bottom_BM01.jpg
textures/Roughness.png
textures/Comfy_Lace_Lingerie_Bra_M.jpg
textures/XF-SheerLace Babydoll_N.jpg
textures/XF-SheerLace Babydoll_B.jpg
textures/Nipple Cover Normal.png
textures/p3dBusinessWomanShoesN.jpg
textures/XF_Adore_Me_Corset_R.jpg
textures/T_F_MED_Valentine_Fashion_FaceAcc_D.tga
textures/T_F_MED_Valentine_Fashion_Dark_FaceAcc_M.tga
textures/MTT_IO FPA PAT 01-4.jpg
textures/T_F_MED_Valentine_Fashion_FaceAcc_FX.tga
textures/Comfy_Lace_Lingerie_Bra_B.jpg
textures/Torso_D.png
textures/Hair_T.png
textures/XF_SeeThrough_Lingerie_ Bra_B.jpg
textures/MTT_IO FPA P N.jpg
textures/XF_Mini_Bikini_Top_N.jpg
textures/Panties Normal.png
textures/XF_Adore_Me_Socks_N.jpg
textures/Strip Bikini_B.jpg
textures/XF-SheerLace Panty_M.jpg
textures/XF_Adore_Me_Corset_B.jpg
textures/Strip Bikini Panty Stitches_B.jpg
textures/Arms_D.jpg
textures/Dolores_Arms.jpg
textures/ATM_HDRiSkydome_Noon_Vue_B.exr
textures/dForce_OffShoulderMidriffTee_04ACT.jpg
textures/XF_SeeThrough_Lingerie_ Bra_O.jpg
textures/Strip Sweater D.jpg
textures/white_fabric_02_normal_2k.jpg
textures/dForce_OffShoulderMidriffTee_N.jpg
textures/MTT_IO FPA TOP N.jpg
textures/XF-SheerLace Panty_B.jpg
textures/XF_SeeThrough_Lingerie_Panties_B.jpg
textures/T_F_MED_Valentine_Fashion_Dark_FaceAcc_N.tga
textures/p3dBusinessWomanShoesB.jpg
textures/Strip Bikini Top_N.jpg
textures/XF_Underwire_lingerie_G9_Bottom_B.jpg
textures/Strip Sweater B.jpg
textures/Comfy_Lace_Lingerie_Bottom_N.jpg
textures/XF-SheerLace Panty_D08.jpg
textures/Dolores_Legs.jpg
textures/Head_D2.png
textures/XF_Adore_Me_Panties_B.jpg
textures/Strip_Swimsuit_B_01.jpg
textures/XF-SheerLace Panty_O.jpg
textures/Legs_D.jpg
textures/XF_SexyRevealing_Bra_B.jpg
textures/T_F_MED_Valentine_Fashion_Dark_FaceAcc_S.tga
textures/Victoria8_1_EyelashesNM.jpg
textures/XF_Underwire_lingerie_G9_Bra_B.jpg
textures/Bodysuit Sweater Albedo.jpg
textures/XF_Adore_Me_Panties_R.jpg
textures/Comfy_Lace_Lingerie_Bottom_R.jpg
textures/T_F_MED_Valentine_Fashion_Dark_FaceAcc_D.tga
textures/XF_Underwire_lingerie_G9_Bottom_N.jpg
textures/02 Base Color.png
textures/Salt_Bra_BM01.jpg
textures/white_fabric_02_diffuse_2k.jpg
textures/dForce_CapriLeggings_N2.jpg
textures/dForce_OffShoulderMidriffTee_04ACB.jpg