Adult content
This content is marked as Adult/NSFW content. You can toggle your preferences regarding this content type in your account settings.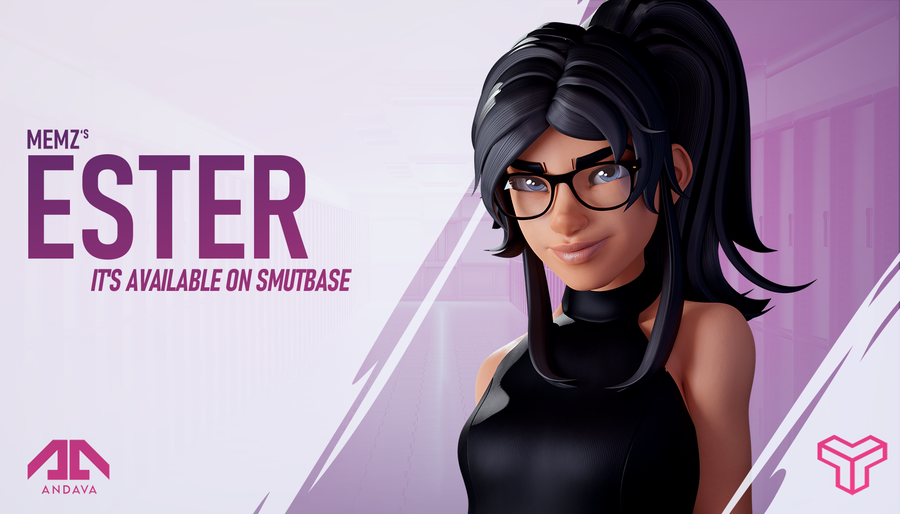 Show more
Description
My Ester [Andava] model is now available !!! If you find any errors, do not hesitate to contact me.
---
Do not forget install Rig tools addon
---
Also, you can join to my Discord server! https://discord.gg/wUejX8nqbT
---
UPDATES
Hotfix 1.2

Cute Feet shapekey has been fixed.

Hotfix 1.1

Tanned bone has been fixed.

Wet bone has been fixed.
---
Do not forget check the Andava networks!
---
---
If you want to have access to my other models, become my patreon! With only $5 you will have access to all my models and updates!
https://www.patreon.com/memz3d
Thanks for your support!
SmutBase is a free service. However, it costs about $0.03 to deliver you a 1GB file. With over 20TB of traffic every month and growing, SmutBase needs your help. If only 1% of our users each gave us $5 for a single month, we could keep the site running for several years.
Filename
Downloads
Created
Filesize
Files
Ester_jPJwMIp.blend
1743
2023-08-17 01:35:44
48.93 MB
textures_LzHvUin.zip
2535
2023-08-13 17:47:47
238.92 MB
File contents:

textures/Lipstick.png
textures/HeadB.png
textures/TorsoB.png
textures/Legs Micro 2.png
textures/GensS.png
textures/Ester Sneakers Sole N.jpg
textures/TorsoSSS.png
textures/Mercy Eyes.png
textures/Eyes HighLights.png
textures/Torso Micro2.png
textures/HairBump.tga
textures/Pelo Arms.png
textures/Ester Hoodie N.jpg
textures/SoleWrinkle L.png
textures/LegsSSS.png
textures/Nails Mask.png
textures/Ester Shorts B.jpg
textures/Ester Hoodie R.jpg
textures/Ester Sneakers Upper D.jpg
textures/Cotton Normal.png
textures/Genesis9_Mouth_R_1001.jpg
textures/Head Micro2.png
textures/Ester FlopFlop D.jpg
textures/Eye N.png
textures/HeadWet.png
textures/ToeNails Secundaty Mask.png
textures/ArmsWet.png
textures/ArmsB.png
textures/GensN.png
textures/LegsN.png
textures/Pelo Torso.png
textures/Ester Sneakers Upper N.jpg
textures/ArmsN.png
textures/SoleWrinkle R.png
textures/Ester Shoes Default M.jpg
textures/ToeNails Mask.png
textures/EsterHead.png
textures/Ester FlopFlop N.jpg
textures/Ester Sneakers Sole D.jpg
textures/HeadN.png
textures/Eyeliner.png
textures/Nails Secundary Mask.png
textures/Ester Stockings.jpg
textures/Pelo Legs.png
textures/Ester Shoes Default D.jpg
textures/Ester Hoodie.png
textures/G8WT_TL_HandPalms.jpg
textures/Eye B.png
textures/Ester Shoes Default N.png
textures/LipsMask.png
textures/TorsoN.png
textures/Eyeshado.png
textures/TorsoWet.png
textures/Ester Hoodie M.jpg
textures/G8WT_TL_FeetPalms.jpg
textures/GensM.png
textures/LegsB.png
textures/G8WT_TL_SmallBikini_String2_Larger.jpg
textures/Genesis9_Mouth_NM_1001.jpg
textures/Hair_Env.tga
textures/LegsWet.png
textures/Ester Hoodie S.jpg
textures/Makeup Lips Blowjob.png
textures/ClothesB.png
textures/Ester Shorts D.jpg
textures/Ester Shorts A.jpg
textures/Genesis9_Mouth_D_1001.jpg
textures/HeadSSS.png
textures/ArmsSSS.png
textures/GensC.png
textures/Makeup Eyes Blowjob.png
textures/Tex_0024_0.png
textures/Eye Emission.png
textures/MouthHead.png
textures/Arms Micro2.png




rig_tools_3.68.50_tFJ1UvU.zip
1258
2023-08-13 16:49:25
38.23 KB
File contents:

rig_tools/reset_all_controllers.py
rig_tools/auto_rig_reset.py
rig_tools/auto_rig_datas.py
rig_tools/rig_prefs.py
rig_tools/__init__.py
rig_tools/rig_functions.py