Adult content
This content is marked as Adult/NSFW content. You can toggle your preferences regarding this content type in your account settings.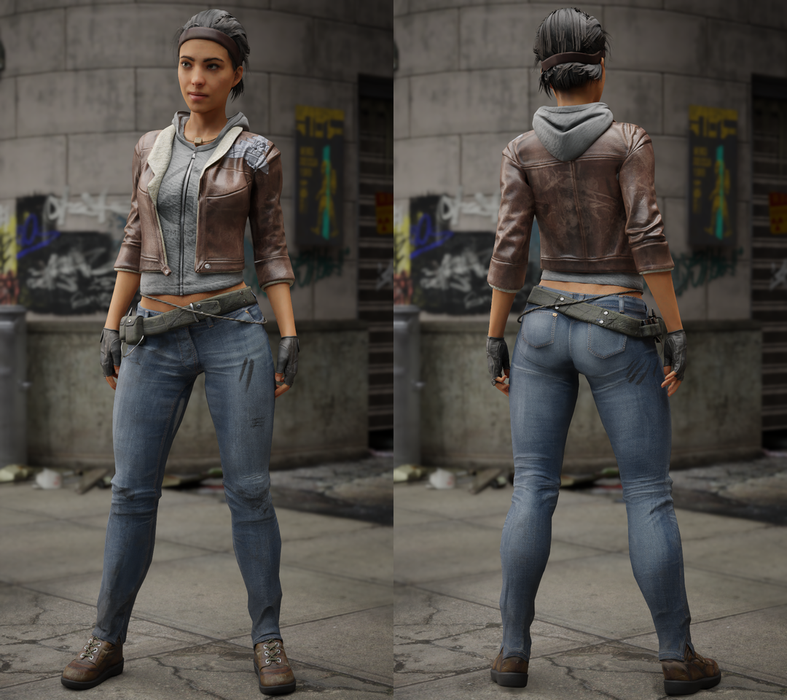 Show more
Description
Alyx Vance from Half-Life Alyx
About:
Fully rigged Generation 8 body with Auto-Rig Pro
Wetness sliders, masking for outfits, etc. (Can be found at the Rigs Properties panel)
Driver controlled corrective shapekeys + alot of extra shapekeys & face presets for your own customization.
IK-FK Switches for body, Including individual finger IK-FK switches.
Some bones have extra tweaking options (Select a bone in pose mode, and check the properties panel)
Some outfits also have extra options for color, and fitment (Can be found at the Properties Panel)
Knee & Elbow pinning
Jiggle physics for breasts and torso (Uses cloth simulation, might need tweaking for your liking)
EEVEE & Cycles compatible
Option for Futa
Inlcudes also Alyxgun and her Multitool
Changelog:
Sept. 30.
Fixed bone scaling for certain parts, added extra tweaking bones for butt and genitals.
(No re-download needed for the textures)
Aug. 12.
Fixed some shapekeys and drivers.
(No re-download needed for the textures)
Credits:
Rigid3D : For the custom shading setup.
Daz : for the base and some assets.
Valve, Super Massive Games, Naughty Dog and rest of the games I probably forgot to mention : For some of the assets.
SmutBase is a free service. However, it costs about $0.03 to deliver you a 1GB file. With over 20TB of traffic every month and growing, SmutBase needs your help. If only 1% of our users each gave us $5 for a single month, we could keep the site running for several years.
Filename
Downloads
Created
Filesize
Files
Alyx_Vance_Half-Life_V.2.0.3.zip
243
2023-09-30 11:21:24
195.25 MB
File contents:

Alyx Vance (Half-Life)/Alyx_Vance.blend




Alyx_Vance_Half-Life_Textures.zip
2119
2023-08-08 09:05:55
791.38 MB
File contents:

textures/underwear_panties_normal.png
textures/Dicktator_DK_NM00.png
textures/Alyx_Lashes.jpg
textures/leggings_diffuse.png
textures/Multitool_S.png
textures/DBikiniBottom_T3.jpg
textures/Alyx_Head_Diffuse.png
textures/DBikiniBra_T5.jpg
textures/Alyx_Gun_Bullets_D.png
textures/runners_diffuse.png
textures/Alyx_Eyebrows_Alpha.png
textures/Alyx_Hair_Diffuse.png
textures/SkinMicro_02.png
textures/dirt_stains.png
textures/Alyx_Gun_Mag_S.png
textures/shorts_normal.png
textures/DashBikini_BottomN1.jpg
textures/Multitool_Emitter_D.png
textures/underwear_bra_diffuse.png
textures/Alyx_Eyes.png
textures/Gens_T.jpg
textures/Alyx_Body_Normal.png
textures/Alyx_Arms_Diffuse.png
textures/Dicktator_DK_S1_DifM01.png
textures/SkinMicro_01.png
textures/Alyxgun_Addon_Shroud.png
textures/Alyx_Body_Mask.png
textures/Alyx_Head_Normal.png
textures/Detail_Fabric01.png
textures/Alyx_Gun_Bullets_E.png
textures/leggings_normal.png
textures/Alyxgun_Addon_Shroud_N.png
textures/Alyx_Gun_SlideTrigger_D.png
textures/Alyx_Head_SR.png
textures/Alyxgun_Body2_N.png
textures/Dicktator_DK_Detail.png
textures/leggings_RGB.png
textures/t1_069_wa_tank__short_rogue_D.png
textures/Dicktator_DK_NM01.png
textures/DBikiniBra_T4.jpg
textures/Alyx_Gloves_Diffuse.png
textures/DBikiniBra_B1.jpg
textures/Alyx_Gun_Bullets_N.png
textures/underwear_lace_normal.png
textures/Alyxgun_Grip_D.png
textures/Alyx_Arms_SR.png
textures/Casual_Shoes_Dirt_Mask.png
textures/Casual_Shoes_Normal.png
textures/Alyxgun_Grip_N.png
textures/Alyx_Gun_Digit_N.png
textures/Alyxgun_Body2_D.png
textures/Alyx_Eyes_Normal.png
textures/Gens_S.png
textures/Casual_Shoes_Rubber_Blend.png
textures/Alyx_Torso_Futa_Diffuse.png
textures/Casual_Shoes_Diffuse.png
textures/Alyxgun_Body2_S.png
textures/Casual_Shoes_Fabric_Blend.png
textures/Dicktator_DK_NM03.png
textures/TankTop_Long_Normal.png
textures/Alyx_Mouth_Diffuse.png
textures/Alyxgun_Addon_Shroud_S.png
textures/DBikiniBra_T3.jpg
textures/pants_detail_ashley_normal.png
textures/Alyxgun_Grip_S.png
textures/DBikiniBottom_B1.jpg
textures/Alyx_Torso_Diffuse.png
textures/lace_diffuse.png
textures/Multitool_Screen2_D.png
textures/runners_normal.png
textures/DBikiniBottom_T4.jpg
textures/Dicktator_DK_NM04.png
textures/Alyx_Body_Diffuse.png
textures/Dicktator_DK_NM.png
textures/Multitool_N.png
textures/belt_diffuse.png
textures/Alyx_Arms_Normal.png
textures/TankTop_Long_Diffuse.png
textures/Dicktator_DK_TM.png
textures/Multitool_D.png
textures/Dicktator_DK_NM02.png
textures/Alyx_Gun_Mag_N.png
textures/underwear_detail01.png
textures/DBikiniBottom_T1.jpg
textures/belt_normal.png
textures/Alyx_Legs_SR.png
textures/Gens_N.png
textures/Casual_Shoes_AO.png
textures/Alyx_Legs_Normal.png
textures/Alyx_Hair_Normal.png
textures/Alyx_Gun_SlideTrigger_N.png
textures/DBikiniBra_N1.jpg
textures/fabrics-gabardine-2-2-normal.png
textures/t1_069_wa_tank__short_rogue_N.png
textures/Alyx_Legs_Diffuse.png
textures/DBikiniBottom_T2.jpg
textures/underwear_lace_diffuse.png
textures/Alyx_Gun_Mag_D.png
textures/Gens_D.png
textures/Alyx_Headband_Normal.png
textures/Alyx_Headband_Diffuse.png
textures/DBikiniBra_T2.jpg
textures/Alyx_Gun_Bullets_S.png
textures/Alyx_Gloves_Normal.png
textures/Alyx_Gun_SlideTrigger_S.png
textures/lace_normal.png
textures/shorts_diffuse.png
textures/Alyx_Mouth_Normal.png
textures/runners_mask.png
textures/Alyx_Gun_Digit_D.png
textures/Alyx_Torso_Normal.png
textures/Alyx_Torso_SR.png
textures/leggings_detail.png
textures/Alyx_Teeth_Detail.png
textures/Multitool_Screen_D.png
textures/underwear_bra_normal.png
textures/underwear_panties_diffuse.png