Adult content
This content is marked as Adult/NSFW content. You can toggle your preferences regarding this content type in your account settings.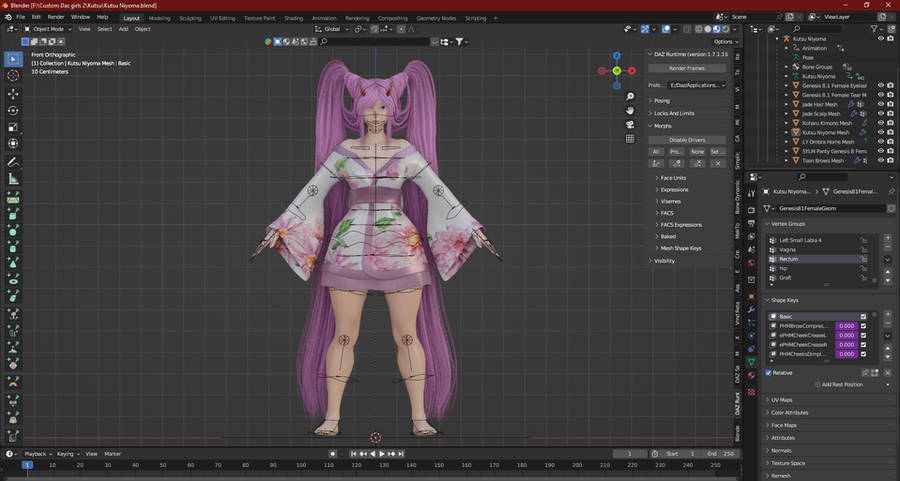 Show more
Description
She's an oni girl made for my Series The Tales of St. Dumar she's crazy, sadistic, and very smug in nature she considers herself above humans and other oni but she does have have a soft spot for some mortals so there will be two uploads one with the textures packed and one with the textures reduced
She using the mhx rig and so you will need the diffeomorphic add-on for her to be utilized properly https://www.dropbox.com/s/7mj32wh3bnn4rwe/import_daz_mhx_rts_v1_7_1.zip
if you use her for anything be sure to tag me @HentaicoreR18 please don't claim her as your own
if you like my work please consider supporting me on patreon https://patreon.com/Hentaicore
ps. she's over 6 years old don't get fooled by the height you animales lol
SmutBase is a free service. However, it costs about $0.03 to deliver you a 1GB file. With over 20TB of traffic every month and growing, SmutBase needs your help. If only 1% of our users each gave us $5 for a single month, we could keep the site running for several years.
Filename
Downloads
Created
Filesize
Files
Kutsu_Niyoma.blend
179
2023-07-29 13:08:52
48.57 MB
res2.zip
129
2023-07-29 13:08:53
11.24 MB
File contents:

Vo Aileen HeadN-res2.jpg
sylm_rope_BMP-res2.jpg
LY_Ombra_Horns_02_B-res2.jpg
LLF-JadeHair-Hair2-09-res2.jpg
LLF-JadeHair1_Normal-res2.png
Vo Aileen Lashes-res2.jpg
LLF-JadeHair-Hair1-09-res2.jpg
Vo Aileen LashesN-res2.jpg
Vo Aileen TorsoB-res2.jpg
Vo Aileen LegsB-res2.jpg
Vo Aileen Legs3S-res2.jpg
Vo Aileen ArmsW-res2.jpg
KoharuKimono_SashSkirt_01B-res2.jpg
Vo Aileen ArmsD-res2.jpg
KoharuKimono_R-res2.jpg
Vo Aileen MouthN-res2.jpg
Vo Aileen ArmsN-res2.jpg
Vo Aileen LegsD-res2.jpg
Vo Aileen FaceAO-res2.jpg
Vo Aileen Head3S-res2.jpg
Vo Aileen TearOpacity-res2.jpg
sylm_panty01_DIFF-res2.jpg
sylm_panty01_RM-res2.jpg
LY_Ombra_Horns_02_N-res2.jpg
LY_Ombra_Horns_02_Gloss-res2.jpg
LLF-JadeHair-Hair2-Trans-res2.png
KoharuKimono_SashSkirt_N-res2.tif
Vo Aileen TorsoN-res2.jpg
KoharuKimono_SashSkirt_H-res2.jpg
Vo Aileen FaceN-res2.jpg
LY_Ombra_Horns_02_Diffuse-res2.jpg
Vo Aileen Gen Details Normal-res2.png
KoharuKimono_SashSkirt_R-res2.jpg
LY_Ombra_Horns_02_S-res2.jpg
Vo Aileen ArmsB-res2.jpg
LLF-JadeHair-scalp-09-res2.jpg
Vo Aileen FaceW-res2.jpg
Vo Aileen LegsAO-res2.jpg
Vo Aileen HeadD-res2.jpg
GoldenPalace_Specularity-res2.jpg
Vo Aileen FaceS1-res2.jpg
Vo Aileen TorsoS1-res2.jpg
Vo Aileen Eyes ColorD-res2.jpg
Vo Aileen ArmsS1-res2.jpg
GoldenPalace_Trasparency-res2.jpg
KoharuKimono_01-res2.jpg
LY_Ombra_Horns_02_D-res2.jpg
sylm_panty01_NM-res2.jpg
KoharuKimono_H-res2.jpg
Vo Aileen HeadB-res2.jpg
Vo Aileen MouthD-res2.jpg
GoldenPalace_Color-res2.jpg
Vo Aileen MouthB-res2.jpg
Vo Aileen Face3S-res2.jpg
GoldenPalace_Displacement-res2.jpg
Vo Aileen Gen Details Roughness-res2.png
GoldenPalace_Translucency-res2.jpg
Vo Aileen Torso3S-res2.jpg
LLF-JadeHair-Hair4-Trans-res2.png
LLF-JadeHair-scalp-T-res2.png
LLF_JadeHair2_Normal-res2.png
Vo Aileen FaceB-res2.jpg
LLF-JadeHair-Hair1-Trans-res2.png
Vo Aileen HeadS1-res2.jpg
Vo Aileen Arms3S-res2.jpg
Vo Aileen Eyes ColorN2-res2.jpg
Vo Aileen Eyes ColorB-res2.jpg
Vo Aileen LegsN-res2.jpg
GoldenPalace_NormalMap-res2.jpg
Vo Aileen LegsW-res2.jpg
KoharuKimono_N-res2.tif
Vo Aileen TorsoAO-res2.jpg
Vo Aileen TorsoD-res2.jpg
Vo Aileen LegsS1-res2.jpg
LLF-JadeHair-Hair3-Trans-res2.png
Vo Aileen ArmsAO-res2.jpg
LLF_JadeHair_Scalp_Normal-res2.png
Vo Aileen FaceD-res2.jpg




Kutsu_Niyoma_packed.blend
252
2023-07-29 13:09:05
283.58 MB