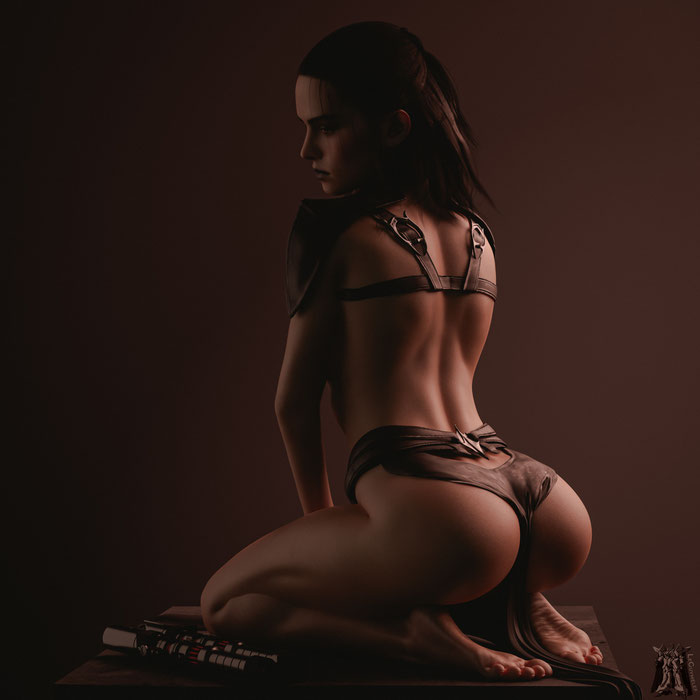 Show more
Description
I've recently released my 100th model on patreon so as a celebration, everyone gets a gift. Rey was my first ever released model so the circle is complete.
Rey - Star Wars
What's included
Rey with full nude body and both IK and FK rig
4 outfits (3 more available on patreon)
3 hairstyles
3 skin textures
2 eye textures
Lots of ligthsabers including the ones seen in the last movie (yes even that stupid one)
Requirements
My UI addon provided in the download section
The shared textures I provide in the download section
Daz addon 1.6.2 (provided below) or superior (not tested but should work)
Blender 3.5 or superior
What's new ?
Almost everything : new body, new rig, new UI, new options, new facial rig, new materials, actual eyebrows
My UI is now an addon and supports all my models, even the very old ones
Materials adapt to your render engine for improved compatibility
All outfits have at least one alternative texture set selectable in the UI
Lightsabers have a rig allowing to draw/retract the blade and do some other stuff, customizable color and emissive amount
How to use
Download everything
Install both addons
Extract model and all textures
Use the panel called "LeGuymelef UI" to tweak...there's just too much in there to explain here but most features should be self explanatory. Explore and try things out.
Outfits Library
Known issues
Clipping will happen, that's life in 3d, best way to fix is to go in sculpt mode. It's mighty useful so it's a great skill to have if you're not familiar with it.
FAQ
Q: IK doesn't work at all --> A: 1) Make sure you're using the panel called LeGuymelef UI panel and 2) make sure you're using the IK switch button and not just showing the IK bones from the armature layer
Q: Knees don't bend in IK --> A: Switch back to FK, use the clear pose button, then switch back to IK
Q: Textures are weird or body is all shiny --> A: Download and install shared textures
Q: Do I need both the shared textures and the ones that come with the model ? --> A: Yes.
Q: Hair has black patches on cycles --> A: Increase the transparency bounces
Q: Do you take commissions --> A: No
Q: Mirror posing doesn't work --> A: Use the mirror mode from the UI
Q: How do I control the gens opening --> A: Scale the pink bones close to the gens
Q: I'm new to blender --> A: Hi "new to blender", I'm LeGuymelef, let me introduce you to Google.
Q: Heels for the darth outfit are wonky --> A: Use the correct heel pose from the UI, the name of the heels tells you which pose you should use [LowH] = Low Heels pose.
Q: Is there a list of your models ? A: Yes, HERE
Blabla
Tag me if you use the model, I'd enjoy seeing what you do with it (@LeGuymelef on X)
If you use my models for patreon exclusive content or otherwise, please consider giving a little something back : https://www.patreon.com/LeGuymelef
Same address if you want more models or the 4K shared textures
Credits
DrDabblur for base shape and some textures
crute for some of the armature widgets
Changelog
SmutBase is a free service. However, it costs about $0.03 to deliver you a 1GB file. With over 20TB of traffic every month and growing, SmutBase needs your help. If only 1% of our users each gave us $5 for a single month, we could keep the site running for several years.
Filename
Downloads
Created
Filesize
Files
LeGuymelef_ui_Addon_2_0_3.zip
1672
2023-08-21 18:03:48
24.79 KB
File contents:

LeGuymelef_ui - 2_0_3.py




Rey_v2.0_Smutbase_-_LeGuymelef.7z
2450
2023-08-21 18:03:38
297.27 MB
File contents:

Rey v2.0 Smutbase - LeGuymelef.blend
Textures/Star Wars - Rey/Kylo's Ligthsaber/t_lightsaberkylo_01_s.jpg
Textures/Star Wars - Rey/Kylo's Ligthsaber/t_lightsaberkylo_01_m.jpg
Textures/Star Wars - Rey/Kylo's Ligthsaber/t_lightsaberkylo_01_cs.jpg
Textures/Star Wars - Rey/Kylo's Ligthsaber/t_lightsaberkylo_01_nm.png
Textures/Star Wars - Rey/Outfit dark side/siut_dif.jpg
Textures/Star Wars - Rey/Outfit dark side/mask_dif.jpg
Textures/Star Wars - Rey/Outfit dark side/bfn_vaylin_a01_v01_s.jpg
Textures/Star Wars - Rey/Outfit dark side/bfn_vaylin_a01_v01_n.png
Textures/Star Wars - Rey/Outfit dark side/mask_nrm.png
Textures/Star Wars - Rey/Outfit dark side/mask_ao.jpg
Textures/Star Wars - Rey/Outfit dark side/siut_ao.jpg
Textures/Star Wars - Rey/Outfit dark side/bfn_vaylin_a01_v01_d.jpg
Textures/Star Wars - Rey/Outfit dark side/bfn_vaylin_a01_v01_l.jpg
Textures/Star Wars - Rey/Outfit dark side/siut_rgh.jpg
Textures/Star Wars - Rey/Outfit dark side/siut_nrm.png
Textures/Star Wars - Rey/Outfit dark side/mask_rgh.jpg
Textures/Star Wars - Rey/items/env.png
Textures/Star Wars - Rey/items/staff_color.png
Textures/Star Wars - Rey/items/red.png
Textures/Star Wars - Rey/items/nn14_normal.png
Textures/Star Wars - Rey/items/staff_normal.png
Textures/Star Wars - Rey/items/fo_binders_color.png
Textures/Star Wars - Rey/items/rey_speeder_color.png
Textures/Star Wars - Rey/items/rey_speeder_junk_normal.png
Textures/Star Wars - Rey/items/portion_color.png
Textures/Star Wars - Rey/items/rey_speeder_net_color.png
Textures/Star Wars - Rey/items/rey_speeder_junk_color.png
Textures/Star Wars - Rey/items/raeh_helmet_normal.png
Textures/Star Wars - Rey/items/portion_normal.png
Textures/Star Wars - Rey/items/saber_normal.png
Textures/Star Wars - Rey/items/fo_binders_normal.png
Textures/Star Wars - Rey/items/Rey_Saber_D.tga
Textures/Star Wars - Rey/items/saber_color.png
Textures/Star Wars - Rey/items/raeh_helmet_color.png
Textures/Star Wars - Rey/items/nn14_color.png
Textures/Star Wars - Rey/items/rey_speeder_normal.png
Textures/Star Wars - Rey/Skin/Rey Arms_D.jpg
Textures/Star Wars - Rey/Skin/Rey Face Dirt_D 1.1.jpg
Textures/Star Wars - Rey/Skin/Rey Arms Dirty_D.jpg
Textures/Star Wars - Rey/Skin/Rey Eyes_D.jpg
Textures/Star Wars - Rey/Skin/Rey Torso_D 1.2.jpg
Textures/Star Wars - Rey/Skin/Rey Legs_D.jpg
Textures/Star Wars - Rey/Skin/Rey Face Dark_D 1.1.jpg
Textures/Star Wars - Rey/Skin/Rey Face_N.png
Textures/Star Wars - Rey/Skin/Rey Eyes DS_D Alt.jpg
Textures/Star Wars - Rey/Skin/Rey Torso Dirty_D 1.4.jpg
Textures/Star Wars - Rey/Skin/Rey Legs Dirty_D.jpg
Textures/Star Wars - Rey/Skin/ReyAO 1.0.jpg
Textures/Star Wars - Rey/Skin/Rey Face Light_D 1.1.jpg
Textures/Star Wars - Rey/Hair/rey_hair_tlj_normal.png
Textures/Star Wars - Rey/Hair/rey_hair_color.png
Textures/Star Wars - Rey/Hair/rey_haircap_normal.png
Textures/Star Wars - Rey/Hair/Tros_Rey_Scalp_D.png
Textures/Star Wars - Rey/Hair/Tros_Rey_Hair_N.png
Textures/Star Wars - Rey/Hair/rey_haircap_color.png
Textures/Star Wars - Rey/Hair/Tros_Rey_Hair_D.jpg
Textures/Star Wars - Rey/Hair/eyelashes_normal.png
Textures/Star Wars - Rey/Hair/pubes_normal.png
Textures/Star Wars - Rey/Hair/Tros_Rey_Hair_D.png
Textures/Star Wars - Rey/Hair/rey_hair_normal.png
Textures/Star Wars - Rey/Hair/rey_hair_tlj_color.png
Textures/Star Wars - Rey/Hair/pubes_color.png
Textures/Star Wars - Rey/Hair/rey_haircap_tlj_normal.png
Textures/Star Wars - Rey/Hair/eyelashes_color.png
Textures/Star Wars - Rey/Hair/Tros_Rey_Scalp_D.jpg
Textures/Star Wars - Rey/Hair/Tros_Rey_Scalp_N.png
Textures/Star Wars - Rey/Hair/rey_haircap_tlj_color.png
Textures/Star Wars - Rey/Outfit tfa/clothes_shirt_tfa_s.jpg
Textures/Star Wars - Rey/Outfit tfa/clothes_shirt_tfa_normal.png
Textures/Star Wars - Rey/Outfit tfa/clothes_gloves_s.jpg
Textures/Star Wars - Rey/Outfit tfa/clothes_tfa_base_color.jpg
Textures/Star Wars - Rey/Outfit tfa/clothes_gloves_color.jpg
Textures/Star Wars - Rey/Outfit tfa/clothes_shirt_tfa_color.jpg
Textures/Star Wars - Rey/Outfit tfa/clothes_cloth_tfa_color.jpg
Textures/Star Wars - Rey/Outfit tfa/clothes_tfa_base_s.jpg
Textures/Star Wars - Rey/Outfit tfa/Rey_Cloth_MiniN.tga
Textures/Star Wars - Rey/Outfit tfa/clothes_tfa_base_normal.png
Textures/Star Wars - Rey/Outfit tfa/clothes_cloth_tfa_normal.png
Textures/Star Wars - Rey/Outfit tfa/clothes_tfa_base_m.png
Textures/Star Wars - Rey/Outfit tfa/clothes_gloves_normal.png
Textures/Star Wars - Rey/Rey's Lightsaber/switch_Normal_OpenGL.png
Textures/Star Wars - Rey/Rey's Lightsaber/hilt_Normal_OpenGL.png
Textures/Star Wars - Rey/Rey's Lightsaber/switch_Mixed_AO.jpg
Textures/Star Wars - Rey/Rey's Lightsaber/hilt_Roughness.jpg
Textures/Star Wars - Rey/Rey's Lightsaber/hilt_Base_Color.jpg
Textures/Star Wars - Rey/Rey's Lightsaber/bandage_Mixed_AO.jpg
Textures/Star Wars - Rey/Rey's Lightsaber/switch_Base_Color.jpg
Textures/Star Wars - Rey/Rey's Lightsaber/switch_Roughness.jpg
Textures/Star Wars - Rey/Rey's Lightsaber/bandage_Base_Color.jpg
Textures/Star Wars - Rey/Rey's Lightsaber/hilt_Metallic.jpg
Textures/Star Wars - Rey/Rey's Lightsaber/bandage_Roughness.jpg
Textures/Star Wars - Rey/Rey's Lightsaber/hilt_Mixed_AO.jpg
Textures/Star Wars - Rey/Rey's Lightsaber/bandage_Normal_OpenGL.png
Textures/Star Wars - Rey/Rey Staff/Rey_QS_Metallic.jpg
Textures/Star Wars - Rey/Rey Staff/Rey_QS_Base_Color.jpg
Textures/Star Wars - Rey/Rey Staff/Rey_QS_Normal_DirectX.png
Textures/Star Wars - Rey/Rey Staff/Rey_QS_Roughness.jpg
Textures/Star Wars - Rey/Rey Staff/Rey_QS_Mixed_AO.jpg
Textures/Star Wars - Rey/Outfit tlj/clothes_base_training_m.png
Textures/Star Wars - Rey/Outfit tlj/clothes_shirt_training_normal.png
Textures/Star Wars - Rey/Outfit tlj/clothes_shirt_training_color.jpg
Textures/Star Wars - Rey/Outfit tlj/clothes_base_training_s.jpg
Textures/Star Wars - Rey/Outfit tlj/clothes_base_training_normal.png
Textures/Star Wars - Rey/Outfit tlj/clothes_base_training.jpg
Textures/Star Wars - Rey/Outfit tros fortnite/Rey_Body_N.png
Textures/Star Wars - Rey/Outfit tros fortnite/Rey_Body_AO.jpg
Textures/Star Wars - Rey/Outfit tros fortnite/Rey_Body_N v2.png
Textures/Star Wars - Rey/Outfit tros fortnite/Rey_Body_D.jpg
Textures/Star Wars - Rey/Outfit tros fortnite/Rey_Body_S.jpg
Textures/Star Wars - Rey/Outfit tros fortnite/Rey_Body_M.png




2K_-_Female_Shared_Textures_V12_-_LeGuymelef.7z
1994
2023-08-21 18:03:46
123.67 MB
File contents:

Textures/Default Package/Eyelashes/G8_1FEyelashesNM.jpg
Textures/Default Package/Eyelashes/G8_1TearOpacity.jpg
Textures/Default Package/Eyelashes/G8FBaseEyelashes_1006.jpg
Textures/Default Package/Eyelashes/G8_1FEyelashesO.jpg
Textures/Default Package/Body textures/LegsN_1003.jpg
Textures/Default Package/Body textures/LegsS_1003.jpg
Textures/Default Package/Body textures/Default Muscly Torso_n.png
Textures/Default Package/Body textures/Default Arms Details.jpg
Textures/Default Package/Body textures/ArmsS_1004.jpg
Textures/Default Package/Body textures/Default Muscly Legs_n.png
Textures/Default Package/Body textures/Default_Face_n.png
Textures/Default Package/Body textures/Default Legs Details.jpg
Textures/Default Package/Body textures/ArmsN_1004.jpg
Textures/Default Package/Body textures/FaceS_1001.jpg
Textures/Default Package/Body textures/Default Torso Details.jpg
Textures/Default Package/Body textures/Default_Arms_n.png
Textures/Default Package/Body textures/Default Muscly Arms_n.png
Textures/Default Package/Body textures/TorsoN_1002.jpg
Textures/Default Package/Body textures/Default_Legs_n.png
Textures/Default Package/Body textures/Default Head Details.jpg
Textures/Default Package/Body textures/TorsoS_1002.jpg
Textures/Default Package/Body textures/Default_Torso_n.png
Textures/Default Package/Body textures/Default Legs_n.jpg
Textures/Default Package/Body textures/Bump/FaceB.jpg
Textures/Default Package/Body textures/Bump/LegsB.jpg
Textures/Default Package/Body textures/Bump/ArmsB.jpg
Textures/Default Package/Body textures/Bump/TorsoB.jpg
Textures/Default Package/Masks/Blood-Dirt-Veins Legs Mask.jpg
Textures/Default Package/Masks/Torso_Freckles_0M.jpg
Textures/Default Package/Masks/Foam Face 2.jpg
Textures/Default Package/Masks/WetSweat Mask.jpg
Textures/Default Package/Masks/Eyeshadow_5M.jpg
Textures/Default Package/Masks/TanlineUpper_3.jpg
Textures/Default Package/Masks/Lip Mask.jpg
Textures/Default Package/Masks/Foam Arms 2.jpg
Textures/Default Package/Masks/Legs_Freckles_0M.jpg
Textures/Default Package/Masks/Arms_Veins_0M.jpg
Textures/Default Package/Masks/Blood-Dirt-Veins Face Mask.jpg
Textures/Default Package/Masks/EyeShadow-Blush Mask.jpg
Textures/Default Package/Masks/TanlineLower_0.jpg
Textures/Default Package/Masks/Tanlines.jpg
Textures/Default Package/Masks/Blood-Dirt-Veins Torso Mask.jpg
Textures/Default Package/Masks/Head_Freckles_0M.jpg
Textures/Default Package/Masks/Foam Body.jpg
Textures/Default Package/Masks/WetMask_n.png
Textures/Default Package/Masks/Arms_Freckles_0M.jpg
Textures/Default Package/Masks/Lips Masks2.jpg
Textures/Default Package/Masks/Mascara Mask.jpg
Textures/Default Package/Masks/SweatMask_n.png
Textures/Default Package/Masks/blush_0M.jpg
Textures/Default Package/Masks/Blood-Dirt-Veins Arms Mask.jpg
Textures/Default Package/Masks/WetSweat Mask v2.jpg
Textures/Default Package/Masks/Foam Legs.jpg
Textures/Default Package/Skin detail/skin_array1.png
Textures/Default Package/Skin detail/Feet Details_R.jpg
Textures/Default Package/Skin detail/SkinMicro_02.png
Textures/Default Package/Skin detail/SkinMicro_03.png
Textures/Default Package/Skin detail/SkinMicro_01.png
Textures/Default Package/Skin detail/Feet Details.jpg
Textures/Default Package/Skin detail/wrap3_laracroft_head_wrinklemap2_N.png
Textures/Default Package/Skin detail/jill_skin_nrm.tga
Textures/Default Package/Skin detail/Feet Details 2048.jpg
Textures/Default Package/Skin detail/Feet Details_R 2048.jpg
Textures/Default Package/Skin detail/Feet Details_L.jpg
Textures/Default Package/Skin detail/wrap3_laracroft_head_wrinklemap1_N.png
Textures/Default Package/Skin detail/Feet Details_L 2048.jpg
Textures/Default Package/Stockings/TS_160_7x11_peresabcod_deviantart.png
Textures/Default Package/Stockings/TS_026_64x48_peresabcod_deviantart.png
Textures/Default Package/Stockings/TS_127_60x32_peresabcod_deviantart.png
Textures/Default Package/Stockings/TS_102_90x32_peresabcod_deviantart.png
Textures/Default Package/Stockings/TS_011_48x45_peresabcod_deviantart.png
Textures/Default Package/Stockings/TS_115_64x106_peresabcod_deviantart.png
Textures/Default Package/Stockings/TS_099_32x26_peresabcod_deviantart.png
Textures/Default Package/Stockings/TS_104_71x64_peresabcod_deviantart.png
Textures/Default Package/Stockings/TS_043_60x67_peresabcod_deviantart.png
Textures/Default Package/Stockings/TS_042_24x21_peresabcod_deviantart.png
Textures/Default Package/Stockings/TS_139_79x27_peresabcod_deviantart.png
Textures/Default Package/Stockings/TS_029_64x90_peresabcod_deviantart.png
Textures/Default Package/Stockings/TS_015_38x46_peresabcod_deviantart.png
Textures/Default Package/Stockings/TS_109_56x64_peresabcod_deviantart.png
Textures/Default Package/Stockings/TS_044_94x76_peresabcod_deviantart.png
Textures/Default Package/Stockings/TS_046_72x78_peresabcod_deviantart.png
Textures/Default Package/Stockings/TS_066_20x32_peresabcod_deviantart.png
Textures/Default Package/Stockings/TS_111_32x40_peresabcod_deviantart.png
Textures/Default Package/Stockings/TS_097_77x64_peresabcod_deviantart.png
Textures/Default Package/Stockings/TS_093_32x64_peresabcod_deviantart.png
Textures/Default Package/Stockings/TS_082_36x22_peresabcod_deviantart.png
Textures/Default Package/Stockings/TS_049_64x64_peresabcod_deviantart.png
Textures/Default Package/Stockings/TS_158_21x21_peresabcod_deviantart.png
Textures/Default Package/Stockings/TS_074_36x66_peresabcod_deviantart.png
Textures/Default Package/Stockings/TS_020_128x27_peresabcod_deviantart.png
Textures/Default Package/Stockings/TS_154_32x26_peresabcod_deviantart.png
Textures/Default Package/Stockings/TS_048_100x58_peresabcod_deviantart.png
Textures/Default Package/Stockings/TS_122_32x64_peresabcod_deviantart.png
Textures/Default Package/Stockings/TS_144_37x30_peresabcod_deviantart.png
Textures/Default Package/Stockings/TS_118_128x38_peresabcod_deviantart.png
Textures/Default Package/Stockings/TS_002_64x32_peresabcod_deviantart.png
Textures/Default Package/Stockings/TS_100_32x32_peresabcod_deviantart.png
Textures/Default Package/Stockings/TS_130_87x128_peresabcod_deviantart.png
Textures/Default Package/Stockings/TS_068_128x87_peresabcod_deviantart.png
Textures/Default Package/Stockings/TS_017_50x64_peresabcod_deviantart.png
Textures/Default Package/Stockings/TS_055_49x32_peresabcod_deviantart.png
Textures/Default Package/Stockings/TS_047_43x30_peresabcod_deviantart.png
Textures/Default Package/Stockings/TS_108_32x32_peresabcod_deviantart.png
Textures/Default Package/Stockings/TS_114_87x64_peresabcod_deviantart.png
Textures/Default Package/Stockings/TS_153_50x60_peresabcod_deviantart.png
Textures/Default Package/Stockings/TS_124_32x48_peresabcod_deviantart.png
Textures/Default Package/Stockings/TS_018_128x80_peresabcod_deviantart.png
Textures/Default Package/Stockings/TS_053_32x64_peresabcod_deviantart.png
Textures/Default Package/Stockings/TS_087_64x64_peresabcod_deviantart.png
Textures/Default Package/Stockings/TS_021_226x64_peresabcod_deviantart.png
Textures/Default Package/Stockings/TS_009_38x41_peresabcod_deviantart.png
Textures/Default Package/Stockings/TS_137_70x42_peresabcod_deviantart.png
Textures/Default Package/Stockings/TS_145_41x45_peresabcod_deviantart.png
Textures/Default Package/Stockings/TS_014_92x25_peresabcod_deviantart.png
Textures/Default Package/Stockings/TS_065_32x32_peresabcod_deviantart.png
Textures/Default Package/Stockings/TS_085_123x32_peresabcod_deviantart.png
Textures/Default Package/Stockings/TS_019_43x32_peresabcod_deviantart.png
Textures/Default Package/Stockings/TS_035_54x15_peresabcod_deviantart.png
Textures/Default Package/Stockings/TS_117_27x64_peresabcod_deviantart.png
Textures/Default Package/Stockings/TS_001_48x32_peresabcod_deviantart.png
Textures/Default Package/Stockings/TS_007_48x38_peresabcod_deviantart.png
Textures/Default Package/Stockings/TS_075_52x48_peresabcod_deviantart.png
Textures/Default Package/Stockings/TS_008_52x48_peresabcod_deviantart.png
Textures/Default Package/Stockings/TS_150_25x50_peresabcod_deviantart.png
Textures/Default Package/Stockings/TS_050_71x188_peresabcod_deviantart.png
Textures/Default Package/Stockings/TS_058_64x64_peresabcod_deviantart.png
Textures/Default Package/Stockings/TS_103_52x32_peresabcod_deviantart.png
Textures/Default Package/Stockings/TS_151_64x78_peresabcod_deviantart.png
Textures/Default Package/Stockings/TS_083_41x32_peresabcod_deviantart.png
Textures/Default Package/Stockings/TS_107_50x128_peresabcod_deviantart.png
Textures/Default Package/Stockings/TS_146_82x43_peresabcod_deviantart.png
Textures/Default Package/Stockings/TS_016_66x105_peresabcod_deviantart.png
Textures/Default Package/Stockings/TS_072_43x32_peresabcod_deviantart.png
Textures/Default Package/Stockings/TS_063_32x47_peresabcod_deviantart.png
Textures/Default Package/Stockings/TS_027_40x36_peresabcod_deviantart.png
Textures/Default Package/Stockings/TS_079_128x64_peresabcod_deviantart.png
Textures/Default Package/Stockings/TS_003_114x128_peresabcod_deviantart.png
Textures/Default Package/Stockings/TS_022_200x16_peresabcod_deviantart.png
Textures/Default Package/Stockings/TS_038_33x44_peresabcod_deviantart.png
Textures/Default Package/Stockings/TS_054_33x128_peresabcod_deviantart.png
Textures/Default Package/Stockings/TS_051_41x64_peresabcod_deviantart.png
Textures/Default Package/Stockings/TS_004_64x64_peresabcod_deviantart.png
Textures/Default Package/Stockings/TS_148_76x42_peresabcod_deviantart.png
Textures/Default Package/Stockings/TS_142_53x21_peresabcod_deviantart.png
Textures/Default Package/Stockings/TS_041_32x32_peresabcod_deviantart.png
Textures/Default Package/Stockings/TS_128_64x64_peresabcod_deviantart.png
Textures/Default Package/Stockings/TS_126_41x32_peresabcod_deviantart.png
Textures/Default Package/Stockings/TS_121_32x32_peresabcod_deviantart.png
Textures/Default Package/Stockings/TS_149_64x53_peresabcod_deviantart.png
Textures/Default Package/Stockings/TS_129_32x64_peresabcod_deviantart.png
Textures/Default Package/Stockings/TS_059_64x96_peresabcod_deviantart.png
Textures/Default Package/Stockings/TS_113_128x76_peresabcod_deviantart.png
Textures/Default Package/Stockings/TS_131_64x87_peresabcod_deviantart.png
Textures/Default Package/Stockings/TS_013_64x78_peresabcod_deviantart.png
Textures/Default Package/Stockings/TS_037_50x24_peresabcod_deviantart.png
Textures/Default Package/Stockings/Seamless_Fishnet_Texture_guide_001_peresabcod_deviantart.jpg
Textures/Default Package/Stockings/TS_092_40x64_peresabcod_deviantart.png
Textures/Default Package/Stockings/TS_119_28x21_peresabcod_deviantart.png
Textures/Default Package/Stockings/TS_116_32x243_peresabcod_deviantart.png
Textures/Default Package/Stockings/TS_133_64x32_peresabcod_deviantart.png
Textures/Default Package/Stockings/Seamless_Fishnet_Texture_guide_002_peresabcod_deviantart.jpg
Textures/Default Package/Stockings/TS_120_32x128_peresabcod_deviantart.png
Textures/Default Package/Stockings/TS_064_48x18_peresabcod_deviantart.png
Textures/Default Package/Stockings/TS_090_64x85_peresabcod_deviantart.png
Textures/Default Package/Stockings/TS_031_32x38_peresabcod_deviantart.png
Textures/Default Package/Stockings/TS_157_32x32_peresabcod_deviantart.png
Textures/Default Package/Stockings/TS_071_64x51_peresabcod_deviantart.png
Textures/Default Package/Stockings/TS_028_64x16_peresabcod_deviantart.png
Textures/Default Package/Stockings/TS_091_64x59_peresabcod_deviantart.png
Textures/Default Package/Stockings/TS_081_64x128_peresabcod_deviantart.png
Textures/Default Package/Stockings/TS_152_126x50_peresabcod_deviantart.png
Textures/Default Package/Stockings/TS_125_64x79_peresabcod_deviantart.png
Textures/Default Package/Stockings/TS_080_128x182_peresabcod_deviantart.png
Textures/Default Package/Stockings/Seamless_Fishnet_Texture_guide_004_peresabcod_deviantart.jpg
Textures/Default Package/Stockings/TS_052_57x89_peresabcod_deviantart.png
Textures/Default Package/Stockings/TS_061_130x50_peresabcod_deviantart.png
Textures/Default Package/Stockings/TS_067_32x32_peresabcod_deviantart.png
Textures/Default Package/Stockings/TS_077_58x128_peresabcod_deviantart.png
Textures/Default Package/Stockings/TS_040_108x38_peresabcod_deviantart.png
Textures/Default Package/Stockings/TS_023_50x110_peresabcod_deviantart.png
Textures/Default Package/Stockings/TS_036_256x75_peresabcod_deviantart.png
Textures/Default Package/Stockings/TS_095_32x64_peresabcod_deviantart.png
Textures/Default Package/Stockings/TS_156_67x26_peresabcod_deviantart.png
Textures/Default Package/Stockings/TS_005_48x16_peresabcod_deviantart.png
Textures/Default Package/Stockings/TS_159_41x48_peresabcod_deviantart.png
Textures/Default Package/Stockings/TS_069_113x128_peresabcod_deviantart.png
Textures/Default Package/Stockings/TS_112_55x128_peresabcod_deviantart.png
Textures/Default Package/Stockings/TS_136_58x62_peresabcod_deviantart.png
Textures/Default Package/Stockings/TS_010_108x211_peresabcod_deviantart.png
Textures/Default Package/Stockings/TS_134_19x24_peresabcod_deviantart.png
Textures/Default Package/Stockings/TS_140_46x62_peresabcod_deviantart.png
Textures/Default Package/Stockings/TS_143_50x14_peresabcod_deviantart.png
Textures/Default Package/Stockings/TS_073_45x32_peresabcod_deviantart.png
Textures/Default Package/Stockings/TS_110_16x20_peresabcod_deviantart.png
Textures/Default Package/Stockings/TS_132_64x42_peresabcod_deviantart.png
Textures/Default Package/Stockings/Seamless_Fishnet_Texture_guide_003_peresabcod_deviantart.jpg
Textures/Default Package/Stockings/TS_025_64x43_peresabcod_deviantart.png
Textures/Default Package/Stockings/TS_141_54x43_peresabcod_deviantart.png
Textures/Default Package/Stockings/TS_088_57x64_peresabcod_deviantart.png
Textures/Default Package/Stockings/TS_106_48x64_peresabcod_deviantart.png
Textures/Default Package/Stockings/TS_089_18x25_peresabcod_deviantart.png
Textures/Default Package/Stockings/TS_060_64x42_peresabcod_deviantart.png
Textures/Default Package/Stockings/TS_101_64x38_peresabcod_deviantart.png
Textures/Default Package/Stockings/TS_057_32x32_peresabcod_deviantart.png
Textures/Default Package/Stockings/TS_098_128x91_peresabcod_deviantart.png
Textures/Default Package/Stockings/TS_034_120x67_peresabcod_deviantart.png
Textures/Default Package/Stockings/TS_123_32x39_peresabcod_deviantart.png
Textures/Default Package/Stockings/TS_033_64x27_peresabcod_deviantart.png
Textures/Default Package/Stockings/TS_096_64x64_peresabcod_deviantart.png
Textures/Default Package/Stockings/TS_006_96x128_peresabcod_deviantart.png
Textures/Default Package/Stockings/TS_030_77x32_peresabcod_deviantart.png
Textures/Default Package/Stockings/TS_138_40x28_peresabcod_deviantart.png
Textures/Default Package/Stockings/TS_012_32x36_peresabcod_deviantart.png
Textures/Default Package/Stockings/TS_076_64x26_peresabcod_deviantart.png
Textures/Default Package/Stockings/TS_086_64x64_peresabcod_deviantart.png
Textures/Default Package/Stockings/TS_024_53x64_peresabcod_deviantart.png
Textures/Default Package/Stockings/TS_155_32x32_peresabcod_deviantart.png
Textures/Default Package/Stockings/TS_094_64x64_peresabcod_deviantart.png
Textures/Default Package/Stockings/TS_032_96x96_peresabcod_deviantart.png
Textures/Default Package/Stockings/TS_045_112x64_peresabcod_deviantart.png
Textures/Default Package/Stockings/TS_070_40x44_peresabcod_deviantart.png
Textures/Default Package/Stockings/TS_062_17x64_peresabcod_deviantart.png
Textures/Default Package/Stockings/TS_135_154x146_peresabcod_deviantart.png
Textures/Default Package/Stockings/TS_105_39x32_peresabcod_deviantart.png
Textures/Default Package/Stockings/TS_039_118x62_peresabcod_deviantart.png
Textures/Default Package/Stockings/TS_056_32x32_peresabcod_deviantart.png
Textures/Default Package/Stockings/TS_084_32x64_peresabcod_deviantart.png
Textures/Default Package/Stockings/TS_147_128x60_peresabcod_deviantart.png
Textures/Default Package/Stockings/TS_078_64x118_peresabcod_deviantart.png
Textures/Default Package/Bruises/Bruise Face Diffuse 2.png
Textures/Default Package/Bruises/Bruise Torso Diffuse.png
Textures/Default Package/Bruises/Spanked Ass 1.png
Textures/Default Package/Bruises/Bruise Legs Diffuse.png
Textures/Default Package/Bruises/Bruise Arms Diffuse.png
Textures/Default Package/Dirt/Template1 Dirt2 Diffuse.png
Textures/Default Package/Dirt/Template2 Dirt2 Diffuse.png
Textures/Default Package/Dirt/Template3 Dirt2 Diffuse.png
Textures/Default Package/Dirt/Template4 Dirt2 Diffuse.png
Textures/Default Package/Genitalia/GensMapT_Swelling_1009.jpg
Textures/Default Package/Genitalia/GensMapD.jpg
Textures/Default Package/Genitalia/GensMapNM.png
Textures/Default Package/Genitalia/GensMapNM_Default_1009.png
Textures/Default Package/Genitalia/GensMapT_Default_1009.jpg
Textures/Default Package/Genitalia/GensMapS_Default_Dry_1009.jpg
Textures/Default Package/Genitalia/GensMapSpec&Swell.jpg
Textures/Default Package/Genitalia/GensMapD_Default_P_1009.jpg
Textures/Default Package/Genitalia/Bump/GensMapBump&Mask.jpg
Textures/Default Package/Blood/Blood Face_n.png
Textures/Default Package/Blood/Blood Torso_n.png
Textures/Default Package/Blood/Blood Arms_n.png
Textures/Default Package/Blood/Blood Legs_n.png
Textures/Default Package/Eyes/RealIris2.jpg
Textures/Default Package/Eyes/G8FBaseEyesB_1007.jpg
Textures/Default Package/Eyes/RealIris1.jpg
Textures/Default Package/Eyes/EyesN_1007.jpg
Textures/Default Package/Eyes/RealIris0.jpg
Textures/Default Package/Eyes/G8FBaseEyes01_1007.jpg
Textures/Default Package/Eyes/Eyes Mask.jpg
Textures/Default Package/Eyes/BaseReal0.jpg
Textures/Default Package/Clothing details/cotton2_detail_nrm.tex.png
Textures/Default Package/Clothing details/fabrics-linen-1-normal.png
Textures/Default Package/Clothing details/carbonfiber_001_nrml.png
Textures/Default Package/Clothing details/Zipper2.png
Textures/Default Package/Clothing details/cotton00_dtl.png
Textures/Default Package/Clothing details/fabrics-knit-plain-normal.png
Textures/Default Package/Clothing details/jeans_detail_nrm.tex.png
Textures/Default Package/Clothing details/leather_detail_nrm.tex.png
Textures/Default Package/Clothing details/fabrics-gabardine-2-2-normal.png
Textures/Default Package/Clothing details/fabrics-gabardine-1-3-normal.png
Textures/Default Package/Clothing details/sjfvec0c_2K_Normal.jpg
Textures/Default Package/Clothing details/fabrics-small-wrinkles-1.png
Textures/Default Package/Clothing details/Leather alt.png
Textures/Default Package/Mouth/MouthB.jpg
Textures/Default Package/Mouth/G8FBaseMouthMapN_1005.jpg
Textures/Default Package/Mouth/G8FBaseMouthMapD_1005.jpg
Textures/Default Package/Mouth/Female_Mouth_D.jpg
Textures/Default Package/Mouth/Female_Mouth_N.jpg
Textures/Default Package/Wet/RainDropsAndStreaks001_NRM_3K.jpg
Textures/Default Package/Wet/RainDropsAndStreaks001_REFL_3K.jpg
Textures/Default Package/Veins/Veins Face_n.png
Textures/Default Package/Veins/Veins Torso_n.png
Textures/Default Package/Veins/Veins Arms_n.png
Textures/Default Package/Veins/Veins Legs_n.png




Daz_Addon_v1_6_2.zip
1279
2023-08-21 18:03:47
1.45 MB
File contents:

mhx_rts/layers.py
mhx_rts/animation.py
mhx_rts/fkik.py
mhx_rts/README.md
mhx_rts/buildnumber.py
mhx_rts/props.py
mhx_rts/__init__.py
mhx_rts/panel.py
mhx_rts/utils.py
import_daz/camera.py
import_daz/store.py
import_daz/tree.py
import_daz/merge.py
import_daz/modifier.py
import_daz/convert.py
import_daz/layers.py
import_daz/transform.py
import_daz/light.py
import_daz/hide.py
import_daz/dforce.py
import_daz/animation.py
import_daz/objfile.py
import_daz/brick.py
import_daz/mhx.py
import_daz/pbr.py
import_daz/node.py
import_daz/proxy.py
import_daz/transfer.py
import_daz/bone.py
import_daz/guess.py
import_daz/LICENSE
import_daz/main.py
import_daz/propgroups.py
import_daz/cycles.py
import_daz/README.md
import_daz/uilist.py
import_daz/api.py
import_daz/buildnumber.py
import_daz/formula.py
import_daz/material.py
import_daz/daz.py
import_daz/settings.py
import_daz/files.py
import_daz/render.py
import_daz/hdmorphs.py
import_daz/figure.py
import_daz/driver.py
import_daz/geometry.py
import_daz/cgroup.py
import_daz/load_morph.py
import_daz/error.py
import_daz/asset.py
import_daz/load_json.py
import_daz/morphing.py
import_daz/scan.py
import_daz/fix.py
import_daz/bone_data.py
import_daz/hair.py
import_daz/udim.py
import_daz/tables.py
import_daz/fileutils.py
import_daz/facecap.py
import_daz/__init__.py
import_daz/geonodes.py
import_daz/rigify_data.py
import_daz/finger.py
import_daz/panel.py
import_daz/mhx_data.py
import_daz/rigify.py
import_daz/channels.py
import_daz/utils.py
import_daz/matedit.py
import_daz/to_daz_studio/Scripts/diffeomorphic.png
import_daz/to_daz_studio/Scripts/Diffeomorphic/readme.png
import_daz/to_daz_studio/Scripts/Diffeomorphic/export_to_blender.png
import_daz/to_daz_studio/Scripts/Diffeomorphic/mesh_statistics.png
import_daz/to_daz_studio/Scripts/Diffeomorphic/save_root_paths.png
import_daz/to_daz_studio/Scripts/Diffeomorphic/readme.dsa
import_daz/to_daz_studio/Scripts/Diffeomorphic/setup_menus.png
import_daz/to_daz_studio/Scripts/Diffeomorphic/export_highdef_to_blender.png
import_daz/to_daz_studio/Scripts/Diffeomorphic/save_root_paths.dsa
import_daz/to_daz_studio/Scripts/Diffeomorphic/setup_menus.dsa
import_daz/to_daz_studio/Scripts/Diffeomorphic/mesh_statistics.dsa
import_daz/to_daz_studio/Scripts/Diffeomorphic/export_to_blender.dsa
import_daz/to_daz_studio/Scripts/Diffeomorphic/export_highdef_to_blender.dsa
import_daz/startup/runtime_stripped_28x.py
import_daz/runtime/morph_armature.py
import_daz/runtime/__pycache__/morph_armature.cpython-39.pyc
import_daz/runtime/__pycache__/morph_armature.cpython-37.pyc
import_daz/runtime/__pycache__/morph_armature.cpython-310.pyc
import_daz/data/gizmos.json
import_daz/data/paths/genesis8-male.json
import_daz/data/paths/genesis3-male.json
import_daz/data/paths/tear9.json
import_daz/data/paths/eyes9.json
import_daz/data/paths/genesis3-female.json
import_daz/data/paths/genesis2-female.json
import_daz/data/paths/mouth9.json
import_daz/data/paths/lashes9.json
import_daz/data/paths/tear81-female.json
import_daz/data/paths/genesis9.json
import_daz/data/paths/lashes8-female.json
import_daz/data/paths/genesis8-female.json
import_daz/data/paths/lashes8-male.json
import_daz/data/paths/tear81-male.json
import_daz/data/paths/lashes81-male.json
import_daz/data/paths/genesis81-face-controls.json
import_daz/data/paths/genesis2-male.json
import_daz/data/paths/lashes81-female.json
import_daz/data/paths/genesis.json
import_daz/data/lowpoly/genesis8-male.json
import_daz/data/lowpoly/genesis3-male.json
import_daz/data/lowpoly/genesis3-female.json
import_daz/data/lowpoly/genesis2-female.json
import_daz/data/lowpoly/genesis8-female.json
import_daz/data/lowpoly/genesis.json
import_daz/data/export_converters/mhx.json
import_daz/data/restposes/genesis_9.json
import_daz/data/restposes/genesis_3_female.json
import_daz/data/restposes/genesis_8_female.json
import_daz/data/restposes/genesis_2_female.json
import_daz/data/restposes/victoria_7.json
import_daz/data/restposes/michael_8.json
import_daz/data/restposes/cmu.json
import_daz/data/restposes/genesis_8_male.json
import_daz/data/restposes/genesis_2_male.json
import_daz/data/restposes/genesis_3_male.json
import_daz/data/restposes/genesis.json
import_daz/data/restposes/victoria_8.json
import_daz/data/converters/genesis1238-genesis9.json
import_daz/data/converters/genesis2-genesis3.json
import_daz/data/converters/genesis3-genesis2.json
import_daz/data/converters/genesis1-genesis3.json
import_daz/data/converters/genesis-rigify2.json
import_daz/data/converters/genesis3-genesis1.json
import_daz/data/converters/genesis-rigify.json
import_daz/data/converters/genesis-mhx.json
import_daz/data/parents/genesis_9.json
import_daz/data/parents/genesis_3_female.json
import_daz/data/parents/genesis_8_female.json
import_daz/data/parents/genesis_2_female.json
import_daz/data/parents/genesis_8_male.json
import_daz/data/parents/genesis_2_male.json
import_daz/data/parents/genesis_3_male.json
import_daz/data/parents/genesis.json
import_daz/data/presets/leather.json
import_daz/data/presets/cotton.json
import_daz/data/presets/silk.json
import_daz/data/presets/denim.json
import_daz/data/presets/rubber.json
import_daz/data/softbody/genesis8.json
import_daz/data/softbody/rigify2.json
import_daz/data/softbody/softbody-genesis8-male.json
import_daz/data/softbody/softbody-genesis8-female.json
import_daz/data/softbody/softbody-genesis3-female.json
import_daz/data/softbody/genesis3.json
import_daz/data/softbody/mhx.json
import_daz/data/softbody/softbody-genesis3-male.json
import_daz/data/ikposes/genesis_9.json
import_daz/data/ikposes/genesis_3_female.json
import_daz/data/ikposes/genesis_8_female.json
import_daz/data/ikposes/genesis_2_female.json
import_daz/data/ikposes/genesis_8_male.json
import_daz/data/ikposes/genesis_2_male.json
import_daz/data/ikposes/genesis_3_male.json
import_daz/data/ikposes/genesis.json
import_daz/standalone/add_alpha.py
import_daz/standalone/resize.py
diffeo-HD/readme.txt
diffeo-HD/diffeo.dll