Adult content
This content is marked as Adult/NSFW content. You can toggle your preferences regarding this content type in your account settings.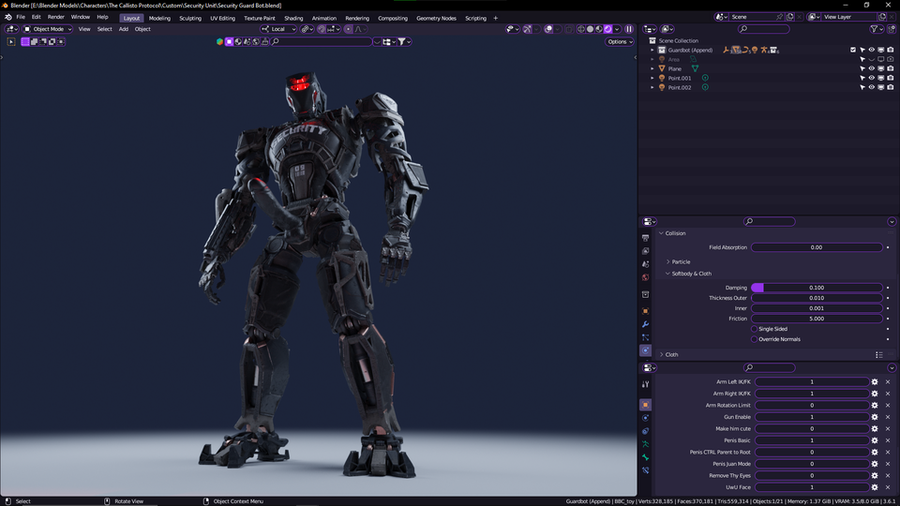 Show more
Description
Security Unit from The Calliso Protocol.
Big boy with big guns. As it should be
Has:
IK/FK arms
IK foot with wack foot roll bones (they ain't great)
Modified penis from Wildeer Studio with a horse variant too for extra big dick hours
Femboy
Skirt with cloth physics
Cute ass cat ears
Optional blend file for ingame gun animation (reference purposes)
---
SmutBase is a free service. However, it costs about $0.03 to deliver you a 1GB file. With over 20TB of traffic every month and growing, SmutBase needs your help. If only 1% of our users each gave us $5 for a single month, we could keep the site running for several years.
Filename
Downloads
Created
Filesize
Files
Security_Guard_Bot.blend
1186
2023-07-28 11:55:05
19.82 MB
textures_tMGoYUm.zip
1048
2023-07-28 11:55:22
375.2 MB
File contents:

textures/T_gaurdBot_torso_back_gore_N.tga
textures/T_gaurdBot_arm_gore_D.tga
textures/HD1_low_HD1_skin_BaseColor.png
textures/T_gaurdbot_arm_gun_main_D.tga
textures/T_gaurdBot_leg_N.tga
textures/T_gaurdbot_damage_parts_N.tga
textures/T_gaurdBot_decals_gore_D.tga
textures/T_gaurdBot_arm_gore_ORM.tga
textures/T_gaurdbot_damage_zones_N.tga
textures/T_gaurdbot_damage_zones_D.tga
textures/T_gaurdBot_leg_ORM.tga
textures/bbc_toy_low_BBC_toy_Roughness.png
textures/UwU Mouth Only.png
textures/T_gaurdBot_torso_skins_gore_N.tga
textures/T_gaurdBot_torso_skins_gore_D.tga
textures/T_gaurdbot_arm_gun_main_ORM.tga
textures/ac1300_10_fur_atoc.png
textures/T_gaurdBot_hand_ORM.tga
textures/T_gaurdBot_arm_N.tga
textures/T_gaurdbot_damage_zones_gore_E.tga
textures/T_gaurdBot_torso_front_D.tga
textures/T_gaurdbot_head_back_D.tga
textures/plaid_clean_02_30_d.png
textures/T_gaurdBot_torso_back_D.tga
textures/T_gaurdBot_leg_gore_N.tga
textures/bbc_toy_low_BBC_toy_Normal.png
textures/tension_wrinkle.png
textures/T_gaurdbot_damage_zones_gore_D.tga
textures/T_gaurdbot_head_socket_D.tga
textures/T_gaurdbot_damage_parts_D.tga
textures/ac1300_10_ear_albd.png
textures/ac1300_10_fur_nrmr.png
textures/T_gaurdBot_arm_gore_N.tga
textures/T_gaurdbot_damage_parts_gore_D.tga
textures/T_gaurdBot_torso_skins_D.tga
textures/ZBrush_Bbc_toy_uv-DM_u0_v0.tif
textures/T_gaurdbot_damage_zones_gore_ORM.tga
textures/ac1300_10_fur_albd.png
textures/T_gaurdbot_damage_zones_gore_N.tga
textures/T_gaurdBot_torso_front_gore_ORM.tga
textures/MI_gaurdBot_TorsoBack_redlight.tga
textures/UwU Eyes and Mouth Only.png
textures/T_gaurdbot_head_back_ORM.tga
textures/T_gaurdBot_torso_back_gore_D.tga
textures/T_gaurdBot_decals_D.tga
textures/T_gaurdbot_head_socket_N.tga
textures/T_gaurdBot_arm_D.tga
textures/T_gaurdBot_torso_front_N.tga
textures/Blush-PNG-Pic.png
textures/T_gaurdbot_damage_parts_gore_N.tga
textures/T_Glass_DirtyA_D.tga
textures/T_gaurdBot_torso_skins_ORM.tga
textures/T_gaurdbot_head_back_N.tga
textures/T_gaurdBot_leg_D.tga
textures/T_gaurdBot_leg_gore_ORM.tga
textures/T_gaurdBot_torso_back_N.tga
textures/T_gaurdbot_head_front_ORM.tga
textures/bbc_toy_low_BBC_toy_BaseColor.png
textures/T_gaurdBot_torso_skins_N.tga
textures/HD1_low_HD1_skin_Roughness.png
textures/T_gaurdbot_arm_gun_panels_D.tga
textures/T_gaurdbot_head_front_N.tga
textures/T_gaurdbot_arm_gun_panels_N.tga
textures/HD1_low_HD1_skin_Normal.png
textures/T_gaurdbot_damage_parts_ORM.tga
textures/T_gaurdbot_head_socket_ORM.tga
textures/T_gaurdBot_leg_gore_D.tga
textures/T_gaurdBot_torso_front_ORM.tga
textures/T_gaurdBot_hand_N.tga
textures/T_gaurdBot_torso_back_ORM.tga
textures/ac1300_10_ear_nrmr.png
textures/T_gaurdBot_arm_ORM.tga
textures/T_gaurdbot_damage_parts_gore_ORM.tga
textures/T_gaurdbot_arm_gun_panels_ORM.tga
textures/T_gaurdBot_torso_back_gore_ORM.tga
textures/T_gaurdBot_torso_front_gore_N.tga
textures/T_gaurdBot_torso_front_gore_D.tga
textures/T_gaurdBot_hand_D.tga
textures/T_gaurdBot_torso_skins_gore_ORM.tga
textures/T_gaurdbot_arm_gun_main_N.tga
textures/plaid_clean_01_30_n.png
textures/T_gaurdbot_head_front_D.tga
textures/HD1_Displacement.tif
textures/T_gaurdbot_damage_zones_ORM.tga




Gun Open Anim Ref.blend
371
2023-07-28 11:55:06
1.87 MB