Adult content
This content is marked as Adult/NSFW content. You can toggle your preferences regarding this content type in your account settings.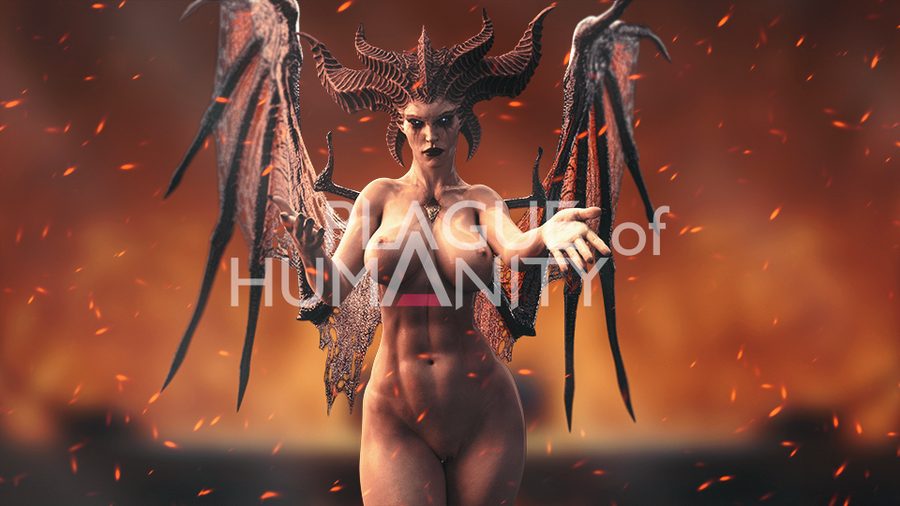 Show more
Description
New Ultimate Mommy!
PLEASE READ: In order for model to work correctly please install Diffeomorphic Addon, this model has been made primarily for cycles however it should work fine in eevee as well.
Contains (this is free version of the model)
IK Controls
FK Controls;
Basic Expression ;
Bunch of body shape presets ;
Default outfit.
Paid version:
IK Controls;
FK Controls;
Basic Expression;
Bunch of body shape presets;
Detailed customization of muscular system (you can change every individual muscle);
Around 40 shape presets for glutes and breasts;
Default outfit + 5 custom outfits;
Futa version.
You can get paid version from my Patreon:
https://www.patreon.com/PlagueofHumanity
You can also purchase my Mia Khalifa model I created recently.
Additionally I am open for commissions, so DM me on twitter and get your personal slot!
You can use these models in anything you desire, all I ask is that you give me some credit by tagging my twitter handle.
https://twitter.com/of_plague92051
If you encountered any glitches or bugs please let me know, will do my best to respond as fast as possible
Best Regards Enjoy.
SmutBase is a free service. However, it costs about $0.03 to deliver you a 1GB file. With over 20TB of traffic every month and growing, SmutBase needs your help. If only 1% of our users each gave us $5 for a single month, we could keep the site running for several years.
Filename
Downloads
Created
Filesize
Files
Lilith_free.rar
1691
2023-07-27 02:39:01
625.56 MB
File contents:

Lilith.blend
textures/Lilith_Head_Horns_D 1024x1024.bmp
textures/Wings_A.png
textures/GensMapB_Default_1009.jpg
textures/000001EA3FAE9CA0.png
textures/GensMapT_Anus_Base Female_1009.jpg
textures/Tail_AO.png
textures/Ophelia7_Legs_NM_1003.tif
textures/DTHDR-RuinsB-500.hdr
textures/MTT_IO SO TR 0.jpg
textures/Ophelia7TorsoMapB_1002.jpg
textures/Twizted-Nails-Bump-01.jpg
textures/LST-02 Bump.png
textures/DMPHsoleN.jpg
textures/Outfit Fabric Mat _D.jpg
textures/Wings_D.png
textures/Outfit Fabric Mat_G.jpg
textures/Ophelia7TorsoMapS_1002.jpg
textures/Outfit Fabric Mat_A.jpg
textures/MTT_IO MD CUT OO.jpg
textures/Ophelia7FaceMapS_1001.jpg
textures/g8fbasefacemaps_1001.jpg
textures/Bra_Spikes_Roughness.jpg
textures/GensMapT_Swelling_1009.jpg
textures/LST-02 Roughness.png
textures/Lilith_Horns_D.png
textures/Tail_D.png
textures/Armour Mat_NRM.jpg
textures/BMQ Boots Mat_R.jpg
textures/MTT_IO SO BUMP 04.jpg
textures/Armour Mat_M.jpg
textures/Outfit Fabric Mat_NRM.jpg
textures/CorruptionDress_Normal02.jpg
textures/g8fbaseeyesb_1007.jpg
textures/BMQ Boots Mat_G.jpg
textures/Outfit Fabric Mat_M.jpg
textures/Ophelia7LegMapB_1003.jpg
textures/Skirt_A.png
textures/g8fbaseeyes01.png
textures/g8fbasefacemapsss_1001.jpg
textures/Body_A.png
textures/g8fbaseeyes01_1007.jpg
textures/Ophelia7ArmsMapS_1004.jpg
textures/MTT_IO SO BUMP 00-2.jpg
textures/MTT_IO STN CUT 03c2.jpg
textures/LST-02 Normal.png
textures/MTT_IO NO P.jpg
textures/Corruption_DressTr01.jpg
textures/Lilith_Top_A.png
textures/CorruptionSleeves_Normal01.jpg
textures/GensMapSSS_Default_P_1009.jpg
textures/MTT_IO SO CUT 009.jpg
textures/Armour Mat_R.jpg
textures/Bra_Spikes_Base_Color.jpg
textures/Corruption_SleevesB1.jpg
textures/g8fbasemouthmapb_1005.jpg
textures/GensMapNM_Default_1009.png
textures/MTT_IO STN CUT 03b.jpg
textures/Corruption_DressT1.jpg
textures/GensMapT_Default_1009.jpg
textures/Sleeve_Spikes_Roughness.jpg
textures/Outfit Fabric Mat_R.jpg
textures/MTT_IO MD TR DI0.jpg
textures/Lilith_Top.png
textures/DMPHleatherB.jpg
textures/Corruption_DressS1.jpg
textures/Ophelia7FaceMapB_1001.jpg
textures/Lilith_Horns.png
textures/BMQ Boots Mat_NRM.jpg
textures/LST-02 Color Black.png
textures/Ophelia7LegMapS_1003.jpg
textures/Wings_AO.png
textures/Lilith_Horns_N.png
textures/Corruption_DressB1.jpg
textures/MTT_IO SO BUMP 021.jpg
textures/Outfit Leather Mat_G.jpg
textures/Wings.png
textures/Wings_SSS_2.png
textures/Outfit Leather Mat_NRM.jpg
textures/Lilith_Head_Horns 1024x1024.png
textures/Face_sindel2.png
textures/Ophelia7_Face_NM_1001.tif
textures/Lilith_Top_D.png
textures/DMPHleather.jpg
textures/Armour Mat_G.jpg
textures/Lilith_Body_0 2048x2048.png
textures/GensMapS_Default_Dry_1009.jpg
textures/g8fbasefacemapd_1001.jpg
textures/Lilith_Arms 2048x2048.png
textures/000001EA3FAE60A0.png
textures/MTT_IO NO PN.jpg
textures/MTT_IO SO CUT 008.jpg
textures/BMQ Boots Mat_D.jpg
textures/Lilith_Legs 2048x2048.png
textures/MTT_IO MD NORMAL 00.jpg
textures/Ophelia7_Torso_NM_1002.tif
textures/Outfit Leather Mat_M.jpg
textures/BMQ Boots Mat_M.jpg
textures/Outfit Leather Mat_D.jpg
textures/g8fbaseeyelashes_1006.jpg
textures/CorruptionDress_Normal01.jpg
textures/Corruption_SleevesT1.jpg
textures/Sleeve_Spikes_Base_Color.jpg
textures/Armour Mat_D.jpg
textures/000001EA998C46A0.png
textures/MTT_IO STN CUT 03.jpg
textures/g8fbasemouthmapd_1005.jpg
textures/GensMapDisp_Default_1009.tif
textures/g8fbasefacemapb_1001.jpg
textures/Lilith_Top_n.png
textures/Tail.png
textures/GensMapD_Default_P_1009.jpg
textures/CorruptionSleeves_Normal02.jpg
textures/Ophelia7ArmsMapB_1004.jpg
textures/Lilith_Horns_AO.png
textures/Outfit Leather Mat_R.jpg
textures/Lilith_Top_AO.png
textures/Ophelia7_Arms_NM_1004.tif
textures/Ophelia7FaceMapSSS_1001.jpg
textures/Tail_A.png