Furry content
This content is marked as Furry/Anthro content. You can toggle your preferences regarding this content type in your account settings.
Adult content
This content is marked as Adult/NSFW content. You can toggle your preferences regarding this content type in your account settings.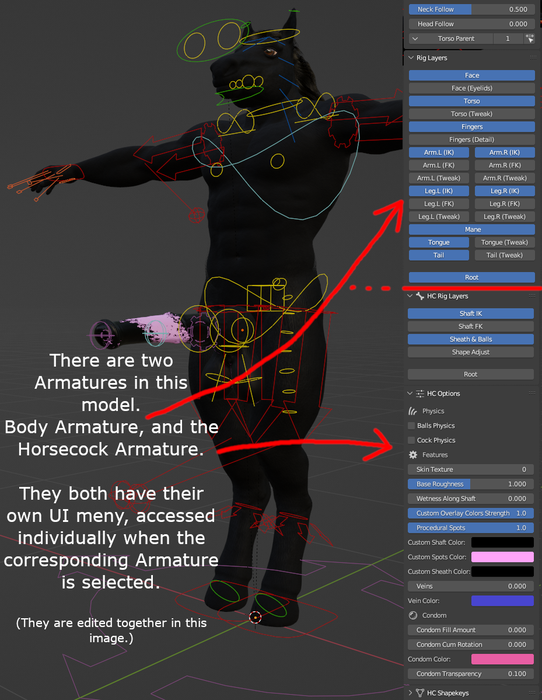 Show more
Description
I saw the user ComandoRekin upload the Horse Man here, I liked it.
But I wanted it to have more than the basics, and I wanted to make my own changes to it.
So here is my version, naming him Horse Guy.
(Made/edited with Blender 3.6, using this on an older version may cause some issues.)
---
CLICK ON THE "SHOW MORE +" AT THE TOP TO SEE VARIOUS MINI GUIDES FOR THIS MODEL.
---
Changes I've made:
• Rigged with Rigify, and added custom bones/widgets to, mane, tail, tongue, jaw, ears and eyes.
• Replaced the horsecock* with another one with better controls and more options. (Credit to JawsFMS.)
• Added in all the missing textures that came with the original upload but weren't added in the Blend file.
• Added in a unicorn horn.
• Deleted right over 400 Shape Keys that either didn't (seemingly) do anything, or barely did anything.*
• Added a few Drivers to smooth the Ear movements. And some other Shape Key/Drivers fixes.
• Made an easy way to switch between the mane, tail and eye textures. (Body had too many to do the same with.)
---
*Horsecock.
Changed to another horsecock, that one had the CC BY NC SA, so that's why this one also has it, otherwise I would share this with the same CC (Beerware) as the original Horse Man had.
Also made some custom changes to the UI from the original.
*Shape Keys.
There where 562 (yes I counted them all!) Shape Keys in the original upload.
(The updated/fixed version from ComandoRekin/@B3astB0mba1 hade no Shape Keys at all.)
Now there are around 161-ish Shape Keys. (Including the few I made.)
Most of the Shape Keys that I didn't delete atleast did something to the horsehead (most of them did nothing noticeable at all), but most of the remaining ones doesn't do THAT much either.
I think I could actually just delete most of the remaining one too and no one would notice.
But atleast there are some options now I guess?
---
When appending this to another project, append the one marked with (APPEND).
If the UI menu for the Horse Guy, or horsecock's Armature is missing, go to the Scripting tab, at the top/bottom select the appropriate missing script/text file.
Then press the "Play Icon" right next to where you have the filename of the script.
This should run the script and set up the missing UI menus.
There are two script files, one for the Horse Guy, and one for the horsecock.
If any of these files are not present after appending, then append the same file again, but this time go in to the "Text" folder, and select the missing *.py file(s). Then go back to the Scripting Tab and run the missing script(s).
If for some reason, after appending and running the scripts to get the UI's up, and the custom colors of the horsecock are black no matter what you do.
Simply try to save the file somewhere, and reopen it, then it should work properly.
(This happened to me, seems that sometimes when appending/running scripts that the Drivers are not properly "updated" or something?
But reloading the whole Blend file forces the Drivers to behave nicely.)
---
Sources and credits:
• Original uploader of Horse Man is on this site is ComandoRekin. CC- Beerware.

• Horsecock by JawSFM. CC - BY NC SA

• Helmet and harness is taken from the Roach (Witcher's horse) model by LordAardvark. CC - 0

• The upper teeth, lower teeth and tongue I took from ComandoRekin's updated file, which where made/fixed by @B3astB0mba1. (Original teeth/tongue was super short.) CC - 0
---
Changelog:
1.0_b
Added the uncompressed Blend file. For some reason the compressed version I uploaded (7z, zip) corrupted some textures, and it happened every single time I re-compressed the Blend file to test it.
The uncompressed Blend file should be fine.
1.0_d _ (Or was it 1.0_b again?)
I found the real cause of the issue from 1.0_b.
Blender does NOT pack files/textures that are set as "Image Sequence" (rather than the default "Single Image") in the Node editor.
So I removed that Image Sequence Node setup, added the "missing" textures as standard "Single Image" for each texture the Image Sequencer used.
Then added in some Drivers here and there, and now the missing/pink/magenta texture problems should be fixed.
1.0_e
Two things.
At some point, after I've made sure these Driver worked, I must had accidently messed around in the Driver Editor and moved something in the graph editor at some point, and I didn't realize until now. The texture switchers for the Mane/Tail was broken!
It should be fixed now. Second thing, I fixed the eyelashes. The eyelashes also worked/looked fine at an earlier point. Now the where just blocks of random dark materials. I must have assigned the eyelash Vertices to something else later in my project by accident.
But, fixed now.
---
If there are any major issues, let me know and I'll see what I can do.
Have fun with this guy. ;)
SmutBase is a free service. However, it costs about $0.03 to deliver you a 1GB file. With over 20TB of traffic every month and growing, SmutBase needs your help. If only 1% of our users each gave us $5 for a single month, we could keep the site running for several years.
Filename
Downloads
Created
Filesize
Files
HorseGuy_-__MasterManki7777__-_1.0_e.blend_8pHNHFJ.7z
522
2023-07-28 00:51:25
253.94 MB
File contents:

HorseGuy - ( MasterManki7777 ) - 1.0_e.blend