Adult content
This content is marked as Adult/NSFW content. You can toggle your preferences regarding this content type in your account settings.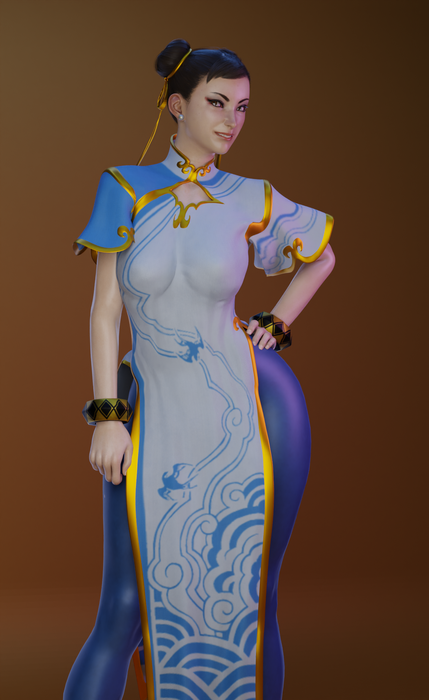 Show more
Description
commissioned by Ligma
feel free to contact me if there are any bugs or issues.
follow me on Twitter https://twitter.com/mr_wiggle3D
Included
4 outfits
vagina and butthole are not rigged you can control them under custom morphs or you can rig the yourself
included body morphs (under Daz importer -> morphs -> custom morphs)
Warning Some Drivers will lock the bone so if that happens just the delete the driver don't worry it doesn't break anything
*Requirement
mhx
daz importer
blender 3.5+
the link to the require file http://diffeomorphic.blogspot.com/p/daz-importer-version-16.html
SmutBase is a free service. However, it costs about $0.03 to deliver you a 1GB file. With over 20TB of traffic every month and growing, SmutBase needs your help. If only 1% of our users each gave us $5 for a single month, we could keep the site running for several years.
Filename
Downloads
Created
Filesize
Files
chun-li.7z
1915
2023-07-10 17:22:07
107.42 MB
File contents:

chun-li.blend




textures_I1XJIoX.7z
1757
2023-07-10 17:29:05
151.09 MB
File contents:

textures/sweater_n.png
textures/ChunLiS2SkinR.png
textures/GensMapB_Default_1009.jpg
textures/FaceB_1001.jpg
textures/Torso_sss.jpg
textures/Arms_sss.jpg
textures/BDM_base001_NRRC.tga
textures/DTHDR-RuinsB-500.hdr
textures/ChunLiS2ClothBMRS.png
textures/Legs_d.jpg
textures/esf004_002_01_ClothA_1_CMASK.tga
textures/base costume.png
textures/C_Legs_NM.jpg
textures/ChunLiS2ClothBD.png
textures/face_sss.jpg
textures/TorsoB_1002.jpg
textures/Eyes_d.jpg
textures/C_Arms_NM.jpg
textures/Torso_d.jpg
textures/legging_N.jpg
textures/UfsSuit_bump.jpg
textures/ChunLiS2SkinAOS.png
textures/MicroDetail_Main.png
textures/ArmsB_1004.jpg
textures/GensMapSSS_Default_P_1009.jpg
textures/ChunLiS2SkinN.png
textures/Legs_sss.jpg
textures/dress_d.png
textures/base costume_n.png
textures/GensMapNM_Default_1009.png
textures/Eyes02_1007.jpg
textures/GensMapT_Default_1009.jpg
textures/LegsB_1003.jpg
textures/normal.png
textures/GensMapD_Default_1009.jpg
textures/Arms_d.jpg
textures/face_n.jpg
textures/hair_trans.jpg
textures/ChunLiS2ClothBN.png
textures/DissidiaEyeAO.jpg
textures/FaceS_1001.jpg
textures/ChunLiS2ClothMRS.png
textures/Mouth_1005.jpg
textures/GensMapS_Default_Dry_1009.jpg
textures/UfsSuit_norm.jpg
textures/face_d.jpg
textures/chunli.jpg
textures/GensMapSSS_Default_1009.jpg
textures/EyesB_1007.jpg
textures/ChunLiS2SkinM.png
textures/ChunLiS2ClothR.png
textures/esf004_002_01_ClothB_1_CMASK.tga
textures/ChunLiS2SkinD.png
textures/Soles_Wrinkle.png
textures/ChunLiS2ClothN.png
textures/UfsSuit_tex09.jpg
textures/G8FBaseEyelashes_1006.jpg
textures/Gold n.jpg
textures/TorsoS_1002.jpg
textures/MouthB_1005.jpg
textures/hair_n.png
textures/dress_n.png
textures/GensMapDisp_Default_1009.tif
textures/UfsSuit_disp.jpg
textures/GensMapD_Default_P_1009.jpg
textures/chun_hair_base.tga
textures/Shoes.png
textures/C_Torso_NM.jpg