Adult content
This content is marked as Adult/NSFW content. You can toggle your preferences regarding this content type in your account settings.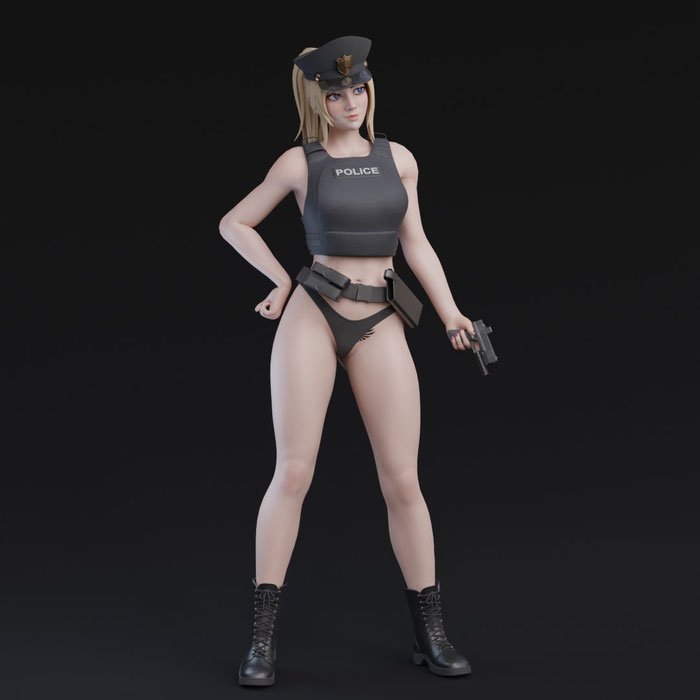 Show more
Description
This is my original character Officer Jenny version 2 if you will. It has improved clothing and overall details. All her clothes can be toggle on or off depending on how you want to dress her or focus on feet. The vagina and anus can be open and closed with shape keys. This file is free to use how ever you see fit. I'd love to see your custom creations with my OC. The creator AnotherParfait did amazing for my commission.
SmutBase is a free service. However, it costs about $0.03 to deliver you a 1GB file. With over 20TB of traffic every month and growing, SmutBase needs your help. If only 1% of our users each gave us $5 for a single month, we could keep the site running for several years.
Filename
Downloads
Created
Filesize
Files
Jenny_1_SPN9F1u.blend
1328
2023-07-08 14:57:57
40.36 MB
texture_fCjHNDw.zip
1172
2023-07-08 14:58:07
200.01 MB
File contents:

texture/vest_low_Opacity_1001.png
texture/body_Opacity_1003.png
texture/eyes_Height_1001.png
texture/boots_low.001_Emissive_1001.png
texture/shoulderstrap_Opacity_1001.png
texture/gun_low_Opacity_1001.png
texture/pouch_low_Height_1001.png
texture/thong_low_Roughness_1001.png
texture/boots_low.001_Roughness_1001.png
texture/face_AO_1001.png
texture/shirtpocket_Roughness_1001.png
texture/shirtpocket_Height_1001.png
texture/toering_low_AO_1001.png
texture/sight_low_Opacity_1001.png
texture/face_Metallic_1001.png
texture/eyes_Opacity_1001.png
texture/shoelace_Metallic_1001.png
texture/eyelashes_Metallic_1001.png
texture/pouch_low_Normal_OpenGL_1001.png
texture/shirtpocket_BaseColor_1001.png
texture/badge_low_AO_1001.png
texture/shoulderstrap_Normal_OpenGL_1001.png
texture/shirt_Roughness_1001.png
texture/body_Metallic_1001.png
texture/eyelashes_Height_1001.png
texture/flashlight_low_BaseColor_1001.png
texture/toering_low_Metallic_1001.png
texture/face_Roughness_1001.png
texture/holster_Metallic_1001.png
texture/shoulderstrap_Roughness_1001.png
texture/thong_low_Normal_OpenGL_1001.png
texture/face_Opacity_1001.png
texture/Base_Male_A_0034_4_Normal_OpenGL_1001.png
texture/boots_low.001_Normal_OpenGL_1001.png
texture/eyebrows_Metallic_1001.png
texture/eyebrows_Normal_OpenGL_1001.png
texture/boots_low.001_AO_1001.png
texture/holster_BaseColor_1001.png
texture/flashlight_low_Opacity_1001.png
texture/barrel_low_SeamsColor_Roughness_1001.png
texture/hat_low_BaseColor_1001.png
texture/shoelace_Roughness_1001.png
texture/belt_low_Emissive_1001.png
texture/thong_low_Opacity_1001.png
texture/shirt_Emissive_1001.png
texture/gun_low_BaseColor_1001.png
texture/tongue_Height_1001.png
texture/sight_low_BaseColor_1001.png
texture/toering_low_BaseColor_1001.png
texture/sight_low_Metallic_1001.png
texture/sight_low_AO_1001.png
texture/barrel_low_SeamsColor_BaseColor_1001.png
texture/vest_low_AO_1001.png
texture/belt_low_Roughness_1001.png
texture/shirtpocket_Opacity_1001.png
texture/holster_Roughness_1001.png
texture/thong_low_Metallic_1001.png
texture/eyes_Metallic_1001.png
texture/vest_low_Metallic_1001.png
texture/toering_low_Normal_OpenGL_1001.png
texture/boots_low.001_BaseColor_1001.png
texture/shoulderstrap_Height_1001.png
texture/Base_Male_A_0034_4_Roughness_1001.png
texture/vest_low_Emissive_1001.png
texture/gun_low_Roughness_1001.png
texture/belt_low_Metallic_1001.png
texture/vest_low_Roughness_1001.png
texture/tongue_Emissive_1001.png
texture/face_Height_1001.png
texture/pouch_low_Emissive_1001.png
texture/badge_low_Normal_OpenGL_1001.png
texture/tongue_Metallic_1001.png
texture/eyes_BaseColor_1001.png
texture/body_AO_1001.png
texture/belt_low_AO_1001.png
texture/body_Emissive_1001.png
texture/barrel_low_SeamsColor_Metallic_1001.png
texture/eyes_Roughness_1001.png
texture/eyebrows_BaseColor_1001.png
texture/eyebrows_Roughness_1001.png
texture/body_AO_1002.png
texture/badge_low_BaseColor_1001.png
texture/Base_Male_A_0034_4_BaseColor_1001.png
texture/body_Height_1001.png
texture/barrel_low_SeamsColor_Opacity_1001.png
texture/belt_low_Opacity_1001.png
texture/holster_AO_1001.png
texture/trigger_SeamsColor_Emissive_1001.png
texture/body_Opacity_1001.png
texture/hat_low_Opacity_1001.png
texture/sight_low_Normal_OpenGL_1001.png
texture/shoulderstrap_AO_1001.png
texture/shoulderstrap_Emissive_1001.png
texture/gun_low_Height_1001.png
texture/vest_low_BaseColor_1001.png
texture/holster_Normal_OpenGL_1001.png
texture/trigger_SeamsColor_Opacity_1001.png
texture/barrel_low_SeamsColor_Emissive_1001.png
texture/trigger_SeamsColor_Height_1001.png
texture/pouch_low_Opacity_1001.png
texture/shirtpocket_Normal_OpenGL_1001.png
texture/hat_low_Roughness_1001.png
texture/barrel_low_SeamsColor_Height_1001.png
texture/boots_low.001_Metallic_1001.png
texture/boots_low.001_Opacity_1001.png
texture/holster_Emissive_1001.png
texture/shirt_Normal_OpenGL_1001.png
texture/trigger_SeamsColor_AO_1001.png
texture/tongue_BaseColor_1001.png
texture/eyelashes_BaseColor_1001.png
texture/trigger_SeamsColor_Metallic_1001.png
texture/hat_low_AO_1001.png
texture/eyes_Emissive_1001.png
texture/pouch_low_Roughness_1001.png
texture/badge_low_Height_1001.png
texture/flashlight_low_Metallic_1001.png
texture/body_AO_1003.png
texture/face_Emissive_1001.png
texture/toering_low_Opacity_1001.png
texture/shirt_Metallic_1001.png
texture/Base_Male_A_0034_4_Height_1001.png
texture/eyebrows_Opacity_1001.png
texture/shoelace_Emissive_1001.png
texture/toering_low_Emissive_1001.png
texture/boots_low.001_Height_1001.png
texture/tongue_Opacity_1001.png
texture/body_BaseColor_1001.png
texture/eyebrows_Height_1001.png
texture/gun_low_AO_1001.png
texture/body_Emissive_1003.png
texture/hat_low_Metallic_1001.png
texture/body_Roughness_1003.png
texture/belt_low_BaseColor_1001.png
texture/body_Metallic_1002.png
texture/eyelashes_Emissive_1001.png
texture/body_Metallic_1003.png
texture/thong_low_Height_1001.png
texture/body_Height_1003.png
texture/shoelace_Opacity_1001.png
texture/badge_low_Opacity_1001.png
texture/gun_low_Metallic_1001.png
texture/belt_low_Height_1001.png
texture/holster_Opacity_1001.png
texture/thong_low_Emissive_1001.png
texture/Base_Male_A_0034_4_AO_1001.png
texture/toering_low_Roughness_1001.png
texture/hat_low_Normal_OpenGL_1001.png
texture/trigger_SeamsColor_BaseColor_1001.png
texture/shoelace_BaseColor_1001.png
texture/toering_low_Height_1001.png
texture/Base_Male_A_0034_4_Metallic_1001.png
texture/belt_low_Normal_OpenGL_1001.png
texture/shirt_Opacity_1001.png
texture/body_Height_1002.png
texture/shirtpocket_Emissive_1001.png
texture/flashlight_low_Height_1001.png
texture/body_BaseColor_1002.png
texture/body_Emissive_1002.png
texture/barrel_low_SeamsColor_AO_1001.png
texture/trigger_SeamsColor_Roughness_1001.png
texture/body_Roughness_1001.png
texture/face_Normal_OpenGL_1001.png
texture/eyelashes_Opacity_1001.png
texture/badge_low_Roughness_1001.png
texture/trigger_SeamsColor_Normal_OpenGL_1001.png
texture/shirt_Height_1001.png
texture/tongue_Normal_OpenGL_1001.png
texture/eyelashes_Roughness_1001.png
texture/sight_low_Height_1001.png
texture/hat_low_Height_1001.png
texture/pouch_low_AO_1001.png
texture/eyelashes_Normal_OpenGL_1001.png
texture/sight_low_Roughness_1001.png
texture/eyes_Normal_OpenGL_1001.png
texture/shoulderstrap_BaseColor_1001.png
texture/body_Normal_OpenGL_1003.png
texture/badge_low_Metallic_1001.png
texture/holster_Height_1001.png
texture/shoelace_Height_1001.png
texture/flashlight_low_AO_1001.png
texture/body_BaseColor_1003.png
texture/barrel_low_SeamsColor_Normal_OpenGL_1001.png
texture/vest_low_Height_1001.png
texture/badge_low_Emissive_1001.png
texture/shirtpocket_AO_1001.png
texture/hat_low_Emissive_1001.png
texture/tongue_Roughness_1001.png
texture/Base_Male_A_0034_4_Opacity_1001.png
texture/body_Normal_OpenGL_1001.png
texture/body_Roughness_1002.png
texture/flashlight_low_Emissive_1001.png
texture/gun_low_Emissive_1001.png
texture/flashlight_low_Normal_OpenGL_1001.png
texture/shirt_BaseColor_1001.png
texture/thong_low_BaseColor_1001.png
texture/pouch_low_BaseColor_1001.png
texture/pouch_low_Metallic_1001.png
texture/Base_Male_A_0034_4_Emissive_1001.png
texture/body_Normal_OpenGL_1002.png
texture/shoelace_Normal_OpenGL_1001.png
texture/shoulderstrap_Metallic_1001.png
texture/sight_low_Emissive_1001.png
texture/body_Opacity_1002.png
texture/shirtpocket_Metallic_1001.png
texture/eyebrows_Emissive_1001.png
texture/vest_low_Normal_OpenGL_1001.png
texture/flashlight_low_Roughness_1001.png
texture/gun_low_Normal_OpenGL_1001.png
texture/face_BaseColor_1001.png
__MACOSX/._texture
__MACOSX/texture/._trigger_SeamsColor_Metallic_1001.png
__MACOSX/texture/._badge_low_Emissive_1001.png
__MACOSX/texture/._vest_low_BaseColor_1001.png
__MACOSX/texture/._belt_low_Roughness_1001.png
__MACOSX/texture/._badge_low_Metallic_1001.png
__MACOSX/texture/._trigger_SeamsColor_Normal_OpenGL_1001.png
__MACOSX/texture/._trigger_SeamsColor_Emissive_1001.png
__MACOSX/texture/._body_AO_1001.png
__MACOSX/texture/._tongue_Height_1001.png
__MACOSX/texture/._body_BaseColor_1001.png
__MACOSX/texture/._Base_Male_A_0034_4_AO_1001.png
__MACOSX/texture/._eyes_Height_1001.png
__MACOSX/texture/._body_Metallic_1002.png
__MACOSX/texture/._thong_low_Metallic_1001.png
__MACOSX/texture/._face_Metallic_1001.png
__MACOSX/texture/._body_Opacity_1002.png
__MACOSX/texture/._toering_low_AO_1001.png
__MACOSX/texture/._thong_low_BaseColor_1001.png
__MACOSX/texture/._shoelace_Opacity_1001.png
__MACOSX/texture/._shirtpocket_Roughness_1001.png
__MACOSX/texture/._shirt_Height_1001.png
__MACOSX/texture/._trigger_SeamsColor_Roughness_1001.png
__MACOSX/texture/._eyelashes_BaseColor_1001.png
__MACOSX/texture/._body_AO_1003.png
__MACOSX/texture/._holster_AO_1001.png
__MACOSX/texture/._barrel_low_SeamsColor_BaseColor_1001.png
__MACOSX/texture/._body_Emissive_1003.png
__MACOSX/texture/._boots_low.001_AO_1001.png
__MACOSX/texture/._body_BaseColor_1003.png
__MACOSX/texture/._toering_low_Roughness_1001.png
__MACOSX/texture/._thong_low_Emissive_1001.png
__MACOSX/texture/._body_Normal_OpenGL_1002.png
__MACOSX/texture/._Base_Male_A_0034_4_Height_1001.png
__MACOSX/texture/._Base_Male_A_0034_4_BaseColor_1001.png
__MACOSX/texture/._shirt_Roughness_1001.png
__MACOSX/texture/._shoulderstrap_AO_1001.png
__MACOSX/texture/._holster_Metallic_1001.png
__MACOSX/texture/._shoulderstrap_Normal_OpenGL_1001.png
__MACOSX/texture/._body_BaseColor_1002.png
__MACOSX/texture/._gun_low_Roughness_1001.png
__MACOSX/texture/._body_Metallic_1001.png
__MACOSX/texture/._eyebrows_Emissive_1001.png
__MACOSX/texture/._flashlight_low_Metallic_1001.png
__MACOSX/texture/._belt_low_Emissive_1001.png
__MACOSX/texture/._pouch_low_Emissive_1001.png
__MACOSX/texture/._toering_low_Metallic_1001.png
__MACOSX/texture/._body_Emissive_1002.png
__MACOSX/texture/._body_Height_1002.png
__MACOSX/texture/._thong_low_Opacity_1001.png
__MACOSX/texture/._sight_low_BaseColor_1001.png
__MACOSX/texture/._barrel_low_SeamsColor_Metallic_1001.png
__MACOSX/texture/._thong_low_Roughness_1001.png
__MACOSX/texture/._pouch_low_AO_1001.png
__MACOSX/texture/._shoulderstrap_Emissive_1001.png
__MACOSX/texture/._badge_low_Height_1001.png
__MACOSX/texture/._flashlight_low_Emissive_1001.png
__MACOSX/texture/._shirt_Emissive_1001.png
__MACOSX/texture/._sight_low_Roughness_1001.png
__MACOSX/texture/._belt_low_Metallic_1001.png
__MACOSX/texture/._boots_low.001_Height_1001.png
__MACOSX/texture/._thong_low_Height_1001.png
__MACOSX/texture/._shirtpocket_Height_1001.png
__MACOSX/texture/._vest_low_Normal_OpenGL_1001.png
__MACOSX/texture/._body_Opacity_1003.png
__MACOSX/texture/._pouch_low_Roughness_1001.png
__MACOSX/texture/._Base_Male_A_0034_4_Emissive_1001.png
__MACOSX/texture/._shirtpocket_BaseColor_1001.png
__MACOSX/texture/._barrel_low_SeamsColor_Opacity_1001.png
__MACOSX/texture/._gun_low_Opacity_1001.png
__MACOSX/texture/._sight_low_Emissive_1001.png
__MACOSX/texture/._badge_low_Normal_OpenGL_1001.png
__MACOSX/texture/._barrel_low_SeamsColor_Roughness_1001.png
__MACOSX/texture/._toering_low_Normal_OpenGL_1001.png
__MACOSX/texture/._pouch_low_Normal_OpenGL_1001.png
__MACOSX/texture/._shirtpocket_AO_1001.png
__MACOSX/texture/._shirtpocket_Metallic_1001.png
__MACOSX/texture/._shirt_BaseColor_1001.png
__MACOSX/texture/._holster_Opacity_1001.png
__MACOSX/texture/._gun_low_Metallic_1001.png
__MACOSX/texture/._boots_low.001_Emissive_1001.png
__MACOSX/texture/._toering_low_Emissive_1001.png
__MACOSX/texture/._face_Normal_OpenGL_1001.png
__MACOSX/texture/._barrel_low_SeamsColor_Emissive_1001.png
__MACOSX/texture/._Base_Male_A_0034_4_Metallic_1001.png
__MACOSX/texture/._vest_low_Opacity_1001.png
__MACOSX/texture/._body_Normal_OpenGL_1003.png
__MACOSX/texture/._shirtpocket_Opacity_1001.png
__MACOSX/texture/._shoelace_Normal_OpenGL_1001.png
__MACOSX/texture/._vest_low_Roughness_1001.png
__MACOSX/texture/._eyebrows_Height_1001.png
__MACOSX/texture/._eyelashes_Metallic_1001.png
__MACOSX/texture/._gun_low_Emissive_1001.png
__MACOSX/texture/._barrel_low_SeamsColor_Normal_OpenGL_1001.png
__MACOSX/texture/._shirt_Opacity_1001.png
__MACOSX/texture/._flashlight_low_AO_1001.png
__MACOSX/texture/._vest_low_AO_1001.png
__MACOSX/texture/._sight_low_Height_1001.png
__MACOSX/texture/._eyes_Metallic_1001.png
__MACOSX/texture/._shoelace_Height_1001.png
__MACOSX/texture/._tongue_Roughness_1001.png
__MACOSX/texture/._boots_low.001_Metallic_1001.png
__MACOSX/texture/._belt_low_Opacity_1001.png
__MACOSX/texture/._body_AO_1002.png
__MACOSX/texture/._body_Roughness_1003.png
__MACOSX/texture/._eyes_BaseColor_1001.png
__MACOSX/texture/._flashlight_low_Roughness_1001.png
__MACOSX/texture/._hat_low_AO_1001.png
__MACOSX/texture/._trigger_SeamsColor_Height_1001.png
__MACOSX/texture/._shoelace_Emissive_1001.png
__MACOSX/texture/._flashlight_low_BaseColor_1001.png
__MACOSX/texture/._badge_low_Opacity_1001.png
__MACOSX/texture/._eyes_Opacity_1001.png
__MACOSX/texture/._boots_low.001_Roughness_1001.png
__MACOSX/texture/._holster_Height_1001.png
__MACOSX/texture/._eyelashes_Roughness_1001.png
__MACOSX/texture/._pouch_low_Metallic_1001.png
__MACOSX/texture/._body_Normal_OpenGL_1001.png
__MACOSX/texture/._hat_low_Emissive_1001.png
__MACOSX/texture/._holster_BaseColor_1001.png
__MACOSX/texture/._shoulderstrap_Metallic_1001.png
__MACOSX/texture/._sight_low_Opacity_1001.png
__MACOSX/texture/._boots_low.001_BaseColor_1001.png
__MACOSX/texture/._shoulderstrap_Roughness_1001.png
__MACOSX/texture/._pouch_low_Height_1001.png
__MACOSX/texture/._hat_low_Height_1001.png
__MACOSX/texture/._face_AO_1001.png
__MACOSX/texture/._belt_low_AO_1001.png
__MACOSX/texture/._trigger_SeamsColor_Opacity_1001.png
__MACOSX/texture/._Base_Male_A_0034_4_Roughness_1001.png
__MACOSX/texture/._boots_low.001_Normal_OpenGL_1001.png
__MACOSX/texture/._gun_low_Normal_OpenGL_1001.png
__MACOSX/texture/._eyebrows_BaseColor_1001.png
__MACOSX/texture/._Base_Male_A_0034_4_Opacity_1001.png
__MACOSX/texture/._badge_low_Roughness_1001.png
__MACOSX/texture/._barrel_low_SeamsColor_Height_1001.png
__MACOSX/texture/._body_Height_1003.png
__MACOSX/texture/._body_Opacity_1001.png
__MACOSX/texture/._holster_Emissive_1001.png
__MACOSX/texture/._body_Metallic_1003.png
__MACOSX/texture/._trigger_SeamsColor_AO_1001.png
__MACOSX/texture/._belt_low_BaseColor_1001.png
__MACOSX/texture/._flashlight_low_Normal_OpenGL_1001.png
__MACOSX/texture/._tongue_BaseColor_1001.png
__MACOSX/texture/._eyes_Normal_OpenGL_1001.png
__MACOSX/texture/._shoelace_BaseColor_1001.png
__MACOSX/texture/._belt_low_Height_1001.png
__MACOSX/texture/._body_Height_1001.png
__MACOSX/texture/._face_Opacity_1001.png
__MACOSX/texture/._shoulderstrap_Height_1001.png
__MACOSX/texture/._vest_low_Height_1001.png
__MACOSX/texture/._face_Emissive_1001.png
__MACOSX/texture/._vest_low_Metallic_1001.png
__MACOSX/texture/._toering_low_Height_1001.png
__MACOSX/texture/._thong_low_Normal_OpenGL_1001.png
__MACOSX/texture/._pouch_low_Opacity_1001.png
__MACOSX/texture/._eyelashes_Height_1001.png
__MACOSX/texture/._hat_low_Metallic_1001.png
__MACOSX/texture/._shoelace_Roughness_1001.png
__MACOSX/texture/._eyelashes_Emissive_1001.png
__MACOSX/texture/._eyelashes_Opacity_1001.png
__MACOSX/texture/._eyebrows_Metallic_1001.png
__MACOSX/texture/._toering_low_BaseColor_1001.png
__MACOSX/texture/._hat_low_BaseColor_1001.png
__MACOSX/texture/._face_BaseColor_1001.png
__MACOSX/texture/._tongue_Normal_OpenGL_1001.png
__MACOSX/texture/._sight_low_Normal_OpenGL_1001.png
__MACOSX/texture/._eyes_Emissive_1001.png
__MACOSX/texture/._body_Emissive_1001.png
__MACOSX/texture/._shoelace_Metallic_1001.png
__MACOSX/texture/._hat_low_Roughness_1001.png
__MACOSX/texture/._belt_low_Normal_OpenGL_1001.png
__MACOSX/texture/._eyebrows_Normal_OpenGL_1001.png
__MACOSX/texture/._badge_low_BaseColor_1001.png
__MACOSX/texture/._holster_Normal_OpenGL_1001.png
__MACOSX/texture/._sight_low_Metallic_1001.png
__MACOSX/texture/._shirt_Normal_OpenGL_1001.png
__MACOSX/texture/._gun_low_AO_1001.png
__MACOSX/texture/._holster_Roughness_1001.png
__MACOSX/texture/._eyebrows_Roughness_1001.png
__MACOSX/texture/._shoulderstrap_BaseColor_1001.png
__MACOSX/texture/._face_Height_1001.png
__MACOSX/texture/._hat_low_Opacity_1001.png
__MACOSX/texture/._body_Roughness_1002.png
__MACOSX/texture/._flashlight_low_Opacity_1001.png
__MACOSX/texture/._tongue_Metallic_1001.png
__MACOSX/texture/._tongue_Opacity_1001.png
__MACOSX/texture/._sight_low_AO_1001.png
__MACOSX/texture/._shirt_Metallic_1001.png
__MACOSX/texture/._body_Roughness_1001.png
__MACOSX/texture/._shirtpocket_Normal_OpenGL_1001.png
__MACOSX/texture/._tongue_Emissive_1001.png
__MACOSX/texture/._toering_low_Opacity_1001.png
__MACOSX/texture/._eyelashes_Normal_OpenGL_1001.png
__MACOSX/texture/._hat_low_Normal_OpenGL_1001.png
__MACOSX/texture/._trigger_SeamsColor_BaseColor_1001.png
__MACOSX/texture/._face_Roughness_1001.png
__MACOSX/texture/._boots_low.001_Opacity_1001.png
__MACOSX/texture/._shoulderstrap_Opacity_1001.png
__MACOSX/texture/._vest_low_Emissive_1001.png
__MACOSX/texture/._gun_low_Height_1001.png
__MACOSX/texture/._pouch_low_BaseColor_1001.png
__MACOSX/texture/._flashlight_low_Height_1001.png
__MACOSX/texture/._shirtpocket_Emissive_1001.png
__MACOSX/texture/._gun_low_BaseColor_1001.png
__MACOSX/texture/._barrel_low_SeamsColor_AO_1001.png
__MACOSX/texture/._Base_Male_A_0034_4_Normal_OpenGL_1001.png
__MACOSX/texture/._eyebrows_Opacity_1001.png
__MACOSX/texture/._badge_low_AO_1001.png
__MACOSX/texture/._eyes_Roughness_1001.png