Adult content
This content is marked as Adult/NSFW content. You can toggle your preferences regarding this content type in your account settings.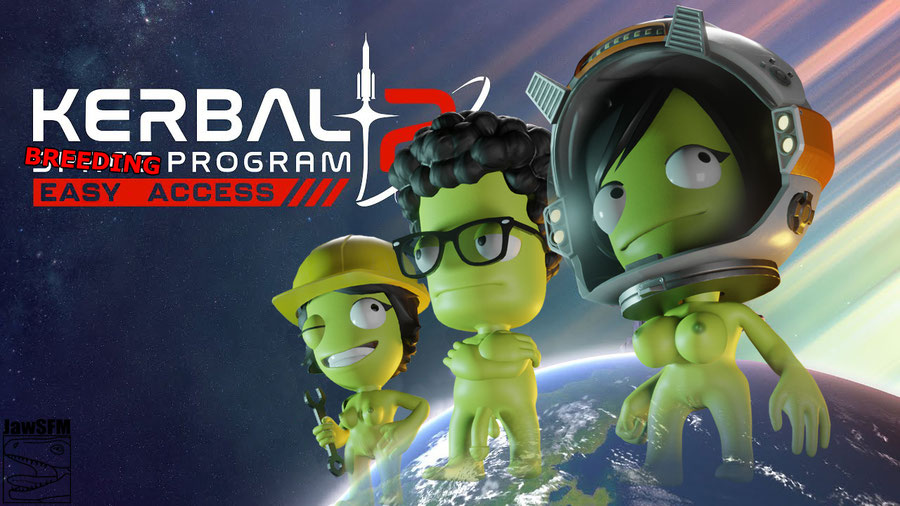 Show more
Description
There is a point where we needed to stop, and we have clearly passed it.
But let's keep going and see what happens.
All male and female Kerbals from Kerbal Space Program 2
including all the outfits, hair and accessories.
Animation ready.
I've added a male and female custom nude body that's supposed to be as close to their original appearances as possible.
Open the Skin Color node group to change the skin color globally! Space suit accent color and hair can be changed freely as well using the mix nodes.
Update V1.1
Update V1.2
Use with Blender 3.3 (LTS) or newer.
SFW and FBX downloads here
Assets by Intercept Games/Private Division
SmutBase is a free service. However, it costs about $0.03 to deliver you a 1GB file. With over 20TB of traffic every month and growing, SmutBase needs your help. If only 1% of our users each gave us $5 for a single month, we could keep the site running for several years.
Filename
Downloads
Created
Filesize
Files
KSP2_Kerbals_NSFW_V1.2.7z
236
2023-07-08 23:33:55
103.61 MB
File contents:

Kerbals_NSFW_V1.2.blend
Textures/hairstyle_jeb_d.png
Textures/Worker_Kerbal_skinmask.png
Textures/kerbal_spacesuit_01_d.png
Textures/kerbal_head_01_mask.png
Textures/hairstyle_timc_d.png
Textures/hairstyle_04_n.png
Textures/hairstyle_02_m.png
Textures/hairstyle_val_n.png
Textures/hairstyle_08_d.png
Textures/hairstyle_timc_m.png
Textures/hairstyle_04_m.png
Textures/Scientist_Kerbal_PM.png
Textures/hairstyle_01_m.png
Textures/hairstyle_01_n.png
Textures/hairstyle_m_05_m.png
Textures/hairstyle_06_d.png
Textures/hairstyle_jeb_m.png
Textures/hairstyle_02_n.png
Textures/hairstyle_07_d.png
Textures/hairstyle_07_m.png
Textures/glasses_pm.png
Textures/hairstyle_06_n.png
Textures/Kerbal_Val_ID_edit.png
Textures/hairstyle_m_05_n.png
Textures/kerbal_spacesuit_01_m.png
Textures/Ground_Crew_Kerbal_PM.png
Textures/kerbal_spacesuit_01_hardware_d.png
Textures/hairstyle_timc_n.png
Textures/Worker_Kerbal_PM.png
Textures/hairstyle_paige_n.png
Textures/kerbal_spacesuit_01_hardware_m.png
Textures/hairstyle_08_m.png
Textures/kerbal_head_01_N.png
Textures/Kerbal_Nude_d.png
Textures/Ground_Crew_Kerbal_D.png
Textures/kerbal_spacesuit_01_pm.png
Textures/hairstyle_paige_e.png
Textures/hairstyle_06_m.png
Textures/hairstyle_01_d.png
Textures/kerbal_spacesuit_01_hardware_pm.png
Textures/hairstyle_04_d.png
Textures/hairstyle_10_n.png
Textures/hairstyle_paige_d.png
Textures/hairstyle_03_m.png
Textures/Ground_Crew_Kerbal_E.png
Textures/hairstyle_09_n.png
Textures/hairstyle_07_n.png
Textures/kerbal_spacesuit_01_jetpack_d.png
Textures/kerbal_spacesuit_01_n.png
Textures/Jumpsuit_Kerbal_D.png
Textures/glasses_d.png
Textures/Ground_Crew_Kerbal_skinmask.png
Textures/glasses_n.png
Textures/hairstyle_paige_m.png
Textures/Worker_Kerbal_D.png
Textures/hairstyle_09_m.png
Textures/Scientist_Kerbal_D.png
Textures/hairstyle_10_m.png
Textures/Jumpsuit_Kerbal_PM.png
Textures/hairstyle_10_d.png
Textures/hairstyle_m_05_d.png
Textures/Scientist_Kerbal_skinmask.png
Textures/hairstyle_08_n.png
Textures/hairstyle_val_d.png
Textures/hairstyle_val_m.png
Textures/hairstyle_03_d.png
Textures/Jumpsuit_Kerbal_skinmask.png
Textures/kerbal_spacesuit_01_hardware_n.png
Textures/hairstyle_02_d.png
Textures/hairstyle_09_d.png
Textures/kerbal_head_01_D.png




KSP2_Kerbals_NSFW_V1.1.7z
119
2023-07-07 19:39:48
103.6 MB
File contents:

Kerbals_NSFW_V1.0.blend
Textures/hairstyle_jeb_d.png
Textures/Worker_Kerbal_skinmask.png
Textures/kerbal_spacesuit_01_d.png
Textures/kerbal_head_01_mask.png
Textures/hairstyle_timc_d.png
Textures/hairstyle_04_n.png
Textures/hairstyle_02_m.png
Textures/hairstyle_val_n.png
Textures/hairstyle_08_d.png
Textures/hairstyle_timc_m.png
Textures/hairstyle_04_m.png
Textures/Scientist_Kerbal_PM.png
Textures/hairstyle_01_m.png
Textures/hairstyle_01_n.png
Textures/hairstyle_m_05_m.png
Textures/hairstyle_06_d.png
Textures/hairstyle_jeb_m.png
Textures/hairstyle_02_n.png
Textures/hairstyle_07_d.png
Textures/hairstyle_07_m.png
Textures/glasses_pm.png
Textures/hairstyle_06_n.png
Textures/Kerbal_Val_ID_edit.png
Textures/hairstyle_m_05_n.png
Textures/kerbal_spacesuit_01_m.png
Textures/Ground_Crew_Kerbal_PM.png
Textures/kerbal_spacesuit_01_hardware_d.png
Textures/hairstyle_timc_n.png
Textures/Worker_Kerbal_PM.png
Textures/hairstyle_paige_n.png
Textures/kerbal_spacesuit_01_hardware_m.png
Textures/hairstyle_08_m.png
Textures/kerbal_head_01_N.png
Textures/Kerbal_Nude_d.png
Textures/Ground_Crew_Kerbal_D.png
Textures/kerbal_spacesuit_01_pm.png
Textures/hairstyle_paige_e.png
Textures/hairstyle_06_m.png
Textures/hairstyle_01_d.png
Textures/kerbal_spacesuit_01_hardware_pm.png
Textures/hairstyle_04_d.png
Textures/hairstyle_10_n.png
Textures/hairstyle_paige_d.png
Textures/hairstyle_03_m.png
Textures/Ground_Crew_Kerbal_E.png
Textures/hairstyle_09_n.png
Textures/hairstyle_07_n.png
Textures/kerbal_spacesuit_01_jetpack_d.png
Textures/kerbal_spacesuit_01_n.png
Textures/Jumpsuit_Kerbal_D.png
Textures/glasses_d.png
Textures/Ground_Crew_Kerbal_skinmask.png
Textures/glasses_n.png
Textures/hairstyle_paige_m.png
Textures/Worker_Kerbal_D.png
Textures/hairstyle_09_m.png
Textures/Scientist_Kerbal_D.png
Textures/hairstyle_10_m.png
Textures/Jumpsuit_Kerbal_PM.png
Textures/hairstyle_10_d.png
Textures/hairstyle_m_05_d.png
Textures/Scientist_Kerbal_skinmask.png
Textures/hairstyle_08_n.png
Textures/hairstyle_val_d.png
Textures/hairstyle_val_m.png
Textures/hairstyle_03_d.png
Textures/Jumpsuit_Kerbal_skinmask.png
Textures/kerbal_spacesuit_01_hardware_n.png
Textures/hairstyle_02_d.png
Textures/hairstyle_09_d.png
Textures/kerbal_head_01_D.png