Adult content
This content is marked as Adult/NSFW content. You can toggle your preferences regarding this content type in your account settings.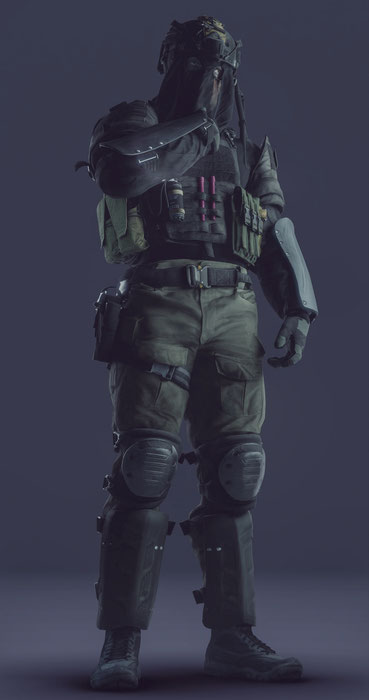 Show more
Description
Based on Genesis 8.1 Male.
Ik Rigged with AutoRigPro addons.
Material-blend Separation.
Texture compressed to.DDS (DXT),VRAM saving.
ATTENTION!
Packaging to blend will make textures display improperly in shaders, Although you can package project files, be sure to unpack the material into the Texture folder and re-call cycles before using it.<h4>
my patreon: https://www.patreon.com/herrrrbhornyjail
SmutBase is a free service. However, it costs about $0.03 to deliver you a 1GB file. With over 20TB of traffic every month and growing, SmutBase needs your help. If only 1% of our users each gave us $5 for a single month, we could keep the site running for several years.
Filename
Downloads
Created
Filesize
Files
MW2RE_Konig_WbETJSw.zip
884
2023-06-13 10:50:14
371.54 MB
File contents:

MW2RE_Konig/konig_v1p.blend
MW2RE_Konig/konig_v1p.blend1
MW2RE_Konig/textures/ximage_31fac6806f02cfdd.dds
MW2RE_Konig/textures/ximage_5a7dc205e4111484.dds
MW2RE_Konig/textures/VSSS_P4M4_Normal.jpg
MW2RE_Konig/textures/ximage_3d0120b06b981432b.png
MW2RE_Konig/textures/ximage_77fbfc471938f41f.png
MW2RE_Konig/textures/ximage_6518a2f27a22266b.dds
MW2RE_Konig/textures/ximage_2b02479208cc7936.dds
MW2RE_Konig/textures/ximage_41ffb18580a55b08.dds
MW2RE_Konig/textures/CTSFO_Gens_O.jpg
MW2RE_Konig/textures/ximage_60327133e19ac7ce.dds
MW2RE_Konig/textures/DTHDR-RuinsB-500.hdr
MW2RE_Konig/textures/falcon_leg_bump_base.jpg
MW2RE_Konig/textures/ximage_187e998591efd956.dds
MW2RE_Konig/textures/ximage_5b8e570ed8a1b7bf.dds
MW2RE_Konig/textures/ximage_20976ef8aa2125cb.dds
MW2RE_Konig/textures/ximage_157ca92fab7625c5.png
MW2RE_Konig/textures/CTSFO_Gens_S.jpg
MW2RE_Konig/textures/ximage_7ad1d44caf08b0f2.dds
MW2RE_Konig/textures/ximage_6a6b4de9ad4ac357_g.png
MW2RE_Konig/textures/ximage_68ecd414d3d4b00e_rgb.png
MW2RE_Konig/textures/ximage_797ee1ecb8ed3c89_alpha.png
MW2RE_Konig/textures/ximage_236b839720397edc.dds
MW2RE_Konig/textures/RusticGreenSocks_Height.jpg
MW2RE_Konig/textures/ximage_36766c3be1dacf8a.dds
MW2RE_Konig/textures/CTSFO_Head_D.jpg
MW2RE_Konig/textures/ximage_56f802d99c05417c.dds
MW2RE_Konig/textures/ximage_5e22fabd36451cec.dds
MW2RE_Konig/textures/ximage_10257f7ca4a22650.dds
MW2RE_Konig/textures/ximage_13f897b8ba59fe2f.dds
MW2RE_Konig/textures/Fiber_Strand_Spec_00.jpg
MW2RE_Konig/textures/MITactShirtGrey.jpg
MW2RE_Konig/textures/ximage_2ae18dfcc6a69598.dds
MW2RE_Konig/textures/ximage_c9cbbd4ec266035.dds
MW2RE_Konig/textures/VSSS_P4M4_BaseColor.jpg
MW2RE_Konig/textures/falcon_torso_disp_base.jpg
MW2RE_Konig/textures/CTSFO_Legs_N.jpg
MW2RE_Konig/textures/ximage_486a512120cc9a2c_alpha.png
MW2RE_Konig/textures/Dain8_ArmsVeins_NM_1004.tif
MW2RE_Konig/textures/CTSFO_Arms_N.png
MW2RE_Konig/textures/ximage_7e8a4ad16d64abd6.dds
MW2RE_Konig/textures/ximage_af4de499f690816.dds
MW2RE_Konig/textures/VSSS_P4M4_Roughness.jpg
MW2RE_Konig/textures/ximage_357995f9be0c63ae.dds
MW2RE_Konig/textures/ximage_616a192e51f7a397.dds
MW2RE_Konig/textures/ximage_6f34168098a59525_alpha.png
MW2RE_Konig/textures/ximage_15e32cefeb0d3514.dds
MW2RE_Konig/textures/ximage_295c0cf71c9216d9.dds
MW2RE_Konig/textures/ximage_22355721e1426232.dds
MW2RE_Konig/textures/ximage_6bacdd1ed727b296.dds
MW2RE_Konig/textures/ximage_4de3ef482fff069b.dds
MW2RE_Konig/textures/ximage_719972b8f2d61f5c.dds
MW2RE_Konig/textures/ximage_2435f39a08199c9a.dds
MW2RE_Konig/textures/ximage_24b4140f99c3c49a.dds
MW2RE_Konig/textures/ximage_73612cca174e2118_g.png
MW2RE_Konig/textures/ximage_33d8c8d1498211c3.dds
MW2RE_Konig/textures/ximage_587cf604a77cb218.dds
MW2RE_Konig/textures/CTSFO_Arms_S.jpg
MW2RE_Konig/textures/ASHcaptex.jpg
MW2RE_Konig/textures/CTSFO_Legs_B.jpg
MW2RE_Konig/textures/ximage_3c40b93f7baa9b91.dds
MW2RE_Konig/textures/CTSFO_Mouth_D.jpg
MW2RE_Konig/textures/ximage_2f15436e2b31de3e.png
MW2RE_Konig/textures/falcon_face_nm_base.tif
MW2RE_Konig/textures/ximage_3131bffc895c41f.png
MW2RE_Konig/textures/ximage_132eabfb3f67cd51_rgb.png
MW2RE_Konig/textures/ximage_446b09a0fc239c82.dds
MW2RE_Konig/textures/CTSFO_Gens_Wet.jpg
MW2RE_Konig/textures/CTSFO_Hair_B.png
MW2RE_Konig/textures/ximage_6c29ad8fa38cff3f.dds
MW2RE_Konig/textures/MITactShirtNRM.jpg
MW2RE_Konig/textures/ximage_69b6726846af91a3.png
MW2RE_Konig/textures/RusticGreenSocks_Roughness.jpg
MW2RE_Konig/textures/CTSFO_Gens_D.jpg
MW2RE_Konig/textures/Fiber_Strand_Dif_00.jpg
MW2RE_Konig/textures/ximage_19c448604ba74570.png
MW2RE_Konig/textures/CTSFO_Legs_D.jpg
MW2RE_Konig/textures/CTSFO_Gens_B.jpg
MW2RE_Konig/textures/CTSFO_Hair_D.png
MW2RE_Konig/textures/ximage_6f349baa552f2033.dds
MW2RE_Konig/textures/ximage_6f34168098a59525_rgb.png
MW2RE_Konig/textures/CTSFO_Mouth_B.jpg
MW2RE_Konig/textures/ximage_a97d37262b43726.dds
MW2RE_Konig/textures/ximage_6d70239eb06bbf02.dds
MW2RE_Konig/textures/ximage_13737cff5390fa74.dds
MW2RE_Konig/textures/ximage_7e8a36eb9271d233.dds
MW2RE_Konig/textures/ximage_6ffda1201940e24b_alpha.png
MW2RE_Konig/textures/ximage_599b500d9b548277.dds
MW2RE_Konig/textures/CTSFO_Arms_B.png
MW2RE_Konig/textures/CTSFO_Legs_S.jpg
MW2RE_Konig/textures/ximage_6b4efe654eaef757.dds
MW2RE_Konig/textures/CTSFO_Head_B.png
MW2RE_Konig/textures/CTSFO_Torso_S.jpg
MW2RE_Konig/textures/ximage_735b2ef5a59f9437b.png
MW2RE_Konig/textures/ximage_4ff819cf5b8d9cfe_rgb.png
MW2RE_Konig/textures/ximage_52b42e8baa061c61.dds
MW2RE_Konig/textures/ximage_7d4db73d49ef959d.dds
MW2RE_Konig/textures/CTSFO_Arms_D.jpg
MW2RE_Konig/textures/ximage_29032a434a8e9e9d.png
MW2RE_Konig/textures/ximage_36e980442f987824.dds
MW2RE_Konig/textures/ximage_779ba4e1bf5a0403_rgb.png
MW2RE_Konig/textures/ximage_32f83618ea05724a_g.png
MW2RE_Konig/textures/ximage_5d96f25e7ea2e5d2.dds
MW2RE_Konig/textures/ximage_6eaec68482c19dd.dds
MW2RE_Konig/textures/ximage_12e8ce11df05391c.dds
MW2RE_Konig/textures/ximage_43ab8007e66cf717.dds
MW2RE_Konig/textures/ximage_6f7acd5519df4f5e.dds
MW2RE_Konig/textures/G8MBaseEyelashesMapTR_1006.jpg
MW2RE_Konig/textures/ximage_3d0120b06b981432.dds
MW2RE_Konig/textures/ximage_4430fdea65955cf2.dds
MW2RE_Konig/textures/ximage_5a7dc205e4111484_s.png
MW2RE_Konig/textures/CTSFO_Head_S.jpg
MW2RE_Konig/textures/ximage_61bda149f62c87d9.dds
MW2RE_Konig/textures/ximage_4cdc5e7b67c72c29.dds
MW2RE_Konig/textures/ximage_32f83618ea05724a.dds
MW2RE_Konig/textures/ximage_735b2ef5a59f9437.dds
MW2RE_Konig/textures/ximage_34d4e548ac8c9923_g.png
MW2RE_Konig/textures/ximage_5f26540a1b364cb6_rgb.png
MW2RE_Konig/textures/ximage_132eabfb3f67cd51.dds
MW2RE_Konig/textures/falcon_leg_disp_base.jpg
MW2RE_Konig/textures/ximage_797ee1ecb8ed3c89_rgb.png
MW2RE_Konig/textures/ximage_486a512120cc9a2c_rgb.png
MW2RE_Konig/textures/CTSFO_Hair_OP.png
MW2RE_Konig/textures/ximage_41ffb18580a55b08_g.png
MW2RE_Konig/textures/ximage_27d0efc1f0d57d1e.png
MW2RE_Konig/textures/G8MBaseEyesMapB_1007.jpg
MW2RE_Konig/textures/ximage_bbd966053d9d92e.dds
MW2RE_Konig/textures/konig_Head_D.jpg
MW2RE_Konig/textures/ximage_142de49b2ad482a5.dds
MW2RE_Konig/textures/Dain8_LegsVeins_NM_1003.tif
MW2RE_Konig/textures/ximage_3d26d8e5bb67e63e.dds
MW2RE_Konig/textures/ximage_7d766ed1924634b7.dds
MW2RE_Konig/textures/ximage_45860994bc6cfc40.dds
MW2RE_Konig/textures/ximage_788d2529bfeeab07.dds
MW2RE_Konig/textures/ximage_61bda149f62c87d9.png
MW2RE_Konig/textures/ximage_1dadd9760fe1ee34.dds
MW2RE_Konig/textures/ximage_73612cca174e2118.dds
MW2RE_Konig/textures/ximage_357d84bec1042298.dds
MW2RE_Konig/textures/ximage_68ecd414d3d4b00e_alpha.png
MW2RE_Konig/textures/ximage_779ba4e1bf5a0403_alpha.png
MW2RE_Konig/textures/Dain8_TorsoVeins_NM_1002.tif
MW2RE_Konig/textures/ximage_76cdfec82d69e52a.dds
MW2RE_Konig/textures/ximage_7ad1d44caf08b0f2b.png
MW2RE_Konig/textures/CTSFO_Head_N.jpg
MW2RE_Konig/textures/CTSFO_Torso_B.png
MW2RE_Konig/textures/ximage_36c1b2862ec58499.png
MW2RE_Konig/textures/ximage_6a6b4de9ad4ac357.dds
MW2RE_Konig/textures/G8MBaseEyesMap02D_1007.jpg
MW2RE_Konig/textures/ximage_479a8c54684bc284.dds
MW2RE_Konig/textures/CTSFO_Gens_N.jpg
MW2RE_Konig/textures/ximage_44b80fb58af384e5.png
MW2RE_Konig/textures/ximage_6ffda1201940e24b_rgb.png
MW2RE_Konig/textures/RusticGreenSocks_Metallic.jpg
MW2RE_Konig/textures/ximage_6f7acd5519df4f5e_g.png
MW2RE_Konig/textures/ximage_174b3b295e4c40a7.dds
MW2RE_Konig/textures/ximage_34d4e548ac8c9923.dds
MW2RE_Konig/textures/falcon_arm_disp_base.jpg
MW2RE_Konig/textures/ASHcaTR.jpg
MW2RE_Konig/textures/RusticGreenSocks_Normal_OpenGL.jpg
MW2RE_Konig/textures/falcon_face_disp_base.jpg
MW2RE_Konig/textures/ximage_592057debf784609.dds
MW2RE_Konig/textures/ximage_1588fbd0978062fa_rgb.png