Adult content
This content is marked as Adult/NSFW content. You can toggle your preferences regarding this content type in your account settings.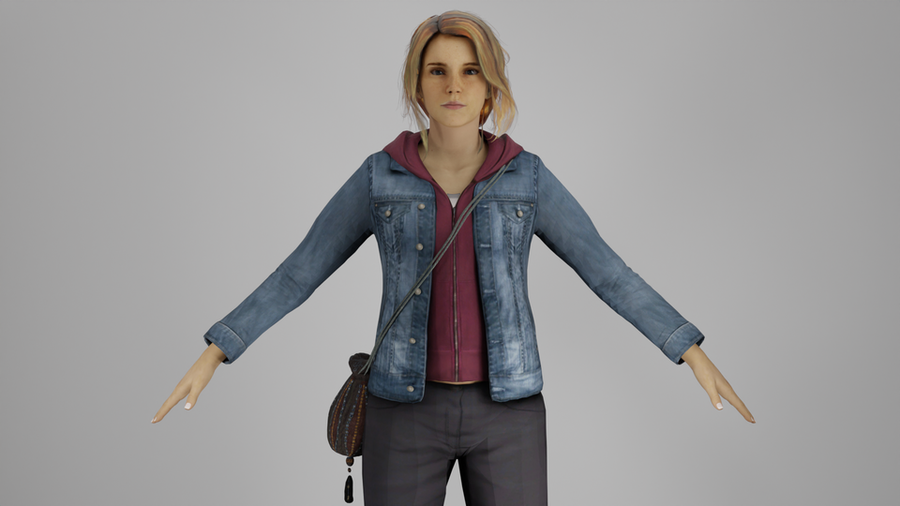 Show more
Description
This is a clothed and nude version of Hermione Granger. It only includes shape-keys for fixing the clothes a bit. The model has been tested and works with both Cycles and Eevee. Preview image is rendered in Cycles.
Note: This model has a nude version but does not include a vagina currently. Maybe I will update it later. Otherwise, you can just sculpt a custom one and use shapekeys to modify. Using Diffeomorphic plugin, check downloads.
The only issue so far with the model is that the outfit might break on some weird posing angles, but can easily be fixed with shape-keys.
Textures are baked into the blend file. All of my models are rigged and ready to go.
Anyways, thanks again and I hope to do more of this stuff later on.
SmutBase is a free service. However, it costs about $0.03 to deliver you a 1GB file. With over 20TB of traffic every month and growing, SmutBase needs your help. If only 1% of our users each gave us $5 for a single month, we could keep the site running for several years.
Filename
Downloads
Created
Filesize
Files
hermione.blend
675
2023-06-12 13:43:18
73.46 MB
Diffeomorphic-import_daz-f519244c74b8.zip
141
2023-06-13 15:23:25
1.44 MB
File contents:

Diffeomorphic-import_daz-f519244c74b8/camera.py
Diffeomorphic-import_daz-f519244c74b8/store.py
Diffeomorphic-import_daz-f519244c74b8/tree.py
Diffeomorphic-import_daz-f519244c74b8/merge.py
Diffeomorphic-import_daz-f519244c74b8/modifier.py
Diffeomorphic-import_daz-f519244c74b8/convert.py
Diffeomorphic-import_daz-f519244c74b8/layers.py
Diffeomorphic-import_daz-f519244c74b8/transform.py
Diffeomorphic-import_daz-f519244c74b8/light.py
Diffeomorphic-import_daz-f519244c74b8/hide.py
Diffeomorphic-import_daz-f519244c74b8/dforce.py
Diffeomorphic-import_daz-f519244c74b8/animation.py
Diffeomorphic-import_daz-f519244c74b8/objfile.py
Diffeomorphic-import_daz-f519244c74b8/brick.py
Diffeomorphic-import_daz-f519244c74b8/mhx.py
Diffeomorphic-import_daz-f519244c74b8/pbr.py
Diffeomorphic-import_daz-f519244c74b8/node.py
Diffeomorphic-import_daz-f519244c74b8/proxy.py
Diffeomorphic-import_daz-f519244c74b8/transfer.py
Diffeomorphic-import_daz-f519244c74b8/bone.py
Diffeomorphic-import_daz-f519244c74b8/guess.py
Diffeomorphic-import_daz-f519244c74b8/LICENSE
Diffeomorphic-import_daz-f519244c74b8/main.py
Diffeomorphic-import_daz-f519244c74b8/propgroups.py
Diffeomorphic-import_daz-f519244c74b8/cycles.py
Diffeomorphic-import_daz-f519244c74b8/README.md
Diffeomorphic-import_daz-f519244c74b8/uilist.py
Diffeomorphic-import_daz-f519244c74b8/api.py
Diffeomorphic-import_daz-f519244c74b8/buildnumber.py
Diffeomorphic-import_daz-f519244c74b8/formula.py
Diffeomorphic-import_daz-f519244c74b8/material.py
Diffeomorphic-import_daz-f519244c74b8/daz.py
Diffeomorphic-import_daz-f519244c74b8/simple.py
Diffeomorphic-import_daz-f519244c74b8/settings.py
Diffeomorphic-import_daz-f519244c74b8/files.py
Diffeomorphic-import_daz-f519244c74b8/render.py
Diffeomorphic-import_daz-f519244c74b8/selector.py
Diffeomorphic-import_daz-f519244c74b8/hdmorphs.py
Diffeomorphic-import_daz-f519244c74b8/figure.py
Diffeomorphic-import_daz-f519244c74b8/preset.py
Diffeomorphic-import_daz-f519244c74b8/driver.py
Diffeomorphic-import_daz-f519244c74b8/geometry.py
Diffeomorphic-import_daz-f519244c74b8/cgroup.py
Diffeomorphic-import_daz-f519244c74b8/load_morph.py
Diffeomorphic-import_daz-f519244c74b8/error.py
Diffeomorphic-import_daz-f519244c74b8/asset.py
Diffeomorphic-import_daz-f519244c74b8/load_json.py
Diffeomorphic-import_daz-f519244c74b8/morphing.py
Diffeomorphic-import_daz-f519244c74b8/category.py
Diffeomorphic-import_daz-f519244c74b8/scan.py
Diffeomorphic-import_daz-f519244c74b8/fix.py
Diffeomorphic-import_daz-f519244c74b8/bone_data.py
Diffeomorphic-import_daz-f519244c74b8/hair.py
Diffeomorphic-import_daz-f519244c74b8/udim.py
Diffeomorphic-import_daz-f519244c74b8/tables.py
Diffeomorphic-import_daz-f519244c74b8/fileutils.py
Diffeomorphic-import_daz-f519244c74b8/facecap.py
Diffeomorphic-import_daz-f519244c74b8/__init__.py
Diffeomorphic-import_daz-f519244c74b8/geonodes.py
Diffeomorphic-import_daz-f519244c74b8/rigify_data.py
Diffeomorphic-import_daz-f519244c74b8/finger.py
Diffeomorphic-import_daz-f519244c74b8/panel.py
Diffeomorphic-import_daz-f519244c74b8/mhx_data.py
Diffeomorphic-import_daz-f519244c74b8/rigify.py
Diffeomorphic-import_daz-f519244c74b8/channels.py
Diffeomorphic-import_daz-f519244c74b8/utils.py
Diffeomorphic-import_daz-f519244c74b8/matedit.py
Diffeomorphic-import_daz-f519244c74b8/moho.py
Diffeomorphic-import_daz-f519244c74b8/to_daz_studio/Scripts/diffeomorphic.png
Diffeomorphic-import_daz-f519244c74b8/to_daz_studio/Scripts/Diffeomorphic/readme.png
Diffeomorphic-import_daz-f519244c74b8/to_daz_studio/Scripts/Diffeomorphic/export_to_blender.png
Diffeomorphic-import_daz-f519244c74b8/to_daz_studio/Scripts/Diffeomorphic/mesh_statistics.png
Diffeomorphic-import_daz-f519244c74b8/to_daz_studio/Scripts/Diffeomorphic/save_root_paths.png
Diffeomorphic-import_daz-f519244c74b8/to_daz_studio/Scripts/Diffeomorphic/readme.dsa
Diffeomorphic-import_daz-f519244c74b8/to_daz_studio/Scripts/Diffeomorphic/setup_menus.png
Diffeomorphic-import_daz-f519244c74b8/to_daz_studio/Scripts/Diffeomorphic/export_highdef_to_blender.png
Diffeomorphic-import_daz-f519244c74b8/to_daz_studio/Scripts/Diffeomorphic/save_root_paths.dsa
Diffeomorphic-import_daz-f519244c74b8/to_daz_studio/Scripts/Diffeomorphic/setup_menus.dsa
Diffeomorphic-import_daz-f519244c74b8/to_daz_studio/Scripts/Diffeomorphic/mesh_statistics.dsa
Diffeomorphic-import_daz-f519244c74b8/to_daz_studio/Scripts/Diffeomorphic/export_to_blender.dsa
Diffeomorphic-import_daz-f519244c74b8/to_daz_studio/Scripts/Diffeomorphic/export_highdef_to_blender.dsa
Diffeomorphic-import_daz-f519244c74b8/runtime/morph_armature.py
Diffeomorphic-import_daz-f519244c74b8/data/gizmos.json
Diffeomorphic-import_daz-f519244c74b8/data/paths/genesis8-male.json
Diffeomorphic-import_daz-f519244c74b8/data/paths/genesis3-male.json
Diffeomorphic-import_daz-f519244c74b8/data/paths/tear9.json
Diffeomorphic-import_daz-f519244c74b8/data/paths/eyes9.json
Diffeomorphic-import_daz-f519244c74b8/data/paths/genesis3-female.json
Diffeomorphic-import_daz-f519244c74b8/data/paths/genesis2-female.json
Diffeomorphic-import_daz-f519244c74b8/data/paths/mouth9.json
Diffeomorphic-import_daz-f519244c74b8/data/paths/lashes9.json
Diffeomorphic-import_daz-f519244c74b8/data/paths/tear81-female.json
Diffeomorphic-import_daz-f519244c74b8/data/paths/genesis9.json
Diffeomorphic-import_daz-f519244c74b8/data/paths/lashes8-female.json
Diffeomorphic-import_daz-f519244c74b8/data/paths/genesis8-female.json
Diffeomorphic-import_daz-f519244c74b8/data/paths/lashes8-male.json
Diffeomorphic-import_daz-f519244c74b8/data/paths/tear81-male.json
Diffeomorphic-import_daz-f519244c74b8/data/paths/lashes81-male.json
Diffeomorphic-import_daz-f519244c74b8/data/paths/genesis2-male.json
Diffeomorphic-import_daz-f519244c74b8/data/paths/lashes81-female.json
Diffeomorphic-import_daz-f519244c74b8/data/paths/genesis.json
Diffeomorphic-import_daz-f519244c74b8/data/scanned/new_gens_V8.json
Diffeomorphic-import_daz-f519244c74b8/data/lowpoly/genesis8-male.json
Diffeomorphic-import_daz-f519244c74b8/data/lowpoly/genesis3-male.json
Diffeomorphic-import_daz-f519244c74b8/data/lowpoly/genesis3-female.json
Diffeomorphic-import_daz-f519244c74b8/data/lowpoly/genesis2-female.json
Diffeomorphic-import_daz-f519244c74b8/data/lowpoly/genesis9.json
Diffeomorphic-import_daz-f519244c74b8/data/lowpoly/genesis8-female.json
Diffeomorphic-import_daz-f519244c74b8/data/lowpoly/genesis.json
Diffeomorphic-import_daz-f519244c74b8/data/restposes/genesis_9.json
Diffeomorphic-import_daz-f519244c74b8/data/restposes/genesis_3_female.json
Diffeomorphic-import_daz-f519244c74b8/data/restposes/genesis_8_female.json
Diffeomorphic-import_daz-f519244c74b8/data/restposes/genesis_2_female.json
Diffeomorphic-import_daz-f519244c74b8/data/restposes/victoria_7.json
Diffeomorphic-import_daz-f519244c74b8/data/restposes/michael_8.json
Diffeomorphic-import_daz-f519244c74b8/data/restposes/cmu.json
Diffeomorphic-import_daz-f519244c74b8/data/restposes/genesis_8_male.json
Diffeomorphic-import_daz-f519244c74b8/data/restposes/genesis_2_male.json
Diffeomorphic-import_daz-f519244c74b8/data/restposes/genesis_3_male.json
Diffeomorphic-import_daz-f519244c74b8/data/restposes/genesis.json
Diffeomorphic-import_daz-f519244c74b8/data/restposes/victoria_8.json
Diffeomorphic-import_daz-f519244c74b8/data/converters/genesis1238-genesis9.json
Diffeomorphic-import_daz-f519244c74b8/data/converters/genesis2-genesis3.json
Diffeomorphic-import_daz-f519244c74b8/data/converters/genesis3-genesis2.json
Diffeomorphic-import_daz-f519244c74b8/data/converters/genesis1-genesis3.json
Diffeomorphic-import_daz-f519244c74b8/data/converters/genesis-rigify2.json
Diffeomorphic-import_daz-f519244c74b8/data/converters/genesis3-genesis1.json
Diffeomorphic-import_daz-f519244c74b8/data/converters/genesis-rigify.json
Diffeomorphic-import_daz-f519244c74b8/data/converters/genesis-mhx.json
Diffeomorphic-import_daz-f519244c74b8/data/parents/genesis_9.json
Diffeomorphic-import_daz-f519244c74b8/data/parents/genesis_3_female.json
Diffeomorphic-import_daz-f519244c74b8/data/parents/genesis_8_female.json
Diffeomorphic-import_daz-f519244c74b8/data/parents/genesis_2_female.json
Diffeomorphic-import_daz-f519244c74b8/data/parents/genesis_8_male.json
Diffeomorphic-import_daz-f519244c74b8/data/parents/genesis_2_male.json
Diffeomorphic-import_daz-f519244c74b8/data/parents/genesis_3_male.json
Diffeomorphic-import_daz-f519244c74b8/data/parents/genesis.json
Diffeomorphic-import_daz-f519244c74b8/data/presets/leather.json
Diffeomorphic-import_daz-f519244c74b8/data/presets/cotton.json
Diffeomorphic-import_daz-f519244c74b8/data/presets/silk.json
Diffeomorphic-import_daz-f519244c74b8/data/presets/denim.json
Diffeomorphic-import_daz-f519244c74b8/data/presets/rubber.json
Diffeomorphic-import_daz-f519244c74b8/data/softbody/genesis8.json
Diffeomorphic-import_daz-f519244c74b8/data/softbody/rigify2.json
Diffeomorphic-import_daz-f519244c74b8/data/softbody/softbody-genesis8-male.json
Diffeomorphic-import_daz-f519244c74b8/data/softbody/softbody-genesis8-female.json
Diffeomorphic-import_daz-f519244c74b8/data/softbody/genesis9.json
Diffeomorphic-import_daz-f519244c74b8/data/softbody/softbody-genesis3-female.json
Diffeomorphic-import_daz-f519244c74b8/data/softbody/genesis3.json
Diffeomorphic-import_daz-f519244c74b8/data/softbody/mhx.json
Diffeomorphic-import_daz-f519244c74b8/data/softbody/softbody-genesis3-male.json
Diffeomorphic-import_daz-f519244c74b8/data/softbody/softbody-genesis9.json
Diffeomorphic-import_daz-f519244c74b8/data/ikposes/genesis_9.json
Diffeomorphic-import_daz-f519244c74b8/data/ikposes/genesis_3_female.json
Diffeomorphic-import_daz-f519244c74b8/data/ikposes/genesis_8_female.json
Diffeomorphic-import_daz-f519244c74b8/data/ikposes/genesis_2_female.json
Diffeomorphic-import_daz-f519244c74b8/data/ikposes/genesis_8_male.json
Diffeomorphic-import_daz-f519244c74b8/data/ikposes/genesis_2_male.json
Diffeomorphic-import_daz-f519244c74b8/data/ikposes/genesis_3_male.json
Diffeomorphic-import_daz-f519244c74b8/data/ikposes/genesis.json
Diffeomorphic-import_daz-f519244c74b8/data/altmorphs/genesis8.json
Diffeomorphic-import_daz-f519244c74b8/data/altmorphs/genesis9.json
Diffeomorphic-import_daz-f519244c74b8/standalone/add_alpha.py