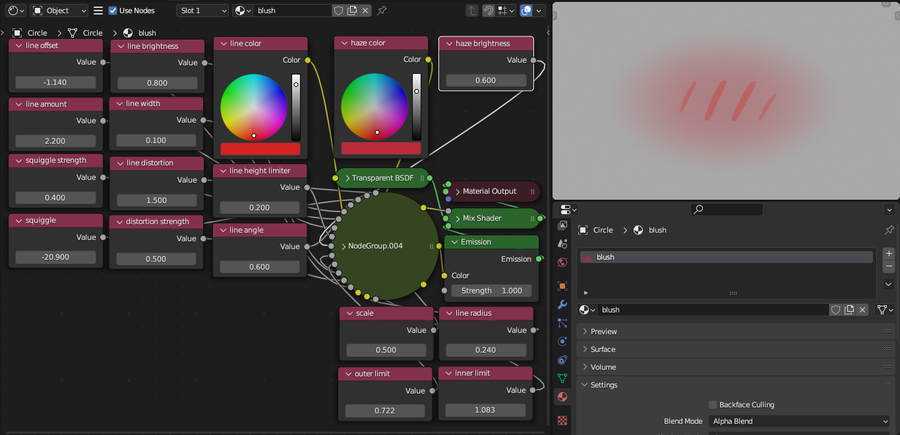 Show more
Description
This is a blender material that resembles an anime/animated blush that allows for a wide range of tweaks including different colors.
I've noticed that I couldn't find any such thing uploaded on the site, and since I was bent on making it, I've decided to make a more user-friendly version that allows for as much customization as I'm capable of adding with my limited node-wrangling skills.
I've got the general idea of how to make it from this video.
That said, I didn't copy it entirely. There are some tweaks that are not present in the video, and I've had to replace a few color ramps with map ranges for easier customization.
Please note that while I've tried to somewhat keep things from breaking too much, it's still possible to do so if you try to input some crazy numbers in the inputs.
↓IMPORTANT↓
To add this to your project, you can do:
File > Append > *choose the downloaded blend file* > Materials > blush
Create a filled circle (bad, read below if using ver2) and choose this material on it, after which you can open the shader editor with the material selected. BUT!
Position and scale your blush circle first before tweaking the values! The looks vary depending on the environment that the blush is in!
VERSION 2
I have changed the texture source for the blush lines and it is now possible (and recommended) to shrinkwrap your blush on any surface! All you need to do is to subdivide a plane, add the shrinkwrap modifier with the settings shown on the preview image (note the negative and positive are both checked, but you should uncheck them depending on how you position the original element), and choose the object it should be shrinkwrapping. Tweak the subdivision and distance values until it is a perfect fit to avoid weird shadows in cycles!
Also, this change broke a lot of the custom values, so some of them might be way more wonky than usual, and if you used the old version, you might need a LOT of tweaking to make it look right again. That said, if you don't need to shrinkwrap the blushes. For example, if you're making a static image and can position them close to the camera, away from the character, then you won't have trouble with the shadows, and have a bit more reliable customization.
---
P.S.
If you have any tips for this kinda stuff, please leave a comment! I've spent so much time fiddling with math and mix nodes that I might go insane from any more blind node-wrangling. And, check me out on twitter. Feel free to @ me with stuff you make!
SmutBase is a free service. However, it costs about $0.03 to deliver you a 1GB file. With over 20TB of traffic every month and growing, SmutBase needs your help. If only 1% of our users each gave us $5 for a single month, we could keep the site running for several years.
Filename
Downloads
Created
Filesize
Files
blush.blend
438
2023-06-06 14:49:28
955.17 KB
blushv2.blend
535
2023-06-20 17:11:57
956.92 KB