Furry content
This content is marked as Furry/Anthro content. You can toggle your preferences regarding this content type in your account settings.
Adult content
This content is marked as Adult/NSFW content. You can toggle your preferences regarding this content type in your account settings.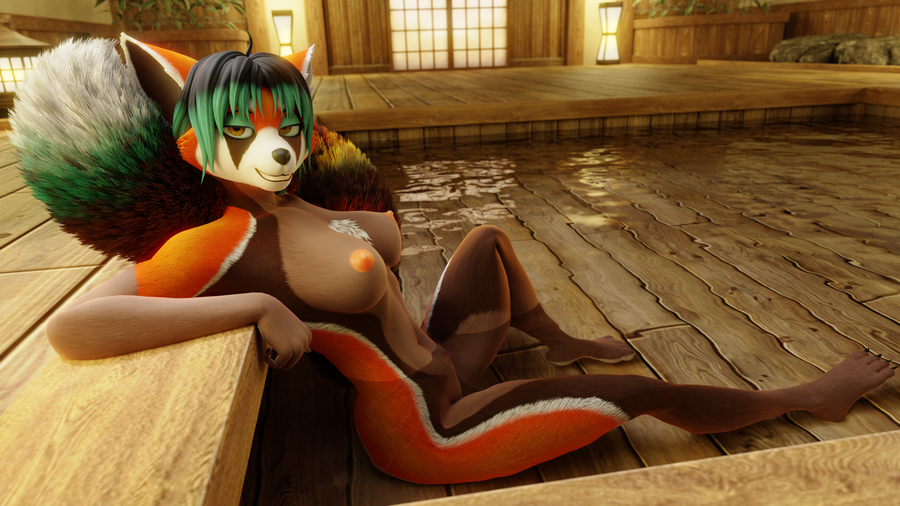 Show more
Description
Scratchin' another one off of the "should've finished this ages ago" list ¯_(ツ)_/¯
This is the first draft of Vega's blender rig with my initial attempt at some basic mouth controls to supplement the SFM face bones and shape keys. I did my best to smooth out some of the weight painting, upgraded the eye meshes, and included a third version of the tail with particle hair. All materials have been tested in Eevee and Cycles. The particle hair should work in Eevee, but if you append her into an Eevee scene, make sure to open the "curves" section of your Eevee settings and change the shape from "Strand" to "Strips" so the meshes show up.
I'll be returning to this model periodically over the summer to make improvements, and hopefully design some custom clothing sets. Feedback and suggestions are always appreciated.
Made in Blender 3.3.1 (LTS Release)
SFM version available here: https://sfmlab.com/project/31256/
---
Terms and conditions:
Released under Creative Commons license CC-BY-NC-SA 4.0 with some commercial exceptions:
https://creativecommons.org/licenses/by-nc-sa/4.0/
Exceptions to Non-Commercial licensing: Model is only restricted from re-selling the model itself or any derivatives on storefronts (gumroad/booth.pm/etc) and subscription sites (patreon/subscribestar/etc). Render and animation commissions are allowed for commercial purposes. Commissioning an artist to re-model the geometry into a new character or convert the character to different applications (VRChat, gaming mods, etc) is also allowed, as long as the final result is not paywalled to the public. This means remodels and ports may be released for free or kept private, but cannot be sold commercially or permanently restricted to a subscription site.
I generally don't try to restrict the type of content people produce with my models when it comes to renders, animations, OC conversions, or ports. I do request that you credit me for creation of the model if you post something publicly, particularly on a conversion or port.
---
Credits:
Vega OC Belongs to Artica on FurAffinity:
https://www.furaffinity.net/user/artica
Modeling, texturing, and Rigging by AnnoAD:
https://www.furaffinity.net/user/annoad/
https://www.deviantart.com/annoad
Body mesh based on a source provided by Warfaremachine:
https://www.furaffinity.net/user/mrwarfaremachine
https://twitter.com/WARFAREMCHINE
Special thanks to Kaitou for assistance in learning the rigging process:
SmutBase is a free service. However, it costs about $0.03 to deliver you a 1GB file. With over 20TB of traffic every month and growing, SmutBase needs your help. If only 1% of our users each gave us $5 for a single month, we could keep the site running for several years.
Filename
Downloads
Created
Filesize
Files
Vega_IK_Rig_Alpha_V1.blend
478
2023-05-24 23:35:00
154.16 MB
Vega_Textures.zip
414
2023-05-24 23:48:16
185.41 MB
File contents:

textures/Vega Beta1_body_Metallic.png
textures/Vega Beta1_body_Normal.png
textures/Vega Beta1_hair_Normal.png
textures/Vega Beta1_head_Normal.png
textures/Vega Beta1_tongue_Roughness.png
textures/eye_pupil.png
textures/Vega Beta1_tail_BaseColor.png
textures/Vega Beta1_hair_BaseColor.png
textures/eye_emissive.png
textures/Vega Beta1_mouthInterior_BaseColor.png
textures/Vega Beta1_gums_Roughness.png
textures/Vega Beta1_head_Roughness.png
textures/Vega Beta1_tongue_Normal.png
textures/Vega Beta1_genitals_BaseColor.png
textures/Vega Beta1_mouthInterior_Roughness.png
textures/eye_specular.png
textures/Vega Beta1_lips_nose_Roughness.png
textures/Vega Beta1_lips_nose_Normal.png
textures/Vega Beta1_body_BaseColor.png
textures/Vega Beta1_tongue_BaseColor.png
textures/pillars_4k.hdr
textures/eye_bump.png
textures/Vega Beta1_genitals_Roughness.png
textures/Vega Beta1_gums_BaseColor.png
textures/Vega Beta1_mouthInterior_Normal.png
textures/Vega Beta1_head_BaseColor.png
textures/Vega Beta1_gums_Normal.png
textures/Vega Beta1_lips_nose_BaseColor.png
textures/Vega Beta1_hair_Roughness.png
textures/eye_diffuse.png
textures/Vega Beta1_tail_Normal.png
textures/Vega Beta1_body_Roughness.png