Adult content
This content is marked as Adult/NSFW content. You can toggle your preferences regarding this content type in your account settings.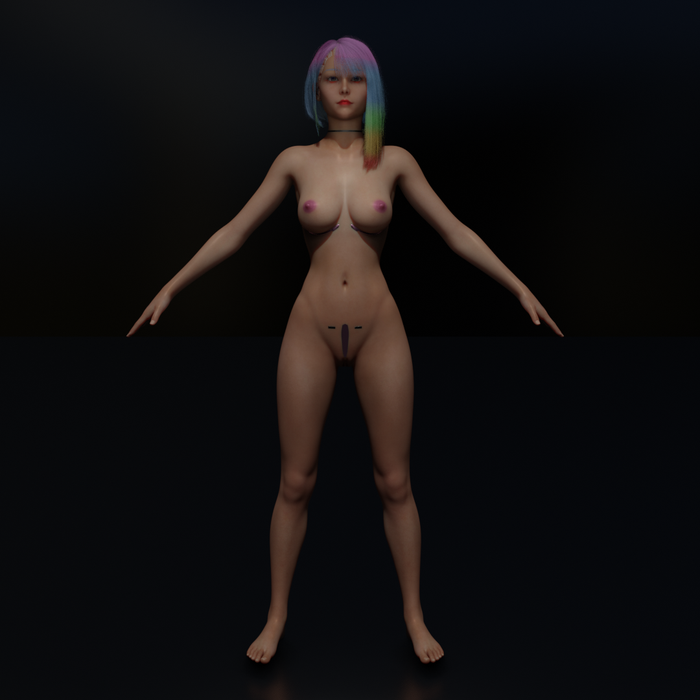 Show more
Description
PLEASE READ!!!🙏🙏
📜PRESENTATION:
Hi !
I consider myself a beginner so if there are mistakes please forgive 😅
WHAT IS THIS ?
a remake of the famous character Lucy in CyberPunk Edgerunners
FOR WHAT ?
he's a character that I find very attractive, so I wanted to recreate him in a realistic form. I had a lot of difficulty with some things but here it is, I'm happy with the result and proud to share it with you.
I hope the look is good.
WHAT IT CONTAINS:
the model Lucy with her main clothes.
THE RIGGING:
a quality rig from MHX (normally) and which I appreciate.
A FEW TIPS TO KNOW:
First of all the model and prettier with EEVEE, we will say that it is optimized for.
you will probably need the Diffeomorphic addon to be able to use shape keys (the most recent version).
🔄UPDATE: V1_24/05/2023: model uploaded
✏️ CREDITS: why credits?
I would like to see what you will have done with this model so do not hesitate to send me your photos/videos or the link of your renderings on discord sioul14#0611. (I don't have Twitter)
if you have any questions, remarks or anything else, just leave a comment at the bottom of this page.
SmutBase is a free service. However, it costs about $0.03 to deliver you a 1GB file. With over 20TB of traffic every month and growing, SmutBase needs your help. If only 1% of our users each gave us $5 for a single month, we could keep the site running for several years.
Filename
Downloads
Created
Filesize
Files
LUCY_UPLOAD_V1.zip
380
2023-05-24 18:06:41
298.96 MB
File contents:

LUCY_UPLOAD_V1/LUCY_UPLOAD_V1.blend
LUCY_UPLOAD_V1/textures/GensMapB_Default_1009.jpg
LUCY_UPLOAD_V1/textures/FaceB_1001.jpg
LUCY_UPLOAD_V1/textures/XF-Exquisite Bottom_R.jpg
LUCY_UPLOAD_V1/textures/Eyes_B.jpg
LUCY_UPLOAD_V1/textures/XF-Exquisite Bottom_N.jpg
LUCY_UPLOAD_V1/textures/191017&&SB&&_ArmsSSS_1004.jpg
LUCY_UPLOAD_V1/textures/DTHDR-RuinsB-500.hdr
LUCY_UPLOAD_V1/textures/BL3D_diamond_normal.png
LUCY_UPLOAD_V1/textures/SkinMicro_02.png
LUCY_UPLOAD_V1/textures/XF-Exquisite Bottom_B.jpg
LUCY_UPLOAD_V1/textures/4blueyes_carbon_fiber_normal.png
LUCY_UPLOAD_V1/textures/IchigoHair  Bump4.jpg
LUCY_UPLOAD_V1/textures/IchigoHair _T1.jpg
LUCY_UPLOAD_V1/textures/EyeLashes_1001.jpg
LUCY_UPLOAD_V1/textures/LegsS_1003.jpg
LUCY_UPLOAD_V1/textures/SH_Bodysuit01_B01.jpg
LUCY_UPLOAD_V1/textures/TorsoB_1002.jpg
LUCY_UPLOAD_V1/textures/SkinMicro_01.png
LUCY_UPLOAD_V1/textures/191017&&SB&&_Legs_1003.jpg
LUCY_UPLOAD_V1/textures/maquillage-complet_Face_B.jpg~
LUCY_UPLOAD_V1/textures/IchigoHair Magenta2.jpg
LUCY_UPLOAD_V1/textures/SH_Bodysuit01_M01.jpg
LUCY_UPLOAD_V1/textures/BL3D_kevlaromega_bump.png
LUCY_UPLOAD_V1/textures/ArmsS_1004.jpg
LUCY_UPLOAD_V1/textures/191017&&SB&&_Arms_1004.jpg
LUCY_UPLOAD_V1/textures/4blueyes_scratched_diff.png
LUCY_UPLOAD_V1/textures/EOTB_EyesB_1006.jpg
LUCY_UPLOAD_V1/textures/IchigoHair Cap Magenta.jpg
LUCY_UPLOAD_V1/textures/ArmsB_1004.jpg
LUCY_UPLOAD_V1/textures/GensMapSSS_Default_P_1009.jpg
LUCY_UPLOAD_V1/textures/4blueyes_scratched_SPECULAR.png
LUCY_UPLOAD_V1/textures/XF-Exquisite Bottom_D01.jpg
LUCY_UPLOAD_V1/textures/GensMapNM_Default_1009.png
LUCY_UPLOAD_V1/textures/191017&&SB&&_TorsoSSS_1002.jpg
LUCY_UPLOAD_V1/textures/GensMapT_Default_1009.jpg
LUCY_UPLOAD_V1/textures/191017&&SB&&_FaceSSS_1001.jpg
LUCY_UPLOAD_V1/textures/4blueyes_scratched_gloss.png
LUCY_UPLOAD_V1/textures/LegsB_1003.jpg
LUCY_UPLOAD_V1/textures/maquillage-complet_Face_B.jpg
LUCY_UPLOAD_V1/textures/BL3D_kevlaromega_spec.png
LUCY_UPLOAD_V1/textures/IchigoHair Magenta.jpg
LUCY_UPLOAD_V1/textures/IchigoHair Cap_T.jpg
LUCY_UPLOAD_V1/textures/maquillage_Face_B.jpg
LUCY_UPLOAD_V1/textures/BL3D_diamond_metallic.png
LUCY_UPLOAD_V1/textures/IchigoHair  White2.jpg
LUCY_UPLOAD_V1/textures/FaceS_1001.jpg
LUCY_UPLOAD_V1/textures/IchigoHair  Rice.jpg
LUCY_UPLOAD_V1/textures/Mouth_1005.jpg
LUCY_UPLOAD_V1/textures/GensMapS_Default_Dry_1009.jpg
LUCY_UPLOAD_V1/textures/EOTB_Eyes_1006.jpg
LUCY_UPLOAD_V1/textures/apocBelt_Roughness.jpg
LUCY_UPLOAD_V1/textures/4blueyes_scratched_NORMAL.png
LUCY_UPLOAD_V1/textures/XF-Exquisite Bottom_M.jpg
LUCY_UPLOAD_V1/textures/apocBelt_Normal_OpenGL.jpg
LUCY_UPLOAD_V1/textures/191017&&SB&&_LegsSSS_1003.jpg
LUCY_UPLOAD_V1/textures/BL3D_kevlaromega_NORMAL.png
LUCY_UPLOAD_V1/textures/apocBelt_Base_Color.jpg
LUCY_UPLOAD_V1/textures/apocBelt_Metallic.jpg
LUCY_UPLOAD_V1/textures/191017&&SB&&_Face_1001.jpg
LUCY_UPLOAD_V1/textures/TorsoS_1002.jpg
LUCY_UPLOAD_V1/textures/MouthB_1005.jpg
LUCY_UPLOAD_V1/textures/GensMapDisp_Default_1009.tif
LUCY_UPLOAD_V1/textures/GensMapD_Default_P_1009.jpg
LUCY_UPLOAD_V1/textures/191017&&SB&&_Torso_1002.jpg
LUCY_UPLOAD_V1/textures/IchigoHair  Bump3.jpg
LUCY_UPLOAD_V1/textures/4blueyes_carbon_fiber_SPECULAR.png
LUCY_UPLOAD_V1/textures/XF-Exquisite Bottom_O.jpg
LUCY_UPLOAD_V1/textures/mamelon_Torso_B.jpg