Furry content
This content is marked as Furry/Anthro content. You can toggle your preferences regarding this content type in your account settings.
Adult content
This content is marked as Adult/NSFW content. You can toggle your preferences regarding this content type in your account settings.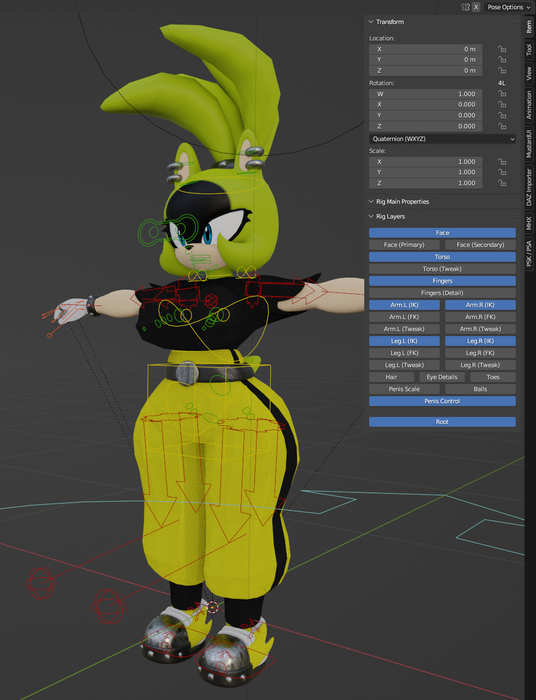 Show more
Description
So here is my attempt at Surge, at my current Blender Skill levels.
(And YES, she does come with that huge penis in the Blend file!)
Rig is made with Rigify. So it's fully rigged.

All textures are procedural. Because of this EVERYTHING can be easily recolored.

Made some corrective Shape Keys (w/drivers), to her lower teeth when opening her mouth with the Rig.

Corrective Shape Keys (w/drivers), to her eyes, there was heavy clipping when moving her eyes just a bit with the Rig. If her eyes start clipping just move the individual eye Widgets instead.

Corrective Shape Keys (w/drivers), on her shoe, when she bends her foot over her toe.

Corrective Shape Keys (w/drivers), on her eyelids, they clipped a lot before and didn't close fully.

Shape Keys for the head/face/mouth are maintained.

Various Shape Keys with Drivers, such as lifting up her T-shirt when the penis is out, T-shirt clipping trough pants fix when the pants are on.

Added bones to her toes, so she has toe control now.

Her eye Widget has independent Widget controls for: pupil size, iris size, light glare size and placement.

Added nipple piercings.

Added Bone Constraints to her fingers so they won't bend sideways.

Almost everything has a Modifier:Subdivision_Surface on them set to either 1 or 2 for Render. And set to 0 in the Viewport for increased Viewport performance.

Control Widget for her tail.

Can extend her nails. (Click on the nails and go to the Shape Keys.)
---
Sources in this model:
The head and clothes are from "thekingdog" on Deviantart: https://www.deviantart.com/thekingdog/art/Surge-The-Tenrec-DOWNLOAD-FBX-903330419
The body is one of CabalMystic's, I used the Princess Peach model and worked from there: https://www.deviantart.com/kabalmystic/journal/KabalMystic-s-Official-Model-Downloads-SFM-782922603
The penis is from the user "ThineCrawler" here on SmutBase: https://smutba.se/project/35595/
Everything else is made/changed by me.
Don't know why the Shade Smooth doesn't quite work on her clothes/pants, but it's only in the Viewport, when rendering it looks much smoother.
If you're appending her to another project, I marked the Collection to append with (APPEND). Then to get the Rig Layer menu up (since you appended her), go to the Scripting tab, find/open the "RIG-Surge Armature_ui.py" file, then at the top or bottom press the "Play" button. (This runs the script and sets up the Rig Layer menu in the N-Panel.)
---
Changelog:
There are two Blend files, they both are identical expect that the "Solid View" version starts the file in, well, Solid View. And the other one starts in "Material preview Mode", which maaaaay (?) be too much for some Blend users to open?
---
If there are any major issues let me know and I'll see what I can do.
(Whenever there is something that needs to be fixed/changed, write a reply in the comment below where I mention this. Then I will/should get notified by email, rather than manually check for comments on each of my uploads now and then.)
If you make something with her I think I/we would like to see it if you want to share.
Have fun with her.
SmutBase is a free service. However, it costs about $0.03 to deliver you a 1GB file. With over 20TB of traffic every month and growing, SmutBase needs your help. If only 1% of our users each gave us $5 for a single month, we could keep the site running for several years.
Filename
Downloads
Created
Filesize
Files
SURGE_-_1.0___by_MasterManki7777_r62Zcyn.blend
471
2023-05-10 15:34:51
199.4 MB
SURGE_-_1.0_solid_view___by_MasterManki7777_h6sUsmL.blend
190
2023-05-11 10:30:52
199.4 MB