Adult content
This content is marked as Adult/NSFW content. You can toggle your preferences regarding this content type in your account settings.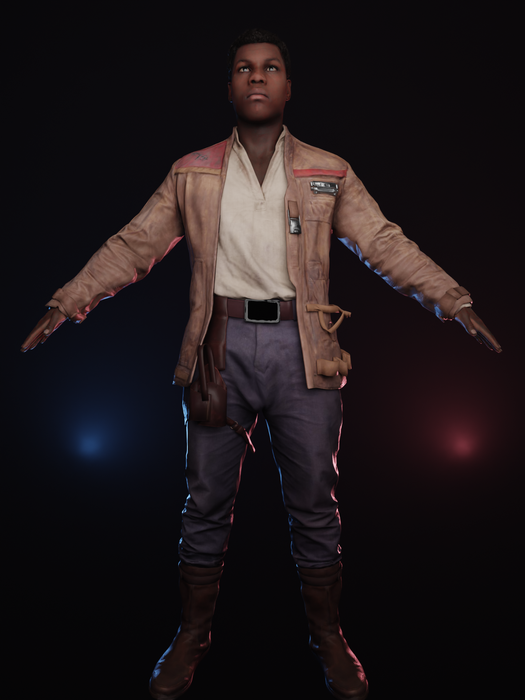 Show more
Description
this is a commissioned model of Finn from star wars I ported him to blender from Daz studio.
He Requires 2 addons to work correctly
Mustard UI https://github.com/Mustard2/MustardUI
The Model as shape keys and morphs with short cuts added to Mustard UI for easy Use.
there are 2 Outfits
The original Daz Model was by Shinteo I just Ported him to Blender.
If You use him in your art Please Tag me @Blorglove https://twitter.com/BlorgLove
Commissioned by recursiveincursion
3-28-2023 HOT FIX
-Fixed SSS
-made combo materials
-Added auto Blink to Mustard UI under tools
SmutBase is a free service. However, it costs about $0.03 to deliver you a 1GB file. With over 20TB of traffic every month and growing, SmutBase needs your help. If only 1% of our users each gave us $5 for a single month, we could keep the site running for several years.
Filename
Downloads
Created
Filesize
Files
Finn_starwars.zip
613
2023-03-28 06:40:11
171.58 MB
File contents:

Finn starwars/Finn V1.0.blend
Finn starwars/Finn Starwars Nude cycles.png
Finn starwars/Finn Starwars Eevee.png
Finn starwars/Finn Starwars Nude Eevee.png
Finn starwars/Finn Starwars cycles.png
Finn starwars/textures/original/G8MBaseFaceMapS01_1001.jpg
Finn starwars/textures/original/Finn Torso N.jpg
Finn starwars/textures/original/T_Finn_Jacket_01_R.jpg
Finn starwars/textures/original/Finn Arm N.jpg
Finn starwars/textures/original/T_Finn_Jacket_01_CS.jpg
Finn starwars/textures/original/T_HairCards_Finn_CA.jpg
Finn starwars/textures/original/G8MBaseMouthMapB_1005.jpg
Finn starwars/textures/original/G8MBaseTorsoMapSSS_1002.jpg
Finn starwars/textures/original/Finn Leg N.jpg
Finn starwars/textures/original/Finn Head D.jpg
Finn starwars/textures/original/T_Finn_Body_01_CR.jpg
Finn starwars/textures/original/G8MBaseMouthMapD_1005.jpg
Finn starwars/textures/original/Finn Eye D.jpg
Finn starwars/textures/original/G8MBaseFaceMapSSS_1001.jpg
Finn starwars/textures/original/Finn Torso D.jpg
Finn starwars/textures/original/T_Finn_Jacket_01_NM_1.jpg
Finn starwars/textures/original/Finn Head N.jpg
Finn starwars/textures/original/G8MBaseEyelashesMapTR_1006.jpg
Finn starwars/textures/original/Finn Leg D.jpg
Finn starwars/textures/original/G8MBaseEyesMapB_1007.jpg
Finn starwars/textures/original/G8MBaseTorsoMapS_1002.jpg
Finn starwars/textures/original/Finn Arm D.jpg
Finn starwars/textures/original/T_HairCards_Finn_CA_1.jpg
Finn starwars/textures/original/T_Finn_Body_01_NM.jpg
Finn starwars/textures/original/T_Finn_Body_01_CS.jpg
Finn starwars/textures/original/G8MBaseLegsMapS_1003.jpg
Finn starwars/textures/original/T_Finn_Jacket_01_NM.jpg
Finn starwars/textures/original/G8MBaseArmsMapS_1004.jpg
Finn starwars/textures/original/T_HairCards_Finn_NS.jpg
Finn starwars/textures/original/daz/characters/genesis8/malebase/G8MBaseFaceMapS01_1001.jpg
Finn starwars/textures/original/daz/characters/genesis8/malebase/G8MBaseMouthMapB_1005.jpg
Finn starwars/textures/original/daz/characters/genesis8/malebase/G8MBaseTorsoMapSSS_1002.jpg
Finn starwars/textures/original/daz/characters/genesis8/malebase/G8MBaseMouthMapD_1005.jpg
Finn starwars/textures/original/daz/characters/genesis8/malebase/G8MBaseFaceMapSSS_1001.jpg
Finn starwars/textures/original/daz/characters/genesis8/malebase/G8MBaseEyelashesMapTR_1006.jpg
Finn starwars/textures/original/daz/characters/genesis8/malebase/G8MBaseEyesMapB_1007.jpg
Finn starwars/textures/original/daz/characters/genesis8/malebase/G8MBaseTorsoMapS_1002.jpg
Finn starwars/textures/original/daz/characters/genesis8/malebase/G8MBaseLegsMapS_1003.jpg
Finn starwars/textures/original/daz/characters/genesis8/malebase/G8MBaseArmsMapS_1004.jpg
Finn starwars/textures/original/hair/T_HairCards_Finn_CA.jpg
Finn starwars/textures/original/hair/T_HairCards_Finn_CA_1.jpg
Finn starwars/textures/original/hair/T_HairCards_Finn_NS.jpg
Finn starwars/textures/original/outfit/rebel outfit/T_Finn_Jacket_01_R.jpg
Finn starwars/textures/original/outfit/rebel outfit/T_Finn_Jacket_01_CS.jpg
Finn starwars/textures/original/outfit/rebel outfit/T_Finn_Body_01_CR.jpg
Finn starwars/textures/original/outfit/rebel outfit/T_Finn_Jacket_01_NM_1.jpg
Finn starwars/textures/original/outfit/rebel outfit/T_Finn_Body_01_NM.jpg
Finn starwars/textures/original/outfit/rebel outfit/T_Finn_Body_01_CS.jpg
Finn starwars/textures/original/outfit/rebel outfit/T_Finn_Jacket_01_NM.jpg
Finn starwars/textures/original/skin/Finn Torso N.jpg
Finn starwars/textures/original/skin/Finn Arm N.jpg
Finn starwars/textures/original/skin/Finn Leg N.jpg
Finn starwars/textures/original/skin/Finn Head D.jpg
Finn starwars/textures/original/skin/Finn Eye D.jpg
Finn starwars/textures/original/skin/Finn Torso D.jpg
Finn starwars/textures/original/skin/Finn Head N.jpg
Finn starwars/textures/original/skin/Finn Leg D.jpg
Finn starwars/textures/original/skin/Finn Arm D.jpg
Finn starwars/textures/original/res2/Finn Torso D-res2.jpg
Finn starwars/textures/original/res2/Finn Leg N-res2.jpg
Finn starwars/textures/original/res2/G8MBaseLegsMapS-res2_1003.jpg
Finn starwars/textures/original/res2/Finn Arm D-res2.jpg
Finn starwars/textures/original/res2/G8MBaseEyesMapB-res2_1007.jpg
Finn starwars/textures/original/res2/Finn Leg D-res2.jpg
Finn starwars/textures/original/res2/G8MBaseMouthMapB-res2_1005.jpg
Finn starwars/textures/original/res2/Finn Torso N-res2.jpg
Finn starwars/textures/original/res2/Finn Arm N-res2.jpg
Finn starwars/textures/original/res2/G8MBaseTorsoMapS-res2_1002.jpg
Finn starwars/textures/original/res2/Finn Head N-res2.jpg
Finn starwars/textures/original/res2/G8MBaseArmsMapS-res2_1004.jpg
Finn starwars/textures/original/res2/G8MBaseMouthMapD-res2_1005.jpg
Finn starwars/textures/original/res2/G8MBaseFaceMapSSS-res2_1001.jpg
Finn starwars/textures/original/res2/G8MBaseEyelashesMapTR-res2_1006.jpg
Finn starwars/textures/original/res2/Finn Head D-res2.jpg
Finn starwars/textures/original/res2/Finn Eye D-res2.jpg
Finn starwars/textures/original/res2/G8MBaseTorsoMapSSS-res2_1002.jpg
Finn starwars/textures/original/res2/G8MBaseFaceMapS01-res2_1001.jpg