Adult content
This content is marked as Adult/NSFW content. You can toggle your preferences regarding this content type in your account settings.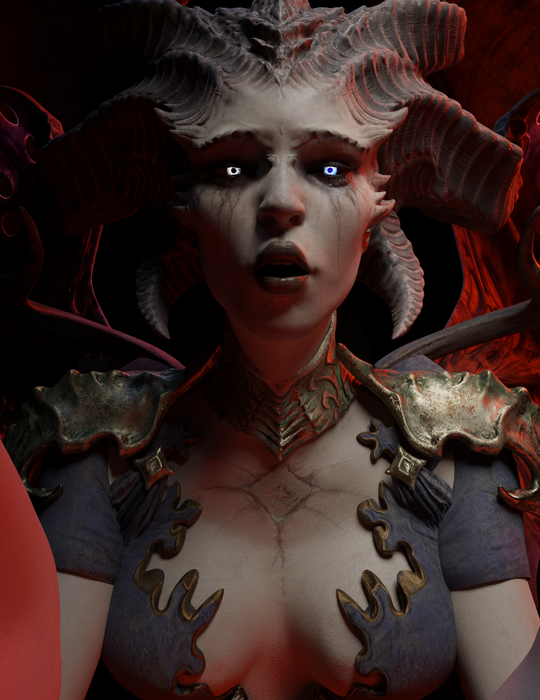 Show more
Description
Here is the big bad girl herself!
#Blender 3.4+ ONLY (some nodes will not work in previous versions)
Works in Cycles, not tested in Eevee
version 1.0:
Major overhaul
Re-imported mesh
Fixed main triangulation and broken meshes
Fixed weight painting
Re-painted and blender seams
Reworked and renamed materials

The main body has a shapekey called
Thin_Shape
It will revert her body to the regular
ingame body-size. Her clothes will adapt
to the new sizes

DO NOT delete the Deform shapekeys on the
clothes or the DAZ shakepey on her body

body_Original is still there, if an
advanced user wants to do something with it

The rig works in DAZs MHX.
If you have the diffeomorphic addon, 
you will be able to use the face morphs
or even import some of your favorite DAZ
morphs.


---
version 1.1:
Fixed some weight painting issues in the breasts area.


---
version 2.0:
Added a futanari variant to the main body. Includes both thicc and thin body shapes too.


---
SmutBase is a free service. However, it costs about $0.03 to deliver you a 1GB file. With over 20TB of traffic every month and growing, SmutBase needs your help. If only 1% of our users each gave us $5 for a single month, we could keep the site running for several years.
Filename
Downloads
Created
Filesize
Files
Lilith_V2.0.blend
534
2023-06-05 19:37:37
102.8 MB
textures_v2.0_q1ffTxj.zip
493
2023-06-05 19:38:16
757.55 MB
File contents:

textures/0000016303495ED0.png
textures/Lilith_V1.0_DefaultMaterial_Glossiness.1001.png
textures/Lilith_V1.0_DefaultMaterial_Glossiness.1004.png
textures/0000016303499CD0.png
textures/00000279A5AF4A10.jpg
textures/Lilith_V1.0_DefaultMaterial_Normal.1002.png
textures/00000279A5B061A0.jpg
textures/DefaultMaterial_Roughness.1005.png
textures/Dicktator_DK_S1_BM.jpg
textures/00000279A5AECDD0.jpg
textures/00000279A5B11C00.jpg
textures/00000163034706D0.png
textures/0000027845B76A60.jpg
textures/00000163034936D0.png
textures/0000027845B78870.jpg
textures/Lilith_V1.0_DefaultMaterial_Diffuse.1004.png
textures/000001630346B6D0.png
textures/Lilith_V1.0_DefaultMaterial_Glossiness.1003.png
textures/00000163034980D0.png
textures/Lilith_V1.0_DefaultMaterial_Diffuse.1002.png
textures/00000163034982D0.png
textures/0000016303499AD0.png
textures/0000027845AF8480.jpg
textures/DefaultMaterial_BaseColor.1005.png
textures/0000016303493AD0.png
textures/00000277881A0BF0.jpg
textures/00000163034968D0.png
textures/0000016303499ED0.png
textures/00000163034996D0.png
textures/bodyold.png
textures/0000016303495CD0.png
textures/0000027845AC3DD0.jpg
textures/000002789F42DB50.jpg
textures/000001630349A4D0.png
textures/cayley_interior_4k.hdr
textures/00000163034976D0.png
textures/000002789F6A5FB0.jpg
textures/Lilith_V1.0_DefaultMaterial_Normal.1004.png
textures/0000027845B54D40.jpg
textures/00000279A5B0DDE0.png
textures/Lilith_V1.0_DefaultMaterial_Normal.1003.png
textures/00000277881AE560 (1).jpg
textures/00000279A5B080B0.png
textures/0000016303493ED0.png
textures/Lilith_V1.0_DefaultMaterial_Diffuse.1001.png
textures/00000163034934D0.png
textures/Lilith_V1.0_DefaultMaterial_Diffuse.1003.png
textures/000001630349A0D0.png
textures/0000027845AC5CE0.jpg
textures/00000279A5B00470.png
textures/Lilith_V1.0_DefaultMaterial_Normal.1001.png
textures/00000163034964D0.png
textures/00000163034938D0.png
textures/00000279A5B02380.png
textures/Lilith_V1.0_DefaultMaterial_Glossiness.1002.png
textures/0000027845B45CC0.jpg
textures/00000279A5AFE560.jpg




Lilith_V1.1.blend
1809
2023-03-28 15:02:59
80.54 MB
Lilith_v0.1P.blend
1269
2023-03-21 18:00:48
294.31 MB