Adult content
This content is marked as Adult/NSFW content. You can toggle your preferences regarding this content type in your account settings.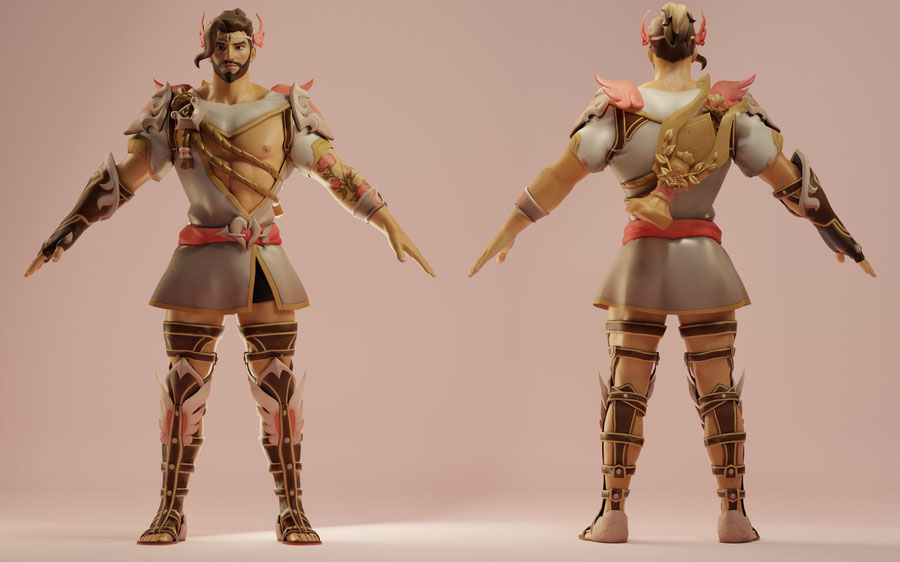 Show more
Description
Hanzo Cupid from Overwatch 2 - Fully rigged with simple clothing, Suit from the game is not available as it was too difficult to work with model.
Rig is using rigify, please run the script to get the options
Clothing/Shapekey/Shader bones are available under "custom" tab
Foreskin & Anus shapekeys can be located under the Shapekey bone
Basic rig on clothing
Twitter: https://twitter.com/voluox
Hanzo Cupid model rip by WhiteMageSunny
SmutBase is a free service. However, it costs about $0.03 to deliver you a 1GB file. With over 20TB of traffic every month and growing, SmutBase needs your help. If only 1% of our users each gave us $5 for a single month, we could keep the site running for several years.
Filename
Downloads
Created
Filesize
Files
Cupid_Hanzo.zip
1740
2023-03-04 00:21:40
126.31 MB
File contents:

Cupid Hanzo/Cupid Hanzo.blend
Cupid Hanzo/Cupid Hanzo.blend1
Cupid Hanzo/textures/HanzoCupidHairA.png
Cupid Hanzo/textures/HanzoCupidD.png
Cupid Hanzo/textures/h31.jpg
Cupid Hanzo/textures/Hanzo_Torso_T.jpg
Cupid Hanzo/textures/BananaBar_Base_Color.jpg
Cupid Hanzo/textures/HanzoCupidWepD.png
Cupid Hanzo/textures/G8MBaseMouthMapD_1005.jpg
Cupid Hanzo/textures/eyes.jpg
Cupid Hanzo/textures/BananaBar_Base_Color_V3.jpg
Cupid Hanzo/textures/HanzoCupidWepAO.png
Cupid Hanzo/textures/HanzoCupidWepMRS.png
Cupid Hanzo/textures/BananaBar_Height_V3.jpg
Cupid Hanzo/textures/Hanzo_Arms_BM.jpg
Cupid Hanzo/textures/HanzoCupidHairE.png
Cupid Hanzo/textures/Hanzo_Torso_BM.jpg
Cupid Hanzo/textures/HanzoCupidSkinM.png
Cupid Hanzo/textures/PPP_Roughness1.jpg
Cupid Hanzo/textures/Hanzo_Cupid_Head2_Texture.png
Cupid Hanzo/textures/HanzoCupidHairD.png
Cupid Hanzo/textures/HanzoCupidMRS.png
Cupid Hanzo/textures/OW2EyeMask.png
Cupid Hanzo/textures/G8MBaseTorsoMapB_1002.jpg
Cupid Hanzo/textures/OwEyeRefN.jpg
Cupid Hanzo/textures/00000003268C.tga
Cupid Hanzo/textures/HanzoCupidM.png
Cupid Hanzo/textures/0000000153AF.tga
Cupid Hanzo/textures/BananaBar_Translucency_Color.jpg
Cupid Hanzo/textures/G8MBaseEyelashesMapTR_1006.jpg
Cupid Hanzo/textures/HR02.jpg
Cupid Hanzo/textures/G8MBaseMouthMapB_1005.jpg
Cupid Hanzo/textures/HanzoCupidHairOpng.png
Cupid Hanzo/textures/eyes_bm.jpg
Cupid Hanzo/textures/OriginsEyeGlassN.png
Cupid Hanzo/textures/HanzoCupidHairN.png
Cupid Hanzo/textures/HanzoCupidS.png
Cupid Hanzo/textures/0000000377F8.tga
Cupid Hanzo/textures/HanzoCupidWepN.png
Cupid Hanzo/textures/HanzoCupidEyeD.png
Cupid Hanzo/textures/Hanzo_Arms_T.jpg
Cupid Hanzo/textures/HanzoCupidN.png
Cupid Hanzo/textures/HanzoCupidAO.png
Cupid Hanzo/textures/Hanzo_Cupid_Head_BM.png
Cupid Hanzo/textures/BananaBar_Normal_OpenGL_V3.jpg
Cupid Hanzo/textures/DTHDR-RuinsB-500.hdr
Cupid Hanzo/textures/Hanzo_Legs_BM.jpg
Cupid Hanzo/textures/Hanzo_Legs_T.jpg
Cupid Hanzo/textures/BananaBar_Normal_OpenGL.jpg
Cupid Hanzo/textures/G8MBaseTorsoMapS_1002.jpg
Cupid Hanzo/textures/BananaBar_Height.jpg
Cupid Hanzo/textures/PPP_TM7_Bump.jpg