Adult content
This content is marked as Adult/NSFW content. You can toggle your preferences regarding this content type in your account settings.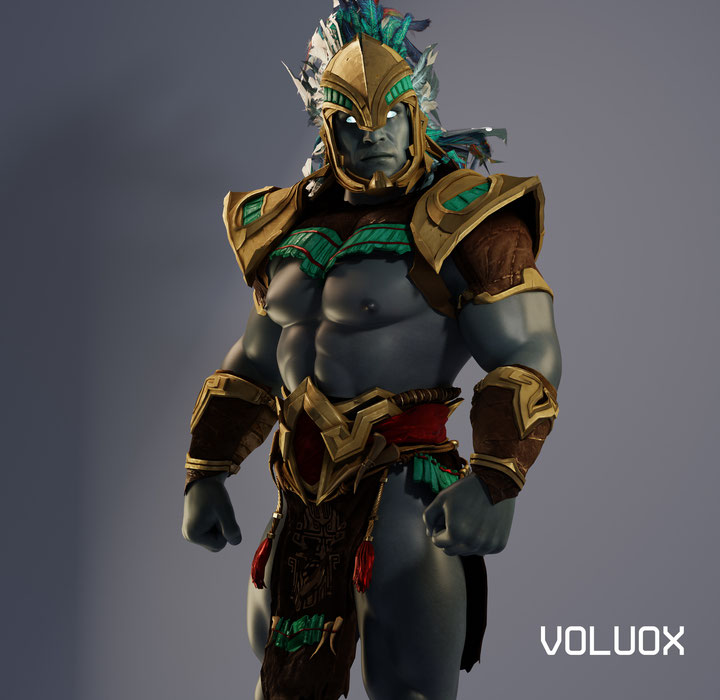 Show more
Description
Kotal Kahn fully rigged and nude | Make sure to click on the clothing bone to edit the costume!
This was rigged using rigify so please run the script!
Twitter is https://twitter.com/voluox Make sure to follow for more model updates & Animations!
When appending and using cycles, make sure to set Transparent to 32 under light paths, otherwise the hair will look very blocky and dark
Note: No rig on robe / pants
v2: I tried repackaging the textures into a new save, hopefully that fixes things
Credit to MclarenH for model rip - https://www.deviantart.com/mclarenh/art/MK11-Kotal-Kahn-Default-Skin-823977611
SmutBase is a free service. However, it costs about $0.03 to deliver you a 1GB file. With over 20TB of traffic every month and growing, SmutBase needs your help. If only 1% of our users each gave us $5 for a single month, we could keep the site running for several years.
Filename
Downloads
Created
Filesize
Files
Kotal_Kahn_v1.zip
187
2023-02-14 20:35:04
116.8 MB
File contents:

Kotal Kahn/Kotal_Khan.blend
Kotal Kahn/textures/G8MBaseEyesMapB_1007.jpg
Kotal Kahn/textures/TXESSocksTanV.jpg
Kotal Kahn/textures/KKArms.jpg
Kotal Kahn/textures/KK_Head_Texture.png
Kotal Kahn/textures/KOT_SKIN_A.jpg
Kotal Kahn/textures/MK11_Kotal_Panther_Iris Normal.jpg
Kotal Kahn/textures/KKTorso.jpg
Kotal Kahn/textures/G8MBaseEyesMap02D_1007.jpg
Kotal Kahn/textures/G8MBaseFaceMapB01_1001.jpg
Kotal Kahn/textures/G8MBaseFaceMapS01_1001.jpg
Kotal Kahn/textures/KOT_SKIN_A Normal.jpg
Kotal Kahn/textures/KKLegs.jpg
Kotal Kahn/textures/G8MBaseMouthMapD_1005.jpg
Kotal Kahn/textures/BananaBar_Height_V6.jpg
Kotal Kahn/textures/G8MBaseLegsMapS_1003.jpg
Kotal Kahn/textures/TXESSocksGrayH.jpg
Kotal Kahn/textures/PPP_Roughness1.jpg
Kotal Kahn/textures/G8MBaseArmsMapS_1004.jpg
Kotal Kahn/textures/G8MBaseTorsoMapB_1002.jpg
Kotal Kahn/textures/G8MBaseFaceMapSSS_1001.jpg
Kotal Kahn/textures/BananaBar_Translucency_Color.jpg
Kotal Kahn/textures/G8MBaseArmsMapSSS_1004.jpg
Kotal Kahn/textures/MK11_Kotal_Panther_Feathers.jpg
Kotal Kahn/textures/BananaBar_Normal_OpenGL_V6.jpg
Kotal Kahn/textures/SugarCandy_Base_Color_V6.jpg
Kotal Kahn/textures/G8MBaseEyelashesMapTR_1006.jpg
Kotal Kahn/textures/TXESSocksTanH.jpg
Kotal Kahn/textures/G8MBaseMouthMapB_1005.jpg
Kotal Kahn/textures/G8MBaseArmsMapB_1004.jpg
Kotal Kahn/textures/KOT_SKIN_A_Tone.jpg
Kotal Kahn/textures/G8MBaseTorsoMapSSS_1002.jpg
Kotal Kahn/textures/BananaBar_Base_Color_V6.jpg
Kotal Kahn/textures/TXESSocksGrayV.jpg
Kotal Kahn/textures/MK11_Kotal_Panther_Iris Emi.jpg
Kotal Kahn/textures/MK11_Kotal_Panther_Feathers Alpha.jpg
Kotal Kahn/textures/G8MBaseLegsMapSSS_1003.jpg
Kotal Kahn/textures/G8MBaseTorsoMapS_1002.jpg
Kotal Kahn/textures/G8MBaseLegsMapB_1003.jpg
Kotal Kahn/textures/MK11_Kotal_Panther_Iris.jpg
Kotal Kahn/textures/BananaBar_Height.jpg
Kotal Kahn/textures/PPP_TM7_Bump.jpg




Kotal_Kahn_v2.zip
530
2023-02-15 06:43:52
116.76 MB
File contents:

Kotal Kahn/Kotal_Khan.blend
Kotal Kahn/textures/G8MBaseEyesMapB_1007.jpg
Kotal Kahn/textures/TXESSocksTanV.jpg
Kotal Kahn/textures/KKArms.jpg
Kotal Kahn/textures/KK_Head_Texture.png
Kotal Kahn/textures/KOT_SKIN_A.jpg
Kotal Kahn/textures/MK11_Kotal_Panther_Iris Normal.jpg
Kotal Kahn/textures/KKTorso.jpg
Kotal Kahn/textures/G8MBaseEyesMap02D_1007.jpg
Kotal Kahn/textures/G8MBaseFaceMapB01_1001.jpg
Kotal Kahn/textures/G8MBaseFaceMapS01_1001.jpg
Kotal Kahn/textures/KOT_SKIN_A Normal.jpg
Kotal Kahn/textures/KKLegs.jpg
Kotal Kahn/textures/G8MBaseMouthMapD_1005.jpg
Kotal Kahn/textures/BananaBar_Height_V6.jpg
Kotal Kahn/textures/G8MBaseLegsMapS_1003.jpg
Kotal Kahn/textures/TXESSocksGrayH.jpg
Kotal Kahn/textures/PPP_Roughness1.jpg
Kotal Kahn/textures/G8MBaseArmsMapS_1004.jpg
Kotal Kahn/textures/G8MBaseTorsoMapB_1002.jpg
Kotal Kahn/textures/G8MBaseFaceMapSSS_1001.jpg
Kotal Kahn/textures/BananaBar_Translucency_Color.jpg
Kotal Kahn/textures/G8MBaseArmsMapSSS_1004.jpg
Kotal Kahn/textures/MK11_Kotal_Panther_Feathers.jpg
Kotal Kahn/textures/BananaBar_Normal_OpenGL_V6.jpg
Kotal Kahn/textures/SugarCandy_Base_Color_V6.jpg
Kotal Kahn/textures/G8MBaseEyelashesMapTR_1006.jpg
Kotal Kahn/textures/TXESSocksTanH.jpg
Kotal Kahn/textures/G8MBaseMouthMapB_1005.jpg
Kotal Kahn/textures/G8MBaseArmsMapB_1004.jpg
Kotal Kahn/textures/KOT_SKIN_A_Tone.jpg
Kotal Kahn/textures/G8MBaseTorsoMapSSS_1002.jpg
Kotal Kahn/textures/BananaBar_Base_Color_V6.jpg
Kotal Kahn/textures/TXESSocksGrayV.jpg
Kotal Kahn/textures/MK11_Kotal_Panther_Iris Emi.jpg
Kotal Kahn/textures/MK11_Kotal_Panther_Feathers Alpha.jpg
Kotal Kahn/textures/G8MBaseLegsMapSSS_1003.jpg
Kotal Kahn/textures/G8MBaseTorsoMapS_1002.jpg
Kotal Kahn/textures/G8MBaseLegsMapB_1003.jpg
Kotal Kahn/textures/MK11_Kotal_Panther_Iris.jpg
Kotal Kahn/textures/BananaBar_Height.jpg
Kotal Kahn/textures/PPP_TM7_Bump.jpg