Adult content
This content is marked as Adult/NSFW content. You can toggle your preferences regarding this content type in your account settings.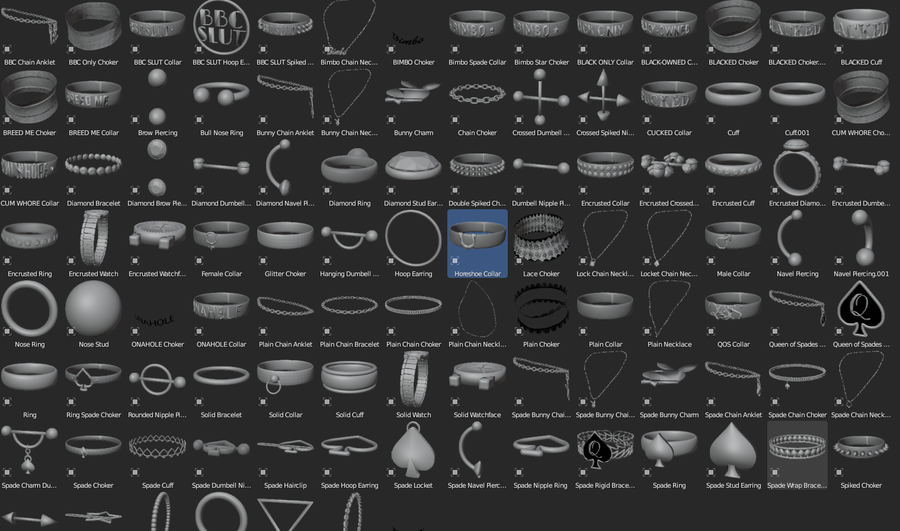 Show more
Description
This is the Jewelry Asset Library I have made and use for my renders. If you have any issues please let me know.
DOWNLOAD INSTRUCTIONS: It's really easy to download so you can drag and drop whatever piece of jewelry you want into your scene.
Open blender and go to edit > preferences.
Select file paths and head to the bottom of the page where you will find "Asset Libraries."
Hit the + and name it "Jewelry Libray" or whatever you want.
Have this folder unzipped and stored where you'd like it and set the data path to the folder. Here is mine for example. D:\Media\Blender\Assets\Bimbo_Jewelry_v1.0\
open up the file you want to add jewelry into. Open a new area on your window, and select "Asset Browser" on the far right.
Hit the arrow next to "current file" and select the jewelry library. Now, simply drag and drop whatever jewelry you want into your scene!
If you like to dress up your models before you do any posing, I'd suggest attaching these via the nearest bone. (earrings attach to the ear bone, nose rings attach to the nose, etc)
Every shader can have its color changed! I tried to keep things organized and some more complicated shader nodes are named on what the color options do. Should be pretty easy to figure out even if you've never done much stuff with shaders before.
In v1.1 I added new choker objects, These have two modifiers to make life easy for you. First off, line up your choker with your model's neck, then connect the Armature modifier to your model's bones and attach the Shrinkwrap modifier to your model's body! Scale as needed to properly fit. You may need to adjust the settings for the shrinkwrap for different models if there is clipping.
Not every, but a lot of pieces of jewelry have shape keys to change scale for parts. Example being the nipple piercings can all be shortened to fit different nipple sizes. So always check that too for the pieces you use. Some pieces also have modifiers of masks to hide OR add different fun parts to some assets, so always check there as well! If you can't find a piece of jewelry that USED to be in the pack, it's most likely been consolidated into another piece to save space.
ALSO! If you do not like the new way the text works on the collars now, you can simply change them back to how they were before by disabling the edge split modifier on the collars.
With all that in mind, please have fun with this! There are loads of combos you can do with different things like using plain chokers and giving them different charms. Have fun!
Direct download also available here.
---
If you use these for any fun renders or animations, please feel free to share them with me! I'd love to see what you use them for. (Please tag me if you do, not required but much appreciated: https://twitter.com/stickybunsNSFW)
SmutBase is a free service. However, it costs about $0.03 to deliver you a 1GB file. With over 20TB of traffic every month and growing, SmutBase needs your help. If only 1% of our users each gave us $5 for a single month, we could keep the site running for several years.
Filename
Downloads
Created
Filesize
Files
Bimbo_Jewelry_v2.0.zip
1311
2023-08-25 01:01:20
160.04 MB
File contents:

blender_assets.cats.txt
aaaREAD_ME.txt
Bimbo_Jewelry_v2.0.blend




Bimbo_Jewelry_v1.1.zip
466
2023-02-10 00:30:00
137.09 MB
File contents:

aaaREAD_ME.txt
blender_assets.cats.txt
Spade_Jewelry_v1.01.blend




Bimbo_Jewelry_v1.3.zip
1382
2023-03-30 07:08:07
166.43 MB
File contents:

blender_assets.cats.txt
aaaREAD_ME.txt
Bimbo_Jewelry_v1.3.blend




Bimbo_Jewelry_v1.5.zip
1701
2023-05-24 01:37:23
147.03 MB
File contents:

blender_assets.cats.txt
aaaREAD_ME.txt
Bimbo_Jewelry_v1.5.blend




Bimbo_Jewelry_v1.2.zip
2267
2023-02-18 05:11:07
156.63 MB
File contents:

aaaREAD_ME.txt
Bimbo_Jewelry_v1.2.blend
blender_assets.cats.txt