Adult content
This content is marked as Adult/NSFW content. You can toggle your preferences regarding this content type in your account settings.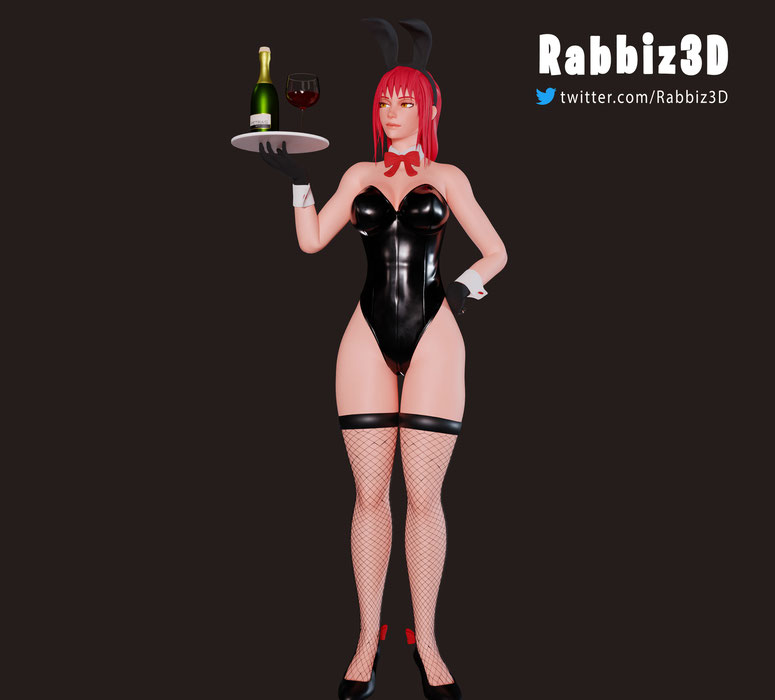 Show more
Description
Makima from Chainsaw Man
It's the first time I'm creating a character for public use so be gentle :)
If you created something with her, please, tag us (https://twitter.com/Rabbiz3D). Just want to look at your works and get some feedback, thanks.
I will continue working with this model, to improve her rig, look, etc.
---
This model created using Blender 3.3.2 version, open it in any of the previous versions may not work.
Made entirely from scratch sculpted the character using Zbrush,
Textures/baking in Substance painters,
Rigging in Blender, I used Rigify and customize it to fit my needs for this character.
---
Used Rigify so everything on Rigify Rig pretty much here but with more controls over the face and Genitals
Facial Bones

Genitals Bones

Switch on/off clothes on properties bone

4K Textures (Cycles and EEVEE Friendly)

more....
---
if you found any problem just comment or contact me on twitter: https://twitter.com/Rabbiz3D
---
You can use all this settings by selecting the rig, going in Pose Mode and selecting the properties bone then Item Panel > Properties.
At first Append the model in your scene with the collection, if you didn't have the option to automaticaly run script you have to go in your script panel and run the Makima_Rig_ui.
---
known bugs
If you packed the textures and render it using Cycles you going to encounter bug with the normal map (I guess that's a Blender bug, since I used UDMIs on the body). if anybody know how to fix this, please let me know.
---
follow us on Twitter to vote for the next character.
SmutBase is a free service. However, it costs about $0.03 to deliver you a 1GB file. With over 20TB of traffic every month and growing, SmutBase needs your help. If only 1% of our users each gave us $5 for a single month, we could keep the site running for several years.
Filename
Downloads
Created
Filesize
Files
Makima_v1.00_xKlVuGd.blend
1504
2023-02-12 06:03:45
15.12 MB
Textures_J2Di9mT.zip
1304
2023-02-09 15:40:30
205.66 MB
File contents:

Textures/Makima Body_Scattering_1001.png
Textures/Hair_Normal.1001.png
Textures/Makima Body_BaseColor.1004.png
Textures/Makima Body_Roughness.1001.png
Textures/Eyes Base_Metallic.1001.png
Textures/Teeths_Stylized_Normal_OpenGL.png
Textures/Hair_Roughness.1001.png
Textures/Eyes Base_BaseColor.1001.png
Textures/Accessories_Roughness.1001.png
Textures/Makima Body_Roughness.1002.png
Textures/Accessories_Metallic.1001.png
Textures/Makima Body_Scattering_1002.png
Textures/Makima Body_Metallic.1001.png
Textures/Hair_Metallic.1001.png
Textures/Makima Body_Metallic.1002.png
Textures/Makima Body_Normal.1001 - Copy.png
Textures/Makima Body_Metallic.1004.png
Textures/Makima Body_Normal.1001.png
Textures/Fishnet_Roughness.1001.png
Textures/Fishnet_Normal.1001.png
Textures/Fishnet_BaseColor.1001.png
Textures/Bunny_Suit_Normal.1001.png
Textures/Makima Body_BaseColor.1003.png
Textures/Makima Body_Scattering_1004.png
Textures/Hair_BaseColor.1001.png
Textures/Teeths_Stylized_Roughness.png
Textures/Accessories_BaseColor.1001.png
Textures/Makima Body_Roughness.1004.png
Textures/Makima Body_Normal.1002.png
Textures/Bunny_Suit_BaseColor.1001.png
Textures/Makima Body_BaseColor.1002.png
Textures/Makima Body_Scattering_1003.png
Textures/Makima Body_Normal.1004.png
Textures/Eyes Base_Roughness.1001.png
Textures/Bunny_Suit_Roughness.1001.png
Textures/Makima Body_Normal.1003.png
Textures/Makima Body_BaseColor.1001.png
Textures/Eyes Base_Normal.1001.png
Textures/Makima Body_Roughness.1003.png
Textures/Teeths_Stylized_AA.png
Textures/Bunny_Suit_Metallic.1001.png
Textures/Accessories_Normal.1001.png
Textures/Teeths_Stylized_Base_Color.png
Textures/Makima Body_Metallic.1003.png
Textures/Fishnet_Metallic.1001.png
Textures/Masks/Anus Wet Roughness.1002.png
Textures/Masks/Anus Wet Roughness.1004.png
Textures/Masks/Blush Mask.1004.png
Textures/Masks/Blush Mask.1001.png
Textures/Masks/Blush Mask.1002.png
Textures/Masks/Vagina Wet Roughness.1001.png
Textures/Masks/Anus Wet Roughness.1001.png
Textures/Masks/Vagina Wet Roughness.1004.png
Textures/Masks/Vagina Wet Roughness.1003.png
Textures/Masks/Anus Wet Roughness.1003.png
Textures/Masks/Blush Mask.1003.png
Textures/Masks/Vagina Wet Roughness.1002.png