Adult content
This content is marked as Adult/NSFW content. You can toggle your preferences regarding this content type in your account settings.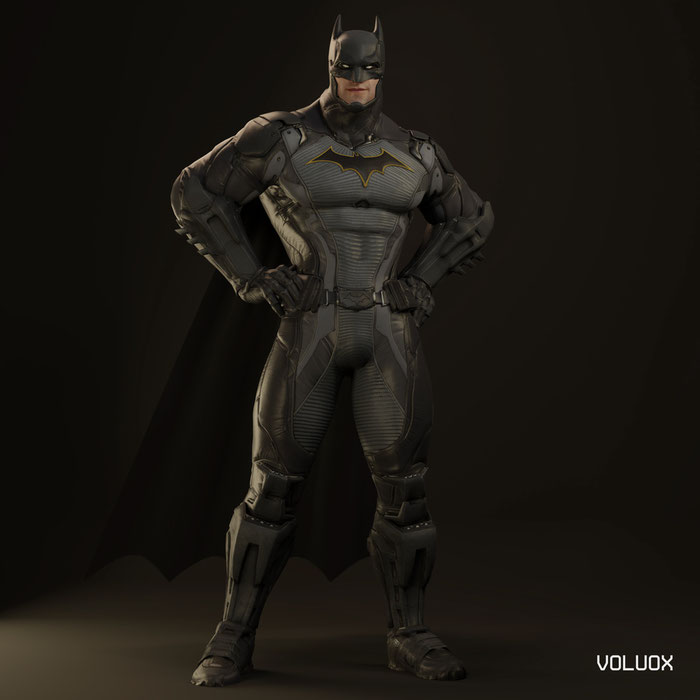 Show more
Description
Batman fully rigged and nude | Make sure to click on the clothing bone to edit the costume!
This was rigged using rigify so please run the script!
Twitter is https://twitter.com/voluox Make sure to follow for more model updates & Animations!
When appending and using cycles, make sure to set Transparent to 32 under light paths, otherwise the hair will look very blocky and dark
Issues: Knees are for some reason not working properly when bending the character, not sure why this is happening but will look into it
Credit to Original importer - https://www.deviantart.com/arukardominator/art/RIG-XNALara-DAZ-MMD-Gotham-Batman-934241951
SmutBase is a free service. However, it costs about $0.03 to deliver you a 1GB file. With over 20TB of traffic every month and growing, SmutBase needs your help. If only 1% of our users each gave us $5 for a single month, we could keep the site running for several years.
Filename
Downloads
Created
Filesize
Files
Batman_GK.zip
945
2023-02-06 00:48:33
250.07 MB
File contents:

Batman_GK/batman_gk.blend
Batman_GK/textures/G8MBaseEyesMapB_1007.jpg
Batman_GK/textures/C_AL_BW_Suit01_Logo_01_Base_PM_s.png
Batman_GK/textures/SugarCandy_Base_Color_V2.jpg
Batman_GK/textures/C_AL_BW_Suit01_Gloves_01_Base_PM_m.png
Batman_GK/textures/C_AL_BW_Suit01_Boots_01_Base_PM_m.png
Batman_GK/textures/C_AL_BW_Suit01_Headwear_01_Base_C.png
Batman_GK/textures/h31.jpg
Batman_GK/textures/Batman Legs Spe.png
Batman_GK/textures/C_AL_BW_Suit01_Cape_01_Outside_Base_N.png
Batman_GK/textures/C_AL_BW_Suit01_Logo_01_Base_C.png
Batman_GK/textures/G8MBaseEyesMap02D_1007.jpg
Batman_GK/textures/C_MHM_BW_HairShort_01_Clip_A.png
Batman_GK/textures/G8MBaseFaceMapS01_1001.jpg
Batman_GK/textures/G8MBaseMouthMapD_1005.jpg
Batman_GK/textures/WFKarlaHairB.jpg
Batman_GK/textures/SugarCandy_Base_Color.jpg
Batman_GK/textures/Batman Arms Nor.png
Batman_GK/textures/G8MBaseLegsMapS_1003.jpg
Batman_GK/textures/C_AL_BW_Suit01_SuitBaseBottom_01_Base_C.png
Batman_GK/textures/C_AL_BW_Suit01_Gloves_01_Base_00_N.png
Batman_GK/textures/C_AL_BW_Suit01_Gloves_01_Base_C.png
Batman_GK/textures/C_AL_BW_Suit01_SuitBaseTop_01_Base_PM_m.png
Batman_GK/textures/SugarCandy_Height.jpg
Batman_GK/textures/Batman Torso Dif.png
Batman_GK/textures/WFKarlaHairSP4.jpg
Batman_GK/textures/C_AL_BW_Suit01_Boots_01_Base_PM_s.png
Batman_GK/textures/Batman Legs Dif.png
Batman_GK/textures/C_AL_BW_Suit01_Boots_01_Base_C.png
Batman_GK/textures/C_MHM_BW_HairShort_01_Clip_P_NORM.png
Batman_GK/textures/Batman Torso Nor.png
Batman_GK/textures/C_MHM_BW_HairShort_01_Clip_C.png
Batman_GK/textures/SugarCandy_Height_V2.jpg
Batman_GK/textures/PPP_Roughness1.jpg
Batman_GK/textures/g8fbasefacemapb_1001.jpg
Batman_GK/textures/G8MBaseArmsMapS_1004.jpg
Batman_GK/textures/C_AL_BW_Suit01_Headwear_01_Base_PM_s.png
Batman_GK/textures/Batsuit_top_00_n.png
Batman_GK/textures/bruce_head_n_00.png
Batman_GK/textures/G8MBaseEyelashesMapTR_1006.jpg
Batman_GK/textures/C_AL_BW_Suit01_Headwear_01_Base_PM_m.png
Batman_GK/textures/C_AL_BW_Suit01_Headwear_01_Base_00_N.png
Batman_GK/textures/C_AL_BW_Suit01_Cape_01_Outside_Base_PM.png
Batman_GK/textures/C_AL_BW_Suit01_SuitBaseTop_01_Base_PM_s.png
Batman_GK/textures/C_AL_BW_Suit01_Boots_01_Base_00_N.png
Batman_GK/textures/SugarCandy_Transucency_Color.jpg
Batman_GK/textures/G8MBaseMouthMapB_1005.jpg
Batman_GK/textures/C_AL_BW_Suit01_SuitBaseTop_01_Base_C.png
Batman_GK/textures/Batman Torso Spe.png
Batman_GK/textures/Batman Torso Bum.png
Batman_GK/textures/C_AL_BW_Suit01_Cape_01_Outside_Base_C_alpha.png
Batman_GK/textures/C_AL_BW_Suit01_Gloves_01_Base_PM.png
Batman_GK/textures/G8MBaseArmsMapB_1004.jpg
Batman_GK/textures/Batman Legs SSS.png
Batman_GK/textures/Batman Arms Dif.png
Batman_GK/textures/Batman Torso Rou.png
Batman_GK/textures/Batman Arms Rou.png
Batman_GK/textures/Batman Arms Bum.png
Batman_GK/textures/DTHDR-RuinsB-500.hdr
Batman_GK/textures/SugarCandy_Normal_OpenGL.jpg
Batman_GK/textures/C_AL_BW_Suit01_Logo_01_Base_N.png
Batman_GK/textures/bruce_head_d_01.png
Batman_GK/textures/03.jpg
Batman_GK/textures/Batman Arms Spe.png
Batman_GK/textures/G8MBaseLegsMapB_1003.jpg
Batman_GK/textures/C_AL_BW_Suit01_Cape_01_Outside_Base_C.png
Batman_GK/textures/SugarCandy_Normal_OpenGL_V2.jpg
Batman_GK/textures/C_AL_BW_Suit01_SuitBaseBottom_01_Base_PM_s.png
Batman_GK/textures/PPP_TM7_Bump.jpg
Batman_GK/textures/C_AL_BW_Suit01_SuitBaseBottom_01_Base_PM_m.png
Batman_GK/textures/WFKarlaHairSP3.jpg
Batman_GK/textures/C_AL_BW_Suit01_SuitBaseBottom_01_Base_00_N.png




batman_gk_minor_fix.blend
533
2023-02-07 02:02:45
66.72 MB