Adult content
This content is marked as Adult/NSFW content. You can toggle your preferences regarding this content type in your account settings.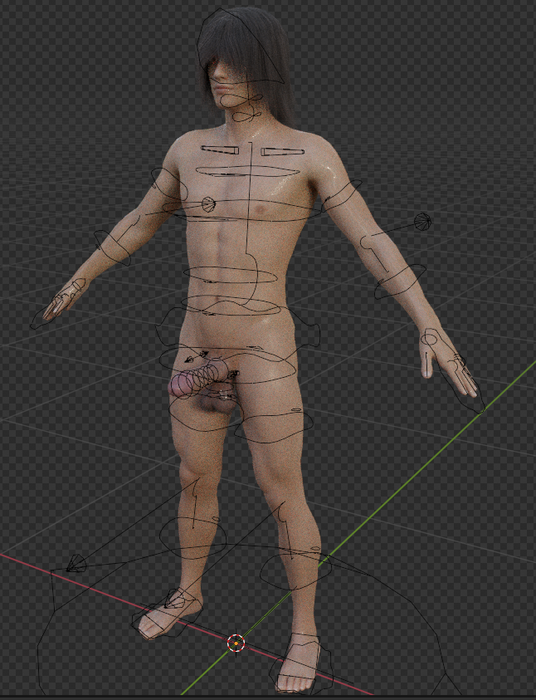 Show more
Description
REEEEE STOP DOWNLOADING THE OLD VERSION. GET THE NEW ONE INSTEAD
Hey, have you heard of the dude? This is him but more barebones, yet improved. Considered stepping up my game with new textures and new features.
What's different?
-Accessible UI panel when clicking on the rig
-More separate color customization
-A nicer looking dick
-All the customization shapekeys work this time
-A whole lot less bloat (still has JCMs)
-New shaders I made (they look horrible in the node editor but they work)
-A base for Eevee is uncluded. I'd still recommend you use this in Cycles but atleast this time you're not tossed to the wolves.
Overall features: Check the screenshot for the panel.
You've got things now like veins, dick shapes, a different foreskin, head/hair masks, separate balls, dick and glans shader options and the list goes on. Also made a new hair shader, added some expressions (you can still use the face bones), eye color customization, etc. Nothing too crazy but atleast it's something. It's still mainly a POV model.
Requirements
-Diffeomorphic 1.6.2+ -> Access to all shapekeys through its UI
-MHX Runtime (latest that comes with 1.6.2+) -> Access to the rig behaviour + IK
-Blender 3.3.2+
Usage
If you append, append the "Append" collection. Save your blend file. Restart it. Allow the script. Now if you wanna access the panel, just select the rig.
If you've got a slower computer, I'd suggest you run simplify at 1 subdivision at 2k capped texture resolution.
I would also highly recommend that you use the buttons to hide any sort of hair in the viewport. It's a performance killer. You can almost move him with the rig twice as fast without it on in solid view.
Issues
Model is sitting below 20k quads but in Eevee, if you go really close to the dick, it starts lagging. It's probably a limitation due to all the masking going on. Cycles works fine.
Plans
Still adding a proper wet map but the current one will do. Also, fixing bugs is what I plan on doing, so, report them.
Credits
Likkez for the dick rig creator thing. Bless him.
Changelog
-v.1.1 released
-Added viewport/render visibility buttons.
-Added particle eyebrows.
-Added particle beard/mustache.
-Fixed SSS on genitals.
-Rewrote the script for compatibility between my other models.
-Redid the hair.
-v.1.0 released
========================================================================
Hit me up on Twitter if you make something nice. @AngryKarakuri https://twitter.com/AngryKarakuri
SmutBase is a free service. However, it costs about $0.03 to deliver you a 1GB file. With over 20TB of traffic every month and growing, SmutBase needs your help. If only 1% of our users each gave us $5 for a single month, we could keep the site running for several years.
Filename
Downloads
Created
Filesize
Files
The_New_Dude_v_1_1_ready.blend
5613
2023-01-18 09:16:39
115.96 MB
The_New_Dude_v1_0.blend
1127
2023-01-16 20:53:00
91.6 MB