Adult content
This content is marked as Adult/NSFW content. You can toggle your preferences regarding this content type in your account settings.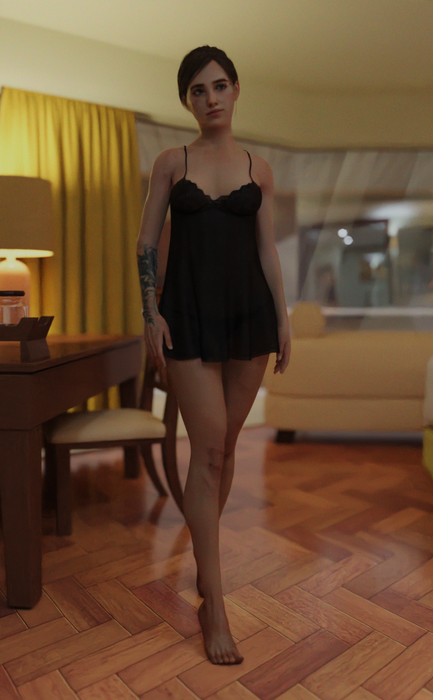 Show more
Description
Description
This is Version 4 of my customized Ellie's model From The Last of Us Part 2.
It includes 40 Different outfits, body morphs and facial expressions. It works with Eevee and Cycles as well.
The model and All outfits are Imported from Daz studio.
Also, the File is heavily compressed and you'll have to Use 7zip to Unzip it.
Edit:
Uploading two add-ons which can be helpful to manage shape keys (They're not necessary to be installed but I'd recommend it if you're getting bad viewport performance because you can temporarily Disable all shape keys and Drivers for better performance using the add-on).
NOTE:
If you're using Cycles then you'll have to increase the Transparency path to 64. otherwise her Eyebrows will look Black in Cycles.
Feel Free to contact me at my Twitter account if you are facing any problem with this model. https://twitter.com/AnotherTLOUfan
SmutBase is a free service. However, it costs about $0.03 to deliver you a 1GB file. With over 20TB of traffic every month and growing, SmutBase needs your help. If only 1% of our users each gave us $5 for a single month, we could keep the site running for several years.
Filename
Downloads
Created
Filesize
Files
EllieV4Rigify.7z
3814
2023-01-04 07:16:57
71.13 MB
textures_HPOUcRA.7z
3333
2023-01-04 07:17:04
90.01 MB
boopmorph_helper_S9IZgLj.zip
1661
2023-01-04 07:18:27
448.64 KB
File contents:

[booper]morph helper/guess.py
[booper]morph helper/light.py
[booper]morph helper/transfer.py
[booper]morph helper/error.py
[booper]morph helper/bone.py
[booper]morph helper/transform.py
[booper]morph helper/facecap.py
[booper]morph helper/load_json.py
[booper]morph helper/rigify.py
[booper]morph helper/render.py
[booper]morph helper/cycles.py
[booper]morph helper/animation.py
[booper]morph helper/utils.py
[booper]morph helper/hide.py
[booper]morph helper/node.py
[booper]morph helper/cgroup.py
[booper]morph helper/channels.py
[booper]morph helper/pbr.py
[booper]morph helper/matedit.py
[booper]morph helper/updater.py
[booper]morph helper/mhx.py
[booper]morph helper/merge.py
[booper]morph helper/api.py
[booper]morph helper/README.md
[booper]morph helper/objfile.py
[booper]morph helper/modifier.py
[booper]morph helper/panel.py
[booper]morph helper/dforce.py
[booper]morph helper/morphing.py
[booper]morph helper/udim.py
[booper]morph helper/geometry.py
[booper]morph helper/layers.py
[booper]morph helper/driver.py
[booper]morph helper/LICENSE
[booper]morph helper/finger.py
[booper]morph helper/__init__.py
[booper]morph helper/camera.py
[booper]morph helper/convert.py
[booper]morph helper/asset.py
[booper]morph helper/buildnumber.py
[booper]morph helper/files.py
[booper]morph helper/fileutils.py
[booper]morph helper/proxy.py
[booper]morph helper/hdmorphs.py
[booper]morph helper/main.py
[booper]morph helper/settings.py
[booper]morph helper/daz.py
[booper]morph helper/load_morph.py
[booper]morph helper/formula.py
[booper]morph helper/tables.py
[booper]morph helper/hair.py
[booper]morph helper/material.py
[booper]morph helper/globvars.py
[booper]morph helper/figure.py
[booper]morph helper/propgroups.py
[booper]morph helper/fix.py
[booper]morph helper/data/gizmos.json
[booper]morph helper/data/lowpoly/genesis8-female.json
[booper]morph helper/data/lowpoly/genesis.json
[booper]morph helper/data/lowpoly/genesis3-female.json
[booper]morph helper/data/lowpoly/genesis3-male.json
[booper]morph helper/data/lowpoly/genesis8-male.json
[booper]morph helper/data/lowpoly/genesis2-female.json
[booper]morph helper/data/export_converters/mhx.json
[booper]morph helper/data/presets/cotton.json
[booper]morph helper/data/presets/rubber.json
[booper]morph helper/data/presets/silk.json
[booper]morph helper/data/presets/leather.json
[booper]morph helper/data/presets/denim.json
[booper]morph helper/data/ikposes/genesis_8_male.json
[booper]morph helper/data/ikposes/genesis_2_female.json
[booper]morph helper/data/ikposes/genesis_3_female.json
[booper]morph helper/data/ikposes/genesis_8_female.json
[booper]morph helper/data/ikposes/genesis.json
[booper]morph helper/data/ikposes/genesis_2_male.json
[booper]morph helper/data/ikposes/genesis_3_male.json
[booper]morph helper/data/parents/genesis_8_male.json
[booper]morph helper/data/parents/genesis_2_female.json
[booper]morph helper/data/parents/genesis_3_female.json
[booper]morph helper/data/parents/genesis_8_female.json
[booper]morph helper/data/parents/genesis.json
[booper]morph helper/data/parents/genesis_2_male.json
[booper]morph helper/data/parents/genesis_3_male.json
[booper]morph helper/data/restposes/genesis_8_male.json
[booper]morph helper/data/restposes/genesis_2_female.json
[booper]morph helper/data/restposes/genesis_3_female.json
[booper]morph helper/data/restposes/genesis_8_female.json
[booper]morph helper/data/restposes/genesis.json
[booper]morph helper/data/restposes/genesis_2_male.json
[booper]morph helper/data/restposes/victoria_7.json
[booper]morph helper/data/restposes/genesis_3_male.json
[booper]morph helper/data/restposes/victoria_8.json
[booper]morph helper/data/restposes/cmu.json
[booper]morph helper/data/restposes/michael_8.json
[booper]morph helper/data/converters/genesis-rigify.json
[booper]morph helper/data/converters/genesis-rigify2.json
[booper]morph helper/data/converters/genesis-mhx.json
[booper]morph helper/data/converters/genesis1-genesis3.json
[booper]morph helper/data/converters/genesis2-genesis3.json
[booper]morph helper/data/converters/genesis3-genesis2.json
[booper]morph helper/data/converters/genesis3-genesis1.json
[booper]morph helper/data/paths/genesis8-female.json
[booper]morph helper/data/paths/genesis81-face-controls.json
[booper]morph helper/data/paths/genesis.json
[booper]morph helper/data/paths/genesis3-female.json
[booper]morph helper/data/paths/genesis3-male.json
[booper]morph helper/data/paths/genesis8-male.json
[booper]morph helper/data/paths/genesis2-female.json
[booper]morph helper/data/paths/genesis2-male.json
[booper]morph helper/to_daz_studio/Scripts/diffeomorphic.png
[booper]morph helper/to_daz_studio/Scripts/Diffeomorphic/readme.png
[booper]morph helper/to_daz_studio/Scripts/Diffeomorphic/export_to_blender.dsa
[booper]morph helper/to_daz_studio/Scripts/Diffeomorphic/export_to_blender.png
[booper]morph helper/to_daz_studio/Scripts/Diffeomorphic/save_root_paths.dsa
[booper]morph helper/to_daz_studio/Scripts/Diffeomorphic/export_highdef_to_blender.png
[booper]morph helper/to_daz_studio/Scripts/Diffeomorphic/setup_menus.png
[booper]morph helper/to_daz_studio/Scripts/Diffeomorphic/save_root_paths.png
[booper]morph helper/to_daz_studio/Scripts/Diffeomorphic/setup_menus.dsa
[booper]morph helper/to_daz_studio/Scripts/Diffeomorphic/readme.dsa
[booper]morph helper/to_daz_studio/Scripts/Diffeomorphic/export_highdef_to_blender.dsa
[booper]morph helper/runtime_stripped/runtime_stripped_27x.py
[booper]morph helper/runtime_stripped/runtime_stripped_28x.py
[booper]morph helper/standalone/add_alpha.py
[booper]morph helper/standalone/resize.py




mhx_rts_rMnxbqX.zip
1564
2023-01-04 07:18:27
25.33 KB
File contents:

mhx_rts/animation.py
mhx_rts/utils.py
mhx_rts/mhx.py
mhx_rts/README.md
mhx_rts/panel.py
mhx_rts/layers.py
mhx_rts/__init__.py
mhx_rts/buildnumber.py
mhx_rts/fkik.py