Adult content
This content is marked as Adult/NSFW content. You can toggle your preferences regarding this content type in your account settings.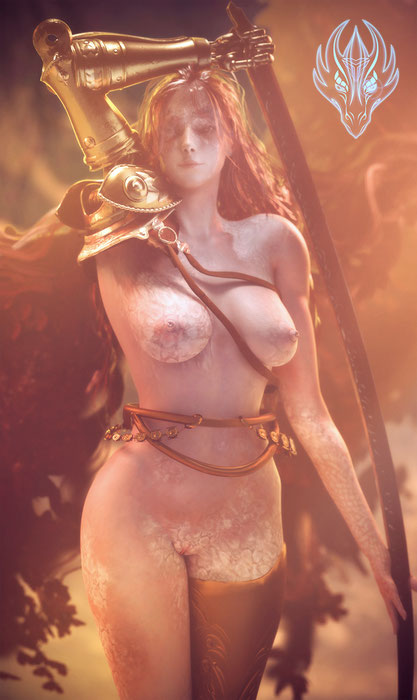 Description
OG: Sonne (DAZ)
Modification/Setup/Port: Me
https://twitter.com/its_gergless
Ported from DAZ into blender, rigged cleaned up.
Also including a bucketload of shapekeys to fit her body to your desire.
Have fun with it, I know i did.
OG Link:
https://www.renderhub.com/sonne/malenia-for-genesis-8-and-8-1-female
Check out more of Sonne's work
Report problems via DM on twitter (my twitter)
NOTES:
Gear looking icon on rig controls physics and clothing toggle
0 = off 1=on
- Low Poly and High Poly hair for physics. To help with viewport stability. You will need to customize the physics to compensate for it.
Haven't tested for eevee, preview is cycles
Patch 1.3:
Fixed hair physics (high) not working
Patch 1.4:
Fixed Clipping on right leg lower armour

Fixed Clipping on left thigh armour

Smooth mask on right arm armour
SmutBase is a free service. However, it costs about $0.03 to deliver you a 1GB file. With over 20TB of traffic every month and growing, SmutBase needs your help. If only 1% of our users each gave us $5 for a single month, we could keep the site running for several years.
Filename
Downloads
Created
Filesize
Files
MaleniaTextures.zip
2862
2023-01-03 14:35:16
163.12 MB
File contents:

textures/maleniaclothes_d.png
textures/Malenia_Petal_D.png
textures/Malenia_Legs_D.png
textures/TorsoB_1002.jpg
textures/maleniahair_o.png
textures/maleniahair_n.png
textures/LegsS_1003.jpg
textures/malenniabutterfly2_n.png
textures/TorsoS_1002.jpg
textures/maleniacape_d.png
textures/Malenia_D.png
textures/malenniabutterfly3_d.png
textures/maleniabelt_d (1).png
textures/GensMapDisp_Default_1009.tif
textures/Mouth_1005.jpg
textures/ArmsS_1004.jpg
textures/maleniawing_d.png
textures/GensMapB_Default_1009.jpg
textures/Gen_N.TGA
textures/GensMapNM_Default_1009.png
textures/maleniaclothes_s.png.png
textures/maleniacape_s.png
textures/GensMapSSS_Default_1009.jpg
textures/maleniaclothes1_d.png
textures/maleniabelt_2.png
textures/maleniawing_s.png
textures/Malenia_Petal_EM.png
textures/maleniawing_o.png
textures/ArmsB_1004.jpg
textures/MaleniaTorso_Damaged.png
textures/FaceS_1001.jpg
textures/maleniahelmet_n.png
textures/maleniahelmet_d.png
textures/GensMapD_Default_P_1009.jpg
textures/Skin_Mat_Detail_Normal_01.png
textures/MaleniaHead_N.png
textures/GensMapS_Default_Dry_1009.jpg
textures/maleniaclothes_n.png
textures/MouthB_1005.jpg
textures/maleniahelmet_s.png
textures/maleniawing_n.png
textures/maleniacape_o.png
textures/maleniaclothes_o.png
textures/GensMapT_Default_1009.jpg
textures/malenniabutterfly2_s.png
textures/DTHDR-RuinsB-500.hdr
textures/GensMapD1_Default_1009.jpg
textures/malenniabutterfly2_o.png
textures/maleniahair_d.png
textures/MaleniaArms_Damaged.png
textures/LegsB_1003.jpg
textures/GensMapSSS_Default_P_1009.jpg
textures/maleniabelt_n.png
textures/maleniabelt_o.png
textures/FaceB_1001.jpg
textures/maleniacape_n.png




Malenia_Rigged_GERG_RIGGEDPUBLIC_1.4_qpThO7c.blend
1474
2023-02-24 07:20:28
40.8 MB