Adult content
This content is marked as Adult/NSFW content. You can toggle your preferences regarding this content type in your account settings.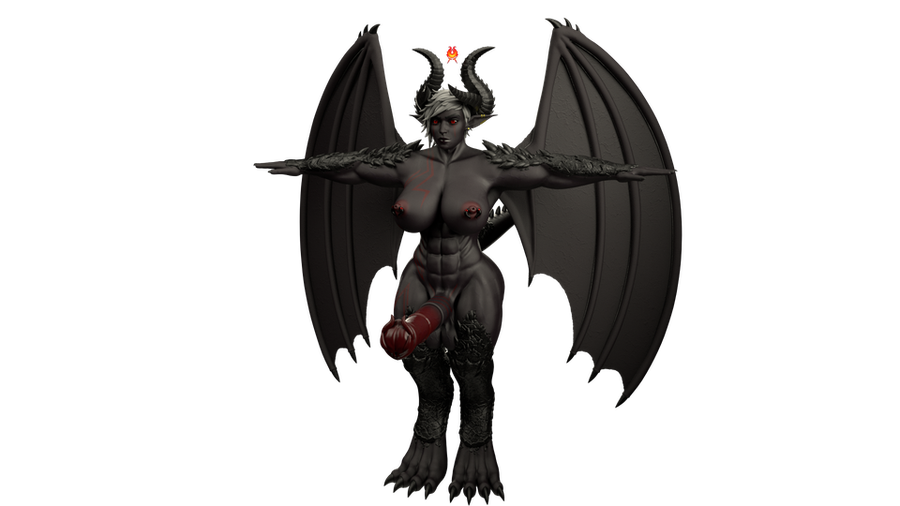 Show more
Description
Original Character of @neko_stix made by Neroupi
• Fully IK Rigged (Maya) • Various Face & Body Blendshapes • Custom 2K Textures
When using this character, please be sure the credit the creators
If you are using Blender, be aware this model was made with Maya, so the export is obsolete (The rig will not work as intended) As shaders also cannot be exported there are missing structures for the hair and Ambient Occulsion maps
In maya, you should be able to toggle various Keys using the controls to the side of the head which control body & face morphs Some keys also control texture sequence assignment, to toggle the textures of the futacock between Demon and Arch Demon modes
*the maya .ma file is too large for upload, please @ on the discord server for the file
Please consider supporting me for more uploads like this!
SmutBase is a free service. However, it costs about $0.03 to deliver you a 1GB file. With over 20TB of traffic every month and growing, SmutBase needs your help. If only 1% of our users each gave us $5 for a single month, we could keep the site running for several years.
Filename
Downloads
Created
Filesize
Files
Demon_Obs_43VDSLT.fbx
597
2022-12-30 01:09:24
84.49 MB
textures_NeZW9C0.zip
476
2022-12-30 01:09:33
165.05 MB
File contents:

textures/Ob_Wing_Color.png
textures/OB_Scale_Panels_Rough_1002.png
textures/OB_Face_Normal.png
textures/OB_Scale_Rough_1011.png
textures/Tongue_Color.png
textures/OB_Scale_SS_Color_1032.png
textures/OB_Scale_Panels_Normal_1002.png
textures/OB_Scale_SS_Normal_1031.png
textures/OB_Horn_Color.png
textures/OB_Scale_Panels_Color_1002.png
textures/OB_Back_Rough.png
textures/OB_Horn_Normal.png
textures/OB_Scale_SS_Rough_1031.png
textures/OB_Scale_Rough_1012.png
textures/OB_Scale_SS_Rough_1033.png
textures/OB_Scale_Panels_Rough_1001.png
textures/OB_Torso_Rough.png
textures/OB_Vag_Normal.png
textures/OB_Vag_Rough.png
textures/OB_Horn_Rough.png
textures/OB_Vag_Color.png
textures/OB_Breast_Rough.png
textures/OB_Scale_Normal_1011.png
textures/OB_Butt_Normal.png
textures/OB_Butt_Rough.png
textures/Ob_Wing_Rough.png
textures/OB_Scale_SS_Normal_1033.png
textures/OB_Tail_Rough.png
textures/Ob_Wing_Opacity.png
textures/OB_Arm_Rough.png
textures/OB_Scale_Normal_1012.png
textures/OB_Face_Rough.png
textures/OB_Legs_Rough.png
textures/OB_Scale_SS_Color_1033.png
textures/OB_Torso_Normal.png
textures/OB_Bone_Color.png
textures/OB_Scale_Panels_Normal_1001.png
textures/OB_Face_Color.png
textures/OB_Tail_Color.png
textures/OB_Legs_Color.png
textures/OB_Scale_SS_Color_1031.png
textures/OB_Scale_Color_1011.png
textures/OB_Hands_Normal.png
textures/OB_Legs_Normal.png
textures/OB_Scale_SS_Rough_1032.png
textures/OB_Breast_Color.png
textures/OB_Butt_Color.png
textures/OB_Scale_SS_Normal_1032.png
textures/OB_Scale_Color_1012.png
textures/Tongue_Rough.png
textures/OB_Scale_Panels_Color_1001.png
textures/OB_Hands_Rough.png
textures/OB_Arm_Color.png
textures/OB_Back_Normal.png
textures/OB_Back_Color.png
textures/OB_Arm_Normal.png
textures/OB_Tail_Normal.png
textures/Tongue_Normal.png
textures/Ob_Wing_Normal.png
textures/OB_Hands_Color.png
textures/OB_Bone_Rough.png
textures/OB_Torso_Color.png
textures/OB_Breast_Normal.png
textures/OB_Bone_Normal.png
textures/Assets/mouth_D.png
textures/Assets/DE_Emblem_A.png
textures/Assets/DemonEye_Obsi.png
textures/Assets/D_Emblem.png
textures/Assets/StreaksA.png
textures/Assets/mouth_N.png
textures/Assets/LadyDimitrescu_Eyelashes_O.png
textures/Assets/StreaksN.png
textures/Assets/DemonEye_Obsi_V2.png
textures/HC_V2/OB_HC_Color.2.png
textures/HC_V2/OB_HC_Shaft_Rough.2.png
textures/HC_V2/OB_HC_Normal.1.png
textures/HC_V2/OB_HC_Shaft_Normal.2.png
textures/HC_V2/OB_HC_Color.1.png
textures/HC_V2/OB_HC_Rough.2.png
textures/HC_V2/OB_HC_Normal.2.png
textures/HC_V2/OB_HC_Shaft_Rough.1.png
textures/HC_V2/OB_HC_Rough.1.png
textures/HC_V2/OB_HC_Shaft_Normal.1.png
textures/HC_V2/OB_HC_Shaft_Color.1.png
textures/HC_V2/OB_HC_Shaft_Color.2.png




Obsi_geo_only_E.fbx
221
2023-01-03 18:11:56
53.77 MB
Obsi.ma
132
2023-01-05 22:30:29
258.4 MB