Adult content
This content is marked as Adult/NSFW content. You can toggle your preferences regarding this content type in your account settings.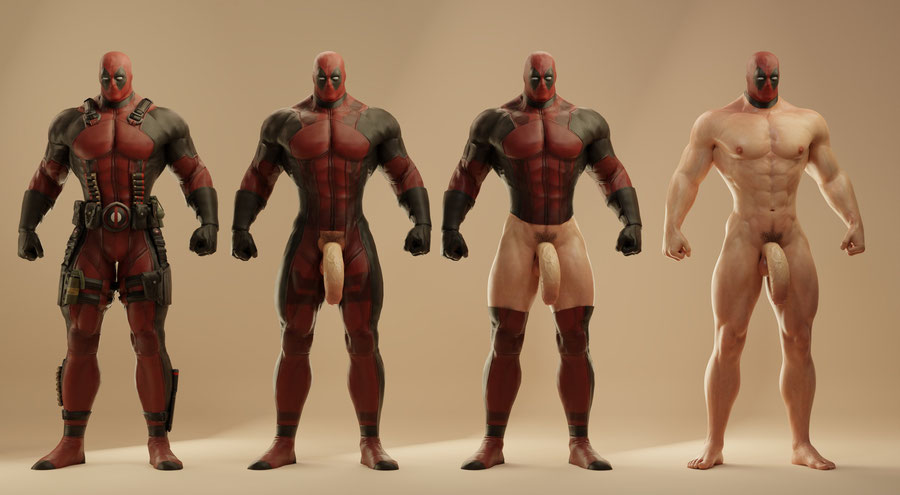 Show more
Description
Deadpool fully rigged and nude | Make sure to click on the clothing, shapekey & shader bone to edit the costume and more!
This was rigged using rigify so please run the script!
Model Import Tutorial: https://youtu.be/OsD6YDRWYgg
Twitter is https://twitter.com/voluox Make sure to follow for more model updates & Animations!
commissioned to Original porter cpdazart:
SmutBase is a free service. However, it costs about $0.03 to deliver you a 1GB file. With over 20TB of traffic every month and growing, SmutBase needs your help. If only 1% of our users each gave us $5 for a single month, we could keep the site running for several years.
Filename
Downloads
Created
Filesize
Files
Deadpool.zip
1566
2022-12-12 18:39:28
235.0 MB
File contents:

deadpool/deadpool.blend
deadpool/textures/TheBrute8LegsSSS_1003.jpg
deadpool/textures/TheBrute8Face01B_1001.jpg
deadpool/textures/TheBrute8ArmsD_1004.jpg
deadpool/textures/TheBrute8Face01D_1001.jpg
deadpool/textures/SugarCandy_Base_Color_V2.jpg
deadpool/textures/TheBrute8EyesR_1006.jpg
deadpool/textures/sword_n.png
deadpool/textures/h31.jpg
deadpool/textures/TheBrute8TorsoD_1002.jpg
deadpool/textures/Deadpool_n.png
deadpool/textures/TheBrute8MouthD_1005.jpg
deadpool/textures/BananaBar_Base_Color_V2.jpg
deadpool/textures/TheBrute8_Torso_NM_1002.tif
deadpool/textures/SugarCandy_Base_Color.jpg
deadpool/textures/gear_l.png
deadpool/textures/SugarCandy_Base_Color_V3.jpg
deadpool/textures/TheBrute8TorsoS_1002.jpg
deadpool/textures/TheBrute8LegsB_1003.jpg
deadpool/textures/TheBrute8LegsS_1003.jpg
deadpool/textures/PPP_Roughness1.jpg
deadpool/textures/TheBrute8ArmsS_1004.jpg
deadpool/textures/Deadpool_d.png
deadpool/textures/TheBrute8TorsoB_1002.jpg
deadpool/textures/TheBrute8ArmsB_1004.jpg
deadpool/textures/pistol_d.png
deadpool/textures/BananaBar_Translucency_Color.jpg
deadpool/textures/TheBrute8_Face_NM_1001.tif
deadpool/textures/TheBrute8Eyes01B_1006.jpg
deadpool/textures/gear_n.png
deadpool/textures/TheBrute8Eyes01D_1006.jpg
deadpool/textures/TheBrute8ArmsSSS_1004.jpg
deadpool/textures/TheBrute8Eyes01N_1006.jpg
deadpool/textures/BananaBar_Height_V2.jpg
deadpool/textures/Deadpool_s.png
deadpool/textures/BananaBar_Normal_OpenGL_V2.jpg
deadpool/textures/TheBrute8_Arms_NM_1004.tif
deadpool/textures/DTHDR-RuinsB-500.hdr
deadpool/textures/sword_d.png
deadpool/textures/TheBrute8TorsoSSS_1002.jpg
deadpool/textures/TheBrute8LegsD_1003.jpg
deadpool/textures/TheBrute8Face01S_1001.jpg
deadpool/textures/TheBrute8Face01SSS_1001.jpg
deadpool/textures/03.jpg
deadpool/textures/TheBrute8_Legs_NM_1003.tif
deadpool/textures/gear_d.png
deadpool/textures/BananaBar_Height.jpg
deadpool/textures/PPP_TM7_Bump.jpg
deadpool/textures/TheBrute8MouthB_1005.jpg
deadpool/textures/pistol_n.png