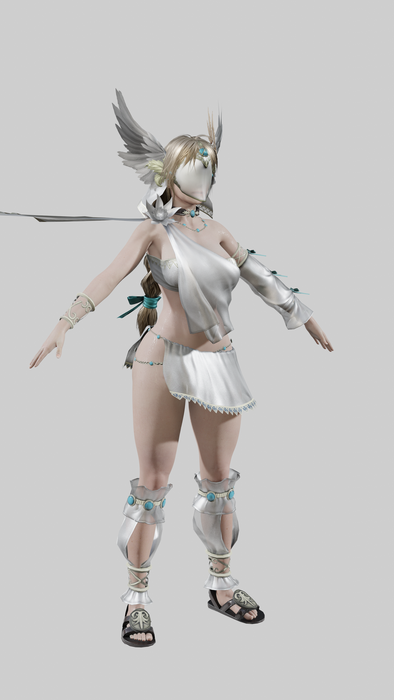 Show more
Description
Small rig I made by headhacking one of Arhoangels models. Lots of sliders by selecting the rig in object mode. The physics sometimes don't recognize the collision objects, you'll have to go in and flip collisions on/off to "wake them up" again. They usually work.
Continuing to test and fix issues that I find. Let me know if you find anything you want me to fix or add.
I own nothing.
v 1.1: Added hair and skirt physics Fixed some of the drivers for UI
v 1.23: Added Cassandra's SC6 outfit Cleaned up some bone layers
v 1.26: Added Sophitia's SC6 outfit Added more cloth and hair physics in the form of physics cards and cloth sims further cleaning up UI
v 1.33: Added Elysium and Schoolgirl outfit Fixed Sophitias alt outfit minor reparenting fixes More body morph flexes for clothing
v 1.35: Adjusted some textures Better flexes for Leggings outfit Corrective actions for knees Corrective smoothing added for some meshes Added Sophitia Bra
SmutBase is a free service. However, it costs about $0.03 to deliver you a 1GB file. With over 20TB of traffic every month and growing, SmutBase needs your help. If only 1% of our users each gave us $5 for a single month, we could keep the site running for several years.
Filename
Downloads
Created
Filesize
Files
Sophi_Cassi_RIG_V1.35.blend
676
2022-11-07 19:28:27
763.78 MB
Sophi_Cassi_RIG_V1.33.blend
276
2022-10-31 22:30:10
771.81 MB
Sophi_Cassi_RIG_V1.26.blend
379
2022-10-29 22:40:56
893.89 MB
Sophi_Cassi_RIG_V2.blend
430
2022-12-08 17:46:17
774.7 MB