Adult content
This content is marked as Adult/NSFW content. You can toggle your preferences regarding this content type in your account settings.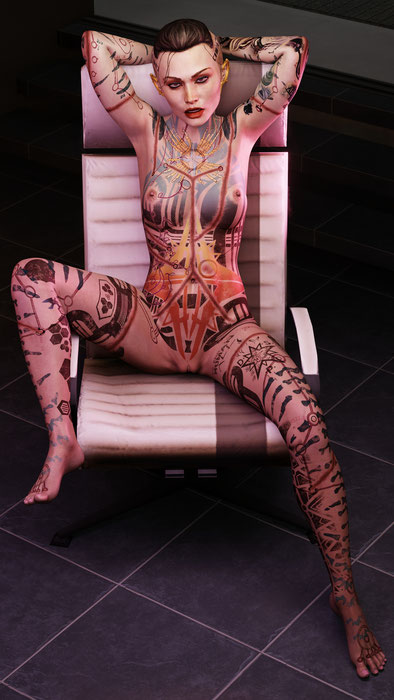 Show more
Description
Jack from Mass Effect: Legendary Edition built onto Daz Studio Genesis 8 Female.
Head is based on my Daz morph I've uploaded to DeviantArt and appearance is from Mass Effect 3.
Most of the assets are from the Legendary Edition. Tattoo textures are custom made with Substance Painter and Photoshop by me based on the original assets and some other artists' works.
Wrapping outfit is completely custom made by me in Blender and Substance. The other part of the LE3 outfit was originally ported by Shinteo to Daz, which I ported to Blender and did some adjusting to the topology. I may just recreate that outfit too some day in higher detail from scratch since it has a number of issues.
Model requires Diffeomorphic 1.7+ to work properly: https://bitbucket.org/Diffeomorphic/import_daz/wiki/Home
Currently only contains just the base body, some basic vital morphs and MHX rig.
Hair basically is the original model bisected out of the main mesh due to how Bioware had made it as part of the head model (The ponytail has custom rigging too). I also included the original eyelashes. Planning on implementing more outfits with the remastered textures and a bunch of other stuff eventually.
The whole model is work in progress.
Credits:
Bioware for original assets
Me for for porting to Daz and Blender and the custom wrapping outfit
Shinteo for the main ME3 outfit
Updates:
17.10.2022 - Fixed parenting with the hair.
16.11.2022 - Added custom made tattoos by me, added rigging to ponytail.
18.11.2022 - Added more detail to texture maps (including the tattoos).
20.11.2022 - Added a wrinkle map system + small adjustment done to the wrinkle map masks.
31.1.2023 - Adjusted textures and body topology, added ME2 head morph variant (currently there are no ME2 head textures, but I will implement those in the future).
17.2.2023 - Fixed armature, adjusted textures, fixed morphs.
16.3.2023 - Finalized tattoo textures.
4.8.2023 - Improved textures, added wrapping outfit based on the ME3 outfit custom made by me, added Shinteo's port of the main ME3 outfit
SmutBase is a free service. However, it costs about $0.03 to deliver you a 1GB file. With over 20TB of traffic every month and growing, SmutBase needs your help. If only 1% of our users each gave us $5 for a single month, we could keep the site running for several years.
Filename
Downloads
Created
Filesize
Files
MELE3_Convict_G8F_vkLxmYw.rar
369
2023-08-04 13:08:40
13.12 MB
File contents:

MELE2 Convict G8F Rig.blend
MELE2 Convict G8F Merged.blend




MELE3_Convict_G8F_Textures_qTCuz4k.rar
345
2023-08-04 13:08:54
294.26 MB
File contents:

textures/Daz/G8FBaseMouthMapD.jpg
textures/Daz/G8FBaseEyes01.jpg
textures/Daz/G8FBaseFaceMapS.jpg
textures/Daz/G8FBaseMouthMapB.jpg
textures/Daz/G8FBaseFaceMapD.jpg
textures/Daz/G8FBaseEyesTr.jpg
textures/Daz/G8FBaseFaceMapB.jpg
textures/Daz/G8FBaseTorsoMapB.jpg
textures/Daz/G8FBaseEyesTr01.jpg
textures/Daz/G8FBaseArmsMapB.jpg
textures/Daz/G8FBaseEyesB.jpg
textures/Daz/G8FBaseFaceMapSSS.jpg
textures/Daz/G8FBaseLegsMapB.jpg
textures/LE3/HMF_HED_PROJack_Scalp_Norm_0x9B834ED9.png
textures/LE3/mele3_jack_torso_merged_tattoo_normal.png
textures/LE3/mele3_jack_face_merged_tattoo_normal.png
textures/LE3/mele3_jack_face_diffuse.png
textures/LE3/HMF_HED_PROMiranda_Lashes_0x0F3F61F4.png
textures/LE3/mele3_jack_torso_merged_gens_tattoo_normal.png
textures/LE3/mele3_jack_face_final_merged_diffuse.png
textures/LE3/mele3_jack_torso_final_merged_diffuse.png
textures/LE3/mele3_jack_torso_merged_gens_diffuse.png
textures/LE3/HMF_HED_PROJack_Scalp_Spec_0x873DF23D_1.png
textures/LE3/mele3_jack_arms_final_merged_diffuse.png
textures/LE3/mele3_jack_face_normal.png
textures/LE3/MELE_Jack_Custom_G8FBaseFaceMapS_scar.png
textures/LE3/HMF_HED_PROJack_Scalp_Diff_0x1960EFA0.png
textures/LE3/mele3_jack_gens_diffuse.png
textures/LE3/mele3_jack_legs_final_merged_diffuse.png
textures/LE3/MELE_Jack_Custom_G8FBaseTorsoMapS_scar.png
textures/LE3/mele3_jack_gens_specular.png
textures/LE3/mele3_jack_legs_merged_tattoo_normal.png
textures/LE3/MELE_Jack_Custom_G8FBaseArmsMapS_scar.png
textures/LE3/mele3_jack_torso_specular_scalpedited.png
textures/LE3/MELE_Jack_Custom_G8FBaseLegsMapS_scar.png
textures/LE3/mele3_jack_torso_normal.png
textures/LE3/MELE_Jack_Custom_G8FBaseTorsoMapS_gens_scar.png
textures/LE3/mele3_jack_gens_normal.png
textures/LE3/mele3_jack_arms_merged_tattoo_normal.png
textures/LE3/mele3_jack_face_specular.png
textures/LE3/mele3_jack_torso_diffuse.png
textures/LE3/Clothing/Main/HMF_ARM_JCKa_Spec.png
textures/LE3/Clothing/Main/HMF_ARM_JCKa_Diff.png
textures/LE3/Clothing/Main/HMF_ARM_JCKa_Norm.png
textures/LE3/Clothing/Main/HMF_ARM_JCKa_Spec_Alpha.png
textures/LE3/Clothing/Main/Wrapping/ME3_Jack_Wrapping_Collar1_BaseColor.png
textures/LE3/Clothing/Main/Wrapping/ME3_Jack_Wrapping_Collar1_Metallic.png
textures/LE3/Clothing/Main/Wrapping/ME3_Jack_Wrapping_Torso_Metallic.png
textures/LE3/Clothing/Main/Wrapping/ME3_Jack_Wrapping_Torso_Alpha.png
textures/LE3/Clothing/Main/Wrapping/ME3_Jack_Wrapping_Collar1_HoleMask.png
textures/LE3/Clothing/Main/Wrapping/ME3_Jack_Wrapping_Torso_BaseColor.png
textures/LE3/Clothing/Main/Wrapping/ME3_Jack_Wrapping_Torso1_HoleMask.png
textures/LE3/Clothing/Main/Wrapping/ME3_Jack_Wrapping_Torso_Normal.png
textures/LE3/Clothing/Main/Wrapping/ME3_Jack_Wrapping_Collar1_Alpha.png
textures/LE3/Clothing/Main/Wrapping/ME3_Jack_Wrapping_Collar1_Normal.png
textures/LE3/Hair/jack hair new color.png
textures/LE3/Hair/HMF_HED_PROJack_Hair_0x9E53D65F.png
textures/LE3/Hair/HMF_HED_PROJack_Hair_alpha.png
textures/LE3/Hair/HMF_HED_PROJack_Hair_Spec.png
textures/LE3/Hair/jack hair normal custom.png
textures/LE3/Wrinkle Maps/MELE_Jack_NewHead_Wrinkles_Mask2_1_ME3.png
textures/LE3/Wrinkle Maps/mele3_jack_face_wrinkles_normal.png
textures/LE3/Wrinkle Maps/MELE_Jack_NewHead_Wrinkles_Mask2_ME3.png
textures/LE3/Wrinkle Maps/MELE_Jack_NewHead_Wrinkles_Mask1_1_ME3.png
textures/LE3/Wrinkle Maps/MELE_Jack_NewHead_Wrinkles_Mask2_2_ME3.png
textures/LE3/Wrinkle Maps/MELE_Jack_NewHead_Wrinkles_Custom_1.png
textures/LE3/Wrinkle Maps/MELE_Jack_NewHead_Wrinkles_Custom_2.png
textures/LE3/Wrinkle Maps/MELE_Jack_NewHead_Wrinkles_Mask1_ME3.png
textures/LE3/Wrinkle Maps/MELE_Jack_NewHead_Wrinkles_Mask1_2_ME3.png
textures/LE3/Wrinkle Maps/MELE_Jack_NewHead_Wrinkles_Mask2_4_1_ME3.png
textures/LE3/Wrinkle Maps/MELE_Jack_NewHead_Wrinkles_Mask1_3_ME3.png
textures/LE3/Wrinkle Maps/MELE_Jack_NewHead_Wrinkles_Mask2_3_1_ME3.png
textures/LE3/Wrinkle Maps/MELE_Jack_NewHead_Wrinkles_Mask2_3_2_ME3.png
textures/LE3/Wrinkle Maps/MELE_Jack_NewHead_Wrinkles_Mask1_2_1_ME3.png
textures/LE3/Wrinkle Maps/MELE_Jack_NewHead_Wrinkles_Mask2_4_ME3.png