Adult content
This content is marked as Adult/NSFW content. You can toggle your preferences regarding this content type in your account settings.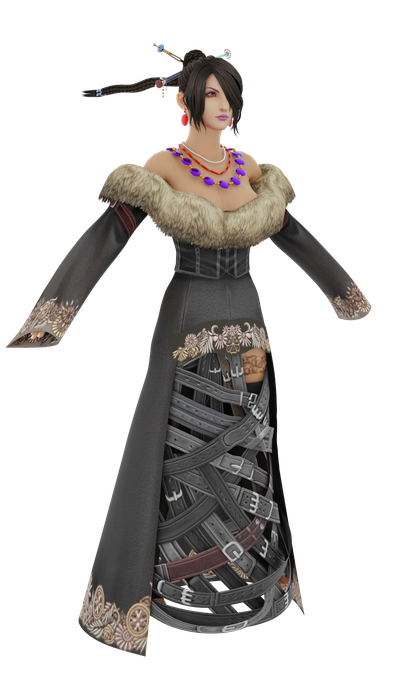 Show more
Description
Update
v.1.3.9 is out. Report any issues. I'll fix them for v.1.4. It should all work but with the itty bitty editing here and there for physics, I might have missed something.
---
DESCRIPTION
Time to water down the description. Our first Lulu model on the site. Kept asking for it, yet nobody heard my cries. I cry evrytiem.
Works best in Cycles. Optimize for Eeevee as you see fit.
---
Settings
In v.1.3, you can click on the rig to have easier access through the UI for the skin shader. In 1.3.9 you also can access the physics toggles.
---
REQUIREMENTS
You'll need Diffeomorphic to get this to work properly.
MAYBE enable the MHX runtime addon that comes with Diffeomorphic 1.6.1+. You might need it if IK isn't working or if you want to customize the rig further. It's not required per se but it might come in handy.
---
OUTFIT
Default Outfit is included. Somewhat broken but it works. An alt outfit is added in v.1.3. Quite a few things to choose from. It's fairly easy to make your own as well, with the tools provided in Diffeomorphic.
---
NOTES
Simplify is turned on in the provided .blend files.
---
USAGE
I recommend you append. I've made an "Append" Collection for you.
Use the Diffeomorphic panels for the Face Units, Body Shapes, etc. The MHX rig also has facial bones you can use.
Check the other Armature Layers if you're looking for something specific like the view target and toes, etc.
Most body morphs are also unlocked. You should try to stick to the 0.0 - 1.0 range. Can use more when needed.
Starting from v.1.3.9, with physics being implemented, the proxies have a set collision collection. If you want something to be detected, make sure to make a new collection for the target and select that.
---
PLANS
-Fixing stuff you report
-Still fixing the mouth interior seam (seen as I forgot now)
---
CREDITS
Shinteo for the Daz preset. Thing was kinda broken but I ended up fixing and changing lots of things and making quite a few things from scratch, so thanks for the base.
Tag me on twitter if you wanna share your creation: https://twitter.com/AngryKarakuri
---
CHANGELOG
v.1.3.9:
-Fixed the gauntlets freaking out
-Added physics for booba, butt and necklaces (Rig Item Properties Toggles)
-Added a texture to make the labia majora look a bit juicier (Adjustable in the panel as well)
v.1.3:
-Added Alternative Outfit options
-Made a simple Properties UI Panel accessible through clicking on the rig
-A lot more fixes and QoL changes
-Reworked some of the skin shader bits. Skin tone now also affects the face properly.
-More things I already forgot about
v.1.2:
-Mouth interior is better (minor seam left you probably will never see)
ITS A LIE: Something went wrong in the upload. I'll do this for v.1.3.
-Added the custom Wet Map (Check the usage section)
-Lots of renaming and cleaning up textures. Also cleaned .blend file.
-Fixed the Rig somehow not being in the Append collection (whoopsie)
v.1.1:
-Did major changes to the Hair rig.
-Adjusted Hair Rig Layers
-Added Particle Hair Eyebrows (Cycles. Can turn them off. Eyebrow Texture is still there).
-Added Earring Bones (Last Armature Layer)
SmutBase is a free service. However, it costs about $0.03 to deliver you a 1GB file. With over 20TB of traffic every month and growing, SmutBase needs your help. If only 1% of our users each gave us $5 for a single month, we could keep the site running for several years.
Filename
Downloads
Created
Filesize
Files
Lulu_v.1.3.9.rar
1134
2022-11-21 10:19:32
104.85 MB
Lulu_v.1.3.rar
938
2022-08-18 13:09:23
85.88 MB
Lulu_-_Blender_v.1.2.rar
567
2022-08-08 16:24:50
46.86 MB
File contents:

Lulu - Blender v.1.2.blend




Lulu_-_Blender_v1.1.rar
413
2022-08-07 18:30:05
37.93 MB
File contents:

Lulu - Blender v1.1.blend




Lulu_-_Blender_1.0.zip
521
2022-08-06 23:12:37
101.5 MB
File contents:

Lulu - Blender v1.0.blend