Adult content
This content is marked as Adult/NSFW content. You can toggle your preferences regarding this content type in your account settings.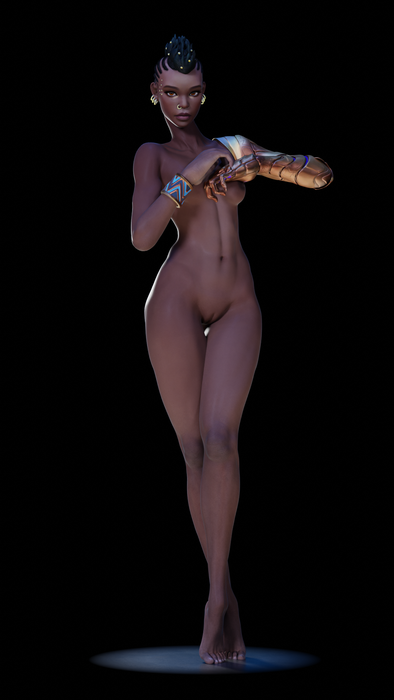 Description
Astra
Original Unedited Riot Games Description:
Ghanaian Agent Astra harnesses the energies of your dick to reshape your ability to cum to her whim. With full command of her pelvic floor muscles and a talent for deep strategic fucking and triple digit orgasms, she's always eons ahead of her sexual partner's next move.
Requirements: Blender 3.1, Blender 3.2 or the latest nightly if you're "like that," the latest development build of the Diffeomorphic import_daz addon (1.62), rigify addon and the attached armature script are enabled, the ability to see into the future.
Features: 1 default outfit, 1 default hairstyle, most of her original bones for some reason (animation retargeting maybe?), tiddy morphs, basic daz morph package.
This is an old model! It does not include JCMs, flexions, or quadrillions of daz shapekeys like my more recent models. There will eventually be a version 2.0 with these features.
Patreon: https://www.patreon.com/foxxu7d
Twitter: https://twitter.com/ploxxo7DNSFW
Discord: https://discord.gg/aa33nWpj
SmutBase is a free service. However, it costs about $0.03 to deliver you a 1GB file. With over 20TB of traffic every month and growing, SmutBase needs your help. If only 1% of our users each gave us $5 for a single month, we could keep the site running for several years.
Filename
Downloads
Created
Filesize
Files
foxxo7d_astra_gndIjvl.blend
2230
2022-08-06 23:59:24
13.2 MB
textures_eQMKtlt.rar
1945
2022-08-06 23:59:29
163.85 MB
File contents:

textures/Astra_Legs_NM_1003.tif
textures/Astra_Legs_S_1003.jpg
textures/TP_Rift_S0_NM.tga
textures/TP_Thorne_S0_Eye_DF.tga
textures/NSL 06.exr
textures/Astra_Arms_NM_1004.tif
textures/TP_Rift_proxy_MRAE.tga
textures/Astra_Face_B_1001.jpg
textures/Astra_Legs_SSS_1003.jpg
textures/Astra_Torso_S_1002.jpg
textures/Astra_Torso_SSS_1002.jpg
textures/TP_Rift_S0_DF.tga
textures/GensMapB_Default_1009.jpg
textures/GensMapNM_Default_1009.png
textures/Astra_Face_D.png
textures/Carbine_S0_DF.tga
textures/Astra_Arms_B_1004.jpg
textures/TP_Rift_S0_Hair_NM.tga
textures/TP_Rift_S0_MRAE.tga
textures/Astra_Torso_B_1002.jpg
textures/Astra_D_1003.png
textures/Astra_Face_SSS_1001.jpg
textures/Astra_Face_NM_1001.tif
textures/Carbine_S0_AEM.tga
textures/Astra_Torso_D_1002.png
textures/GensMapD_Default_P_1009.jpg
textures/Astra_Arrms_S_1004.jpg
textures/Astra_Torso_NM_1002.tif
textures/GensMapS_Default_Dry_1009.jpg
textures/Astra_Arms_SSS_1004.jpg
textures/TEMPTP_Rift_proxy_DF.tga
textures/Astra_Arms_D_1004.png
textures/GensMapT_Default_1009.jpg
textures/TEMPTP_Rift_proxy_NM.tga
textures/Carbine_S0_MRS.tga
textures/TP_Rift_S0_Hair_DF.tga
textures/Astra_Face_S_1001.jpg
textures/Astra_Legs_B_1003.jpg
textures/TEMPTP_Rift_proxy_Mask.tga
textures/GensMapSSS_Default_P_1009.jpg
textures/Carbine_S0_NM.tga
textures/TP_Rift_S0_Hair_MRAE.tga