Adult content
This content is marked as Adult/NSFW content. You can toggle your preferences regarding this content type in your account settings.
Description

Features
Face model from the game, with complete face rig
Custom body proportions, resembling the canon ones
Two original outfits
Tons of additional outfits, with custom properties
Possibility to add additional outfits following the Import Outfits guide.
Three hair styles from the game and a Blender particle hair one
Tons of customization body morphs and emotions
Corrective shape keys for extreme poses, plus tweak bones
Cycles and Eevee ready. The latter has dedicated shaders (my preview pictures are mostly made with Eeevee)
MustardUI 0.25 (users can modify it, without writing a single line of code)
Poses library available in the Asset Library (as a separate file)
Additional preview images can be found on the model page.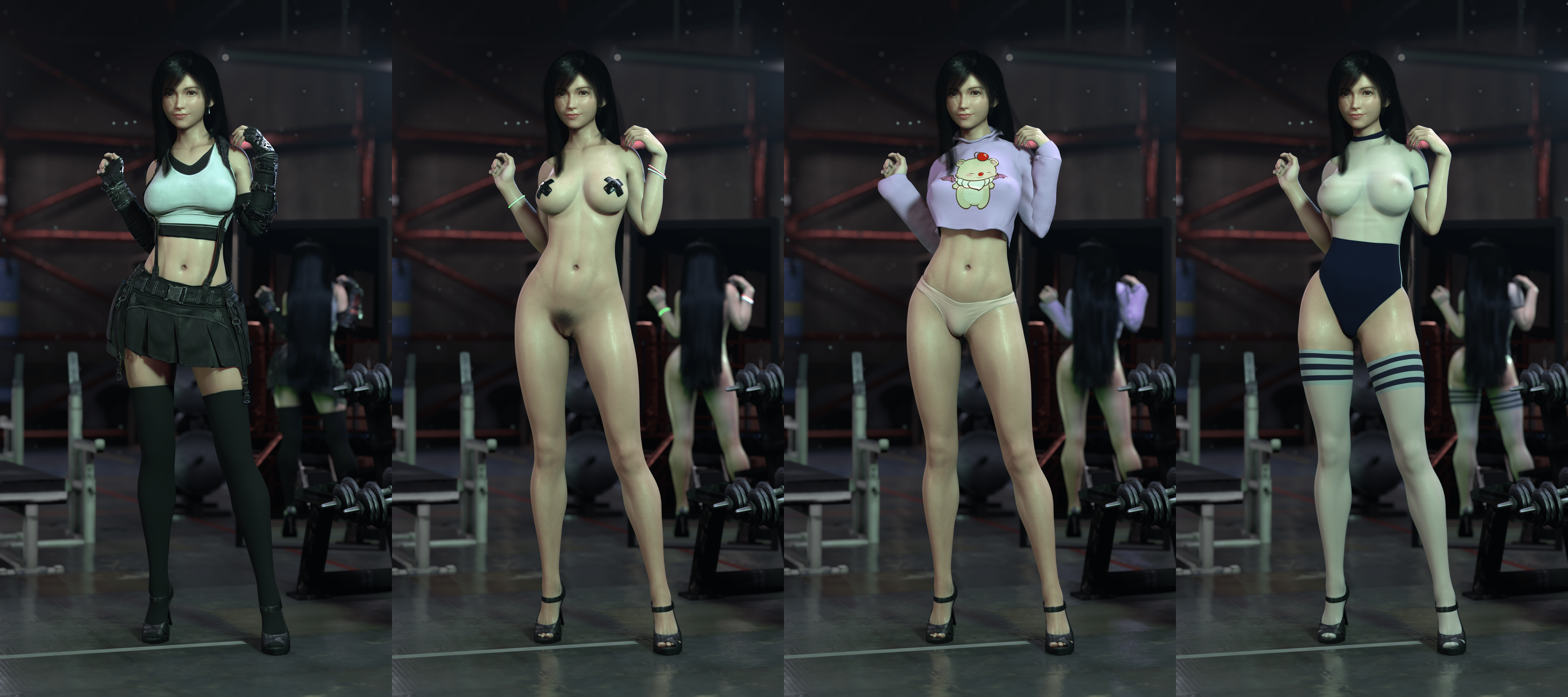 Instructions
Blender 3.4+ is required.
The full instructions can be found on the model page.
The pose library is available as an external asset library. You can find the download link and the installation instructions on the Pose Library page.
Please check list of current known bugs before reporting a bug. If you believe you found a new bug, please contact me.
Release comment
I know, another Tifa model...
There are some reasons I decided to make a brand new model
the head mesh was uncorrect and not as in game, while in this model I am quite satisfied with the overall look;
some new features like the face rig required a new armature;
and with the updated body UV, I also had to re-make all the textures.
If you are interested on the main new features of this model over the previous one, check the dedicated page on the website. Another important feature is the presence of a particle hair system!
Contacts
Credits
A really huge thank to Sreliata for the help in improving the model o be as close as in game as possible.
Calibrator for the particle hair systems (eyebrows, pubic hair, and some parts of the main hair).
Rigid3D for some ideas from his great models.
Gman and Nagooanimation for the help with the particle hair.
Beta Testers: Maiden Masher, Desire Reality.
All the people who reported the bugs! I can improve models only with feedbacks!
SmutBase is a free service. However, it costs about $0.03 to deliver you a 1GB file. With over 20TB of traffic every month and growing, SmutBase needs your help. If only 1% of our users each gave us $5 for a single month, we could keep the site running for several years.
Filename
Downloads
Created
Filesize
Files
Textures - Version 1.7.x
4616
2022-12-20 16:07:10
776.95 MB
File contents:

textures/Tifa_D_Torso.png
textures/XF-SS Top_N.jpg
textures/Nam_ArmsNormals-0.png
textures/DMAHleatherS.jpg
textures/XF-SexySweet Top_B.jpg
textures/fabricdetail.vtf.png
textures/Strip Sweater Albedo.jpg
textures/XF-SpacyL Bottom_N.jpg
textures/PC0002_00_BodyB_M_resultat_resultat.png
textures/VMX_O_Dress_BaseColor.jpg
textures/Black_l_SHOES_Normal_OpenGL.jpg
textures/Thong Lace 01 D.jpg
textures/SH_CutieShortPJ_Shirt_01T.jpg
textures/Modesty_PantyB4.jpg
textures/GoldenPalace_Color.jpg
textures/G8_1TearOpacity.jpg
textures/Jogging_BodySuit_N01.jpg
textures/Edge_SandalsN1.jpg
textures/Tifa_LeatherGlove_N.tga
textures/Strip Sweater R.jpg
textures/XF-SpacyL Bottom_B.jpg
textures/risotto_map_nrm.tga
textures/Tifa_Arms_Details2.png
textures/eyes.png
textures/BHarness_rough01.jpg
textures/Jogging_Sneakers_T01.jpg
textures/SkinMicro_01.png
textures/Stockings Roughness.png
textures/WS_l_SOCKS_Height.jpg
textures/Yalin_Face_Detail.png
textures/Thong R.jpg
textures/VMX_O_Dress_Height.jpg
textures/XF-SexySweet Top_D08.jpg
textures/HS_G8F_Lips1Cayla_M.png
textures/Top N.jpg
textures/VMX_O_!Hat_Normal.jpg
textures/Black_l_SHOES_Height.jpg
textures/Tifa_Dress_M.png
textures/SWT_XPasties_Roughness_1001.jpg
textures/mascara_dripping_c.png
textures/XF-SS Top_D03.jpg
textures/BHarness_roughA01.jpg
textures/XF-SpacyL Bottom_O.jpg
textures/XF-SS Top_B.jpg
textures/Tifa_Dress_S.png
textures/Cute High Heels Normal.jpg
textures/Modesty_Bra_T4.jpg
textures/XF-SpacyL NavelRing_B.jpg
textures/DMAHleatherB.jpg
textures/detail_metal.vtf.png
textures/VMX_O_!Hat_Roughness.jpg
textures/wrist trans.png
textures/Modesty_PantyT4.jpg
textures/Tifa_Torso_Details2.png
textures/XF-SS Bottom_B.jpg
textures/Tifa_Face_Details2.png
textures/XF-SexySweet Bottom_D08.jpg
textures/XF-SS Sweatshirt_B.jpg
textures/GoldenPalace_Trasparency.jpg
textures/detail_metal2.vtf.png
textures/Tifa_Charm_D.png
textures/StockingB.jpg
textures/SH_CutieShortPJ_Shorts_01B.jpg
textures/G8_1FEyelashesNM.jpg
textures/BHarness_bumpA01.jpg
textures/Japanese School Swimsuit 02 Swimsuit N.png
textures/DashBikini_BottomN1.jpg
textures/Jogging_Sneakers_T03.jpg
textures/Jogging_BodySuit_B01.jpg
textures/Black_l_SHOES_Metallic.jpg
textures/Tifa_LeatherGlove_S.tga
textures/G8_1FBaseMouthMapD_1006.jpg
textures/BHarness_met01.jpg
textures/Top R.jpg
textures/BHarness_norm01.tiff
textures/GoldenPalace_Details.png
textures/Pantie_Normal.jpg
textures/VMX_O_Dress_Specular.jpg
textures/Strip Sweater B.jpg
textures/XF-SS Bottom_D03.jpg
textures/Tifa_Charm_N.png
textures/VMX_O_!Hat_Height.jpg
textures/Tifa_ChineseA_D.png
textures/Head_Details.png
textures/G8_1FBaseMouthMapB_1006.jpg
textures/Tifa_ChineseA_N.png
textures/Yalin_Arms_Detail.png
textures/SH_CutieShortPJ_Shirt_01B.jpg
textures/Tifa_D_Head.png
textures/Edge_Pantst_Tr1.jpg
textures/VMX_O_Dress_Roughness.jpg
textures/Edge_Pantst_B1l.jpg
textures/Tifa_LeatherGlove_D.tga
textures/PC0002_00_Eye_C.png
textures/SWT_XPasties_Normal_OpenGL_1001.jpg
textures/Edge_Shirt_Normal.jpg
textures/SC_DashBikini_Bottom_10.jpg
textures/Tifa_Head_Details2.png
textures/Jogging_Sneakers_N01.jpg
textures/Modesty_Bra_NM1.jpg
textures/XF-SexySweet Top_T.jpg
textures/Torso_Details.png
textures/SC_DashBikini_Bra_10.jpg
textures/SC_DashBikini_Bra_05.jpg
textures/XF-SexySweet Bottom_T.jpg
textures/WS_l_SOCKS_Base_Color.jpg
textures/Tifa_MainB_D.tga
textures/Jogging_SneakersTop_B01.jpg
textures/XF-SpacyL Bottom_R.jpg
textures/DMAHleather_black.jpg
textures/Edge_SandalsB1.jpg
textures/GoldenPalace_Displacement.jpg
textures/SH_CutieShortPJ_Shirt_01_2.jpg
textures/Tifa_Hair_AO.tga
textures/Strip Sweater D.jpg
textures/Modesty_Bra_B4.jpg
textures/Tifa_Dress_D.png
textures/XF-SexySweet LS_T.jpg
textures/Jogging_BodySuit_T02.jpg
textures/Tifa_Dress_N.png
textures/Tifa_D_Legs_2.png
textures/Tifa_Hair_S.tga
textures/PC0002_00_BodyA_M_resultat_resultat.tga
textures/Tifa_Dress_AO.png
textures/XF-SpacyL Top_N.jpg
textures/fabricshirtdetail.vtf.png
textures/detail_metal3.vtf.png
textures/WS_l_SOCKS_Roughness.jpg
textures/XF-SexySweet Bottom_N.jpg
textures/SWT_XPasties_Height_1001.jpg
textures/G8_1FEyelashesO.jpg
textures/Jogging_BodySuit_T04.jpg
textures/Tifa_Hair_N.tga
textures/Harley_Skin_Micro.png
textures/GoldenPalace_NormalMap.jpg
textures/Cute High Heels Roughness.jpg
textures/VMX_O_Dress_Metallic.jpg
textures/VMX_O_!Hat_Metallic.jpg
textures/Jogging_Sneakers_T02.jpg
textures/Black_l_SHOES_Base_Color.jpg
textures/Head_Normal.png
textures/Stockings H 02.png
textures/Tifa_Hair_D.tga
textures/Strip Sweater N.jpg
textures/Jogging_BodySuit_T01.jpg
textures/Thong Lace 01.jpg
textures/XF-SpacyL Top_R.jpg
textures/XF-SpacyL Top_D07.jpg
textures/SH_CutieShortPJ_Shirt_01_3.png
textures/Yalin_Legs_Detail.png
textures/BHarness_metA01.jpg
textures/Thong N.jpg
textures/SC_DashBikini_Bottom_05.jpg
textures/Tifa_MainB_N.tga
textures/SH_CutieShortPJ_Shirt_01_4.png
textures/VMX_O_!Hat_BaseColor.jpg
textures/XF-SexySweet Bottom_B.jpg
textures/BHarness_dispA01.tiff
textures/Cotton S.jpg
textures/XF-SS Bottom_R.jpg
textures/Jogging_BodySuit_T03.jpg
textures/Modesty_Panty_NM1.jpg
textures/Cute High Heels Base Color 1.jpg
textures/Nam_LegsNormals-0.png
textures/Jogging_Sneakers_T04.jpg
textures/Tifa_Head_D_wrapped.png
textures/Modesty_PantyTr4.jpg
textures/XF-SS Top_R.jpg
textures/Top Albedo.jpg
textures/SC_DashBikini_Bra_16.jpg
textures/XF-SS Bottom_N.jpg
textures/Swimsuit B.png
textures/Tifa_Legs_Details2.png
textures/WS_l_SOCKS_Normal_OpenGL.jpg
textures/Tifa_Head_N_wrapped.png
textures/SC_DashBikini_Bottom_01B.jpg
textures/SH_CutieShortPJ_Shirt_Christmas.png
textures/BHarness_disp01.tiff
textures/Torso_Normal.png
textures/BHarness_tex01.jpg
textures/XF-SpacyL Bottom_D07.jpg
textures/PC0002_00_Eye_O.tga
textures/Cute High Heels Metallicity2.jpg
textures/HS_G8F_Lips1Cayla_N.png
textures/Jogging_BodySuit_Tr01.jpg
textures/BHarness_normA01.tiff
textures/SkinMicro_02.png
textures/Edge_Shirt_B01.jpg
textures/Edge_Pantst_T3.jpg
textures/XF-SpacyL Top_B.jpg
textures/Stockings H 01.png
textures/Black_l_SHOES_Roughness.jpg
textures/SH_CutieShortPJ_Shorts_01.jpg
textures/BHarness_texA01.jpg
textures/Tifa_MainA_N.tga
textures/DBikiniBra_N2.jpg
textures/SC_DashBikini_Bottom_16.jpg
textures/Edge_SandalsT1.jpg
textures/Tifa_D_Arms_2.png
textures/Modesty_Bra_Tr4.jpg
textures/Stockings Albedo 01.png
textures/Tifa_MainA_D.tga
textures/SC_DashBikini_Bra_01B.jpg
textures/VMX_O_Dress_Normal.jpg
textures/Edge_Shirt_T05.jpg
textures/Top H.jpg
textures/VMX_O_Displacement.png
textures/Edge_Pantst_Normal.jpg
textures/bump_cloth.png
textures/SH_CutieShortPJ_Shorts_Christmas.png
textures/XF-SS Sweatshirt_N.jpg
textures/XF-SS Sweatshirt_R.jpg
textures/XF-SexySweet Top_N.jpg
textures/BHarness_bump01.jpg
textures/Thong Lace 02.jpg
textures/Tifa_Charm_AO.png
textures/XF-SpacyL Top_O.jpg




Model - Version 1.7.1
2919
2023-01-22 12:39:05
735.27 MB