Adult content
This content is marked as Adult/NSFW content. You can toggle your preferences regarding this content type in your account settings.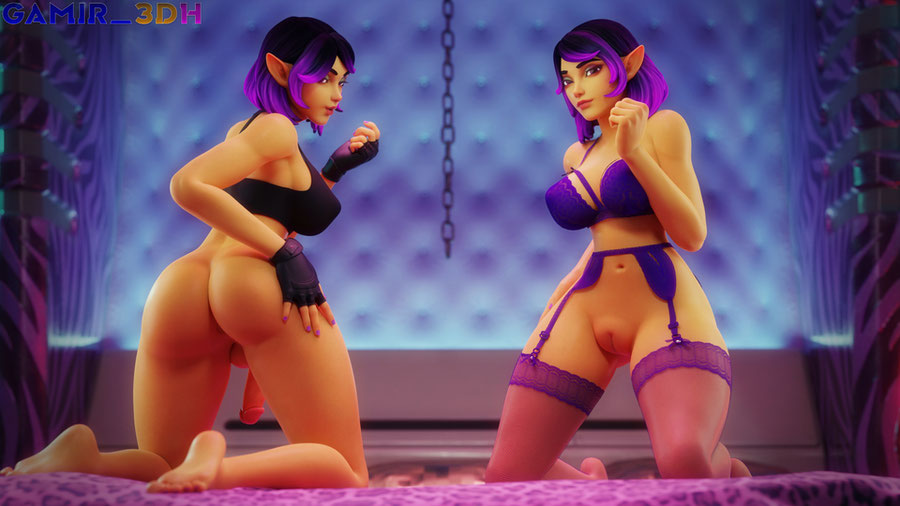 Show more
Description
Hey guys!! Im here with a new model!! It was a comissioned by GAMIR_3DH!! I hope you guys like her and enjoy!!!
Here is my Twitter if you found something weird in the model or you wanna tag me in your works. I will happily see you works C:
and my Patreon if you wanna support me, Im making a exclusive characters there ;D
*Please do not reupload in other places or port in other places and dont take part of the character, I really appreciate it(Seriously respect this, just because its free doesn't mean you can do whatever you want with it)
SmutBase is a free service. However, it costs about $0.03 to deliver you a 1GB file. With over 20TB of traffic every month and growing, SmutBase needs your help. If only 1% of our users each gave us $5 for a single month, we could keep the site running for several years.
Filename
Downloads
Created
Filesize
Files
Paladins_Skye_in_Lia3D_style.rar
3229
2022-07-06 23:48:28
551.53 MB
File contents:

Paladins Skye in Lia3D style/S5.png
Paladins Skye in Lia3D style/Paladins_Skye_F.blend
Paladins Skye in Lia3D style/S3.png
Paladins Skye in Lia3D style/Paladins Skye (Lia3D style) Release render 1.jpg
Paladins Skye in Lia3D style/S2.png
Paladins Skye in Lia3D style/S1.png
Paladins Skye in Lia3D style/S0.png
Paladins Skye in Lia3D style/Readme plz.txt
Paladins Skye in Lia3D style/S4.png
Paladins Skye in Lia3D style/Paladins_Skye.blend
Paladins Skye in Lia3D style/textures/XF-BellaBottom_OpacityB.jpg
Paladins Skye in Lia3D style/textures/SF_BodySuit_ds1.tif
Paladins Skye in Lia3D style/textures/sSQGloves01N.jpg
Paladins Skye in Lia3D style/textures/XF-Feminine Bra_N.jpg
Paladins Skye in Lia3D style/textures/SF_BodySuit_tr1.jpg
Paladins Skye in Lia3D style/textures/RN Canvas Normals 01.jpg
Paladins Skye in Lia3D style/textures/Skye_Legs_D.png
Paladins Skye in Lia3D style/textures/CharNormalsHighRes0PATCH_159_Default.png
Paladins Skye in Lia3D style/textures/XF-Feminine Bottom_D01.jpg
Paladins Skye in Lia3D style/textures/XF-BellaTop_R.jpg
Paladins Skye in Lia3D style/textures/SF_BodySuit_d1.jpg
Paladins Skye in Lia3D style/textures/0819-Pants-Top-bump.jpg
Paladins Skye in Lia3D style/textures/CharNormalsHighRes0PATCH_208_Default.png
Paladins Skye in Lia3D style/textures/XF-BellaWaistGarter_OpacityB.jpg
Paladins Skye in Lia3D style/textures/XF-Feminine Skirt_D01.jpg
Paladins Skye in Lia3D style/textures/HeadS.jpg
Paladins Skye in Lia3D style/textures/Normal.png
Paladins Skye in Lia3D style/textures/Skye_Arms_D.png
Paladins Skye in Lia3D style/textures/Wendy_eyes.jpg
Paladins Skye in Lia3D style/textures/XF-Feminine Bottom_N.jpg
Paladins Skye in Lia3D style/textures/Dicktator_DK_S2_BM.jpg
Paladins Skye in Lia3D style/textures/01 Base color.png
Paladins Skye in Lia3D style/textures/ArmsS.jpg
Paladins Skye in Lia3D style/textures/EyesB.jpg
Paladins Skye in Lia3D style/textures/GensMapDisp_Default_1009.tif
Paladins Skye in Lia3D style/textures/SF_BodySuit_b1.jpg
Paladins Skye in Lia3D style/textures/Dicktator_DK_TM.jpg
Paladins Skye in Lia3D style/textures/ArmsB.jpg
Paladins Skye in Lia3D style/textures/sSQGloves02.jpg
Paladins Skye in Lia3D style/textures/XF-Feminine Bra_O.jpg
Paladins Skye in Lia3D style/textures/XF-BellaTop_D01.jpg
Paladins Skye in Lia3D style/textures/GensMapB_Default_1009.jpg
Paladins Skye in Lia3D style/textures/XF-BellaWaistGarter_N.jpg
Paladins Skye in Lia3D style/textures/8_Normal.png
Paladins Skye in Lia3D style/textures/TorsoB.jpg
Paladins Skye in Lia3D style/textures/GensMapNM_Default_1009.png
Paladins Skye in Lia3D style/textures/XF-BellaStockings_N.jpg
Paladins Skye in Lia3D style/textures/CharNormalsHighRes0PATCH_157_Default.png
Paladins Skye in Lia3D style/textures/MouthD.jpg
Paladins Skye in Lia3D style/textures/XF-BellaStockings_D01.jpg
Paladins Skye in Lia3D style/textures/XF-BellaStockings_B.jpg
Paladins Skye in Lia3D style/textures/XF-Feminine Bottom_O.jpg
Paladins Skye in Lia3D style/textures/HeadB.jpg
Paladins Skye in Lia3D style/textures/XF-BellaTop_N.jpg
Paladins Skye in Lia3D style/textures/SF_BodySuit_sp2.jpg
Paladins Skye in Lia3D style/textures/XF-Feminine Skirt_OB.jpg
Paladins Skye in Lia3D style/textures/XF-BellaTop_OpacityB.jpg
Paladins Skye in Lia3D style/textures/CharNormalsHighRes0PATCH_276_Default.png
Paladins Skye in Lia3D style/textures/XF-BellaWaistGarter_D.jpg
Paladins Skye in Lia3D style/textures/8.png
Paladins Skye in Lia3D style/textures/GensMapD_Default_P_1009.jpg
Paladins Skye in Lia3D style/textures/ArmsD.jpg
Paladins Skye in Lia3D style/textures/CharTexturesHighRes0PATCH_306_Default.png
Paladins Skye in Lia3D style/textures/XF-BellaBottom_D01.jpg
Paladins Skye in Lia3D style/textures/CharTexturesHighRes0PATCH_307_Default.png
Paladins Skye in Lia3D style/textures/0819-Pants-Top-01.jpg
Paladins Skye in Lia3D style/textures/XF-BellaBottom_N.jpg
Paladins Skye in Lia3D style/textures/GensMapS_Default_Dry_1009.jpg
Paladins Skye in Lia3D style/textures/CharTexturesHighRes0PATCH_522_Default.png
Paladins Skye in Lia3D style/textures/XF-Feminine Bottom_B.jpg
Paladins Skye in Lia3D style/textures/CharTexturesHighRes0PATCH_523_Default.png
Paladins Skye in Lia3D style/textures/Dicktator_DK_S2_DifM01.png
Paladins Skye in Lia3D style/textures/Skye_Torso_D.png
Paladins Skye in Lia3D style/textures/GensMapT_Default_1009.jpg
Paladins Skye in Lia3D style/textures/0819-Sneakers-01.jpg
Paladins Skye in Lia3D style/textures/8 opacity.jpg
Paladins Skye in Lia3D style/textures/EyesRoughness.jpg
Paladins Skye in Lia3D style/textures/XF-BellaTop_D.jpg
Paladins Skye in Lia3D style/textures/XF-Feminine Bra_D01.jpg
Paladins Skye in Lia3D style/textures/CharTexturesHighRes0PATCH_303_Default.png
Paladins Skye in Lia3D style/textures/LegsS.jpg
Paladins Skye in Lia3D style/textures/XF-BellaStockings_R.jpg
Paladins Skye in Lia3D style/textures/XF-BellaStockings_Opacity.jpg
Paladins Skye in Lia3D style/textures/Eyes-D.png
Paladins Skye in Lia3D style/textures/RN Canvas Roughness 01.jpg
Paladins Skye in Lia3D style/textures/XF-BellaBottom_R.jpg
Paladins Skye in Lia3D style/textures/CharNormalsHighRes0PATCH_206_Default.png
Paladins Skye in Lia3D style/textures/Skye_Head_D.png
Paladins Skye in Lia3D style/textures/Roughness.png
Paladins Skye in Lia3D style/textures/XF-Feminine Bra_B.jpg
Paladins Skye in Lia3D style/textures/MouthB.jpg
Paladins Skye in Lia3D style/textures/XF-Feminine Skirt_B.jpg
Paladins Skye in Lia3D style/textures/TorsoS.jpg
Paladins Skye in Lia3D style/textures/Eyes.jpg
Paladins Skye in Lia3D style/textures/sSQGloves01B.jpg
Paladins Skye in Lia3D style/textures/0819-Pants-Top-NORM.jpg
Paladins Skye in Lia3D style/textures/GensMapSSS_Default_P_1009.jpg
Paladins Skye in Lia3D style/textures/CharTexturesHighRes0PATCH_305_Default.png
Paladins Skye in Lia3D style/textures/RN Canvas Color 01.jpg
Paladins Skye in Lia3D style/textures/LegsD.jpg
Paladins Skye in Lia3D style/textures/XF-BellaWaistGarter_R.jpg
Paladins Skye in Lia3D style/textures/CharNormalsHighRes0PATCH_348_Default.png
Paladins Skye in Lia3D style/textures/XF-BellaWaistGarter_D01.jpg
Paladins Skye in Lia3D style/textures/LegsB.jpg
Paladins Skye in Lia3D style/textures/Dicktator_DK_S2_SM.jpg
Paladins Skye in Lia3D style/textures/0819-Sneakers-bump.jpg