Adult content
This content is marked as Adult/NSFW content. You can toggle your preferences regarding this content type in your account settings.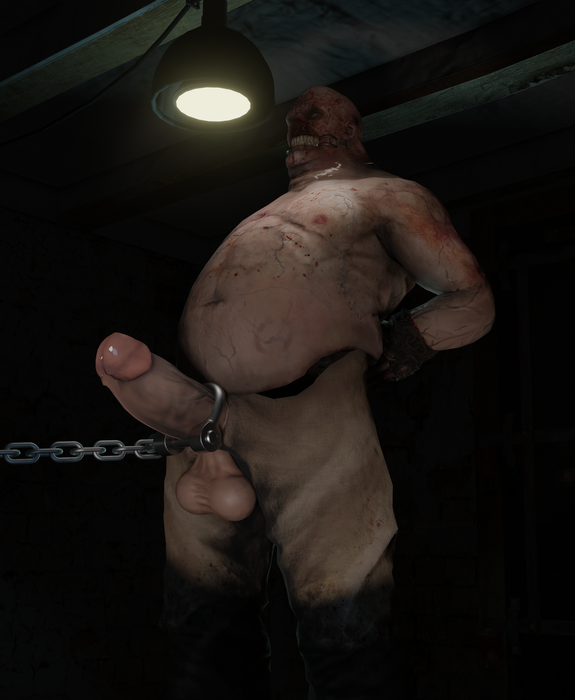 Show more
Description
Man do I love this big boy.
---
I updated his texture files (which took a long time to do because there was only the bloody texture) so that there would be a non-bloody texture as well. I also worked on other parts of the textures to look a bit better in quality, including making his mouth guard 3D instead of being 2D on his face.
Comes with shape keys to hide genitals and testicles, as well as a rig for the gentials and a rig for the chain connected to the cock brace.
---
The room in the file is provided by Delton Hulbert on Sketchfab.
---
Update - 07/03/2022 - Fixed Penis Rig to move more smooth
Update - 07/04/2022 - Re-uploaded reference photos as they weren't working properly | Fixed tongue rig/bone location to move more easily
SmutBase is a free service. However, it costs about $0.03 to deliver you a 1GB file. With over 20TB of traffic every month and growing, SmutBase needs your help. If only 1% of our users each gave us $5 for a single month, we could keep the site running for several years.
Filename
Downloads
Created
Filesize
Files
Updated Chris_Walker.zip
946
2022-07-04 20:47:28
260.02 MB
Chris_Walker.zip
312
2022-07-03 00:54:39
272.8 MB
File contents:

Chris Walker/.DS_Store
Chris Walker/Chris Walker.blend
Chris Walker/Photos/1.png
Chris Walker/Photos/4.png
Chris Walker/Photos/3.png
Chris Walker/Photos/6.png
Chris Walker/Photos/5.png
Chris Walker/Photos/2.png
Chris Walker/Photos/.DS_Store
Chris Walker/Textures/.DS_Store
Chris Walker/Textures/Chris Normal Textures/Face_N.tga
Chris Walker/Textures/Chris Normal Textures/Chest_N.tga
Chris Walker/Textures/Chris Normal Textures/Bottom_N.tga
Chris Walker/Textures/Chris Normal Textures/.DS_Store
Chris Walker/Textures/Other Textures/xps.xps
Chris Walker/Textures/Other Textures/dirt_null.tga
Chris Walker/Textures/Other Textures/.DS_Store
Chris Walker/Textures/Other Textures/Room:Tool Textures/.DS_Store
Chris Walker/Textures/Other Textures/Room:Tool Textures/the-room/.DS_Store
Chris Walker/Textures/Other Textures/Room:Tool Textures/the-room/source/theRoom.fbx
Chris Walker/Textures/Other Textures/Room:Tool Textures/the-room/textures/Room-[Gloss].png
Chris Walker/Textures/Other Textures/Room:Tool Textures/the-room/textures/ceiling-[Gloss].png
Chris Walker/Textures/Other Textures/Room:Tool Textures/the-room/textures/galvanized_steel_normal.png
Chris Walker/Textures/Other Textures/Room:Tool Textures/the-room/textures/Room_diffuse.png
Chris Walker/Textures/Other Textures/Room:Tool Textures/the-room/textures/theLamp_specular.png
Chris Walker/Textures/Other Textures/Room:Tool Textures/the-room/textures/ceiling_specular.png
Chris Walker/Textures/Other Textures/Room:Tool Textures/the-room/textures/rusted_iron-[Gloss].png
Chris Walker/Textures/Other Textures/Room:Tool Textures/the-room/textures/lampWithOutlet-[Gloss].png
Chris Walker/Textures/Other Textures/Room:Tool Textures/the-room/textures/theLamp_diffuse.png
Chris Walker/Textures/Other Textures/Room:Tool Textures/the-room/textures/theLamp_normal.png
Chris Walker/Textures/Other Textures/Room:Tool Textures/the-room/textures/galvanized_steel-[Gloss].png
Chris Walker/Textures/Other Textures/Room:Tool Textures/the-room/textures/door_specular.png
Chris Walker/Textures/Other Textures/Room:Tool Textures/the-room/textures/deskChair3-[Gloss].png
Chris Walker/Textures/Other Textures/Room:Tool Textures/the-room/textures/all_bolts_diffuse.png
Chris Walker/Textures/Other Textures/Room:Tool Textures/the-room/textures/all_bolts_normal.png
Chris Walker/Textures/Other Textures/Room:Tool Textures/the-room/textures/theLamp_Emmision.png
Chris Walker/Textures/Other Textures/Room:Tool Textures/the-room/textures/galvanized_steel_specular.png
Chris Walker/Textures/Other Textures/Room:Tool Textures/the-room/textures/door-[Gloss].png
Chris Walker/Textures/Other Textures/Room:Tool Textures/the-room/textures/rusted_iron_normal.png
Chris Walker/Textures/Other Textures/Room:Tool Textures/the-room/textures/Room_normal.png
Chris Walker/Textures/Other Textures/Room:Tool Textures/the-room/textures/rusted_iron_specular.png
Chris Walker/Textures/Other Textures/Room:Tool Textures/the-room/textures/deskChair_normal.png
Chris Walker/Textures/Other Textures/Room:Tool Textures/the-room/textures/rusted_iron_diffuse.png
Chris Walker/Textures/Other Textures/Room:Tool Textures/the-room/textures/all_bolts-[Gloss].png
Chris Walker/Textures/Other Textures/Room:Tool Textures/the-room/textures/galvanized_steel_diffuse.png
Chris Walker/Textures/Other Textures/Room:Tool Textures/the-room/textures/Room_specular.png
Chris Walker/Textures/Other Textures/Room:Tool Textures/the-room/textures/ceiling_normal.png
Chris Walker/Textures/Other Textures/Room:Tool Textures/the-room/textures/door_normal.png
Chris Walker/Textures/Other Textures/Room:Tool Textures/the-room/textures/ceiling_diffuse.png
Chris Walker/Textures/Other Textures/Room:Tool Textures/the-room/textures/door_diffuse.png
Chris Walker/Textures/Other Textures/Room:Tool Textures/the-room/textures/all_bolts_specular.png
Chris Walker/Textures/Other Textures/Room:Tool Textures/the-room/textures/deskChair_diffuse.png
Chris Walker/Textures/Other Textures/Mouth Guard Textures/1.png
Chris Walker/Textures/Other Textures/Mouth Guard Textures/2.png
Chris Walker/Textures/Other Textures/Mouth Guard Textures/.DS_Store
Chris Walker/Textures/Other Textures/Penis Textures/Balls_Base.png
Chris Walker/Textures/Other Textures/Penis Textures/Penis_Base.png
Chris Walker/Textures/Other Textures/Penis Textures/Penis_N.png
Chris Walker/Textures/Other Textures/Penis Textures/Penis_S.png
Chris Walker/Textures/Other Textures/Penis Textures/.DS_Store
Chris Walker/Textures/Blood Textures/Blood_Bottom_Base.tga
Chris Walker/Textures/Blood Textures/Blood_Chest_Base.png
Chris Walker/Textures/Blood Textures/Blood_Face_Base.png
Chris Walker/Textures/Blood Textures/Blood_Bottom_S.tga
Chris Walker/Textures/Blood Textures/Blood_Face_S.png
Chris Walker/Textures/Blood Textures/Blood_Chest_S.tga
Chris Walker/Textures/Blood Textures/.DS_Store
Chris Walker/Textures/No Blood Textures/Tongue_N.png
Chris Walker/Textures/No Blood Textures/NoBlood_Head_S.png
Chris Walker/Textures/No Blood Textures/NoBlood_Chest_Base.png
Chris Walker/Textures/No Blood Textures/Tongue_Base.png
Chris Walker/Textures/No Blood Textures/Tongue_S.png
Chris Walker/Textures/No Blood Textures/Eye_D.tga
Chris Walker/Textures/No Blood Textures/Eye_D.png
Chris Walker/Textures/No Blood Textures/.DS_Store
Chris Walker/Textures/No Blood Textures/NoBlood_Chest_S.png
Chris Walker/Textures/No Blood Textures/NoBlood_HeadBase.png
Chris Walker/Textures/No Blood Textures/NoBlood_Bottoms_Base.png
Chris Walker/Textures/No Blood Textures/NoBlood_Bottoms_S.png
__MACOSX/Chris Walker/._.DS_Store
__MACOSX/Chris Walker/Photos/._6.png
__MACOSX/Chris Walker/Photos/._4.png
__MACOSX/Chris Walker/Photos/._3.png
__MACOSX/Chris Walker/Photos/._.DS_Store
__MACOSX/Chris Walker/Photos/._2.png
__MACOSX/Chris Walker/Photos/._5.png
__MACOSX/Chris Walker/Textures/._.DS_Store
__MACOSX/Chris Walker/Textures/Chris Normal Textures/._Bottom_N.tga
__MACOSX/Chris Walker/Textures/Chris Normal Textures/._Chest_N.tga
__MACOSX/Chris Walker/Textures/Chris Normal Textures/._.DS_Store
__MACOSX/Chris Walker/Textures/Chris Normal Textures/._Face_N.tga
__MACOSX/Chris Walker/Textures/Other Textures/._dirt_null.tga
__MACOSX/Chris Walker/Textures/Other Textures/._.DS_Store
__MACOSX/Chris Walker/Textures/Other Textures/._xps.xps
__MACOSX/Chris Walker/Textures/Other Textures/Room:Tool Textures/._the-room
__MACOSX/Chris Walker/Textures/Other Textures/Room:Tool Textures/._.DS_Store
__MACOSX/Chris Walker/Textures/Other Textures/Room:Tool Textures/the-room/._source
__MACOSX/Chris Walker/Textures/Other Textures/Room:Tool Textures/the-room/._textures
__MACOSX/Chris Walker/Textures/Other Textures/Room:Tool Textures/the-room/._.DS_Store
__MACOSX/Chris Walker/Textures/Other Textures/Room:Tool Textures/the-room/source/._theRoom.fbx
__MACOSX/Chris Walker/Textures/Other Textures/Room:Tool Textures/the-room/textures/._galvanized_steel_diffuse.png
__MACOSX/Chris Walker/Textures/Other Textures/Room:Tool Textures/the-room/textures/._ceiling_specular.png
__MACOSX/Chris Walker/Textures/Other Textures/Room:Tool Textures/the-room/textures/._door_diffuse.png
__MACOSX/Chris Walker/Textures/Other Textures/Room:Tool Textures/the-room/textures/._Room-[Gloss].png
__MACOSX/Chris Walker/Textures/Other Textures/Room:Tool Textures/the-room/textures/._deskChair3-[Gloss].png
__MACOSX/Chris Walker/Textures/Other Textures/Room:Tool Textures/the-room/textures/._ceiling-[Gloss].png
__MACOSX/Chris Walker/Textures/Other Textures/Room:Tool Textures/the-room/textures/._all_bolts_specular.png
__MACOSX/Chris Walker/Textures/Other Textures/Room:Tool Textures/the-room/textures/._rusted_iron_normal.png
__MACOSX/Chris Walker/Textures/Other Textures/Room:Tool Textures/the-room/textures/._all_bolts-[Gloss].png
__MACOSX/Chris Walker/Textures/Other Textures/Room:Tool Textures/the-room/textures/._theLamp_diffuse.png
__MACOSX/Chris Walker/Textures/Other Textures/Room:Tool Textures/the-room/textures/._rusted_iron_diffuse.png
__MACOSX/Chris Walker/Textures/Other Textures/Room:Tool Textures/the-room/textures/._theLamp_Emmision.png
__MACOSX/Chris Walker/Textures/Other Textures/Room:Tool Textures/the-room/textures/._door_specular.png
__MACOSX/Chris Walker/Textures/Other Textures/Room:Tool Textures/the-room/textures/._galvanized_steel_specular.png
__MACOSX/Chris Walker/Textures/Other Textures/Room:Tool Textures/the-room/textures/._ceiling_normal.png
__MACOSX/Chris Walker/Textures/Other Textures/Room:Tool Textures/the-room/textures/._rusted_iron-[Gloss].png
__MACOSX/Chris Walker/Textures/Other Textures/Room:Tool Textures/the-room/textures/._theLamp_normal.png
__MACOSX/Chris Walker/Textures/Other Textures/Room:Tool Textures/the-room/textures/._Room_normal.png
__MACOSX/Chris Walker/Textures/Other Textures/Room:Tool Textures/the-room/textures/._galvanized_steel-[Gloss].png
__MACOSX/Chris Walker/Textures/Other Textures/Room:Tool Textures/the-room/textures/._theLamp_specular.png
__MACOSX/Chris Walker/Textures/Other Textures/Room:Tool Textures/the-room/textures/._galvanized_steel_normal.png
__MACOSX/Chris Walker/Textures/Other Textures/Room:Tool Textures/the-room/textures/._deskChair_normal.png
__MACOSX/Chris Walker/Textures/Other Textures/Room:Tool Textures/the-room/textures/._Room_specular.png
__MACOSX/Chris Walker/Textures/Other Textures/Room:Tool Textures/the-room/textures/._door-[Gloss].png
__MACOSX/Chris Walker/Textures/Other Textures/Room:Tool Textures/the-room/textures/._all_bolts_diffuse.png
__MACOSX/Chris Walker/Textures/Other Textures/Room:Tool Textures/the-room/textures/._all_bolts_normal.png
__MACOSX/Chris Walker/Textures/Other Textures/Room:Tool Textures/the-room/textures/._deskChair_diffuse.png
__MACOSX/Chris Walker/Textures/Other Textures/Room:Tool Textures/the-room/textures/._door_normal.png
__MACOSX/Chris Walker/Textures/Other Textures/Room:Tool Textures/the-room/textures/._lampWithOutlet-[Gloss].png
__MACOSX/Chris Walker/Textures/Other Textures/Room:Tool Textures/the-room/textures/._rusted_iron_specular.png
__MACOSX/Chris Walker/Textures/Other Textures/Room:Tool Textures/the-room/textures/._Room_diffuse.png
__MACOSX/Chris Walker/Textures/Other Textures/Room:Tool Textures/the-room/textures/._ceiling_diffuse.png
__MACOSX/Chris Walker/Textures/Other Textures/Mouth Guard Textures/._.DS_Store
__MACOSX/Chris Walker/Textures/Other Textures/Penis Textures/._Penis_N.png
__MACOSX/Chris Walker/Textures/Other Textures/Penis Textures/._.DS_Store
__MACOSX/Chris Walker/Textures/Blood Textures/._Blood_Face_Base.png
__MACOSX/Chris Walker/Textures/Blood Textures/._Blood_Bottom_Base.tga
__MACOSX/Chris Walker/Textures/Blood Textures/._Blood_Chest_S.tga
__MACOSX/Chris Walker/Textures/Blood Textures/._Blood_Face_S.png
__MACOSX/Chris Walker/Textures/Blood Textures/._Blood_Bottom_S.tga
__MACOSX/Chris Walker/Textures/Blood Textures/._.DS_Store
__MACOSX/Chris Walker/Textures/Blood Textures/._Blood_Chest_Base.png
__MACOSX/Chris Walker/Textures/No Blood Textures/._Eye_D.png
__MACOSX/Chris Walker/Textures/No Blood Textures/._Tongue_N.png
__MACOSX/Chris Walker/Textures/No Blood Textures/._Eye_D.tga
__MACOSX/Chris Walker/Textures/No Blood Textures/._.DS_Store
__MACOSX/Chris Walker/Textures/No Blood Textures/._NoBlood_Bottoms_Base.png