Adult content
This content is marked as Adult/NSFW content. You can toggle your preferences regarding this content type in your account settings.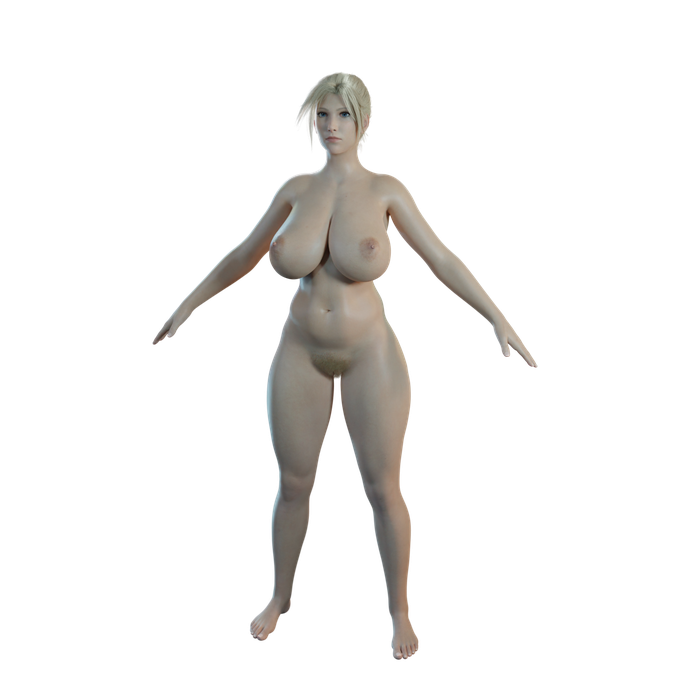 Description
Claudia Strife wrapped onto a G8.1F and imported to Blender via Diffeomorphic.
Features:
MHX rig with G8.1 face controls.
Mustard UI v0.23 (w/ auto-blink, auto-breathe, etc)
Skin Shader based on Rigid3D's setup.
Alternative shape keys available.
Spine IK based on Nyl's setup.
Diffeomorphic shouldn't be required, but it doesn't hurt. You might need rig tools, too.
Default FF7R outfit with rudimentary fit and rig. It's jank and I'm not high IQ enough to fix it. Original skirt rig included (you can join it to the MHX rig).
To use spine IK, make sure the spine IK bone layer is visible and enable the spline IK constraint on the chest bone.
It was brought to my attention that some people don't have a healthy appreciate for FAT COW TITS--so I've created a thin version.
Changelog:
V1: Initial Release (6/20/2022)
V1.1: Added Nyl's spine IK, anus bone, fixed normals (thanks Kudarizaka), unpacked textures (7/12/2022)
V1.2: Fixed morphs (how embarrassing!) (7/12/2022)
Thin V1: Added, hope everything works (7/17/2022)
SmutBase is a free service. However, it costs about $0.03 to deliver you a 1GB file. With over 20TB of traffic every month and growing, SmutBase needs your help. If only 1% of our users each gave us $5 for a single month, we could keep the site running for several years.
Filename
Downloads
Created
Filesize
Files
Claudia_v1.2.blend
2122
2022-07-13 04:03:45
102.33 MB
Claudia_Thin_v1.blend
976
2022-07-17 10:58:28
384.83 MB
textures_Nn3JByM.zip
1869
2022-07-12 20:14:24
240.05 MB
File contents:

textures/claudia_head_d.png
textures/GoldenPalace_Specularity.jpg
textures/GoldenPalace_Color.jpg
textures/GoldenPalace_Translucency.jpg
textures/G8_1TearOpacity.jpg
textures/risotto_map_nrm.tga
textures/SkinMicro_01.png
textures/SG_Legs_Detail.png
textures/G8FBaseArmsMapD_1004.jpg
textures/G8_1FBaseFaceMapSSS_1001.jpg
textures/G8FBaseArmsMapB_1004.jpg
textures/claudia_s.png
textures/hair_ao.png
textures/NatEyes2Blue7.jpg
textures/GoldenPalace_WetMap.jpg
textures/GoldenPalace_Trasparency.jpg
textures/G8_1FBaseBodyMapB_1003.jpg
textures/G8_1FEyelashesNM.jpg
textures/SG_Torso_Detail.png
textures/SG_Arms_Detail.png
textures/body_n.png
textures/hair_s.png
textures/AK_ED5eyesBUM2.jpg
textures/claudia_d.png
textures/body_d.png
textures/GoldenPalace_Displacement.jpg
textures/G8_1FBaseHeadMapS_1002.jpg
textures/G8_1FBaseHeadMapSSS_1002.jpg
textures/G8_1FEyelashesO.jpg
textures/SG_Legs_N.png
textures/G8_1FBaseBodyMapD_1003.jpg
textures/GoldenPalace_NormalMap.jpg
textures/G8_1FBaseFaceMapB_1001.jpg
textures/body_s.png
textures/body_ao.png
textures/G8FBaseLegsMapD_1003.jpg
textures/G8FBaseArmsMapSSS_1004.jpg
textures/G8FBaseLegsMapS_1003.jpg
textures/G8_1FBaseBodyMapS_1003.jpg
textures/SG_Mouth_D.jpg
textures/SG_Arms_N.png
textures/G8FBaseArmsMapS_1004.jpg
textures/G8FBaseLegsMapSSS_1003.jpg
textures/hair_n.png
textures/G8_1FBaseBodyMapSSS_1003.jpg
textures/G8FBaseLegsMapB_1003.jpg
textures/hair_d.png
textures/SkinMicro_02.png
textures/G8_1FBaseHeadMapB_1002.jpg
textures/claudia_n.png
textures/claudia iris test.png
textures/G8FBaseMouthMapD_1005.jpg
textures/SG_Mouth_N.png
textures/ArkhamKnightUnderpass.tiff




Claudia_v1.blend
1619
2022-06-20 20:43:54
365.07 MB