Adult content
This content is marked as Adult/NSFW content. You can toggle your preferences regarding this content type in your account settings.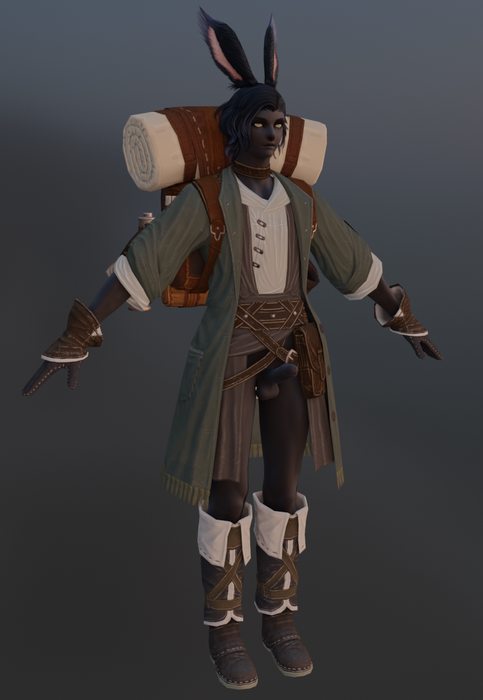 Show more
Description
Hey,
This is a model of Viera Male from FFXIV, that should contain everything needed to do any characters of this race from the game.
It contain all haircut, all face and all details... There is a Workspace named CUSTOMIZE where you personalize the model as you want with the different modifier, enable/disable hairs and others
Characteristics :
4 Faces with
4 Ears
2 Outfits
23 Hairstyles
Lots of shapekey to adjust face (Nose/Mouth/Eyes etc...) and more
2 Colors Preset for chars (Hairs, Skin etc...)
Tutorial :
You need the addon Rig tool to enable all functionnality of the rig.
To select the Face you want just disable the mask of this face (here it's the Face 3 that is selected)
There is two preset of colors available, Naeli, my bunny boy OC and Erenville a Canon character. Feel free to use Naeli in your scene if you want ;)
In these preset Node Group you can set the colors that you wants for skin, eyes etc..
Credit :
Tzar for the mod The Body SE
Zain for the base shader for FFXIV
I can't wait to see what you will do with these :D
Don't hesitate to ask me if you need help or if you find issue on Twitter @FiaVoidWolf or on my Discord (link in twitter)
-Fia 💛💜
SmutBase is a free service. However, it costs about $0.03 to deliver you a 1GB file. With over 20TB of traffic every month and growing, SmutBase needs your help. If only 1% of our users each gave us $5 for a single month, we could keep the site running for several years.
Filename
Downloads
Created
Filesize
Files
VieraM_1.0.blend
971
2022-06-18 15:28:21
4.19 MB
textures.zip
885
2022-06-18 15:28:26
93.25 MB
File contents:

textures/--c1701f0001_etc_n.png
textures/--c1701h0001_hir_s.png
textures/v01_c0101e9217_dwn_m.png
textures/--c1701f0002_fac_d.png
textures/--c0101h0112_acc_n.png
textures/--c0101h0101_hir_s.png
textures/--c0101h0165_hir_s.png
textures/c1701z0004_etc_s.png
textures/--c1701h0008_hir_n.png
textures/--c1701f0004_fac_s.png
textures/--c0101h0171_hir_n.png
textures/--c1701h0009_acc_n.png
textures/c1701z0004_etc_n.png
textures/--c1701f0004_etc_s.png
textures/v01_c1801e0581_top_n.png
textures/--c0101h0165_hir_n.png
textures/--c0101h0112_hir_n.png
textures/--c1701h0009_acc_m.png
textures/--c0101h0101_acc_s.png
textures/--c0101h0163_acc_n.png
textures/Body_D.png
textures/--c1701h0003_hir_n.png
textures/v01_w9079b0001_m.png
textures/--c1701f0001_etc_s.png
textures/--c1701h0012_hir_n.png
textures/--c1701f0003_fac_n.png
textures/--c1701h0008_hir_s.png
textures/--c0101h0171_hir_s.png
textures/--c1701f0002_etc_s.png
textures/--c1701h0011_acc_m.png
textures/--c0101h0163_hir_s.png
textures/--c1701h0005_acc_m.png
textures/--c0101h0112_acc_d.png
textures/--c0101h0101_hir_n.png
textures/--c1701f0001_fac_n.png
textures/--c1701h0017_acc_n.png
textures/v01_c1801e0581_glv_m.png
textures/c1701z0002_fac_n.png
textures/--c1701h0013_hir_n.png
textures/v02_c0101e9217_top_m.png
textures/--c0101h0102_hir_n.png
textures/--c1701h0009_hir_n.png
textures/c1701z0002_etc_n.png
textures/--c1701f0003_etc_s.png
textures/--c1701f0001_fac_s.png
textures/v01_c0101e9217_dwn_n.png
textures/v01_c1801e0581_dwn_n.png
textures/v01_c1801e0581_top_m.png
textures/c1701z0003_etc_s.png
textures/--c1701h0008_acc_m.png
textures/--c1701f0002_etc_n.png
textures/Body_S.png
textures/--c1701h0017_acc_m.png
textures/--c0101h0101_acc_d.png
textures/--c1701h0011_hir_n.png
textures/v01_c0101e9217_glv_n.png
textures/c1701z0001_etc_s.png
textures/--c1701h0017_hir_n.png
textures/--c0101h0112_hir_s.png
textures/--c1701h0005_acc_n.png
textures/v01_c0101e9217_glv_m.png
textures/--c1701f0002_fac_n.png
textures/c1701z0002_fac_s.png
textures/--c1701h0015_acc_n.png
textures/v01_c0101e9217_sho_m.png
textures/v01_c0101e9217_top_n.png
textures/v01_c0101e9217_sho_n.png
textures/c1701z0001_fac_d.png
textures/--c1701h0003_hir_s.png
textures/--c1701f0003_fac_s.png
textures/--c0101h0102_hir_s.png
textures/--c1701h0001_hir_n.png
textures/--c1701f0004_etc_n.png
textures/v02_c0101e9217_top_n.png
textures/v01_c1801e0581_dwn_m.png
textures/--c1701f0003_etc_n.png
textures/v01_c0101e9217_top_m.png
textures/c1701z0004_fac_s.png
textures/--c1701f0003_iri_s.png
textures/--c1701h0005_hir_n.png
textures/--c1701h0012_hir_s.png
textures/c1701z0002_etc_s.png
textures/--c1701f0001_fac_d.png
textures/--c1701h0009_hir_s.png
textures/--c1701f0004_fac_n.png
textures/--c1701h0011_hir_s.png
textures/c1701z0002_fac_d.png
textures/--c1701h0013_acc_n.png
textures/v01_c1801e0581_sho_n.png
textures/c1701z0004_fac_n.png
textures/c1701z0003_etc_n.png
textures/--c1701f0004_fac_d.png
textures/--c1701h0015_hir_s.png
textures/v01_w9079b0001_n.png
textures/v01_c1801e0581_glv_n.png
textures/--c0101b0001_b_n.png
textures/--c1701h0013_acc_m.png
textures/--c1701h0005_hir_s.png
textures/--c1701f0003_iri_n.png
textures/--c1701h0011_acc_n.png
textures/c1701z0001_etc_n.png
textures/--c0101h0163_acc_m.png
textures/--c1701h0015_hir_n.png
textures/--c1701h0015_acc_m.png
textures/--c1701h0008_acc_n.png
textures/c1701z0001_fac_s.png
textures/--c1701h0017_hir_s.png
textures/v01_c1801e0581_sho_m.png
textures/--c0101h0101_acc_n.png
textures/--c1701f0002_fac_s.png
textures/--c1701f0003_fac_d.png
textures/c1701z0001_fac_n.png
textures/--c1701h0013_hir_s.png
textures/--c0101h0163_hir_n.png
textures/ffxivdetailtextures/ffxivdetailtextures_27.png
textures/ffxivdetailtextures/ffxivdetailtextures_03.png
textures/ffxivdetailtextures/ffxivdetailtextures_15.png
textures/ffxivdetailtextures/ffxivdetailtextures_08.png
textures/ffxivdetailtextures/ffxivdetailtextures_33.png
textures/ffxivdetailtextures/ffxivdetailtextures_07.png
textures/ffxivdetailtextures/ffxivdetailtextures_14.png
textures/ffxivdetailtextures/ffxivdetailtextures_36.png
textures/ffxivdetailtextures/ffxivdetailtextures_61.png
textures/ffxivdetailtextures/ffxivdetailtextures_13.png
textures/ffxivdetailtextures/ffxivdetailtextures_12.png
textures/ffxivdetailtextures/ffxivdetailtextures_34.png
textures/ffxivdetailtextures/ffxivdetailtextures_50.png
textures/ffxivdetailtextures/ffxivdetailtextures_24.png
textures/ffxivdetailtextures/ffxivdetailtextures_35.png
textures/ffxivdetailtextures/ffxivdetailtextures_40.png
textures/ffxivdetailtextures/ffxivdetailtextures_38.png
textures/ffxivdetailtextures/ffxivdetailtextures_22.png
textures/ffxivdetailtextures/ffxivdetailtextures_21.png
textures/ffxivdetailtextures/ffxivdetailtextures_00.png
textures/ffxivdetailtextures/ffxivdetailtextures_01.png
textures/ffxivdetailtextures/ffxivdetailtextures_19.png
textures/ffxivdetailtextures/ffxivdetailtextures_58.png
textures/ffxivdetailtextures/ffxivdetailtextures_32.png
textures/ffxivdetailtextures/ffxivdetailtextures_48.png
textures/ffxivdetailtextures/ffxivdetailtextures_26.png
textures/ffxivdetailtextures/ffxivdetailtextures_11.png
textures/ffxivdetailtextures/ffxivdetailtextures_31.png
textures/ffxivdetailtextures/ffxivdetailtextures_06.png
textures/ffxivdetailtextures/ffxivdetailtextures_47.png
textures/ffxivdetailtextures/ffxivdetailtextures_62.png
textures/ffxivdetailtextures/ffxivdetailtextures_05.png
textures/ffxivdetailtextures/ffxivdetailtextures_10.png
textures/ffxivdetailtextures/ffxivdetailtextures_54.png
textures/ffxivdetailtextures/ffxivdetailtextures_55.png
textures/ffxivdetailtextures/ffxivdetailtextures_41.png
textures/ffxivdetailtextures/ffxivdetailtextures_39.png
textures/ffxivdetailtextures/ffxivdetailtextures_52.png
textures/ffxivdetailtextures/ffxivdetailtextures_17.png
textures/ffxivdetailtextures/ffxivdetailtextures_30.png
textures/ffxivdetailtextures/ffxivdetailtextures_60.png
textures/ffxivdetailtextures/ffxivdetailtextures_57.png
textures/ffxivdetailtextures/ffxivdetailtextures_56.png
textures/ffxivdetailtextures/ffxivdetailtextures_29.png
textures/ffxivdetailtextures/ffxivdetailtextures_53.png
textures/ffxivdetailtextures/ffxivdetailtextures_46.png
textures/ffxivdetailtextures/ffxivdetailtextures_43.png
textures/ffxivdetailtextures/ffxivdetailtextures_63.png
textures/ffxivdetailtextures/ffxivdetailtextures_23.png
textures/ffxivdetailtextures/ffxivdetailtextures_25.png
textures/ffxivdetailtextures/ffxivdetailtextures_09.png
textures/ffxivdetailtextures/ffxivdetailtextures_20.png
textures/ffxivdetailtextures/ffxivdetailtextures_37.png
textures/ffxivdetailtextures/ffxivdetailtextures_59.png
textures/ffxivdetailtextures/ffxivdetailtextures_49.png
textures/ffxivdetailtextures/ffxivdetailtextures_44.png
textures/ffxivdetailtextures/ffxivdetailtextures_18.png
textures/ffxivdetailtextures/ffxivdetailtextures_16.png
textures/ffxivdetailtextures/ffxivdetailtextures_45.png
textures/ffxivdetailtextures/ffxivdetailtextures_28.png
textures/ffxivdetailtextures/ffxivdetailtextures_04.png
textures/ffxivdetailtextures/ffxivdetailtextures_42.png
textures/ffxivdetailtextures/ffxivdetailtextures_51.png
textures/ffxivdetailtextures/ffxivdetailtextures_02.png
textures/decals/decal.08.png
textures/decals/decal.59.png
textures/decals/decal.26.png
textures/decals/decal.54.png
textures/decals/decal.51.png
textures/decals/decal.10.png
textures/decals/decal.62.png
textures/decals/decal.13.png
textures/decals/decal.03.png
textures/decals/decal.56.png
textures/decals/decal.20.png
textures/decals/decal.07.png
textures/decals/decal.25.png
textures/decals/decal.11.png
textures/decals/decal.65.png
textures/decals/decal.58.png
textures/decals/decal.23.png
textures/decals/decal.12.png
textures/decals/decal.52.png
textures/decals/decal.09.png
textures/decals/decal.27.png
textures/decals/decal.68.png
textures/decals/decal.22.png
textures/decals/decal.04.png
textures/decals/decal.60.png
textures/decals/decal.15.png
textures/decals/decal.02.png
textures/decals/decal.14.png
textures/decals/decal.24.png
textures/decals/decal.57.png
textures/decals/decal.21.png
textures/decals/decal.01.png
textures/decals/decal.66.png
textures/decals/decal.16.png
textures/decals/decal.28.png
textures/decals/decal.67.png
textures/decals/decal.63.png
textures/decals/decal.06.png
textures/decals/decal.55.png
textures/decals/decal.61.png
textures/decals/decal.17.png
textures/decals/decal.53.png
textures/decals/decal.69.png
textures/decals/decal.05.png
textures/decals/decal.18.png
textures/decals/decal.29.png
textures/decals/decal.64.png
textures/decals/decal.19.png




rig_tools.zip
527
2022-06-18 15:28:28
37.33 KB
File contents:

rig_tools/reset_all_controllers.py
rig_tools/auto_rig_reset.py
rig_tools/auto_rig_datas.py
rig_tools/__init__.py
rig_tools/rig_functions.py
rig_tools/rig_prefs.py