Adult content
This content is marked as Adult/NSFW content. You can toggle your preferences regarding this content type in your account settings.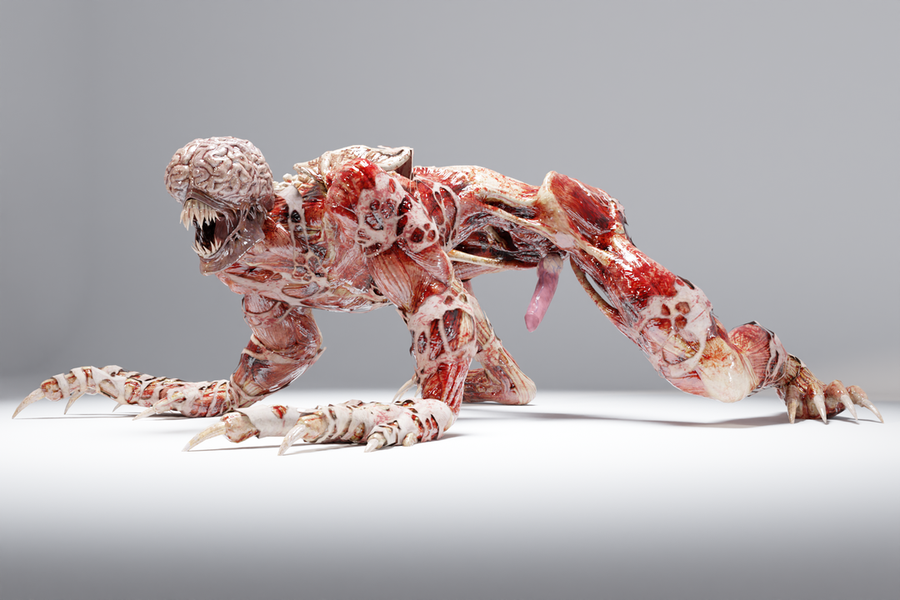 Show more
Description
Edited Licker model from the Resident Evil 2 Remake. Has a simple, custom rig done by me along with a custom dong also made by me. Made in Blender 3.1, so might not work in older versions!
The spine rig is controlled by a curve, which is controlled by moving and rotating the special chest, mid torso, and hip bones. If you want to have it operate like a normal FK spine rig, you will need to remove the curve and reparent the special bones to their respective spine bones.
Tongue rig is also on a curve with some bones controlling the handles. To remove the spear tip end of the tongue, scale down the deform bones on the base bone layer.
Dong is controlled on a curve the same way as the tongue.
KNOWN ISSUES:
Rotating the root bone in Pose mode tends to twist the spine at an odd angle. If this becomes an issue, I would suggest converting the spine rig to FK as listed above, or move the whole armature in Object mode.
Licker model pulled from Deviant Art.
Feel free to credit me if you use the model. And if you'd like to support me, check the links below!
Twitter: https://twitter.com/SintheticR18
Ko-Fi: https://ko-fi.com/sinthetic
SmutBase is a free service. However, it costs about $0.03 to deliver you a 1GB file. With over 20TB of traffic every month and growing, SmutBase needs your help. If only 1% of our users each gave us $5 for a single month, we could keep the site running for several years.
Filename
Downloads
Created
Filesize
Files
RE2_Remake_Licker_Lewd_v1.rar
2875
2022-06-12 18:09:19
45.01 MB
File contents:

RE2 Remake Licker Lewd v1/RE2RLickerLewd v1.blend
RE2 Remake Licker Lewd v1/RE2RLickerLewd v1.blend1
RE2 Remake Licker Lewd v1/README.txt
RE2 Remake Licker Lewd v1/textures/LickerDongVeins.png
RE2 Remake Licker Lewd v1/textures/em3000_nrmrout.png
RE2 Remake Licker Lewd v1/textures/LickerDongDiffuse.png
RE2 Remake Licker Lewd v1/textures/licker_new_skin_albmout.png
RE2 Remake Licker Lewd v1/textures/LickerDongBaseControl.png
RE2 Remake Licker Lewd v1/textures/__default_flat_spec.png
RE2 Remake Licker Lewd v1/textures/licker_body_new_back_albmout.png
RE2 Remake Licker Lewd v1/textures/em3000_albmout.png
RE2 Remake Licker Lewd v1/textures/licker_body_new_back_atosout.png
RE2 Remake Licker Lewd v1/textures/licker_body_new_back_nrmrout.png
RE2 Remake Licker Lewd v1/textures/licker_new_skin_nrmrout.png
RE2 Remake Licker Lewd v1/textures/LickerDongNormal.png
RE2 Remake Licker Lewd v1/textures/em3000_atosout.png