Adult content
This content is marked as Adult/NSFW content. You can toggle your preferences regarding this content type in your account settings.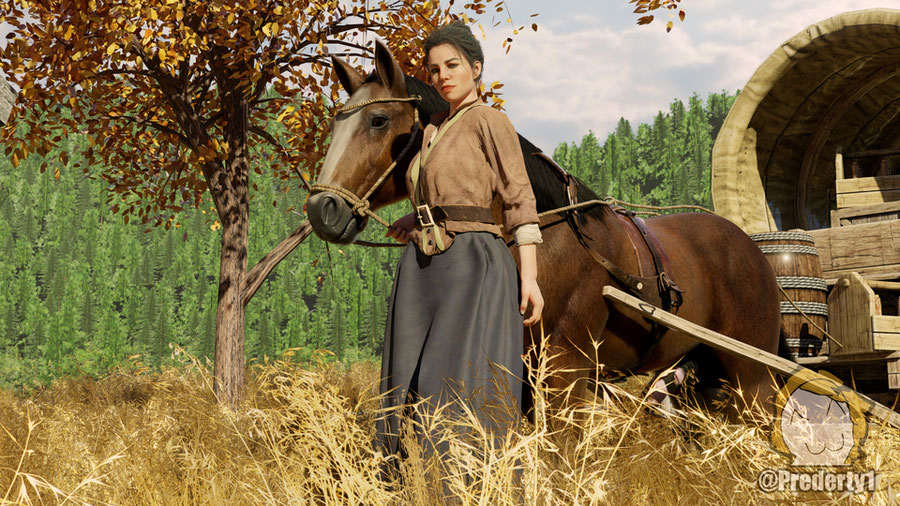 Show more
Description
comes with an IK rig, custom properties options
original XPS version by dddkhakha1 horse by @FenrirsRevenge9
Please credit me in your creations, I'd love to see them!
Comment or dm me on discord Prederty#7870 or twitter @prederty1 for bugs/help
Changelog
V1 Initial Release V1.1 fixed no texture bug on the outfit
SmutBase is a free service. However, it costs about $0.03 to deliver you a 1GB file. With over 20TB of traffic every month and growing, SmutBase needs your help. If only 1% of our users each gave us $5 for a single month, we could keep the site running for several years.
Filename
Downloads
Created
Filesize
Files
Abigail_Roberts_XPS_V1.1.rar
1125
2022-08-06 06:43:41
24.81 MB
File contents:

Abigail Roberts.blend
texture/G8FBaseEyelashes_1006.png
texture/Whipmarks Back 1.png
texture/Bruise Torso Diffuse.png
texture/Whipmarks Ass 1 Bump.jpg
texture/GensMapNM.jpg
texture/Bruise Face Diffuse.png
texture/cs_abigailroberts_fs1_boot_000_c0_000_nm.1.jpg
texture/Veins Torso_n.jpg
texture/Foam Arms 2.jpg
texture/G8FBaseMouthMapN_1005.jpg
texture/LegsS_1003.jpg
texture/Blood Arms_n.jpg
texture/Blood Torso_n.jpg
texture/cs_abigailroberts_fs1_shirt_002_c0_000_nm.jpg
texture/EyesN_1007.jpg
texture/Veins Legs_n.jpg
texture/TorsoS_1002.jpg
texture/cs_abigailroberts_fs1_boot_000_c0_000_mb.1.jpg
texture/Feet Details 2048.jpg
texture/Whipmarks Ass 1.png
texture/cs_abigailroberts_fs1_shirt_002_c0_000_ab.jpg
texture/cs_abigailroberts_fs1_eyebrows_000_c0_000_nm.jpg
texture/Foam Legs.jpg
texture/GensMapD2.jpg
texture/Feet Details_R 2048.jpg
texture/Lips Masks2.jpg
texture/Veins Face_n.jpg
texture/hair_gen_999_c0_999_ab_alpha.jpg
texture/Foam Face 2.jpg
texture/ArmsS_1004.jpg
texture/cs_abigailroberts_fs1_skirt_003_c0_000_ab.jpg
texture/Bruise Arms Diffuse.png
texture/cs_abigailroberts_fs1_eyebrows_000_c0_000_ab_alpha.jpg
texture/cs_abigailroberts_fs1_shirt_002_c0_000_ab.png
texture/cs_abigailroberts_fs1_shirt_002_c0_000_ab_alpha.jpg
texture/wrap3_laracroft_head_wrinklemap2_N.jpg
texture/LegsN_1003.jpg
texture/Spanked Ass 1.png
texture/Foam Body.jpg
texture/abigail_head_n.jpg
texture/GensMapS.jpg
texture/WetMask_n.jpg
texture/cs_abigailroberts_fs1_shirt_002_c0_000_ma.jpg
texture/WetSweat Mask.jpg
texture/cs_abigailroberts_fs1_skirt_003_c0_000_ma.jpg
texture/cs_abigailroberts_fs1_eyebrows_000_c0_000_ma.jpg
texture/Template1 Dirt2 Diffuse.jpg
texture/Abigail_Hair_d.png
texture/Mascara Mask.jpg
texture/Abigail_Eyes_00.jpg
texture/cs_abigailroberts_fs1_shirt_002_c0_000_mb.jpg
texture/FaceS_1001.jpg
texture/cs_abigailroberts_fs1_shirt_002_c0_000_metal.jpg
texture/abigail_torso_01_d.jpg
texture/cs_abigailroberts_fs1_boot_000_c0_000_ma.1.jpg
texture/Template4 Dirt2 Diffuse.jpg
texture/TanlineUpper_3.jpg
texture/cs_abigailroberts_fs1_eyebrows_000_c0_000_ab.png
texture/ArmsN_1004.jpg
texture/Template3 Dirt2 Diffuse.jpg
texture/cs_abigailroberts_fs1_boot_000_c0_000_ab.1.jpg
texture/Bruise Legs Diffuse.png
texture/Template2 Dirt2 Diffuse.jpg
texture/abigail_arms_00_d.jpg
texture/abigail_legs_00_d.jpg
texture/GensMapD.jpg
texture/Blood Face_n.jpg
texture/Feet Details_L 2048.jpg
texture/EyeShadow-Blush Mask.jpg
texture/Veins Arms_n.jpg
texture/abigail_torso_00_d.jpg
texture/TanlineLower_0.jpg
texture/GensMapB.jpg
texture/Tanlines.jpg
texture/Whipmarks Back 1 Bump.png
texture/WetSweat Mask v2.jpg
texture/TorsoN_1002.jpg
texture/cs_abigailroberts_fs1_skirt_003_c0_000_nm.jpg
texture/Whipmarks-Ass-1-Bump.jpg
texture/abigail_head_d.jpg
texture/G8FBaseMouthMapD_1005.jpg
texture/Blood Legs_n.jpg
texture/wrap3_laracroft_head_wrinklemap1_N.jpg




Abigail_Roberts_XPS_V1.rar
1056
2022-06-28 07:19:51
24.92 MB
File contents:

Abigail Roberts.blend
texture/G8FBaseEyelashes_1006.png
texture/Whipmarks Back 1.png
texture/Bruise Torso Diffuse.png
texture/Whipmarks Ass 1 Bump.jpg
texture/GensMapNM.jpg
texture/Bruise Face Diffuse.png
texture/cs_abigailroberts_fs1_boot_000_c0_000_nm.1.jpg
texture/Veins Torso_n.jpg
texture/Foam Arms 2.jpg
texture/G8FBaseMouthMapN_1005.jpg
texture/LegsS_1003.jpg
texture/Blood Arms_n.jpg
texture/Blood Torso_n.jpg
texture/cs_abigailroberts_fs1_shirt_002_c0_000_nm.jpg
texture/EyesN_1007.jpg
texture/Veins Legs_n.jpg
texture/TorsoS_1002.jpg
texture/cs_abigailroberts_fs1_boot_000_c0_000_mb.1.jpg
texture/Feet Details 2048.jpg
texture/Whipmarks Ass 1.png
texture/cs_abigailroberts_fs1_shirt_002_c0_000_ab.jpg
texture/cs_abigailroberts_fs1_eyebrows_000_c0_000_nm.jpg
texture/Foam Legs.jpg
texture/GensMapD2.jpg
texture/Feet Details_R 2048.jpg
texture/Lips Masks2.jpg
texture/Veins Face_n.jpg
texture/hair_gen_999_c0_999_ab_alpha.jpg
texture/Foam Face 2.jpg
texture/ArmsS_1004.jpg
texture/cs_abigailroberts_fs1_skirt_003_c0_000_ab.jpg
texture/Bruise Arms Diffuse.png
texture/cs_abigailroberts_fs1_eyebrows_000_c0_000_ab_alpha.jpg
texture/cs_abigailroberts_fs1_shirt_002_c0_000_ab.png
texture/cs_abigailroberts_fs1_shirt_002_c0_000_ab_alpha.jpg
texture/wrap3_laracroft_head_wrinklemap2_N.jpg
texture/LegsN_1003.jpg
texture/Spanked Ass 1.png
texture/Foam Body.jpg
texture/abigail_head_n.jpg
texture/GensMapS.jpg
texture/WetMask_n.jpg
texture/cs_abigailroberts_fs1_shirt_002_c0_000_ma.jpg
texture/WetSweat Mask.jpg
texture/cs_abigailroberts_fs1_skirt_003_c0_000_ma.jpg
texture/cs_abigailroberts_fs1_eyebrows_000_c0_000_ma.jpg
texture/Template1 Dirt2 Diffuse.jpg
texture/Abigail_Hair_d.png
texture/Mascara Mask.jpg
texture/Abigail_Eyes_00.jpg
texture/cs_abigailroberts_fs1_shirt_002_c0_000_mb.jpg
texture/FaceS_1001.jpg
texture/cs_abigailroberts_fs1_shirt_002_c0_000_metal.jpg
texture/abigail_torso_01_d.jpg
texture/cs_abigailroberts_fs1_boot_000_c0_000_ma.1.jpg
texture/Template4 Dirt2 Diffuse.jpg
texture/TanlineUpper_3.jpg
texture/cs_abigailroberts_fs1_eyebrows_000_c0_000_ab.png
texture/ArmsN_1004.jpg
texture/Template3 Dirt2 Diffuse.jpg
texture/cs_abigailroberts_fs1_boot_000_c0_000_ab.1.jpg
texture/Bruise Legs Diffuse.png
texture/Template2 Dirt2 Diffuse.jpg
texture/abigail_arms_00_d.jpg
texture/abigail_legs_00_d.jpg
texture/GensMapD.jpg
texture/Blood Face_n.jpg
texture/Feet Details_L 2048.jpg
texture/EyeShadow-Blush Mask.jpg
texture/Veins Arms_n.jpg
texture/abigail_torso_00_d.jpg
texture/TanlineLower_0.jpg
texture/GensMapB.jpg
texture/Tanlines.jpg
texture/Whipmarks Back 1 Bump.png
texture/WetSweat Mask v2.jpg
texture/TorsoN_1002.jpg
texture/cs_abigailroberts_fs1_skirt_003_c0_000_nm.jpg
texture/Whipmarks-Ass-1-Bump.jpg
texture/abigail_head_d.jpg
texture/G8FBaseMouthMapD_1005.jpg
texture/Blood Legs_n.jpg
texture/wrap3_laracroft_head_wrinklemap1_N.jpg