Adult content
This content is marked as Adult/NSFW content. You can toggle your preferences regarding this content type in your account settings.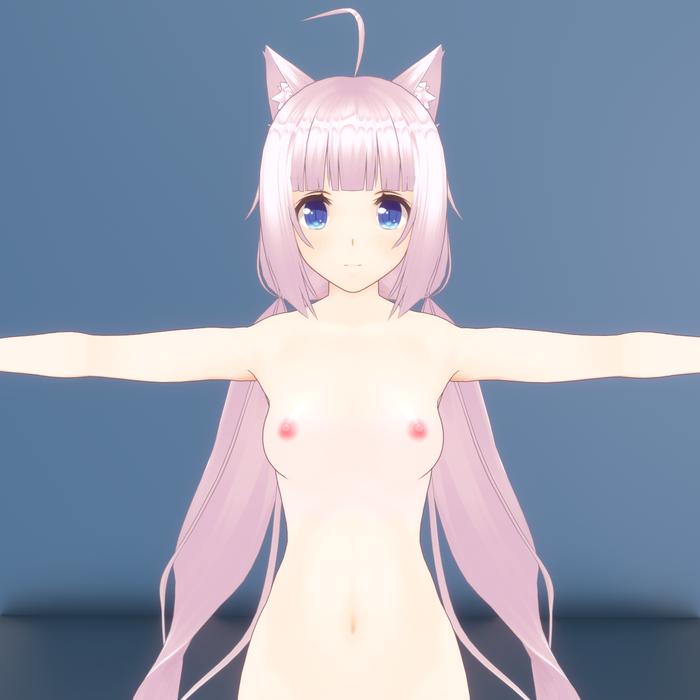 Show more
Description
Hello! Please read carefully before downloading
[INTRO]
Vanilla v1.1
Creator: http://www.iwara.tv/users/1001
Edited originally to use in MMD by K.
Ported by CubixWasTaken from MMD to Blender by using CATS plugin 0.19.0 (Dev. version)
Download links for the PMX file (original model):
[CHANGELOG]
Vagina and mouth fixed, by the way, the thigh gap is kinda buggy, I have added a shape key to fix it but you have to switch it every time you open the legs wide. If someone has some kind of advice on how to automate this, please, send me a DM through twitter!
Added quick and easy simulations with Spring Bones addon! Its use is highly recommended, a few bones are set up and ready to go.
Reduced face and vertex count.
[ADDONS]
For hair and cloth simulation, please, refer to: Spring Bones GitHub A few bones are already set up, but if you want to add more you're more than welcome, check the config first by the way.
Developed in Blender 3.1.2, with the help of CATS blender plugin. For MMD performances, please use the original model by 1001.
No addons are required to run this model.
Textures are packed in the .blend file, however, i'll let you decide if you want to download it manually if something brokes for whatever reason.
[MODEL INFO]
Rig type: FK (Rotate bones to pose the armature)
Face controls: Shape Keys (Except eye position)
Vagina / anus controls: Shape keys
Booba switch: set to "0" for booba and set "1" for no booba (set to "1" when dress is ON)
Default render engine: Eevee
Physics: Simulations are made through Spring Bones
[SUMMARY]
That is everything I want to share with you. Both chocola and vanilla models are now available! Yay! I'll be waiting for lewd performances, don't forget to @ me on twitter so I can see it, I will love to.
Chocola: https://smutba.se/project/33673/
If you really liked this model, consider tiping me, just a single dollar can make my day! https://paypal.me/facubowo (I live in Argentina, pls send help)
Otherwise you can follow me on twitter (or ask me there if you need anything) :) https://twitter.com/cubixwastaken
[CREDITS]
Thanks to 1001 for the original models
Thanks to K for editing the model
Have fun!
SmutBase is a free service. However, it costs about $0.03 to deliver you a 1GB file. With over 20TB of traffic every month and growing, SmutBase needs your help. If only 1% of our users each gave us $5 for a single month, we could keep the site running for several years.
Filename
Downloads
Created
Filesize
Files
Vanilla_v1.1.blend
1265
2022-06-18 00:45:30
35.75 MB
Vanilla_v1.blend
1120
2022-05-21 17:04:13
23.14 MB
textures_1l9ktk7.rar
1492
2022-05-21 17:04:13
19.36 MB
File contents:

textures/Hair_R069-HairR (Instance)_(-114412).png
textures/Face007_EyeL (Instance)_(-114278)_nm.png
textures/Dress189_pants_nm.png
textures/Dress189_shoe.png
textures/Dress189_onep1.png
textures/nip_02 (Instance)_(-115148).png
textures/Hair_F077-HairF (Instance)_(-114370)_nm.png
textures/Face007_Mayu (Instance)_(-114284).png
textures/Dress189_onep2_nm.png
textures/Dress189_head_nm.png
textures/Face007_SkinAlpha (Instance)_(-114286).png
textures/Dress189_onep1_nm.png
textures/Hair_Twin030-HairTwin (Instance)_(-114510)_nm.png
textures/Dress189_accUde_nm.png
textures/Hair_R069-HairR (Instance)_(-114412)_nm.png
textures/studio.exr
textures/Face007_SkinHi (Instance)_(-114282).png
textures/Dress189_stkg.png
textures/Dress189_accShippo_nm.png
textures/Face007_Skin (Instance)_(-114288).png
textures/Dress189_accShippo.png
textures/kupa2 (Instance)_(-18188).png
textures/Hair_F077-HairF (Instance)_(-114370).png
textures/skin (Instance)_(-18186)_nm.png
textures/Face007_EyeL (Instance)_(-114278).png
textures/Dress189_onep2.png
textures/Face007_Skin (Instance)_(-114288)_nm.png
textures/Dress189_pants.png
textures/Hair_Aho006a-HairAho (Instance)_(-116882).png
textures/Dress189_accKamiSub_nm.png
textures/nip_02 (Instance)_(-115148)_nm.png
textures/Face007_EyeR (Instance)_(-114280)_nm.png
textures/skin (Instance)_(-18186).png
textures/Hair_Aho006a-HairAho (Instance)_(-116882)_nm.png
textures/Dress189_accUde.png
textures/Face007_EyeR (Instance)_(-114280).png
textures/Face007_Mouth (Instance)_(-114290).png
textures/Hair_R069-HairAcc (Instance)_(-114414).png
textures/Hair_Twin030-HairTwin (Instance)_(-114510).png
textures/Dress189_head.png
textures/Face007_Mouth (Instance)_(-114290)_nm.png
textures/Dress189_stkg_nm.png
textures/Hair_R069-HairAcc (Instance)_(-114414)_nm.png
textures/Dress189_shoe_nm.png
textures/kupa2_1 (Instance)_(-18190).png
textures/Dress189_accKamiSub.png