Adult content
This content is marked as Adult/NSFW content. You can toggle your preferences regarding this content type in your account settings.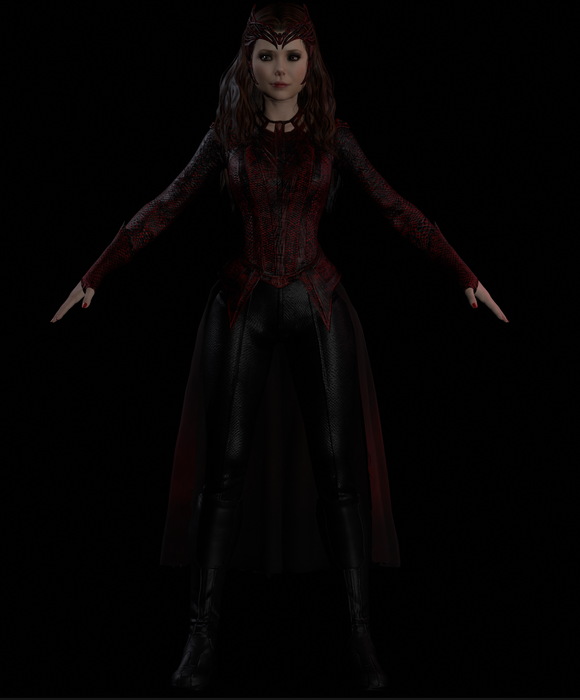 Show more
Description
This model is the result of a quick collab with someone who preferred to remain anonymous, this also mean support for this model won't be a priority, feel free to modify it as you like.
The model includes:
-Autorigpro Armature (You'll need to install rig tools if you haven't yet to get all the features for this rig and avoid bugs).
-MustardUI menu
-Makeup sliders and runny mascara option
-Eye red glow effect via slider in the menu, also optional tainted fingers to match the movie look.
-Two outfits (Scarlet Witch outfit and Lingerie)
-Two hairstyles
-Alternative shaders for hairs
-"Torn clothes" option for pants.
Notes
-This model is compatible with Blender 3.1 and newer versions, 
 loading it in any of the previous version may not work.

-To view the UI menu when appending the model to other projects, you need to 
click on the armature for it to show up on the right side tool bar.

-The Rig tools add-on is required to have access to the "head/neck follow lock" 
and "IK-FK",
snapping settings for limbs in the active workspace and tool menu. 
(If you have the full version of Auto-rig pro don't install this, this is only     
required for animators that don't own the full version)

-Install rig-tools like any add-on (preferences>Add-ons>Install>select zip(press the 
check box to activate.)

-If you have questions about how to utilize the ARP rig, 
check the rig's FAQ page: 
http://www.lucky3d.fr/auto-rig-pro/doc/rig_behaviour_doc.html#rig-usage

-IF you have any problems with the UI menu, check out Mustard's FAQ page
(https://github.com/Mustard2/MustardUI/wiki/Users-FAQs)


Thanks to:
MustardSFM for the UI menu script
SmutBase is a free service. However, it costs about $0.03 to deliver you a 1GB file. With over 20TB of traffic every month and growing, SmutBase needs your help. If only 1% of our users each gave us $5 for a single month, we could keep the site running for several years.
Filename
Downloads
Created
Filesize
Files
textures.zip
3296
2022-05-13 15:29:58
397.89 MB
File contents:

textures/Bump2K.1002.jpg
textures/SW_PLANEHAIR_027_C.png
textures/Rough_2K_1011.jpg
textures/defaultMat_Roughness.jpg
textures/Bump Stocking Band 4K.jpg
textures/defaultMat_Metallic.jpg
textures/S_9000_HR_nml.tga
textures/SW_GLOVE_027_C.png
textures/Rough2K.1002.jpg
textures/Opacity 4K Shell.jpg
textures/Common_Eye_Player_NG.tga
textures/Tifa_MakeUp_lip.png
textures/Black Stocking Band 4K.jpg
textures/SW_BOOTS_027_R.png
textures/SW_BODY_027_N.png
textures/TorsoB_1002.jpg
textures/ClaireArms_SSS.jpg
textures/Torso_Wet.png
textures/LegsS_1003.jpg
textures/RJH_Brown.png
textures/TorsoS_1002.jpg
textures/mascara_dripping_c.png
textures/SW_GLOVE_027_N.png
textures/Normal_4K_1011.jpg
textures/Metal2K.1002.jpg
textures/SW_BOOTS_027_C.png
textures/IDGhair08N.jpg
textures/Rough2K.1001.jpg
textures/Normal2K.1001.jpg
textures/GensMapDisp_Default_1009.tif
textures/Torso_N.png
textures/Mouth_1005.jpg
textures/Common_Eye_Mob_A.png
textures/ArmsS_1004.jpg
textures/SW_SKIRT_027_N.png
textures/Legs_1003.jpg
textures/SW_BODY_027_C.png
textures/GensMapB_Default_1009.jpg
textures/Legs_Wet.png
textures/GensMapNM_Default_1009.png
textures/Metal_2K_1001.jpg
textures/SW_MASK_027_N.png
textures/Torso_1002.jpg
textures/Metal_2K_1011.jpg
textures/Rough_2K_1021.jpg
textures/ArmsSSS_1004.jpg
textures/MGAB--BethyLashes--Eyelash_2_1001.jpg
textures/Trim Opacity 4K.jpg
textures/Legs_N.png
textures/Rough_2K_1001.jpg
textures/defaultMat_BaseColor.jpg
textures/Stocking Band Opacity 4K.jpg
textures/Opacity2K.1002.jpg
textures/ArmsB_1004.jpg
textures/TorsoSSS_1002.jpg
textures/Face_N.png
textures/FaceS_1001.jpg
textures/Common_Eye_Mob_NI.png
textures/Bump2K.1001.jpg
textures/Metal_2K_1021.jpg
textures/SW_GLOVE_027_R.png
textures/GensMapD_Default_P_1009.jpg
textures/Arms_N.png
textures/Black_4K_1011.jpg
textures/Metal2K.1001.jpg
textures/Normal 4K.jpg
textures/Black2K.1002.jpg
textures/S_9000_HR_mask.tga
textures/Common_Eye_Mob_DY4_C.tga
textures/GensMapS_Default_Dry_1009.jpg
textures/MouthB_1005.jpg
textures/BlackNude2K.1001.jpg
textures/Normal_4K_1001.jpg
textures/SW_BODY_027_R.png
textures/GensMapT_Default_1009.jpg
textures/defaultMat_Normal.jpg
textures/Face_Dif.jpg
textures/LegsSSS_1003.jpg
textures/Black2K.1001.jpg
textures/Face_SSS.jpg
textures/Normal2K.1002.jpg
textures/S_9000_HR_col.tga
textures/Arms_1004.jpg
textures/Black_4K_1001.jpg
textures/TaintedFingers.png
textures/SW_BOOTS_027_N.png
textures/Mask_SSS_30.png
textures/SW_MASK_027_R.png
textures/Opacity2K.1001.jpg
textures/SW_SKIRT_027_C.png
textures/ClaireTorso_SSS.jpg
textures/ClaireLegs_SSS.jpg
textures/Rough Stocking Band 2K.jpg
textures/Black_4K_1021.jpg
textures/SW_MASK_027_C.png
textures/LipG.jpg
textures/Common_Eye_Mob_DY2_C.png
textures/Metal Stocking Band 2K.jpg
textures/LegsB_1003.jpg
textures/GensMapSSS_Default_P_1009.jpg
textures/Victoria8ESBase01Opacity.png
textures/Normal Stocking Band 4K.jpg
textures/Torn2.png
textures/eyeliner_8M.jpg
textures/SW_SKIRT_027_R.png
textures/Torn1.png
textures/Arms_Wet.png
textures/FaceB_1001.jpg
textures/ClaireFace_SSS.jpg
textures/Normal_4K_1021.jpg




Wanda_by_Mokujinh.blend
2713
2022-05-13 15:30:01
9.27 MB
rig_tools_t5HATix.zip
1358
2022-05-13 15:30:02
37.24 KB
File contents:

rig_tools/reset_all_controllers.py
rig_tools/auto_rig_reset.py
rig_tools/auto_rig_datas.py
rig_tools/__init__.py
rig_tools/rig_functions.py
rig_tools/rig_prefs.py