Adult content
This content is marked as Adult/NSFW content. You can toggle your preferences regarding this content type in your account settings.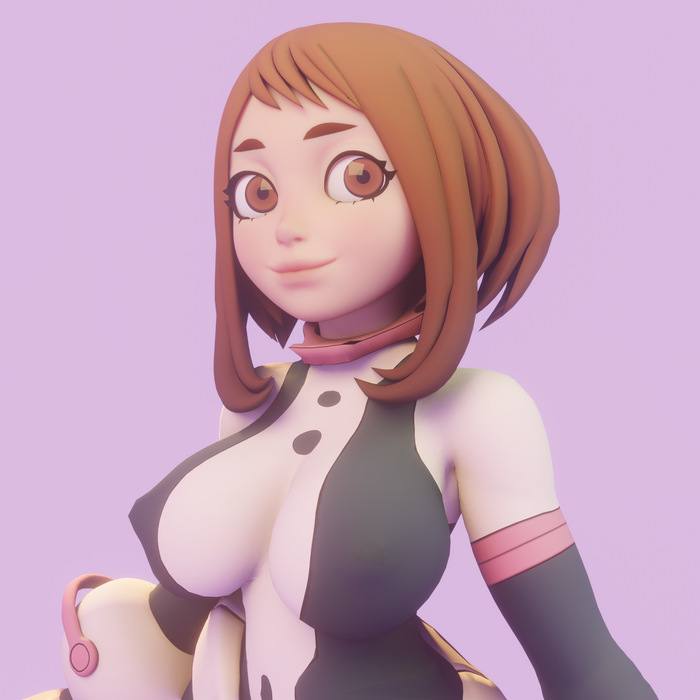 Show more
Description
Here is my first anime character??? I tried to mix the style of MHA with my own style and this is the final result.
There might be problems with eyes(since the eyes are quite big) and some clothes but in generalI really love how she looks!! Also Im making some characters from MHA in my Patreon if you wanna support me and get more characters!
Im sorry for the inconvenience, I add all the textures to the blend file meanwhile I'm going to find a solution for this if this method doesnt work. my apologies
This is hard for me since I cant notice the errors of the textures but in theory it should be fixed by now if not please follow m1z solution if you find pink textures: "For the missing textures it looks like you're missing File -> External Data -> Automatically Pack Resources If that doesn't immediately fix it, you may have to play with 'Make File Paths Relative' and 'Find Missing Textures'; if you end up with tons of .000, .001, etc materials and textures you can also use the automatic cleanup tools." thanks to m1z for the solution but just in case if that doesnt work and you still have pink textures after doing the that please download the blend file "MHA_Ochako_Uraraka2" all the textures are packed in the blendfile
Here is my Twitter if you found something weird in the model(beside her eyes) or you wanna tag in your works. I will happily see you works C:
and my Patreon if you wanna support me, Im making a exclusive characters for this month Im making Testament from GGS there will be some progress in my witter during this week of course it will be in my style not with cellshades
you will need this aawsome addon!!!( I use version 1.6, but you can try with ver 1.5) but you can try without the addon sometimes it worked without the addon but is you choice http://diffeomorphic.blogspot.com/p/daz-importer-version-16.html
*Please do not reupload in other places or port in other places and dont take part of the character, I really appreciate it(Seriously respect this, just because its free doesn't mean you can do whatever you want with it)
SmutBase is a free service. However, it costs about $0.03 to deliver you a 1GB file. With over 20TB of traffic every month and growing, SmutBase needs your help. If only 1% of our users each gave us $5 for a single month, we could keep the site running for several years.
Filename
Downloads
Created
Filesize
Files
MHA_Ochako_Uraraka_DLJyYQU.blend
2665
2022-04-18 14:32:49
83.02 MB
textures_S8Hw16b.rar
2378
2022-04-18 14:33:01
227.52 MB
File contents:

textures/BebeHighFace00D_1001.png
textures/XF-BellaBottom_OpacityB.jpg
textures/Strip Sweater Albedo.jpg
textures/Stockings Roughness.png
textures/Cass Hamada Eye D.png
textures/T_pl03_001_hair_D.png
textures/Victoria8_1_EyelashesO.jpg
textures/XF-BellaWaistGarter_OpacityB.jpg
textures/bebeobj-TM_u1_v0.jpg
textures/Clothing-1-Nor.jpg
textures/Student_d.jpg
textures/SC_Blazing_Swimsuit_02.jpg
textures/XF-PSweater_D01.jpg
textures/GensMapDisp_Default_1009.tif
textures/Japanese School Swimsuit 02 Swimsuit N.png
textures/XF-BellaTop_D01.jpg
textures/GensMapB_Default_1009.jpg
textures/GensMapNM_Default_1009.png
textures/SC_Blazing_SwimsuitStringN.jpg
textures/Shoes1_Height.jpg
textures/XF-PBottom_D06.jpg
textures/0905-pumps-02.jpg
textures/XF-SexySweet Top_D01.jpg
textures/brigitte_d.png
textures/XF-BellaStockings_D01.jpg
textures/Thong Lace 01 Opacity.jpg
textures/XF-Love Lace Bottom_B.jpg
textures/bebeobj-TM_u5_v3.jpg
textures/XF_Uniform02_Top_N.jpg
textures/XF-SexySweet Top_T.jpg
textures/SC_Blazing_Swimsuit_01B.jpg
textures/XF-SexySweet Bottom_T.jpg
textures/XF-Love Lace Babydoll_D01.jpg
textures/XF-BellaTop_OpacityB.jpg
textures/Clothing-1-Spc.jpg
textures/XF-Love Lace Bottom_D01.jpg
textures/XF-SexySweet LS_T.jpg
textures/bebeobj-TM_u2_v0.jpg
textures/T_pl03_001_body_D.png
textures/SimpSportyShortstT5.jpg
textures/XF-SexySweet Bottom_D01.jpg
textures/GensMapD_Default_P_1009.jpg
textures/XF-Love Lace Bottom_T.jpg
textures/T_pl03_001_helmet_D.png
textures/PinkSneakers_Normal_OpenGL.png
textures/T_pl06_301_bodyA_D.png
textures/Shoes1_Normal.jpg
textures/Stockings H 02.png
textures/XF-BellaBottom_D01.jpg
textures/PinkSneakers_Metallic.png
textures/GensMapS_Default_Dry_1009.jpg
textures/Shoes2_BaseColor.jpg
textures/XF-Love Lace Babydoll_T.jpg
textures/GensMapT_Default_1009.jpg
textures/BlackSneakers_Base_Color.png
textures/bebeobj-TM_u3_v0.jpg
textures/Tsu_SchoolBody.png
textures/SimpSportyShortstB1.jpg
textures/XF-BellaStockings_Opacity.jpg
textures/XF_Uniform02_Top_D02.jpg
textures/Victoria8_1_EyelashesNM.jpg
textures/PinkSneakers_Roughness.png
textures/Stockings Albedo 02.png
textures/PinkSneakers_Height.png
textures/Candid_SuitB01.jpg
textures/Lingerie Bodysuit Albedo.jpg
textures/Shoes1_Roughness.jpg
textures/GensMapSSS_Default_P_1009.jpg
textures/bebeobj-TM_u4_v0.jpg
textures/BSwimsuit_Normal.jpg
textures/Candid_SuitTr01.jpg
textures/Candid_SuitN01.jpg
textures/Shoes1_Metallic.jpg
textures/XF-BellaWaistGarter_D01.jpg




MHA_Ochako_Uraraka2.blend
2235
2022-04-18 05:15:40
348.47 MB