Adult content
This content is marked as Adult/NSFW content. You can toggle your preferences regarding this content type in your account settings.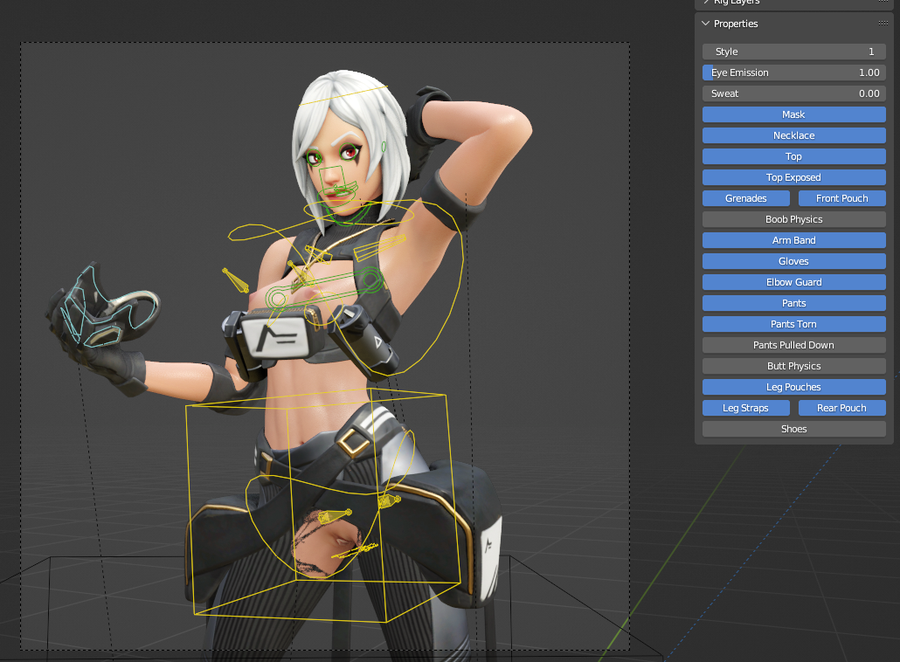 Show more
Description
Hush with her Shadow and Ghost styles as well thrown in.
Includes
Rigging done by myself and Gifdoozer
Rig UI for easy toggling of the styles and outfit pieces
Butt and Boob Physics as well as Genital Opening Bones
Wetness Slider for your sweaty renders
Original model done by Gifdoozer. Please credit both of us when using. You could say "model by baseddende, rig by gifdoozer" or vise versa
The Ghoul style coming whenever I decide to retexture the whole body.
Made in Blender 3.1 but should work in at least blender 3.0. Please dm me issues with the model at my Twitter.
SmutBase is a free service. However, it costs about $0.03 to deliver you a 1GB file. With over 20TB of traffic every month and growing, SmutBase needs your help. If only 1% of our users each gave us $5 for a single month, we could keep the site running for several years.
Filename
Downloads
Created
Filesize
Files
Ultimate_Hush_arm_fix.7z
2875
2022-04-09 03:55:35
103.88 MB
File contents:

Ultimate Hush.blend
Hush 09 textures/T_F_MED_Cavalry_Bandit_Hair_M.png
Hush 09 textures/T_F_MED_Cavalry_Bandit_Shadow_Head_N.png
Hush 09 textures/T_F_MED_Cavalry_Bandit_Head_M.png
Hush 09 textures/T_F_MED_Punk_Devil_Body_D.png
Hush 09 textures/T_F_MED_Cavalry_Bandit_Ghost_Body_D.png
Hush 09 textures/torso white.png
Hush 09 textures/T_F_MED_Cavalry_Bandit_Shadow_Body_S.png
Hush 09 textures/T_F_MED_Cavalry_Bandit_Shadow_Body_FX.png
Hush 09 textures/T_F_MED_Cavalry_Bandit_Ghost_Body_M.png
Hush 09 textures/limbs legs white.png
Hush 09 textures/Thinfilm2.jpg
Hush 09 textures/T_F_MED_Cavalry_Bandit_Ghost_Hair_D.png
Hush 09 textures/T_F_MED_Cavalry_Bandit_Ghost_Body_S.png
Hush 09 textures/T_F_MED_Cavalry_Bandit_Body_S.png
Hush 09 textures/T_F_MED_Cavalry_Bandit_Body_N.png
Hush 09 textures/T_F_MED_Cavalry_Bandit_Shadow_Hair_D.png
Hush 09 textures/T_F_MED_Cavalry_Bandit_Body_M.png
Hush 09 textures/T_F_MED_Cavalry_Bandit_Ghost_Head_D.png
Hush 09 textures/T_F_MED_Cavalry_Bandit_Body_D.png
Hush 09 textures/limbs arms white.png
Hush 09 textures/T_F_MED_Cavalry_Bandit_Shadow_Body_M.png
Hush 09 textures/T_F_MED_Cavalry_Bandit_Shadow_Head_E_cropped.png
Hush 09 textures/T_F_MED_Cavalry_Bandit_Shadow_Hair_M.png
Hush 09 textures/T_F_MED_Cavalry_Bandit_Head_D.png
Hush 09 textures/T_F_MED_Cavalry_Bandit_Shadow_Hair_N.png
Hush 09 textures/T_F_MED_Cavalry_Bandit_Head_N.png
Hush 09 textures/T_F_MED_Cavalry_Bandit_Ghost_Body_FX.png
Hush 09 textures/T_F_MED_Cavalry_Bandit_Hair_S.png
Hush 09 textures/T_F_MED_Cavalry_Bandit_Hair_N.png
Hush 09 textures/T_F_MED_Cavalry_Bandit_Shadow_Head_D.png
Hush 09 textures/T_F_MED_Cavalry_Bandit_Ghost_Body_N.png
Hush 09 textures/T_F_MED_Cavalry_Bandit_Head_S.png
Hush 09 textures/T_F_MED_Cavalry_Bandit_Shadow_Body_N.png
Hush 09 textures/T_F_MED_Cavalry_Bandit_Hair_D.png
Hush 09 textures/T_F_MED_Cavalry_Bandit_Shadow_Body_D.png
Hush 09 textures/T_F_MED_Cavalry_Bandit_Body_Alpha.jpg
Hush 09 textures/T_F_MED_Cavalry_Bandit_Shadow_Head_M.png
Hush 09 textures/T_F_MED_Cavalry_Bandit_Shadow_Hair_S.png
Hush 09 textures/T_F_MED_Cavalry_Bandit_Shadow_Head_S.png
Hush 09 textures/Gens white.png